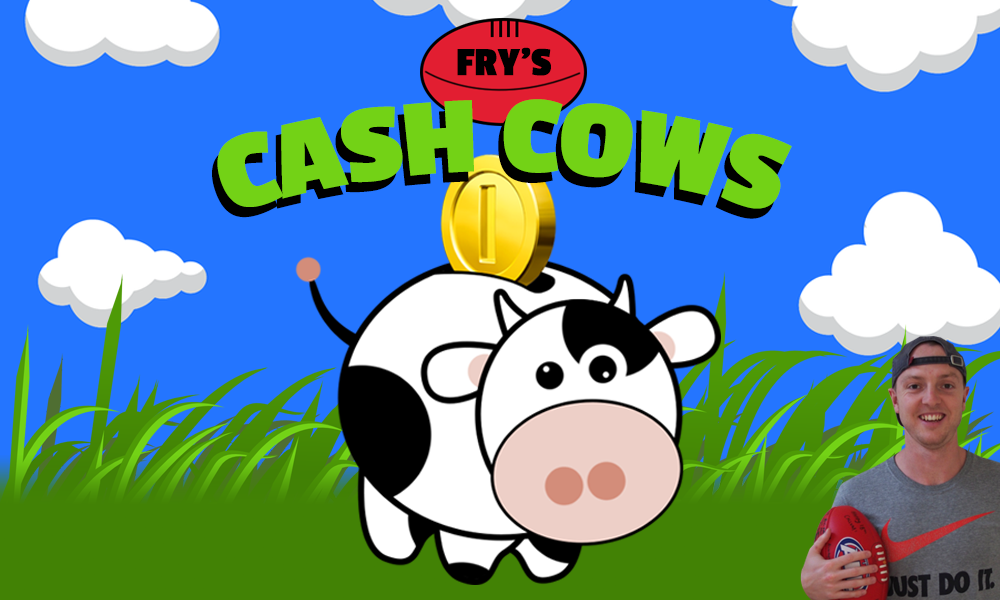 You could make the case that in back-to-back weeks, we have lost the most reliable rookie midfielder and now the best rookie defender! While my love for Hayden Young may be slightly influenced by my preference of footy team, there's no denying that fantasy coaches have been dealt a raw hand over the last few weeks. It's not all bad news though with 8 new cash cows making their first AFL appearance in Round 6. More than a few of them have put their hands up as reliable trade-in targets and investing in the right downgrade targets could propel you up the rankings as the mid-season mark approaches.
Rookie/cash cows are usually players who start the season priced at $300,000 or lower
---
Cash Cow King – Round 6
Most of the top-scoring rookies from Round 6 weren't present on the field for coaches, with some new faces emerging as trustworthy cash cows. We have to start proceedings with Sam Simpson, who gets my vote this week for his UNREAL ton against Brisbane. It's a shame that less than 3% of us were able to benefit from his huge score, but as the likely No. 1 trade target this week, coaches everywhere will be hoping Simpson is no flash in the pan!
Mooooving On
With half a dozen rounds in the books, a lot of our cash cows have fattened in price and are ready to be traded away. Some owners are ready to swing the axe on a number of rooks and the general rule of thumb is you want to trade a player away when their breakeven gets close to their average – which is the case for a lot of popular players this week. If a player hasn't increased in price as much as coaches would like, I can see the appeal in keeping them around, but trading out those who have reached their peak and upgrading them to a non-rookie should be priority No. 1.
Red = Injured player in doubt/ruled out for Round 7
* = Didn't play in Round 6

Brandon Starcevich, Lions ($381K, AVG 48, BE 46)
Hayden Young, Dockers ($355K, AVG 42, BE 44)
Curtis Taylor, Roos ($379K, AVG 48, BE 43)
Connor Budarick, Suns ($354K, AVG 44, BE 35)
Tyler Brown, Magpies* ($263K, AVG 35, BE 16)
Trent Rivers, Demons* ($296K, AVG 41, BE 14)
Fischer Mcasey, Crows ($265K, AVG 30, BE 19)
Max King, Saints ($317K, 40 AVG, BE 26)

Jarrod Brander, Eagles*

 ($354K, AVG 55, BE -9)
Thomas Berry, Lions ($240K, AVG 33, BE 11)
In a perfect world chasing a defensive upgrade by flicking Starcevich and/or Young out, or doing a similar thing with Taylor and/or Budarick up forward is a wise manoeuvre. Non-playing rooks like Tyler Brown and Trent Rivers can be moved along if you've got a chance as well as injured players – such as Jarrod Brander, who, despite owning a negative breakeven, has missed the last two games and is no certainty to come back in the near future.
Round 7 Rookie Rankings
DEFENSE
The top-3 DEF rookies from a week ago could all be missing in Round 7, leaving some coaches to seriously scramble if they want to field a full 22 this weekend. Hayden Young ($355K, 2, BE 44) faces an uncertain fortnight with the extent of his ankle injury currently unknown as he awaits additional scans and there's no certainty that Brandon Starcevich ($381K, 33, BE 46) will survive the axe after a season-low 33 points. It may surprise a lot of people to learn that Starcevich is owned by more than 60% of the competition – an honour only he and Brodie Grundy can claim. If he does get dropped then at least you can take solace in knowing we'll all be in the same boat.
It's not by much, but Lachie Ash ($292K, 48, BE 12) technically holds a higher three-round average than Starcevich, which sees him dethrone the Brisbane youngster atop the rankings. There isn't a lot of encouraging news outside of the top handful of rooks down back, which means I've resorted to three rather dicey cash cows to round out the top-5. Will Hamill ($243K, 42, BE 3) and Andrew McPherson ($190K, 46, BE 1) can hopefully maintain their place in Adelaide's backline and while I don't trust either of them on the field, they could be good money makers on the pine. With Hayden Crozier serving his one-game suspension, Louis Butler ($229K, 58, BE -12) might lose his place in the Dogs' outfit, but an encouraging score could see him earn another chance and become a worthwhile trade target in the process.
Top-5
Lachie Ash (Giants)

Brandon Starcevich (Lions)

Andrew McPherson (Crows)

Louis Butler (Dogs)

Will Hamill (Crows)
Other mid-priced cash cows Fischer Mcasey ($265K, 45, BE 19) and Hawks debutant Will Day ($268K, 58, BE 6) were the other defenders who failed to crack the top-5. Mcasey owners should look to send him packing and while Day held his own in his first match, I'm sceptical over his long-term fantasy prospects and his awkward price tag ($268K) makes me wonder just how much he can increase in value. There are still over 23% of coaches clinging to hope that Trent Rivers ($296K, DNP, BE 14) returns in the near future, but there's nothing wrong with flicking him or Jarrod Brander ($354K, DNP, BE -9) on if it gets a rookie off your field.
 Best of the Rest
These players may or may not be in the selection mix this week, but be sure to keep them on your 2020 watchlist in case they burst onto the scene. In no particular order:
Hugh Goddard (Blues, $170K)
Jez McLennan (Suns, $170K)
Will Gould (Swans, $220K)
Trent Bianco (Magpies, $182K)
Tobe Watson (Dockers, $170K)
Matthew Ling (Swans, $170K)
Josh Worrell (Crows, $216K)
Damon Greaves (Hawks, $170K)

MIDFIELD
There isn't a lot of change atop the midfield pecking order with Noah Anderson ($430K, 57, BE 27) maintaining his No. 1 spot after six weeks. A scaled average of 68 through the first half a dozen games of his career makes Anderson a trusty starting midfielder for the foreseeable future, and in all likelihood, the frontrunner to be the final rookie flicked off our grounds. Dockers young gun Caleb Serong ($334K, 47, BE 15) reclaimed the No. 2 slot after a solid score in (yet again) just of half of the game (54% TOG). Nat Fyfe spent the entire second half in the forward line according to Fantasy Freako and if the Freo captain stays buried inside-50, hopefully, that translates to more opportunity for Serong.
It's time to address the elephant in the room. You and I both know you only came here for a Sam Simpson ($232K, 102, BE – 36) update so let me give you ALL the relevant info. It was a long time between AFL games for the 22-year old, who claimed Geelong's VFL B&F count in 2019 after 19 games averaging 20 disposals and 77 fantasy points. I won't go expecting him to erupt for 100+ every weekend, but the mature-ager could capitalise on the opportunity in front of him and cement a spot in Geelong's unit while becoming a reliable fantasy scorer.
Personally, given the injuries to the Swans' stars, I wouldn't be surprised if Dylan Stephens ($288K, 65, BE 5) outperformed Simpson from here and became a fantasy factor following his impressive debut. The No. 5 overall pick gathered just 11 touches against Richmond, but his 5 marks and 4 tackles illustrate his all-around fantasy skillset. Stephens' ability to impact the game in every category bodes well for his scores and after playing 2019 at SANFL level, he could be VERY relevant for the rest of the 2020 season. Mitch Hibberd ($237K, 66, BE -7) rounds out the top-5 following his 'hug-happy' outing vs. the Kangaroos – helping himself to 19 disposals and 5 tackles.
Top-5
Noah Anderson (Suns)

Caleb Serong (Dockers)

Sam Simpson (Cats)

Dylan Stephens (Swans)

Mitchell Hibberd (Bombers)
I've punished Tom Green ($322K, 32, BE 19) severely by dumping him from the top-5 after a stinker last Sunday. Tim Taranto's edging closer to a return as well… A trio of popular midfield starters in Ned McHenry ($265K, 49 BE 5), Marlion Pickett ($297K, 45, BE 12) and Harley Bennell ($299K, 46, BE 8) all produced serviceable scores and going forward there's nothing wrong with playing them on your field. Providing, of course, they aren't dropped from their respective 22's on Thursday night. Lastly, after multiple weeks as an emergency for St Kilda, we may see Ryan Byrnes ($170K, DNP, BE 19) make his debut in Round 7. The 52nd pick in last year's draft averaged an impressive 91 points fuelled by 25.4 touches a game from 15 NAB League matches and if Ratten swings the axe after their loss to the Dockers, Byrnes could be the beneficiary.
Best of the Rest
These players may or may not be in the selection mix this week, but be sure to keep them on your 2020 watchlist in case they burst onto the scene. In no particular order:
Jeremy Sharp (Suns, $218K)
Luke Valente (Dockers, $170K)
Jack Bytel (Saints, $170K)
Callum Porter (Bulldogs, $170K)
Finn Maginness (Hawks, $214K)
Riley Collier-Dawkins (Tigers, $170K)
Jackson Mead (Power, $222K)
Tom North (Dockers, $170K)
Cooper Stephens (Cats, $240K)
RUCK
Once again it was a quiet weekend on the big man front, with Tom Campbell ($214K, 18, BE 28) replacing Tristan Xerri ($193K, DNP, BE 14) for North and hardly lighting the world on fire. The unfortunate 7% of the competition who took a chance on Jonathon Patton ($301K, 4, BE 58) will need to find a replacement after the Hawks big man went down with a hamstring injury. At this stage, Patton is expected to miss roughly a month of footy, making him a must trade for over 8,000 coaches. It's quickly worth mentioning that basement priced Don Sam Draper ($170K, DNP, BE 19) made his return for Essendon in a scratch match against North. He could emerge as a late-season smokey for a game or two.
Top-3
Darcy Cameron (Magpies)*

Tristian Xerri (Kangaroos)*

Sam Draper (Bombers)*
*if named
Best of the Rest
These players may or may not be in the selection mix this week, but be sure to keep them on your 2020 watchlist in case they burst onto the scene. In no particular order:
Tom De Koning (Blues, $190K)
Jordan Sweet (Bulldogs, $170K)
Matthew Flynn (Giants, $170K)
Bailey Williams (Eagles, $170K)
Lloyd Meek (Dockers, $170K)
Sam Draper (Bombers, $170K)
Sam Hayes (Power, $170K)
FORWARD
He may have scored a few more points last week, but game 5 of Laitham Vandermeer's ($367K, 72, BE -7) young career was just as impressive. The Bulldogs speedster moved into the No. 1 slot for FWD rookies following his efforts against Carlton over the weekend and if he kicked straight in front of goal then his score could have been even bigger! Staples in the top-3 for the entire season so far Curtis Taylor ($379K, 10, BE 43) and Connor Budarick ($338K, 47, BE 35) are nearing the end of their time for a lot of coaches. As I've already touched on, there's nothing wrong with keeping the duo around for a few more weeks, but if you have the opportunity to upgrade, then do it and don't look back.
The competition for the bottom few spots in the forward rankings was hotly contested with nine rookie-priced players taking to the field in Round 7. While popular trade target Jake Aarts ($221K, 30, BE 1) didn't reach the same point total in game 2, he should still hold his place in the Tigers side and I expect a bounceback score this weekend. Rounding out the list, I can't go past Rising Star nominee Izak Rankine ($204K, 65, BE -12) who excelled in his first game as a Sun with 3.3 and a scaled score of 81! Keep in mind, Rankine won't generate six shots on goal every week and while there are rumours around him pinch hitting throughout the midfield for Gold Coast, it's still wise to temper expectations.
Top-5
Laitham Vandermeer (Bulldogs)

Curtis Taylor (Roos)

Connor Budarick (Suns)

Jake Aarts (Tigers)

Izak Rankine (Suns)
With his job security safe as houses Max King ($317K, 41, BE 26) was unlucky not to crack the top-5, however, his lack of scoring prowess means his time has nearly come to an end as well. Despite chalking up their first career games Atu Bosenavulagi ($194K, 41, BE -2), Will Kelly ($173K, 26, BE 15) and Josh Morris ($171K, 21, BE 17) will likely remain on the scrap heap for fantasy coaches, with Kelly suffering a nasty dislocated elbow that may end his season. Regular customers Jack Mahoney ($226K, 40, BE 9), Shane McAdam ($231K, 32, BE 3) and Thomas Berry ($240K, 29, BE 11) won't be attracting the attention of the fantasy nation either and the trio may find themselves watching Round 7 in team colours rather than lining up as a member of the best 22. For what it's worth, young Bomber Ned Cahill ($170K, DNP, BE 19) kicked 5 against North in their scratchy and could one to keep an eye on as he presses for a debut.
Best of the Rest
These players may or may not be in the selection mix this week, but be sure to keep them on your 2020 watchlist in case they burst onto the scene. In no particular order:
Irving Mosquito (Bombers, $170K)
Cameron Taheny (Cats, $172K)
Sam Flanders (Suns, $250K)
Miles Bergman (Power, $244K)
Nakai Cockatoo (Cats, $255K)
Liam Henry (Dockers, $254)
Ned Cahill (Bombers, $170)
Dylan Williams (Power, $226K)
Cody Weightman (Dogs, $242K)

---