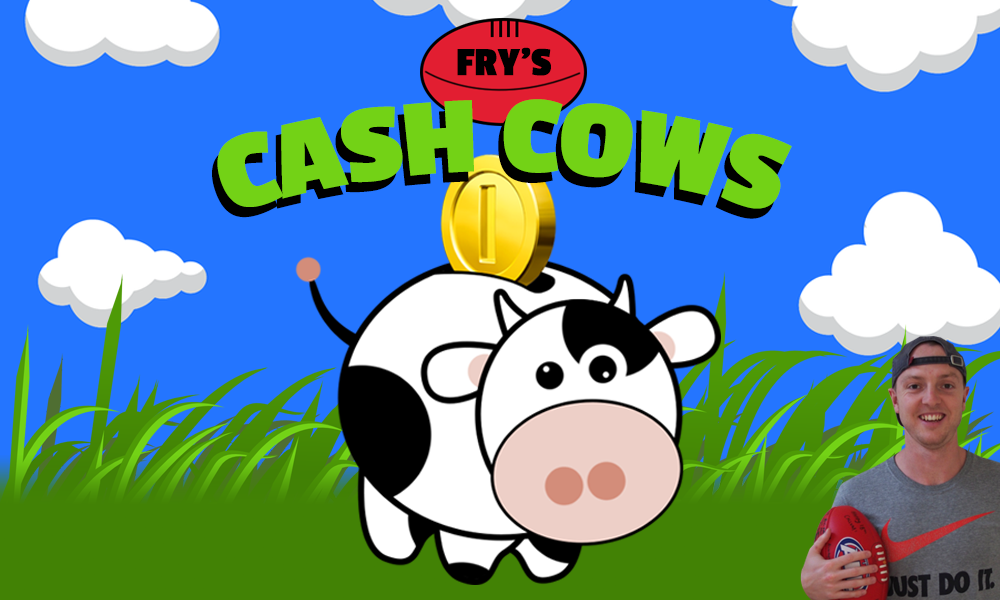 As I write this I'm trying to wrap my head around the concept of 33 games of footy over 20 consecutive days. It's every man (and any sane woman's) best dream to have footy on every day of the week, but as a fantasy coach, the challenge ahead is a colossal one. Cash generation and bench cover are going to be crucial during this time and with an extra trade now up our sleeves, utilising it smartly will go a long way to help navigate the rest of this crazy season!
Rookie/cash cows are usually players who start the season priced at $300,000 or lower
---
Cash Cow King – Round 7
So many scores to choose from! A decent group of rookies came to the party over the weekend with Noah Anderson snagging yet another Rising Star nomination for the Suns for his efforts. Marlion Pickett and Curtis Taylor bounced back from less than spectacular efforts and Will Day shone in the Hawks backline in just his second career game. My vote sides with Taylor this week thanks to his return to form – with Rankine (who also scored 72) unlucky to miss out on a nomination.
Mooooving On
I've simplified the 'Mooooving On' section this week, narrowing down the trade out candidates into two separate tiers. Trading out injured/non-playing rookies usually takes priority, but with three trades up our sleeves coaches will be looking to also axe their cash cows who have topped out in value.
Fattened cash cows
Brandon Starcevich, Lions ($381K, AVG 46, BE 52)
Connor Budaruck, Suns ($334K, AVG 42, BE 42)
Fischer Mcasey, Crows ($354K, AVG 29, BE 31)
Max King, Saints ($317K, AVG 39, BE 37)
Jacob Townsend ($331K, AVG 38, BE 45)
Those who smartly sent Brandon Starcevich and Connor Budarick packing last week would have breathed a sigh of relief after Round 7. Both players have started to decline in value, with key-position players Fischer Mcasey and Max King ready to be dealt as well. Caleb Serong was lucky not to land on the list, but at least he didn't go down in value.
Injured/non-playing rookies
Hayden Young, Dockers ($355K, AVG 41, BE 44)
Tyler Brown, Pies ($263K, AVG 34, BE 16)
Tom Green, Giants ($322K, AVG 42, BE 19)
Jarrod Brander, Eagles ($354K, AVG 55, BE -8)
Trent Rivers, Demons ($296K, AVG 41, BE 14)
The news that Hayden Young is going to be sidelined for a few months saw a LOT of coaches give him the flick last week, but if your team is one of the 9.3% who still owns the young Docker – act accordingly. A trio of T's can't manage to squeeze themselves back into their respective senior sides and if another decent downgrade target is in your sights, offloading them for a few dollars isn't a terrible idea.
Round 8 Rookie Rankings
DEFENSE
And just like that, we have relevant defensive cash cows! Well, sort of. A week after thrusting him into the No. 1 defender slot Lachie Ash ($320K, 51, BE 10) put up solid numbers for nearly 20% of the competition gladly taking his three-round average over 50. It's not a lot, but we'll take it this season. New instalments to the DEF rankings in Will Day ($316K, 72, BE -9) and Ryley Stoddart ($238K, 57, BE -6) deserve half an apology after being skimmed over last week, with Day in particular drawing the interest of fantasy coaches.
The potential return of Jack Scrimshaw this weekend and Day's 67 point average from last year's U-18 carnival scared me off originally but after clunking eight marks on the weekend, there's a blueprint to success for the young Hawk. Stoddart didn't turn as many heads but offloading the underwhelming Brandon Starcevich ($369K, 33, BE 52) could make you a pretty coin. Andrew McPherson ($222K, 44, BE -4) rounds out the top-5 and looms as my favourite downgrade target down back after a solid showing for the Crows.
Top-5
Lachie Ash (Giants)

Will Day (Hawks)

Brandon Starcevich (Lions)

Andrew McPherson (Crows)

Ryley Stoddart (Swans)
Crows duo Fischer Mcasey ($264K, 19, BE 31) and Will Hamill ($253K, 18, BE 20) were the only other fantasy-relevant rookies defenders (sorry Ben McKay) to take to the park this weekend, but neither of them did a lot to improve their reputation. Louis Butler ($229K, DNP, BE -12) thrived on a wing for the Dogs in their scratch match and could earn a recall to the senior side this week but the same can't be said for Trent Rivers ($296K, DNP, BE 14) who remains on the outside looking in.
 Best of the Rest
These players may or may not be in the selection mix this week, but be sure to keep them on your 2020 watchlist in case they burst onto the scene. In no particular order:
Hugh Goddard (Blues, $170K)
Jez McLennan (Suns, $170K)
Will Gould (Swans, $220K)
Trent Bianco (Magpies, $182K)
Tobe Watson (Dockers, $170K)
Matthew Ling (Swans, $170K)
Josh Worrell (Crows, $216K)
Damon Greaves (Hawks, $170K)

MIDFIELD
Finally, after seven weeks of footy, Marlion Pickett ($354K, 89, BE -3) showed off his full fantasy skillset – thanks to a goal, 16 touches, 5 marks and 7 tackles against the Roos. More performances like this will see him climb the ranks and challenge Noah Anderson ($465K, 76 BE 22) for the top rung in the future. The gun Sun deserves his spot atop the food chain for now though and another stellar showing from Sam Simpson ($305K, 62, BE -30) has him well and truly deserving of the No. 2 slot.
The return of Mitch Duncan coupled with a hamstring injury to Joel Selwood should mean Simpson is here to stay for a while, but after rising $135K in price already, the 70%+ of the competition without the gun Cat have missed out on most of his growth. 2019 draftees Dylan Stephens ($317K, 45, BE 9) and Caleb Serong ($342K, 28, BE 33) had two very different weekends with the Swans youngster performing admirably during Sydney's loss to the Suns. The same can't be said for Serong however, who fell from No. 2 to No. 5 this week after just 10 disposals and 1 tackle against a superior Eagles side. No need to panic yet if you're a Serong owner, but it's time to start thinking about offloading the Fremantle rookie.
Top-5
Noah Anderson (Suns)

Sam Simpson (Cats)

Marlion Pickett (Tigers)

Dylan Stephens (Swans)

Caleb Serong (Dockers)
There were plenty of popular picks who didn't excel in Round 7 with Mitch Hibberd ($267K, 34, BE 5) losing his place in the top-5 thanks to just 34 points. He wasn't alone with mainstream names like Ned McHenry ($287K, 36, BE 13) and Harley Bennell ($319K, 36, BE 21) also failing to surpass 30's and debutant Ryan Byrnes ($171K, 21, BE 17) expected to be a one-hit-wonder for the Saints.
Speaking of debutants, we learned yesterday that Bulldogs youngster Callum Porter will play his first AFL match against the Suns on Thursday! The Dogs' 5th fresh face of the season has spent a few seasons plying his craft at VFL level – averaging 17.2 touches amongst his 66.7 point average in 2019 and if you're considering chopping out a non-playing MID to Porter I can't blame you. There's a chance he'll follow in Byrnes' shoes and only last one game, but my gut tells me he can string at least a few games together. Especially if he keeps coming up with cracking jokes like this.
Our class clown, the boy from Officer graduates to the big time 👨‍🎓#MightyWest pic.twitter.com/GLZNojcjH4

— Western B_lldogs (@westernbulldogs) July 21, 2020
Best of the Rest
These players may or may not be in the selection mix this week, but be sure to keep them on your 2020 watchlist in case they burst onto the scene. In no particular order:
Jeremy Sharp (Suns, $218K)
Luke Valente (Dockers, $170K)
Jack Bytel (Saints, $170K)
Finn Maginness (Hawks, $214K)
Riley Collier-Dawkins (Tigers, $170K)
Jackson Mead (Power, $222K)
Tom North (Dockers, $170K)
Cooper Stephens (Cats, $240K)
RUCK
Just because Luke Jackson ($286K, 59, BE 11) suited up for Melbourne last week doesn't mean he'll be there again in Round 8. Tom McDonald is expected to come straight back into the Demons lineup and it could/likely will see Jackson sent back out of the 22. The young Dee did give us a glimpse into the future with 59 points against the Hawks that included his first goal in footy and a healthy 14 touches. He'll be one to watch in years to come, but as long as Max Gawn is at the club, he'll remain fantasy irrelevant.
Top-3
Luke Jackson (Demons)

Darcy Cameron (Magpies)*

Sam Draper (Bombers)*
*if named
Best of the Rest
These players may or may not be in the selection mix this week, but be sure to keep them on your 2020 watchlist in case they burst onto the scene. In no particular order:
Tom De Koning (Blues, $190K)
Jordan Sweet (Bulldogs, $170K)
Matthew Flynn (Giants, $170K)
Bailey Williams (Eagles, $170K)
Lloyd Meek (Dockers, $170K)
Sam Draper (Bombers, $170K)
Sam Hayes (Power, $170K)
FORWARD
After fighting for the top rung in the FWD rankings since the start of the season Curtis Taylor ($399K, 72, BE 27) has once again taken pole position following his heroics on the weekend. Taylor helped himself to a new-career-best 18 disposals in North's loss to the Tigers, with the young Roo bouncing back after scoring just 10 in Round 6. His toughest competition for the top spot comes in the form of last week's No. 1 Laitham Vandermeer ($401K, 41, BE 18) and first-year phenom Izak Rankine ($266K, 72, BE -27). The 41 points Vandermeer scored on the weekend were his fewest since Round 3, while Rankine continues to rise in popularity and value with every kick he earns. We could be in for one helluva race for the 2020 cash cow Forward of the Year!
Rounding out the best five forwards you can find Jake Aarts ($254K, 46, BE 2) and Max King ($317K, 28, BE 37) – two rookies in very different positions as we approach the mid-way point of the season. Aarts' score was boosted by a pair of late goals in Richmond's blowout W, but the young Tiger more than played his part throughout the night. Given their injury woes, it's hard to see him leaving their best-22 anytime soon. The same can be said for King, more out of necessity than anything, with the lumbering Saint flatlining in value this week. His price didn't change one cent after Monday night against the Crows, but with bench cover set to become a factor in the coming week's holding on to King could prove to be a masterstroke. Could…
Top-5
Curtis Taylor (Roos)

Laitham Vandermeer (Bulldogs)

Izak Rankine (Suns)

Jake Aarts (Tigers)

Max King (Saints)
Connor Budarick ($334K, 32, BE 42) days as a dependable cash cow have come to an end with an average of just 32.5 from the last month of footy. He can be flicked out of your sides along with the likes of Jacob Townsend ($331K, 23, BE 45) and Shane McAdam ($270K, 56, BE -1) not far behind him – despite scoring a career-best against St Kilda. Three rookie forward first-gamers were on display last weekend, with the trio taking some time to find their feet at the next level. Cody Weightman's ($255K, 46, BE 14) score looked good on paper, but just 9 touches on the night doesn't fill me with confidence moving forward. Elijah Taylor ($202K, 26, BE 19) and Ned Cahill ($178K, 31, BE 10) didn't make the most of the opportunity in front of them and both will likely be shown the door when team selection rolls around on Thursday night.
Best of the Rest
These players may or may not be in the selection mix this week, but be sure to keep them on your 2020 watchlist in case they burst onto the scene. In no particular order:
Irving Mosquito (Bombers, $170K)
Cameron Taheny (Cats, $172K)
Sam Flanders (Suns, $250K)
Miles Bergman (Power, $244K)
Nakai Cockatoo (Cats, $255K)
Liam Henry (Dockers, $254)
Dylan Williams (Power, $226K)

---