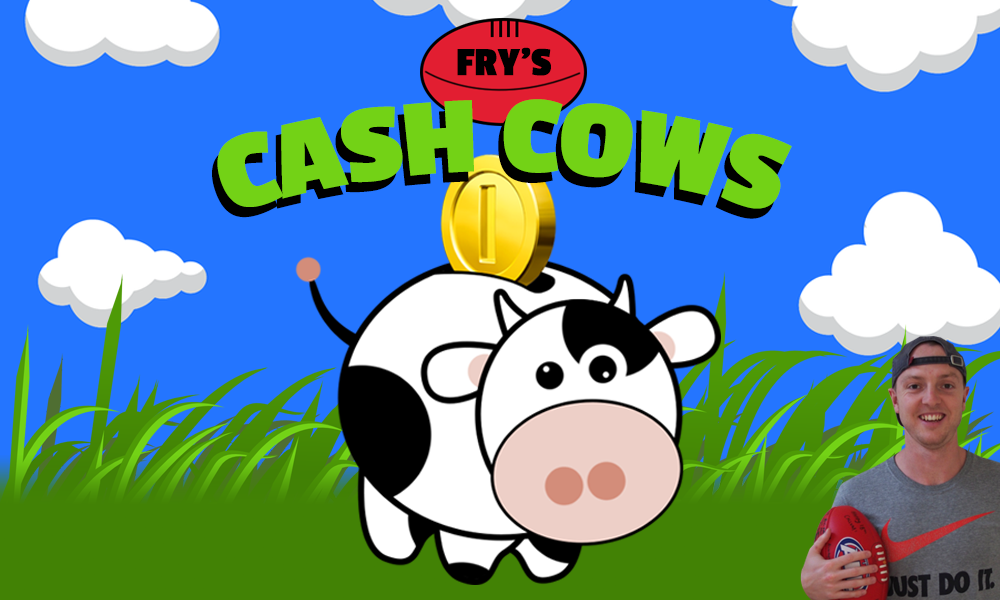 It seems like an eternity ago, but I can still remember exactly where I was sitting. I trailed my league matchup in Round 1 by just 3 points, with Bailey Scott the only player that could drag me over the line in the last game of the weekend. After tormenting me for most of the last quarter, the young Roo gathered one final +6 to give me a memorable W in what I thought was the start of something special.
Unfortunately for both Scott and myself the rest of the season would turn out to be rather bleak and five months later champions around the globe have been crowned, with another fantasy year in the books. Throughout the last 23 weekends, there have been plenty of cash cows and rookies that were crucial in constructing a winning outfit and a handful of special players helped deliver coaches league flags, hats and even some noteworthy prize money. Enough rabbling, you came here for trophies, so without further ado, here are the award recipients for season 2019!
---
Game of the Year
Winner – Reilly O'Brien (146 in Round 13 vs. Richmond)
ROB put up plenty of impressive numbers before this contest against the Tigers, but this game really cemented him as one of the best rooks in 2019. Averaging 85.6 entering the Round 13 bout, some coaches were starting to consider O'Brien as a legitimate starting option at R2, especially with the youngster coming off two 100's in his past three outings. An enormous effort against Richmond in the middle bye round was a blessing that his owners didn't see coming though. 19 disposals, 7 tackles, 56 hitouts and an unreal 146 fantasy points later, there were no more questions over his legitimacy as a fantasy mainstay.
Rookie Coach of the Year
Winner – Ken Hinkley, Port Adelaide
In my eyes, there could be no other deserving winner. Ken Hinkley took out a whopping 70% of the votes with the Power blooding six impressive youngsters this past year, tied for the second-most in the league. What was more impressive was that those youngsters like Xavier Duursma, Connor Rozee and Willem Drew helped a lot of fantasy coaches get out of the blocks quickly, with DPP's additions a massive bonus as their year's progressed. He might not be there to coach them next season, but Hinkley deserves this honour.
Cash Cow King of the Year
Winner – Xavier Duursma, Port Adelaide
I'm glad that someone not named Reilly O'Brien or Sam Walsh claimed a noteworthy award, with Durrsma garnering a higher portion of the 2,000+ votes. Throughout the year, Duurs earned nine Cash Cow King nominations, second only to Walsh, highlighting elite consistency that helped coaches utilise him as one of, if not their final rookie to be removed from the field. Holding Duursma proved to be a masterstroke by those that stuck fat with the Power teen after three straight 50's earlier in the year led to a lot of trade outs. From that point on Duurs recorded only one more 50 over his final 15 matches with nearly half those scores 85 or better. Kudos Duursma.
Defender of the Year
Winner – Xavier Duursma, Port Adelaide
There could be no other. I've already blown enough smoke up his ass and the 22% of coaches who still had Duurs in their Round 23 squads know just how valuable he can be. Injury issues derailed any chance that Marty Hore and/or Sydney Stack had of catching Duurs, with a clear winner in this category.
Are you ? or ? on Xavier Duursma's bow and arrow celebration? ? #AFLPowerNorth #AFL pic.twitter.com/ma5DfiFxv6

— SportsbyFry (@sportsbyfry) April 26, 2019
Midfielder of the Year
Winner – Sam Walsh, Carlton Blues
Shock horror. Walshy actually got better as the year wore on (just ask all of us who traded him out during the byes), scoring four tons in the back half of the year. His start wasn't too bad either, posting three consecutive 100's between Rounds 3-5, failing to dip under 65 at any point this year. Let that sink in for a moment, in his worst game of the year, Walsh STILL posted a score we would have banked from a rookie. The future's bright Blues fans.
Ruckman of the Year
Winner – Reilly O'Brien, Adelaide Crows
Zac Clarke may have been a popular preseason pick for this award, but he didn't exactly find the consistency his owners expected. Archie Smith was another disappointment, while Richmond pair Mabior Chol and Noah Balta plus Port's Peter Ladhams had some moments in the sun. None of them even got close to topping O'Brien for this award, despite the voters on last week's poll giving Clarke more than his fair share of love.
Forward of the Year
Winner – Gryan Miers, Geelong Cats
I didn't nail much this year, but I was on the right side of history with Gryan Miers. It helped that the Cats rolled to a near-perfect first half of the season with the young goalsneak benefitting greatly. A four-week stretch a month into the year where Miers' low score was an impressive 82 points helped him give a low of owners a handy points boost while he kept growing in value. While Miers lacked consistency throughout the rest of the year, he still managed to beat out Connor Rozee for top FWD honours in the polls. If you ask me, the people got it right.
The Cash Cow Team of the Year
I doubt there will be as much hate thrown towards the snubs from the All-Rookie squad as there is to the missing names from the All-Australian side, however, this was trickier to narrow down than you may think. Total points and a high number of games played weighed heavily into a lot of players selections, with some eye-popping flashes in the pan earning a bench spot for their troubles. You can make the case for a few alterations, but here are my picks for the 16 players for the Cash Cow Team of 2019.
DEF: Xavier Duursma, Sydney Stack, Callum Wilkie
MID: Sam Walsh, Bailey Smith, Tom Atkins, Michael Gibbons
RUC: Reilly O'Brien
FWD: Gryan Miers, Connor Rozee, Will Setterfield
BENCH: Marty Hore, Dylan Clarke, Charlie Constable, Zac Clarke, Liam Baker
Finals MVP
Winner – Bailey Smith, Western Bulldogs
Over the final month of the year some big names were left off the all-important team sheets and as a result, cost themselves a run at the Finals MVP award. Reilly O'Brien and Xavier Duursma missing games meant they couldn't be considered, with Bailey Smith, Sam Walsh and Connor Rozee, the three mainstream rookies that pumped out the highest scores over the fantasy finals. Believe it or not, only three points separated the trio, causing me to further dive into the numbers.
Rozee posted two great games in the first fortnight before falling off the pace while Sam Walsh yo-yoed between 60's and nearly triple-figure scores. For that reason, while he only posted a high of 88 (in the GF mind you), Bailey Smith went over 75 in all of his finals as the Bulldogs found their stride marching into September. I have high hopes for this kid and his furious end to his first pro season is a sign of what's to come.
Rookie of the Year 
Winner – Sam Walsh, Carlton Blues
While Reilly O'Brien may have won the official Facebook poll and in turn claimed the Michael Barlow Medal, the voting on my article has seen a different winner emerge. Honestly, I can see why the fantasy community is divided over who to choose, with some putting for ROB's case due to his uniqueness and high scoring potential, while others have highlighted Sam Walsh's consistent and near faultless debut year. Call me biased, but after writing about him in the Deck of DT to start the year, I think that Walsh is a more than deserving winner of my first rookie of the year trophy. One day, it may even be named after the young star…
---
I had to take some time to thank the DT Talk community for their support throughout the season before I bow out. I'll be honest, taking the rookie responsibility on was a fairly daunting task at times and one I wasn't sure if I really wanted to commit to. However, the positive feedback that I've received throughout the year didn't go unnoticed and I look forward to another dabble in 2020.
Rest up and enjoy the off-season.
✌️