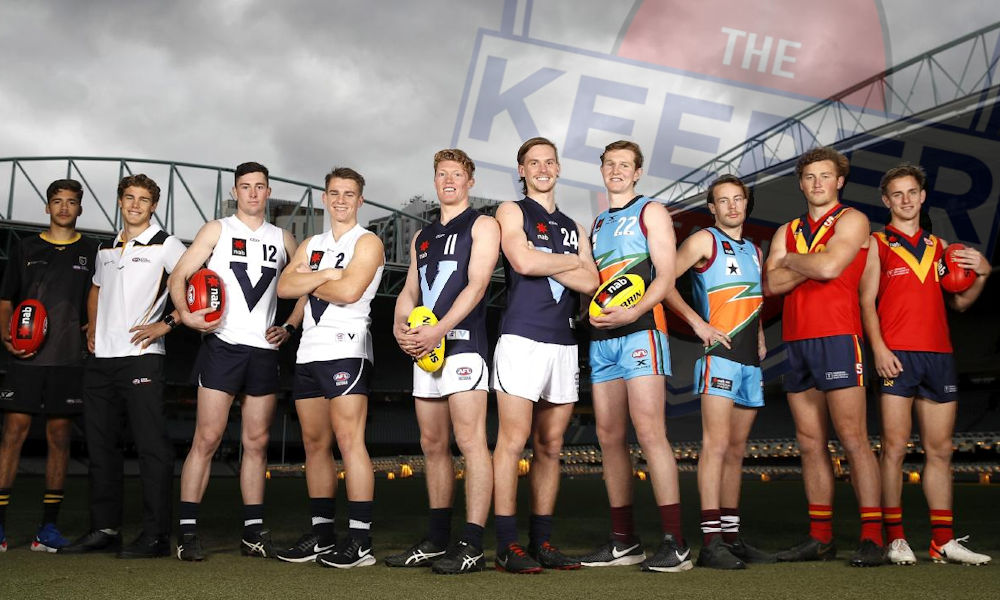 In the lead up to the draft, we're going to take a look at some of the better performers at underage level.
As you probably know, analysing underage numbers for future fantasy potential is not a perfect science. But quite often, players who perform well from a fantasy perspective will provide similar at numbers at AFL level.
Take a look at Xavier Duursma last year, who was taken at pick 18 in the 2018 draft. He outperformed most of the players taken ahead of him. If you looked at his underage numbers prior, this would have come as no surprise.
James Worpel was only picked at selection 45 in the 2017 draft. But again, if you looked at his fantasy numbers from the NAB League and Under 18 Championships (93 and 92 average respectively), there were signs of elite fantasy potential.
At The Keeper League Podcast, we've spent the last month scouring state league and Under 18 Championships stats to find you the most promising fantasy performers who might get picked in the draft later this week.
In this article, we will bring you some of those players as we look at the best fantasy prospects ahead of the 2019 AFL Draft.
Matthew Rowell
There is a good reason why this guy is tipped to go number one this week – he is an absolute beast.
If you're not already aware, Matthew Rowell turned heads in the NAB League grand final this season. In that grand final, the Oakleigh Chargers midfielder amassed 44 disposals, 8 marks, 9 tackles and 2 goals, adding up to 176 AFL Fantasy points for the game. As a result, Rowell was awarded BOG in the NAB League grand final.
Across the season he played 7 games for Oakleigh Chargers with top scores of 143, 140 and 119. His lowest score for the season (81) came in round 1 against Eastern Ranges. However, this was his only score below 100 in all of his NAB League games.
Rowell averaged 102 across his four games Under 18 Championships games with his top score coming against Vic Country. In this game, he scored 116 fantasy points with 28 disposals, 8 marks, 5 tackles and a goal. Additionally, his other scores across the competition were 107, 93 and 91.
Deven Robertson
Deven Robertson is an absolute ball magnet. His stats and fantasy scores at underage level confirm this.
At the Under 18 Championships, the West Australian prospect averaged 113 fantasy points across the competition. He only had one score under 100 in his four games and produced his top score of 125 points against South Australia in the second round.
He averaged 30 disposals per game at the Championships, which is more than Sam Walsh did in 2018.
There were a few concerns from these numbers though, as he tended to favour the handball. He had a 0.7:1 kick-to-handball ratio, with 13 kicks and a whopping 17 handballs per game.
At WAFL level, Robertson only played 2 games for Perth Demons, as a shoulder injury at the Under 18 Championships ended his year. Playing both games in the colts, he had scores of 97 and 143, averaging 14 kicks, 15 handballs, 7 marks, 5 tackles and 120 AFL Fantasy points per game (note the improved kick-to-handball ratio).
Whilst playing two games only gives us a small sample size, his numbers were similar to those produced at the Under 18 Championships.
Caleb Serong
Caleb Serong is another player who looks like a fantasy baller. He is tipped to go in the top 5 of this year's draft and has put up some juicy numbers this season.
Playing as a mid-forward in 2019, Serong performed well in the 5 NAB League games he played for Gippsland Power. Over the course of the season, he averaged 103 AFL Fantasy points.
His top score of the year came from Gippsland's first final against Oakleigh Chargers. He scored 108 AFL Fantasy points after having 29 disposals, 4 marks, and 5 tackles. He had scores of 97, 99, 106 and 103 in his other 4 games of the season.
At the Under 18 Championships, his fourth-round performance versus South Australia a real standout. In this game, he amassed 33 disposals, 9 marks and 9 tackles to score 151 fantasy points.
Additionally, his other scores across the competition included 128, 89 and 90, averaging 114 points.
Noah Anderson
Vic Metro and Oakleigh Chargers gun Noah Anderson looks set to be one of the next big bodied mids to start in the AFL.
Anderson started off the NAB League with three tonnes in a row including a massive haul of 155 points in round 2 versus Calder Cannons.
This included a lazy 44 touches with 26 kicks and 18 handballs. He dominated the game with 20 contested possessions and 10 clearances, adding 2 goals to his tally.
In his 7 games in the NAB League this year, he averaged 15 kicks, 13 handballs, 3 marks, 4 tackles and 2 goals per game. This equated to an average of 107 fantasy points for the season.
His performances at the Under 18 Championships were a little leaner but still solid. He averaged 24 touches with 84.5 fantasy points per game. His top score came against Vic Country, where he had 16 kicks, 9 handballs, 5 marks, 8 tackles and 113 fantasy points.
Tom Green
Tom Green's fantasy potential is huge. The 190cm & 88kg inside bull (who some draft experts have called the next Patrick Cripps) looks to have some serious ball-winning pedigree and fantasy ability.
He only played four games in the NAB League but still averaged 112 points per game. Across these four games, he had a couple of games where he racked up big scores of 124 and 130 fantasy points. In these two games, he had 37 and 38 touches respectively.
Overall, he averaged 112 fantasy points in the NAB League, going at 15 kicks, 18 handballs, 3 marks, 4 tackles and a goal per game.
At the Under 18 Championships, he averaged 85 points per game. His top score came in round 4 against Vic Metro, where he had 33 disposals, 5 marks, 2 tackles, 1 goal and 112 fantasy points.
Green also played 4 NEAFL games for the Giants, which included scores of 45, 43 and 59. While these numbers are not setting the world alight, we're willing to forgive a 17-year-old kid playing in a senior competition.
But in his Round 9 game against the Suns, he picked up 28 touches with 11 kicks, 17 handballs, 4 tackles and a goal, equating to an even 100 fantasy points.
Not bad for a kid playing against grown men, some of whom are already on an AFL list.
The Keeper League will be releasing all the fantasy numbers of players selected in the 2019 AFL Draft to their members. Sign up to gain access.
Note: Stats from NAB League and Under 18 National Championships were sourced from Aussie Rules Draft Central, which do not include frees for, frees against and behinds. These stats were not included when calculating fantasy numbers.