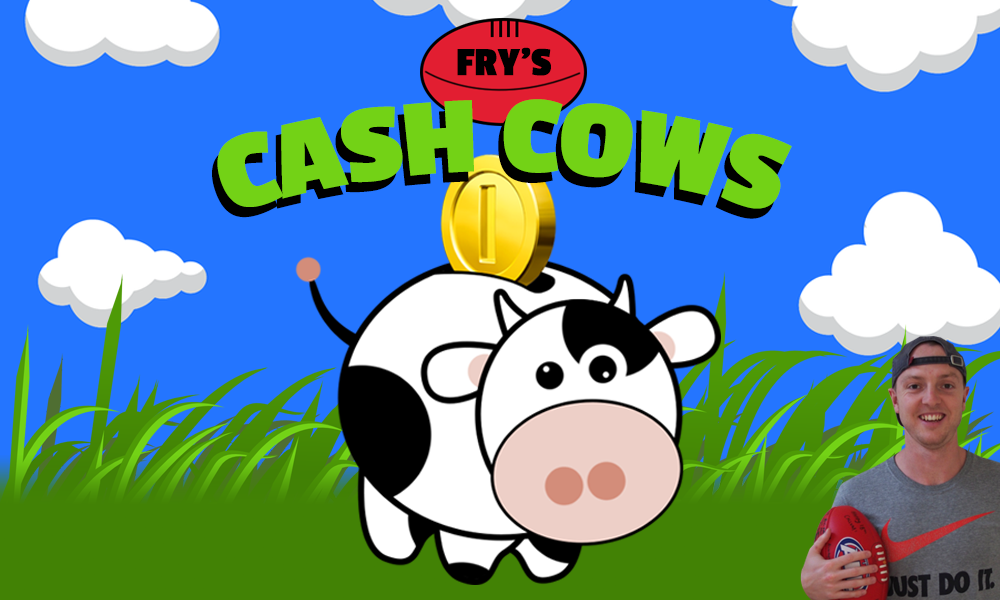 And then there was one. One weekend of fantasy footy remains until another long offseason where we are left to ponder where it all went wrong. For some coaches though, this round is the most important of all, with bragging rights and New Era caps still being hotly contested. Rookie downgrades won't be at the top of everyone's list this week, so after putting forth some nominees last week, it's time to have your say on who should win a number of rookie awards! Below is the list of categories that I need your votes for, in an effort to find some deserving rookie/cash cows worthy of recognition after season 2019.
Cash Cow King – Round 22
Before diving into the heavy awards I need to give the Round 22 CCK nomination out. Big guns like Sam Walsh and Sam Jacobs failed to fire with Xavier Duursma and Sydney Stack nowhere to be seen, which left some other unheralded youngsters left to do the heavy lifting. It would be unfair to throw Atkins in this same group after 20 games of service this season. If anyone was still rocking him in their sides, he won't be leaving with their final set of trades. Kudos Tommy.
---
Award Races
Game of the Year
The early season nomination came from Connor Rozee, who showed why Port Adelaide drafted him 5th overall last year. The young gun dropped the first rookie 120+ of the year in Round 3 with a five-goal outing against Brisbane one of the highlights of the rookie season. A little over a month late, amid plenty of late change confusion, Charlie Constable threw his hat in the ring with a 27-touch, 10 mark display against the Roos. Unfortunately, his score sat on most people's bench, but it was a stellar showing from Constable in what was likely his final game for a lot of fantasy coaches.
The next candidate in Reilly O'Brien came via 54 hitouts against a helpless Richmond ruck division as ROB cemented himself as one of, if not the best fantasy rookie going around. A Carlton midfielder might have something to say about that, and while statistically speaking Walsh had better scores in his rookie campaign, his performance against the Dockers in an away win could see him earn multiple Brownlow votes, if not BOG honours.
Rookie Coach of the Year
Throughout the 2019 season, some coaches have caused coaches to pull their hair out in frustration as we struggle to find the perfect rookie shuffling technique. However, through these trials and tribulations, there are some lead men who have provided us with stability. Giving their respective rookies multiple games to find their feet and adding to the list of debutants as the season wore on. Who gets the nod in your eyes as the Coach of the Year from a rookie/cash cow perspective?
Cash Cow King of the Year
Over the duration of the season, I have nominated four players each week who were worthy contenders for the Cash Cow King of each specific Round. Through 21 weeks, there are a handful of candidates whi stand above the rest as the most consistent and reliable contributors of the season, each garnering multiple nominations and a few wins as the best performer of an individual weekend of footy. In no particular order, these five players have found themselves nominated on a consistent basis ahead of any other rooks. Who gets your vote as the more consistent rookie and the Cash Cow King of the 2019 season?
Defender of the Year
After trading out Xavier Duursma in Round 5 for Rory Laird I quickly discovered that I pulled the trigger too early on Port's young star. Not only did Duurs showcase a much higher ceiling from that point onwards, he grasped the best rookie defender label with one hand in the process. He had noteworthy competition however, with Marty Hore and Sydney Stack entering the conversation throughout the year as potential winners of the best rookie defender, with the trio separating themselves from the rest of the pack as the season wore on. Who gets your vote for the best defensive rook this year?
Midfielder of the Year
With a clear winner emerging in this category it was tough for the other nominees to stand out. The front runner for the Rising Star award in Sam Walsh looked a class above his years in 2019, playing with a level of poise barely witnessed by a player so young. The likes of Dylan Clarke and Tom Atkins had their moments, but unfortunately for them, they basically just made up the numbers in this pool. Who's the winner of the label as best midfield cash cow this season?
Ruckman of the Year
I am contractually obligated to put a poll up for this award, despite a clear winner in this category. No offense to Zac Clarke, who had his moments especially in the second half of the year, but there isn't a lot of competition here…
Forward of the Year
Only one of these players revolved through my team throughout the year, but I think all three have a decent case as the best forward this season. Both Miers and Rozee have had their difficulties with Liam Baker's case hurt by some missed games. However, the Tigers' small may have boasted the highest ceiling of the trio, with two huge scores just prior to the byes proving to be a huge boost for coaches. Who get's your vote?
The 2019 Rookie MVP
The head honchos behind this successful site have already put their own nominations forward for the rookie MVP, with a clear two-horse race between Sam Walsh and Reilly O'Brien. There are different factors that weigh heavily in each players favour, with both putting forward a strong case to be a worthy MVP winner. There can only be one though…
---
Feel free to shoot your rookie/cash cow questions through on Twitter at @SportsbyFry for me to answer in the article. If Twitter isn't your preferred domain hit me up on Instagram or Facebook and I'll get back to you as soon as I can.
Good Luck for Round 23 for your Fantasy Grand Final!
✌️