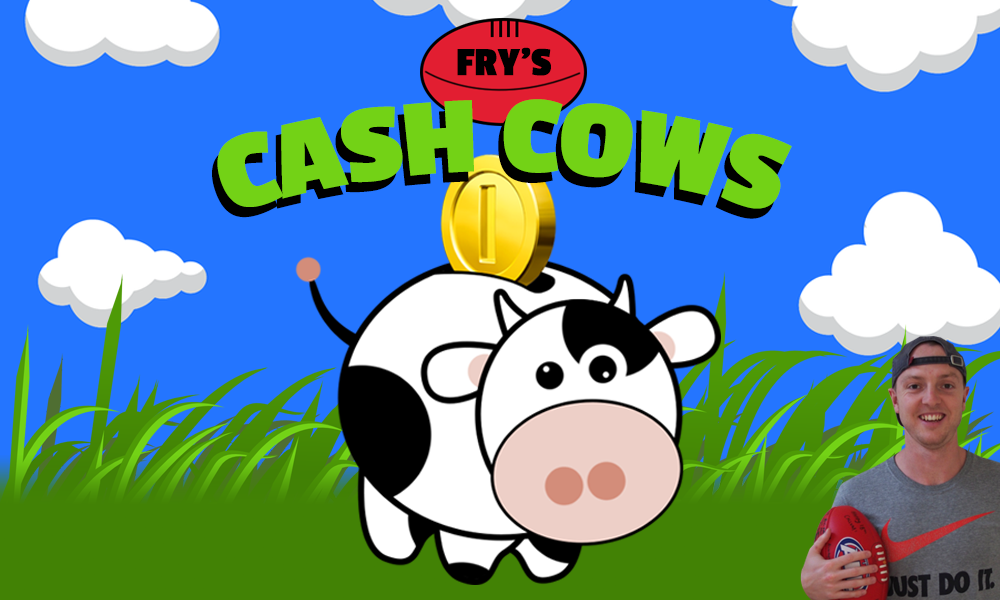 Here. We. Go.
Things aren't going to be normal in the fantasy world for possibly a few months and the rookies front is going to be hard to stay on top of! I've tweaked the Round 9 guide to help you prepare for the madness ahead – keeping the same staples from the weekly Cash Cow pieces so far this season and added a game-by-game look at the rookie front. Hopefully this gives you a guide to check back on throughout the round ahead.
At the end of the day, chopping rookies out for the new one's on the rise is the smartest tactic. We are only half the way through the fantasy season and with three trades each round there's still plenty of time to fix your mess if you're on the ball for the next month. Be the buttermouse!
Rookie/cash cows are usually players who start the season priced at $300,000 or lower
---
Cash Cow King – Round 8
Despite having him on my bench, this week's nomination goes to Caleb Serong for FINALLY living up to his preseason hype with a huge score! His 98 came while locking horns with Dangerfield for a fair chunk of the game, helping himself to a 34-point final quarter that included a crucial goal for Freo. A pair of Crows defenders and another 'hug-happy' outing from Mitch Hibberd were all worth mentioning, but Serong gets my vote.
Loading ...
Round 9 Game Preview
FYI: Player Name ($Price, Position, Rd 8 Score, Breakeven)
Bulldogs vs. Tigers – WED
For the 9,000+ coaches that jumped on Callum Porter ($178K, MID, 30, BE 12) there's bad news on the injury front with the debutant suffering a shoulder injury that will keep him our for a week or two. Louis Butler ($229K, DEF/MID, DNP, BE -12) failed to get up for the Tigers clash, but I wouldn't look to trade him out just yet with the hope he features again soon. Round 9 will start with a bang for most coaches thanks to Marlion Pickett ($380K, MID, 33, BE 21), who held his spot in the side after gathering just 10 touches against GWS.
Both Pickett and Jake Aarts ($274K, FWD, 30, BE 17) could be used as emergency choices early in the round – safely locking away a score on your bench in case another player in your squad misses later on. It surprised me to learn that over 5,000 teams opted to take the punt on Derek Eggmolesse-Smith ($395K, DEF, 36, BE 23) and I've got a lot of questions about the Tigers defender, despite his inflated price tag. Let me set the record straight, I don't trust the Egg. While he won't be playing this round (barring a late change) keep your eye on Riley Collier-Dawkins ($170K, MID, DNP, BE 19). While Collier-Dawkins is yet to make his debut, Damien Hardwick mentioned that RCD is knocking down the door for selection and should be on an AFL field any week now.
Richmond Update: Riley Collier-Dawkins#AFL | @aflratings pic.twitter.com/sHC9MRNUAs

— aflratings.com.au (@aflratings) July 28, 2020
Demons vs. Power – THURS
Touted 2019 draft picks Luke Jackson ($297K, RUC, 27, BE 23) and Kosi Pickett ($290K, FWD, 22, BE 41) give Dees fans a glimpse into the future, but as it stands right now neither are really viable fantasy options. Unfortunately, for a large chunk of the comp, neither is Trent Rivers ($296K, DEF/MID, DNP, BE 15) and my gut tells me he'll miss at least Melbourne's clash with Brisbane as well.
The Demons defender may earn a recall when niggles and small injuries take their toll, but for now, he remains on the outs. Harley Bennell ($331K, MID, 38, BE 31) should be in the 22 to take on Port and with five scores under 50 from five tries, trusting him on your field is a risky move. For Port Adelaide, Mitch Georgiades' ($285K, FWD, 35, BE 12) return to senior action was a welcome sight although I expect more 30's/40's from the Power forward. Key position players aren't usually fantasy goldmines and given his price, I'd look elsewhere.
Blues vs. Hawks – FRI
It only dawned on me as I started writing the rookie preview for this game that there is nothing going on at Carlton on the rookie front. Zilch. No offense to those who took the punt on Tom Williamson ($330K, DEF, 25 BE 50), but the Blues backman has seen his points go down in every game he's played since Round 2. Callum Moore ($238K, FWD, 8, BE 41) made his debut for the club on the weekend, but scoring just 8 points won't get you on the fantasy radar. The most talked-about fantasy Hawk is Will Day ($350K, DEF, 38, BE 11) with nearly 15% of classic sides investing in the first-round pick. With scores 58 and 72 before this weekend, I expect him to bounce back in Round 9 with something more respectable.
Bombers vs. Lions – FRI
Jacob Townsend ($333K, FWD, 50, BE 33) still remains the most popular Bombers fantasy rookie and the pressure forward could be a handy bench player in the coming rounds. His five-round average of 37.6 isn't great though and there's nothing wrong with cashing in Townsend. Youngsters Ned Cahill ($192K, MID/FWD, 30, BE 8) and Mitch Hibberd ($324K, MID, 81, BE -9) should both hold their place given the Bombers injury list, but Cahill will need a big performance against Brisbane if he wants to hang around long term.
Speaking of the Lions, Brandon Starcevich ($361K, DEF/MID, 42, BE 46) continues to frustrate 48% of the league – although he provides a stable source of 40-ish points without any fuss. As someone who jumped S.S. Starcevich off last week, I can confirm you sleep better at night. A special moment of silence for the 133 coaches who traded in Archie Smith ($259K, RUC, 25, BE 29) only to see him suffer a syndesmosis injury…
Roos vs. Crows – SAT
Alright, let's talk Curtis Taylor ($399K, FWD, 29, BE 47). He'll be in the gun for a lot of coaches this week and his yo-yo scores give us plenty of reason to panic. 74, 10, 72 and 29 is what he's dished up in the last month – a nightmare for coaches shuffling rookies on and off your bench. Taylor has decent scoring potential, so if you're going to keep him, start him on your field and ride the rollercoaster. Rookie priced Roo Ben McKay ($215K, DEF, 38, BE 8) doesn't excite me as a fantasy prospect, but a pair of Crows defenders do.
Starting Andrew McPherson ($276K, DEF, 69, BE -14) and/or Will Hamill ($289K, DEF, 69, BE 3) proved to be a wise move against Essendon with McPherson in particular intriguing coaches – currently sitting as the second most traded in player. If you're looking for a Starcevich replacement, McPherson's your man. The return (hopefully) of Ned McHenry ($287K, MID, DNP, BE 13) will help 20% of the fantasy community and give us another loophole emergency option in the midfield.
Saints vs. Swans – SAT
Still the 5th most popular player in the competition, plenty of coaches will want to hold onto Max King ($317K, FWD, 39, BE 33) for the upcoming fixture scramble – even though his scoring has dried up. Just once in his last five matches has King scored over 40, when he dropped a 41 against Fremantle and if I was you I'd look to make a move from the Saints tall when possible. Swans first-gamer Matthew Ling ($182K, DEF, 35, BE 9) quickly made his way into 10% of fantasy sides and while he could survive the bench during the fast-paced fantasy season, I'd much rather another defensive rookie (more from him soon). Those who find themselves in the Dylan Stephens ($327K, MID, 24, BE 29) camp don't need to hammer the trade button just yet, with the No. 5 pick more than capable of better numbers this weekend.
Eagles vs. Cats – SAT
Unless Jarrod Brander ($354K, DEF/FWD, DNP, BE -8) returns or Bailey Williams ($170K, RUC, DNP, BE 19) earns an unlikely debut then the cash cow front is dire at West Coast. Geelong, on the other hand, has two prominent rookies worth talking about, with rookie Brad Close ($206K, MID/FWD, 67, BE -12) viewed the No. 1 trade target ahead of this round by most. The versatile Cat averaged 70 points at SANFL level a year ago, winning a flag with Glenelg before being rookie selected by Geelong with the 14th pick. Close gets the tick of approval for me although he faces a tough task on your field against the Eagles in Round 9. A pattern of getting worse with each fantasy outing will hopefully end against the Eagles for Sam Simpson ($363, MID, 48, BE -4) with over 30% of teams eager to see the talented Cat excel.
"That's not even CLOSE to missing!"

Brad Close joins the first kick, first goal club 🙌#AFLFreoCats pic.twitter.com/gW1utpVvp3

— AFL (@AFL) July 27, 2020
Suns vs. Giants – SUN
I was flat out wrong about Izak Rankine ($324K, FWD, 52, BE -11) with Gold Coast's excitement machine accumulating plenty of the footy through three career games. Until he shows signs of slowing down, I'd be backing him in on the ground. A lot of coaches would have swapped the highly regarded Sun in for his teammate Connor Budarick ($331K, MID/FWD, 40, BE 36) who has stalled in price and production. With the small defender role Budarick's to lose, his fantasy value takes a significant hit. Giants defender Lachie Ash ($339K, DEF/MID, 37, BE 22) finds himself in a similar boat and his owners would love to see another 50+ score against Gold Coast. I'll be eager to watch the potential return of Zac Williams and see how it affects Ash and the rest of GWS' defenders.
Dockers vs. Magpies – SUN
Injury creates opportunity and hamstring issues for both Michael Walters and Darcy Tucker could lay the blueprint for Caleb Serong ($390K, MID, 98, BE 7) to become the No. 1 ranked midfield rookie. Fyfe's return could change things, however, I'm backing Serong in to prove Round 8 was no fluke and score well against a tough Magpies outfit. Tobe Watson ($175K, DEF, 26, BE 14) will garner plenty of interest if he can hold his spot in the side to take on Collingwood, after averaging 68.4 points in 16 WAFL games last year. If you're looking at a cheap DEF for your bench, my advice would be to pick Watson. Finally, the return of Darcy Cameron ($266K, RUC, 50 BE 0) helped a lot of R3 slots and if he can hang around and make us a few more dollars 51% of the comp won't complain.
Mooooving On
I've simplified the 'Mooooving On' section, narrowing down the trade out candidates into two separate tiers. Trading out injured/non-playing rookies usually takes priority, but with three trades up our sleeves coaches will be looking to also axe their cash cows who have topped out in value.
Fattened cash cows
Brandon Starcevich, Lions ($361K, AVG 46, BE 46)
Curtis Taylor, Roos ($399K, AVG 49, BE 47)
Connor Budarick, Suns ($331K, AVG 42, BE 36)
Max King, Saints ($317K, AVG 39, BE 33)
Jacob Townsend ($333K, AVG 40, BE 33)
Injured/non-playing rookies*
Jarrod Brander, Eagles ($354K, AVG 55, BE -8)
Hayden Young, Dockers ($355K, AVG 41, BE 44)
Trent Rivers, Demons ($296K, AVG 41, BE 14)
Tom Green, Giants ($322K, AVG 42, BE 19)
Tyler Brown, Pies ($263K, AVG 34, BE 16)
*Player was injured/not playing in Round 8
Rookie Rankings
DEFENSE
Will Day (Hawks)

Andrew McPherson (Crows)

Lachie Ash (Giants)

Brandon Starcevich (Lions)

Will Hamill (Crows)
 Best of the Rest
These players may or may not be in the selection mix this week, but be sure to keep them on your 2020 watchlist in case they burst onto the scene. In no particular order:
Hugh Goddard (Blues, $170K)
Jez McLennan (Suns, $170K)
Will Gould (Swans, $220K)
Trent Bianco (Magpies, $182K)
Josh Worrell (Crows, $216K)
Damon Greaves (Hawks, $170K)

MIDFIELD
Noah Anderson (Suns)

Caleb Serong (Dockers)

Mitch Hibberd (Bombers)

Sam Simpson (Cats)

Marlion Pickett (Tigers)
Best of the Rest
These players may or may not be in the selection mix this week, but be sure to keep them on your 2020 watchlist in case they burst onto the scene. In no particular order:
Jeremy Sharp (Suns, $218K)
Luke Valente (Dockers, $170K)
Jack Bytel (Saints, $170K)
Finn Maginness (Hawks, $214K)
Riley Collier-Dawkins (Tigers, $170K)
Jackson Mead (Power, $222K)
Tom North (Dockers, $170K)
Cooper Stephens (Cats, $240K)
RUCK
Darcy Cameron (Magpies)

Luke Jackson (Demons)

Sam Draper (Bombers)*
*if named
Best of the Rest
These players may or may not be in the selection mix this week, but be sure to keep them on your 2020 watchlist in case they burst onto the scene. In no particular order:
Tom De Koning (Blues, $190K)
Jordan Sweet (Bulldogs, $170K)
Matthew Flynn (Giants, $170K)
Bailey Williams (Eagles, $170K)
Lloyd Meek (Dockers, $170K)
Sam Draper (Bombers, $170K)

FORWARD
Izak Rankine (Suns)

Curtis Taylor (Roos)

Brad Close (Cats)

Laitham Vandermeer (Bulldogs)

Jake Aarts (Tigers)
Best of the Rest
These players may or may not be in the selection mix this week, but be sure to keep them on your 2020 watchlist in case they burst onto the scene. In no particular order:
Irving Mosquito (Bombers, $170K)
Cameron Taheny (Cats, $172K)
Sam Flanders (Suns, $250K)
Miles Bergman (Power, $244K)
Nakai Cockatoo (Cats, $255K)
Liam Henry (Dockers, $254)
Dylan Williams (Power, $226K)

---