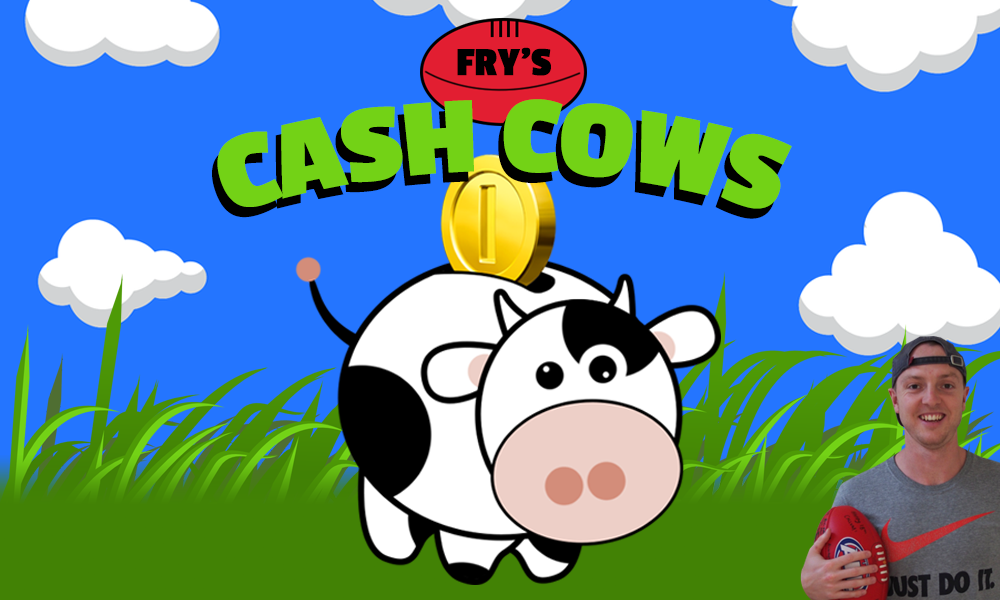 I won't rabble on in the intro this week, with most coaches likely scrolling straight past this for all the relevant cash cow info. During this manic time, we all want to focus on making our sides better and there are a bunch of cash cows who are starting to lose value and slip in price after initially being an integral part of our teams. Bye round scores will come into effect this week as well, giving everyone lots to think about as the footy fiesta rolls on!
Rookie/cash cows are usually players who start the season priced at $300,000 or lower
---
Cash Cow King – Round 9
You'd be hard-pressed to find a team that owns all four of the Round 9 nominees for the Cash Cow King award, but one popular name among the bunch continues to turn heads. After averaging 45 points in his first month of footy, Caleb Serong has produced back-to-back 90's while attending 26 out of 32 CBA's for Freo in the last fortnight. Ben McKay deserves mention for his 90+ score with Jack Mahony and Mitch Georgiades doing their part as well. For the second week in a row though, Serong can't be ignored.
Loading ...
Round 10 Game Previews
Bye Teams
This round all Carlton, Hawthorn, Fremantle and West Coast players will be awarded their average score – providing they played in Round 9. These players will be locked in tonight, so if you want to make any changes do so ASAP! Here are the mainstream rookies who you can lock in a score from for the round ahead:
Caleb Serong – 62
Will Day – 54
Tobe Watson – 46
Tom Williamson – 39
Michael Frederick – 29
Power vs. Dogs – MON
Monday's clash doesn't feature a ton of relevant cash cows, but those who own Mitch Georgiades ($329K, FWD, 72, BE 0) will have a close eye on the Port power forward. Georgiades is coming off his best game of the season after kicking 3.2 in Port's win, however, I expect more 50's in the near future. Port's second debutant of the year Boyd Woodcock ($170K, FWD, DNP, BE 19) will get his first crack at the AFL against the Dogs after being named an emergency for three straight weeks and averaging 78 from 21 SANFL games a year ago (including 22 goals). He might not carve out a long-term role in their outfit, but Woodcock could score well while he plays. Cody Weightman ($261K, FWD, DNP, BE 23) returns for the Dogs this week, but my focus is on Laitham Vandermeer ($427K, MID/FWD, 44, BE 49) after three straight scores in the 40's. If you can upgrade the Dogs rookie make sure to do so before tonight's game gets underway.
Tigers vs. Lions – TUES
The yo-yo that is Marlion Pickett ($411K, MID, 64, BE 21) was on full display in Round 9 with the popular Tiger still residing in more than 50% of teams. To bench Pickett or not continues to perplex owners and he'll be every chance to return back to a low score against Brisbane. A few goals helped boost Jake Aarts' ($300K, FWD, 52, BE 16) score last week, but much like Pickett he could struggle to top 40 in what should be a tight contest against the Lions. Sticking with the theme of low fantasy scores Brandon Starcevich ($353K, DEF/MID, 37, BE 43) owners can expect him to keep bleeding cash and hovering at the $350K mark while scoring around the 40-point mark. I'd be looking to offload him ASAP and if you need some more cash to generate a move don't look too hard at Connor Ballenden ($181K, FWD, 34, BE 9) who had just 6 touches on debut.
Cats vs. Roos – WED
One of the most traded-in players last week in Brad Close ($244K, MID/FWD, 39, BE -5) didn't have a fruitful score against West Coast, but he looms as one of the best money making rookies up for grabs right now. Fellow popular Cat Sam Simpson ($401K, MID, 49, BE 20) didn't trend backwards this week, but there isn't a ton of growth left in the mature-ager, meaning coaches might need to start thinking of a succession plan. Young Kangaroo forwards Jack Mahony ($295K, MID/FWD, 74, BE -2) and Curtis Taylor ($381K, FWD, 25, BE 59) seemed to swap bodies against Adelaide with Mahony thriving and Taylor failing for a considerable portion of fantasy teams. With a BE of 59, I'd try get Taylor up to a more trustworthy FWD if you've got the cash – however, I trust his scoring potential if you can't make a move this week. I need to give Ben McKay ($277K, DEF, 91, BE -22) props for hands down the best score of his career, but remember, he won't be playing the Crows every week.
Crows vs. Demons – WED
As Adelaide search for their first win of the season, we can expect to see their kids continuing to get heavy game time. Down back Andrew McPherson ($320K, DEF 45, BE 3) has clearly overtaken Will Hamill ($303K, DEF, 23, BE 25) in the defensive pecking order making Hamill a potential trade out candidate. Shane McAdam ($342K, FWD, 72, BE 6) had an impressive showing with 2.2 and career-highs across the board. I trust him to keep scoring north of 50 on most occasions, but I wouldn't trust him weekly on your field. Big men Kieran Strachan ($179, RUC/FWD, 31, BE 11) and Luke Jackson ($291K, RUC, 16, BE 39) from the Dees hardly cemented their spot in the side during Round 9 and both could be left out of the 22 for Wednesday's clash. Finally, keep your eyes on Tom Sparrow ($299K, FWD, 42, BE 26) who averaged 17 touches and 7 tackles in 2019 at VFL level from just 6 games. If he's given a chance to string some matches together he could become a crucial POD.
Magpies vs. Swans – THURS
Another solid showing from Darcy Cameron ($302K, RUC/FWD, 49, BE 7) should keep Mason Cox sidelined and let Cameron continue to rise in value. There's nothing wrong with offloading Cameron, however, while he's making money I'd be holding onto him (sorry Sam Draper). The same can't be said for Mark Keane ($176K, DEF 27, BE 14) who should be a one-hit-wonder and find his way out of the side for the upcoming round. In Sydney, few cash cows have emerged with a portion of the fantasy community putting their trust in Matthew Ling ($199K, DEF, 32, BE 7).  Through two contests, Ling hasn't produced decent numbers and those considering the Swans rook need to remember his average score will be awarded in Round 11 too.
Saints vs. Suns – THURS
A ton of coaches (myself included) opted to give Max King ($336K, FWD, 60, BE 21) the flick this week and naturally, the towering Saint went on to produce his best score of the season. I'd still plan to move King along, sooner rather than later with another forward eligible cash cow in Connor Budarick ($335K, MID/FWD, 42, BE 32) in the same basket. It's not all bad news on the rookie front for this match with a large portion of the fantasy community getting behind Izak Rankine ($355K, FWD, 32, BE 20) and Noah Anderson ($494K, MID, 49, BE 51). Rankine and Anderson are both averaging 55 points on the season and their recent form suggests we can trust them for a few more weeks. A solid showing against the Saints would be a nicely timed boost.
Bombers vs. Giants – FRI
There wasn't a lot of exciting news for Ned Cahill ($198K, MID/FWD, 14, BE 19) owners with the Essendon small potentially on the outs to take on GWS, but first-gamer Sam Draper ($197K, RUC, 55, BE -4) faired much better. The highly-touted ruck helped himself to 21 hitouts against Brisbane and there's every chance he can topple Tom Bellchambers and claim the No. 1 spot on Essendon's ruck depth chart. For the Giants, Lachie Ash ($366K, DEF/MID, 59, BE 22) continues to get it done for 17% of the fantasy world, scoring another 50 on the weekend and rising in value slightly. Given his DPP versatility, Ash could be one of the final rookies moved on by coaches and hopefully, a strong game against the Dons will boost his average for the Round 11 score.
Sammy skying on debut.

That's a @Coles Insurance Mighty Moment.#AFLDonsLions pic.twitter.com/6zbIDH9Zd1

— Essendon FC (@essendonfc) July 31, 2020
Mooooving On
I've simplified the 'Mooooving On' section, narrowing down the trade out candidates into two separate tiers. Trading out injured/non-playing rookies usually takes priority, but with three trades up our sleeves coaches will be looking to also axe their cash cows who have topped out in value.
Fattened cash cows
Brandon Starcevich, Lions ($353K, AVG 44, BE 53)
Curtis Taylor, Roos ($381K, AVG 46, BE 59)
Connor Budarick, Suns ($335K, AVG 42, BE 32)
Max King, Saints ($336K, AVG 41, BE 21)
Laitham Vandermeer, Dogs ($427K, AVG 51, BE 49)
Injured/non-playing rookies
Jarrod Brander, Eagles ($354K, AVG 55, BE -8)
Ned McHenry, Crows ($287K, AVG 36, BE, 13)
Tom Green, Giants ($322K, AVG 42, BE 19)
Justin McInerney, Swans ($282K, AVG 44, BE -4)
Trent Rivers, Demons ($296K, AVG 41, BE 14)
Rookie Rankings
DEFENSE
Will Day (Hawks)

Andrew McPherson (Crows)

Lachie Ash (Giants)

Tobe Watson (Dockers) – 46

Brandon Starcevich (Lions)
 Best of the Rest
These players may or may not be in the selection mix this week, but be sure to keep them on your 2020 watchlist in case they burst onto the scene. In no particular order:
Hugh Goddard (Blues, $170K)
Jez McLennan (Suns, $170K)
Will Gould (Swans, $220K)
Trent Bianco (Magpies, $182K)
Josh Worrell (Crows, $216K)
Damon Greaves (Hawks, $170K)

MIDFIELD
Caleb Serong (Dockers)

Noah Anderson (Suns)

Marlion Pickett (Tigers)

Sam Simpson (Cats)

Harley Bennell (Demons)*
*= if named
Best of the Rest
These players may or may not be in the selection mix this week, but be sure to keep them on your 2020 watchlist in case they burst onto the scene. In no particular order:
Jeremy Sharp (Suns, $218K)
Luke Valente (Dockers, $170K)
Jack Bytel (Saints, $170K)
Finn Maginness (Hawks, $214K)
Riley Collier-Dawkins (Tigers, $170K)
Jackson Mead (Power, $222K)
Tom North (Dockers, $170K)
Cooper Stephens (Cats, $240K)
RUCK
Sam Draper (Bombers)

Darcy Cameron (Magpies)

Luke Jackson (Demons)
Best of the Rest
These players may or may not be in the selection mix this week, but be sure to keep them on your 2020 watchlist in case they burst onto the scene. In no particular order:
Tom De Koning (Blues, $190K)
Jordan Sweet (Bulldogs, $170K)
Matthew Flynn (Giants, $170K)
Bailey Williams (Eagles, $170K)
Sam Hayes (Power, $170K)
FORWARD
Izak Rankine (Suns)

Curtis Taylor (Roos)

Laitham Vandermeer (Bulldogs)

Jake Aarts (Tigers)

Max King (Saints)
Best of the Rest
These players may or may not be in the selection mix this week, but be sure to keep them on your 2020 watchlist in case they burst onto the scene. In no particular order:
Irving Mosquito (Bombers, $170K)
Cameron Taheny (Cats, $172K)
Sam Flanders (Suns, $250K)
Miles Bergman (Power, $244K)
Nakai Cockatoo (Cats, $255K)
Liam Henry (Dockers, $254)
Dylan Williams (Power, $226K)

---