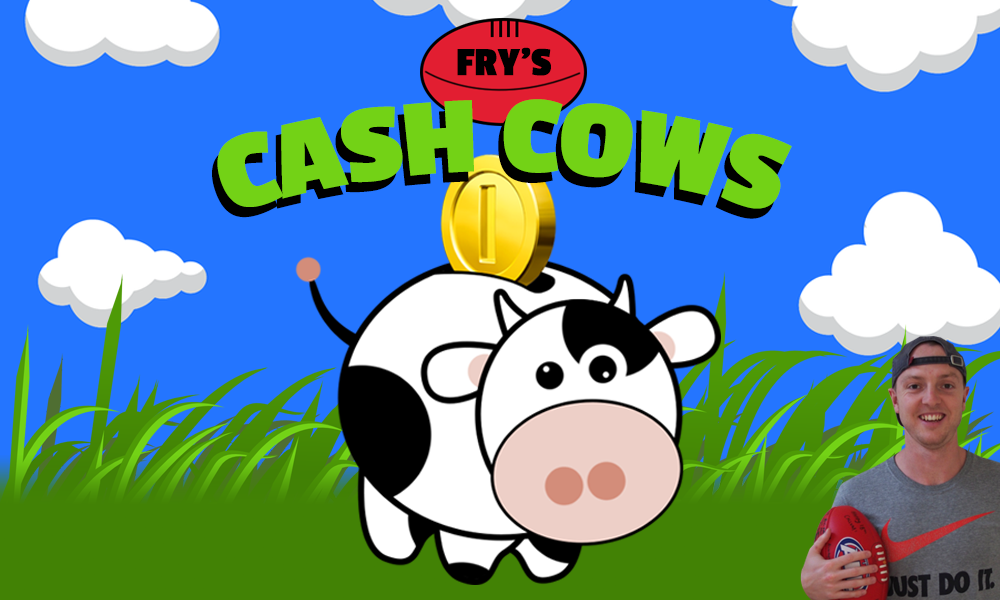 There's little respite for us fantasy coaches between rounds with action getting underway tonight between 4 sides! Round 10 saw a lot of lacklustre cash cow performances and cash generation is more important than ever as we try to ditch the remaining rookies from our field. Removing those fattened rooks should still be priority No. 1 as we try to navigate the chaotic fantasy season as best we can.
Rookie/cash cows are usually players who start the season priced at $300,000 or lower
---
As if things couldn't be more hectic during these compressed fixtures my laptop has decided to quit on 2020 halfway through the write-up. I've added in the rookie details for this weekend's games and the rest of the game previews will be up before the weekend is over.
Cash Cow King – Round 10
There weren't too many rookies who came to the party in Round 10, with Caleb Serong STILL managing to find his way into the mix despite not playing last round! His score of 62 wasn't far off the likes of Jake Aarts, Dylan Stephens and Marlion Pickett – all of whom managed to top 60 which is nothing to be sneezed at during coronaball. The young Tigers forward in Aarts gets my vote this week, but this one should be tight.
Loading ...
Round 11 Game Previews
Bye Teams
This round all GWS and Sydney players will be awarded their average score – providing they played in Round 10. These players will be locked in tonight, so if you want to make any changes do so ASAP! Here are the mainstream rookies who you can lock in a score from for the round ahead:
Samuel Wicks – 55*
Dylan Stephens – 49
James Bell – 48
Lachie Ash – 41
Xavier O'Halloran – 38
Matthew Ling – 29
Elijah Taylor – 26
*FWIW – Sam Wicks was finally handed his debut in Round 10 after an impressive 2019 NEAFL season. The young Swan averaged 100.8 fantasy points, 22.3 disposals and 7.9 tackles from 20 senior games a year ago – which is at least worth mentioning…
Power vs. Tigers – SAT
Heading into Round 10, Port youngster Boyd Woodcock ($185K, FWD, 40, BE 5) was one of the most traded in players in the competition with over 12,000 coaches pulling the trigger on the basement priced forward. His 40 wasn't an outrageous success, but it's promising to see he held his spot in the side. Fellow rookie Mitch Georgiades ($368K, FWD, 53, BE 12) had another strong game cementing himself as a solid FWD cash cow for nearly 10% of teams. Marlion Pickett ($442K, MID, 65, BE 26) thrived in Richmond's blowout win much to the delight of the fantasy community with forward Jake Aarts ($338K, FWD, 69, BE 5) helping himself to a season-high as well. Both of them have been named to take on Port Adelaide on Saturday, but highly regarded youngster Riley Collier-Dawkins ($170K, MID, DNP, BE 19) still finds himself listed as an emergency.
Lions vs. Dogs – SAT
Here's hoping the coaches reading this didn't jump on any of the Brisbane key position rookies with a pair of them dropped ahead of the Bulldogs game. Connor Ballenden ($187K, FWD, 18, BE 15) and Jackson Payne ($179K, DEF, 32, BE 10) are on the way out and their teammate Brandon Starcevich ($350K, DEF/MID, 41, BE 39) is quickly becoming a priority issue for 40% of the competition. In the last seven games, the Lions cub has averaged just 38.4 points with a top score of 47 – highlighting the fact that he's got to go ASAP! There's a fair chance Starcevich will spend some time defending Laitham Vandermeer ($417K, MID/FWD, 39, BE 56) during their clash and the Dogs youngster is another cash cow ready to be culled. His $400K+ price tag means you can flip Vandermeer into a decent upgrade and if I was an owner I'd be exploring a trade. Still no Louis Butler ($229K, DEF/MED, DNP, BE -12) or Callum Porter ($178K, MID, DNP, BE 12) for coaches in the Dogs' 22 and Butler in particular is running out of chances having mad a small amount of coin already.
Eagles vs. Blues – SUN
Woof. There isn't a lot on the rookie front for either of these sides, with a lot of emphasis on team selection. Harry Edwards ($170K, DEF, 8, BE 59) somehow managed to increase his breakeven while scoring under 10 points due to his KO in his debut game making him one to certainly avoid. There are still 20% of coaches who are clinging to hopes of Jarrod Brander ($354K, DEF/FWD, DNP, BE -8) being named and the extra week off could bode well for the versatile Eagle. Tom Williamson ($320K, DEF, 39, BE 35) is arguably the best Carlton cash cow – which given his average of 39 is saying something…
Demons vs. Roos – SUN
Questions need to be asked about Harley Bennell's ($324K, MID, 23, BE 44) place in 7% of fantasy sides after another woeful score in the Dees' big victory. I'd look to offload the injury prone Demon and hopefully move him up to an under-priced premium. Luke Jackson ($301K, RUC, 54, BE 25) showed off his scoring potential with 14 hitouts and two goals, but he remains a non-option given his price tag. Trading Jackson to a cheaper rookie is a wise tactic and doing the same with Curtis Taylor ($381K, FWD, DNP, BE 59) given his recent injury should be considered. The promising Roo will miss roughly the next fortnight with a knee complaint, paving the way for Lachlan Hosie ($188K, FWD, 44, BE 2) to make his AFL debut. Swapping the North young guns will net you nearly $200K and it isn't the craziest of moves if you can stash Hosie on the pine. Lastly, Ben McKay ($320K, DEF, 38, BE 0) shot up another $40K in value and he might do the same again with a decent game in Round 11.
Cats vs. Saints – MON
A lot of Sam Simpson ($421K, MID, 49, BE 41) owners already pulled the trigger on trading the young Cat and now that he's out "managed" for the Saints clash, a trade is the ideal play. His scoring average has dipped in the last three games and trading Simpson up to a high-class midfielder (even one his teammates in Duncan or Dangerfield) would be an ideal upgrade. Another popular Geelong rookie in Brad Close ($268K, MID/FWD, 28, BE 11) held his place in the Cats side and there's still some room for him to grow and make his final bit of money. St Kilda will hand Jack Bytel ($170K, MID, DNP, BE 19) his first AFL game after he failed to see the field during his rookie season in 2019. The former Calder Cannons co-captain did average 22.2 touches, 6.2 tackles and roughly 85 fantasy points in the NAB League back in 2018 and he could become a popular target if he performs in game one. Fellow Saints cash cow Max King ($352K, FWD, 44, BE 44) is currently one of the most traded out players with over 3,600 coaches swinging the axe. Giving him the flick with his money making days virtually over is a good decision.
Dockers vs. Hawks – MON
There was good and bad news at the selection table for Freo cash cows with popular MID Caleb Serong ($499K, MID, 62, BE 17) locked in for Round 11 and defender Tobe Watson ($255K, DEF, 46, BE -8) omitted from the side. Serong has quickly become one of the highest scoring rookies, but the likely return of a healthy Nat Fyfe off the bye raises some questions over his TOG and scoring opportunity. Watson's withdrawal from Fremantle's outfit is a bummer for roughly 15% of the comp, but there's still hope he can return and contribute again before the season's out. On the Hawks' side of things Will Day ($397K, DEF, 54, BE 31) can still be a serviceable player on your field if you're an owner, but his time is coming.
Crows vs. Magpies – TUES
The Crows kids continue to be crucial to fantasy sides around the competition and most teams will be hoping defenders Andrew McPherson ($320K, DEF, DNP, BE 3) and Lachlan Sholl ($178K, DEF, 31, BE 10) are both in the team to take on Collingwood. There are no guarantees they'll co-exist if they're both be named in Adelaide's 22 with McPherson hopefully returning from a game off. A third Crows backman in Will Hamill ($286K, DEF, 4, BE 48) was concussed early in the game against Melbourne which gives owners a good chance to cash in on his price rise while Ned McHenry ($309K, MID, 44, BE 20) could still jump in price if he racks up a few more stats in the coming games. Debutant and prolific junior ball-winner Harry Schoenberg ($237K, MID, 43, BE 14) got his first taste of pro footy last round and if he can keep stringing games together his scoring rate will only go up. For the Magpies, Darcy Cameron ($302K, RUC/FWD, DNP, BE 7) will look to work his way back in the side after being dropped against Sydney and if he does, 45% of coaches will happily take his 5th score of the season.
Suns vs. Bombers – WED
The final game of the round includes more mainstream cash cows with two of Gold Coast's rising stars still turning heads with their performances. Noah Anderson ($496K, MID, 56, BE 55) has been offloaded by nearly 5,000 coaches already, however, his impressive average means you can wait to deal Anderson if there are more pressing issues. The same can be said for Izak Rankine ($383K, FWD, 59, BE 27) after he kicked two goals against St Kilda in another impressive display. Another promising Sun Jeremy Sharp ($219K, MID, 27, BE 22) managed just 60% of game time in his AFL debut and he'll need to show more before we consider trading him into our sides. While it's wise to be patient with Sharp, Bombers ruckman Sam Draper ($238K, RUC, 52, BE -11) can be traded in confidently. There are some rumors about his status against Gold Coast, but until I hear something concrete I still view Draper as a good target (especially for those who chose to hold Max Gawn). Ned Cahill ($196K, MID/FWD, DNP, BE 20) and Mitch Hibberd ($324K, MID, DNP, BE -9) would be welcome inclusions when the teams are revealed but flipping them for other promising rooks makes sense.
Mooooving On
I've simplified the 'Mooooving On' section, narrowing down the trade out candidates into two separate tiers. Trading out injured/non-playing rookies usually takes priority, but with three trades up our sleeves coaches will be looking to also axe their cash cows who have topped out in value.
Fattened cash cows
Brandon Starcevich, Lions ($350K, AVG 41, BE 39)
Laitham Vandermeer, Dogs ($417K, AVG 49, BE 56)
Connor Budarick, Suns ($339K, AVG 39, BE 35)
Sam Simpson, Cats ($421K, AVG 62, BE 41)
Noah Anderson, Suns ($496K, AVG 56, BE 55)
Injured/non-playing rookies
Curtis Taylor, Roos ($381K, AVG 46, BE 59)
Jarrod Brander, Eagles ($354K, AVG 55, BE -8)
Harley Bennell, Demons ($324K, AVG 39, BE 44)
Tom Green, Giants ($322K, AVG 42, BE 19)
Darcy Cameron, Magpies($302K, AVG 47, BE 7)
Rookie Rankings
DEFENSE
Will Day (Hawks)

Lachie Ash (Giants) – 47

Andrew McPherson (Crows)*

Tobe Watson (Dockers)

Brandon Starcevich (Lions)
*= if named
 Best of the Rest
These players may or may not be in the selection mix this week, but be sure to keep them on your 2020 watchlist in case they burst onto the scene. In no particular order:
Hugh Goddard (Blues, $170K)
Jez McLennan (Suns, $170K)
Will Gould (Swans, $220K)
Trent Bianco (Magpies, $182K)
Josh Worrell (Crows, $216K)
Damon Greaves (Hawks, $170K)

MIDFIELD
Caleb Serong (Dockers)

Noah Anderson (Suns)

Marlion Pickett (Tigers)

Samuel Wicks (Swans) – 55

Sam Simpson (Cats)
Best of the Rest
These players may or may not be in the selection mix this week, but be sure to keep them on your 2020 watchlist in case they burst onto the scene. In no particular order:
Luke Valente (Dockers, $170K)
Jack Bytel (Saints, $170K)
Finn Maginness (Hawks, $214K)
Riley Collier-Dawkins (Tigers, $170K)
Jackson Mead (Power, $222K)
Tom North (Dockers, $170K)
Cooper Stephens (Cats, $240K)
RUCK
Sam Draper (Bombers)

Darcy Cameron (Magpies)*

Luke Jackson (Demons)
*= if named
Best of the Rest
These players may or may not be in the selection mix this week, but be sure to keep them on your 2020 watchlist in case they burst onto the scene. In no particular order:
Tom De Koning (Blues, $190K)
Jordan Sweet (Bulldogs, $170K)
Matthew Flynn (Giants, $170K)
Bailey Williams (Eagles, $170K)
Sam Hayes (Power, $170K)
FORWARD
Izak Rankine (Suns)

Jake Aarts (Tigers)

Mitch Georgiades (Power)

Laitham Vandermeer (Bulldogs)

Max King (Saints)
Best of the Rest
These players may or may not be in the selection mix this week, but be sure to keep them on your 2020 watchlist in case they burst onto the scene. In no particular order:
Irving Mosquito (Bombers, $170K)
Cameron Taheny (Cats, $172K)
Sam Flanders (Suns, $250K)
Miles Bergman (Power, $244K)
Nakai Cockatoo (Cats, $255K)
Liam Henry (Dockers, $254)
Dylan Williams (Power, $226K)

---