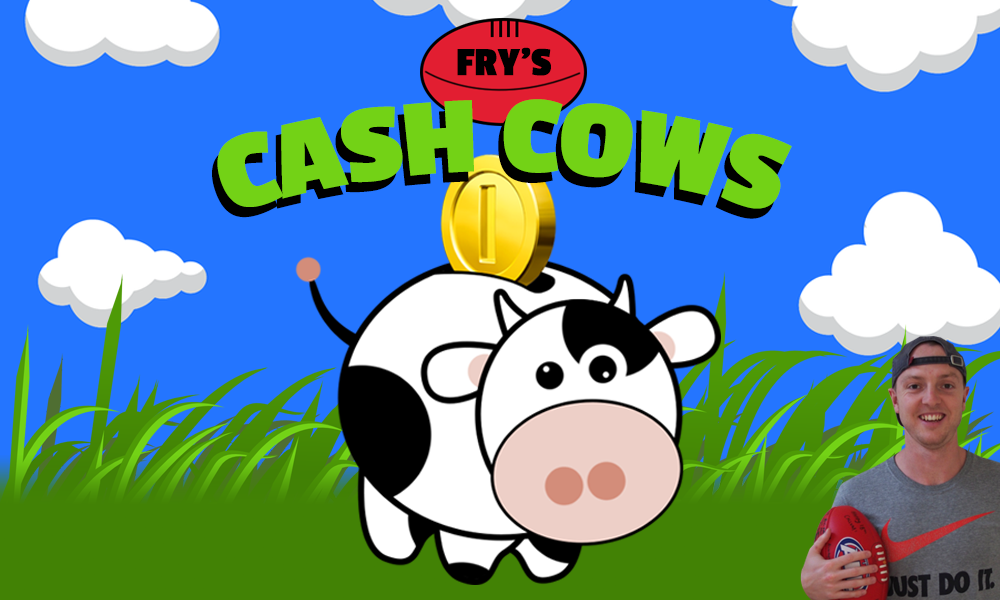 Another quick turn around between Round 11 and 12 means there's no time for rest between games! Given the ever changing landscape that is a rolling lockout, I'll be updating the game previews the night before each contest for the upcoming round to ensure the most up to date info is being communicated the DT Talk faithful. Once Round 12 concludes on Monday, the weekly Wednesday article will be back, but hopefully delaying each match preview means you've got all the relevant news before making your three trades!
Rookie/cash cows are usually players who start the season priced at $300,000 or lower
---
Cash Cow King – Round 11
Eye-popping cash cow scores were few and far between in Round 11, with most of the top scorers finishing in the 50/60 point range. One rookie stood head and shoulders above his peers though, with Pies big man Darcy Cameron helping himself to a career-best 87 points fuelled by 15 touches, 9 marks, 4 hitouts and 2 goals. Caleb Serong was the only other rare rook to top 60, with Crows second-gamer Lachlan Sholl earning a nomination alongside the ever reliable Hawks defender Will Day. There's only one cash cow who really deserves the nomination this round though…
Loading ...
Round 12 Game Preview
Swans vs. Giants – THURS
Cash cows aplenty are in line to take to the field tonight, with a pair of debutants set to break onto the scene for each side. Giants mature-ager Tom Hutchesson ($170K, MID/FWD, DNP, BE 19) and young Swan Zac Foot ($170K, MID/FWD, DNP, BE 19) have drawn interest from fantasy coaches and while I'm personally a bit higher on Foot's (73.6 AVG 2019) prospects, I'm planning on taking a wait and see approach with both he and Hutchesson (59.7 AVG 2019). Giants duo Xavier O'Halloran ($206K, MID, 38, BE 2) and Lachie Ash ($371K, DEF/MID, 41, BE 41) managed to hold their place in GWS' side following the bye, with Ash becoming a popular trade out candidate with his money making days seemingly over.
For the Swans, the cash cow news doesn't stop at Zac Foot, with fellow youngsters Samuel Wicks ($239K, MID, 55, BE -13), James Bell ($320K, MID/FWD, 48, BE 10) and Dylan Stephens ($366K, MID, 49, BE 29) all garnering interest from the fantasy community. Wicks is my favourite prospect of the trio, but multiple games have inflated his price tag significantly. Still, a move from someone like Simpson or Pickett in your MID's down to Wicks could help improve your team while making a quick $150-$200K.
A lot of James Bell fans have thrown their support behind the young Swan, but no matter how many times people remind me of him in the comments, I still can't condone a trade for Bell given his lack of scoring prowess and awkward price. There's no need for Stephens' owners to panic despite a few quiet games, with the touted youngster a chance to come out firing against GWS. Matthew Ling ($217K, DEF, 29, BE 18) and Elijah Taylor ($222K, MID/FWD, 26, BE 26) both found themselves dropped from the 22 to take on the Giants and I'd be flicking them out of your fantasy side if you were an owner.
Cats vs. Power – FRI
Two popular Geelong rookies swapped places when the team was announced to take on the Power with Brad Close ($296K, MID/FWD, 50, BE 14) managed and Sam Simpson ($421K, MID, DNP, BE 42) returning from a game off. With a low breakeven there's no urgency in giving Close the chop, especially if he makes a comeback in Round 13. Getting rookies off the ground is always a desired move though, so if trading Close (and/or Sam Simpson) gets you to a top trade target – do it and don't look back.
Port Adelaide cash cow Boyd Woodcock ($211K, FWD, 42, BE -1) could be a downgrade target for those who want to make some money out of Close with the Power youngster doing his part through his first two career games. He's a fine heartbeat on the bench, with his teammate Mitch Georgiades ($382K, FWD, 34, BE 33) close to being in the same basket. Trusting him on your field isn't insane, but the key position player is close to topping out in value, making a trade out within the next few rounds the smart play.
Roos vs. Lions – SAT
Somehow, Brandon Starcevich ($327K, DEF/MID, 11, BE 53) still resides in over 36% of fantasy teams ahead of the North clash! I only expect his ownership to decline after scoring less than 45 points in 7 straight contests and hopefully if you're stuck with the young Lion he's at least on your bench. Spare a thought for the group of coaches who may be rocking an all Brisbane DEF bench after rolling the dice on Matt Eagles ($170K, DEF, 7, BE 40) in his first game of the year last week. Registering just one disposal in 46% game time means the former Recruit winner will need to show a lot more before he's worth seriously considering. Another reasonably popular defensive cash cow will be on display in this game with Ben McKay ($348K, DEF, 41, BE 17) still riding the momentum of his 91 against the Crows in Round 9.
Since that game, McKay has raised his price tag by more than $70K and this might be the last week he see him increase in value. Playing him on your field is dicey, but there's no urgency to trade the key Roo out just yet. Lachlan Hosie ($188K, FWD, DNP, BE 3) is back in the lineup for North Melbourne after being omitted from the side to take on Melbourne last week. It was rough to see him dropped after kicking two goals on debut the week prior and over 4,000 coaches will be hoping he can keep his place in the best 22 this time around. Hosie's main threat for a place in the team is Curtis Taylor ($381K, FWD, DNP, BE 60) and his knee injury will keep him out for at least another two games – making Taylor a smart trade out if you're one of the 16.5% of teams stuck with the Rising Roo.
Demons vs. Magpies – SAT
Shoutout to the teams who've held onto Trent Rivers ($322K, DEF/MID, 52, BE 22) and benefited from his score last week. Unfortunately, at this stage his stay was short – omitted from the 22 to take on Collingwood, leaving 10% of the fantasy community in a predicament. No sign of Harley Bennell ($324K, MID, DNP, BE 44) and an injury to Luke Jackson ($313K, RUC, 44, BE 26) means there isn't a lot else on the cash cow front for the Demons, but given their position on the ladder a few more L's could see them unleash the kids. Collingwood's team was aided by one of their youngsters against Adelaide last round, with Darcy Cameron ($360K, RUC/FWD, 87, BE -4) playing the game of his life for a score of 87. Cameron helped himself to 15 touches, 9 marks, 4 hitouts, a pair of goals and most importantly a $58K price rise! A lot of teams were forced to offload the tall Pie to make some other moves, but 45% of the competition will happily let him stay in their team a few more weeks. Trey Ruscoe ($207, DEF/MID, 48, BE -3) is another handy Magpie who could maintain his stay for a few more weeks after scores of 33 and 48 to start his career. Those aren't great numbers to cough up for a $207K priced rookie, however, Ruscoe has generated 7 shots on goal in his first two career games and I'm expecting his numbers to keep improving when they take on Melbourne.
Dockers vs. Blues – SAT
Midfielder Caleb Serong ($531K, MID, 62, BE 34) was up to his usual tricks last round, scoring another 60 and establishing himself as a contender for the Cash Cow of the Year. A breakeven in the 30's should see him keep his price ticking over and 15% of coaches would love to see another 90+ from the Dockers rookie. Tobe Watson ($255K, DEF, DNP, BE -7) couldn't earn a recall to maintain his price rise and hopefully, he can get himself off the emergency list and into the 22 sooner rather than later.
After a lack of Blues rookies in recent weeks, we're now spoilt for choice at Carlton. It's a shame that Matt Cottrell ($179K, DEF, 33, BE 9) didn't deliver more on debut and his 2019 average of 55 points makes it risky to bring him in before the Freo contest. Similar could be said for Tom De Koning ($195K, RUC, 29, BE 16) who managed just 5 touches and 11 hitouts against West Coast in his last match. With Marc Pittonet out injured (1-2 week, finger), De Koning has been given the keys to the ruck division at Carlton, but I'm not sure if I trust him to drive just yet. If you want to consider a Carlton rookie then Josh Honey ($170K, MID/FWD, DNP, BE 19) looms as the pick of the bunch, with his NAB League average of 73.6 suggesting he can score well from game one. It's likely that Honey is only in the side while Jack Martin deals with injury (1-2 week, calf), but there's hope the young Blue can play well enough to hold his place.
Bulldogs vs. Crows – SUN
It's been nearly 150 days since Ben Cavarra ($173K, FWD, DNP, BE 16) last played an AFL match and nearly a quarter of all fantasy teams will be stoked about his return. A match against the leagues worst defense in Adelaide could help Cavarra put a healthy score on the board, but his inclusion comes at a cost. Mainstream Dogs cash cow Laitham Vandermeer ($414K, MID/FWD, 55, BE 60) has been managed for the clash and will watch on from the sidelines with the MID/FWD essentially topping out in value. If you can seek an upgrade by moving him on from Vandermeer, I'm all for it. Crows defender Andrew McPherson ($356K, DEF, 54, BE 13) may be forced to try and shut down Cavarra himself, with the popular rookie still sitting in nearly 20% of all teams.
McPherson still has room to grow as a cash cow and he'll likely be played on the field for a lot of coaches, but his teammate Lachlan Sholl ($212K, DEF, 57, BE -7) is quickly establishing himself as the better rookie prospect. If Sholl scores well against the Dogs after being named on a wing, swapping the two at the end of the round could help make you a quick buck. Harry Schoenberg, $242K, MID, 22, BE 22) was another Crows youngster we had high hopes for, but through two games his scoring output has struggled. The form of Rory Laird plus the return of Rory Sloane could scramble Adelaide's midfield rotation and there are just over 3,000 coaches who will have their fingers crossed – hoping Schoenberg doesn't fall down the pecking order or suffer from reduced game time.
Saints vs. Bombers – SUN
Saints rookie Jack Bytel ($194K, MID, 52, BE -2) is the most traded in player this round after the young gun made his long-awaited debut last round. A 21-point first quarter is what raised the most eyebrows and Bytel will get another chance to keep his numbers ticking over against the Dons. On the other end of the scale, Max King ($353K, FWD, 29, BE 38) was given the flick by over, 3,000 coaches now that his money-making days are over. There is still plenty of growth for Sam Draper ($238K, RUC, DNP, BE -11) who is fresh heading into the St Kilda match having rested during R0und 11. Hearing his name is still taboo for a lot of Max Gawn owners and his return game should help us restore faith in the Bombers cult figure. For what it's worth, there are still 13.8% of fantasy squads who are the proud owners of Dylan Roberton ($317K, DEF, DNP, BE 51) despite the fact he hasn't played since Round 1. It's likely that at least 13.8% of teams have punted the season and are quite happy to leave him there, but if you're one such owner reading this now, cut your losses. I'm sure you'll sleep better at night.
Eagles vs. Hawks – SUN
It's not often a team with premiership aspirations hands a $170K priced player a gig, but West Coast are clearly fans of how Nic Ried ($170K, FWD, DNP, BE 19) goes about his footy. A healthy 2019 average of 71.2 points from 14 WAFL games means Ried should score a decent total against the Hawks, but I don't think we can trust his place in the side long term. For the Hawks, Will Day ($$416K, DEF, 59, BE 34) gathered an impressive 18 touches last time out vs. Fremantle, pushing his case as the best DEF rookie in 2020. A few coaches pulled the trigger on Day this week and it's wise to start thinking upgrade. Still, there's no need to rush into such a move given his recent scores and his seemingly safe place in Hawthorn's side.
Tigers vs. Suns – MON
Three changes for both the Tigers and Suns saw all the relevant fantasy rookies survive (no offense Egg), with Marlion Pickett ($446K, MID, 35, BE 51) still the most popular one of the bunch. His average of 51.8 points is bang on equal with his breakeven, so if you haven't given Pickett the flick yet, it's wise to start planning an upgrade. The same could be said for rising Sun Connor Budarick ($334K, MID/FWD, 31, BE 39) who has flatlined in value over the last month and should be sent packing. A third popular cash cow in this contest is starting to be offloaded by coaches too, despite Noah Anderson ($492K, MID, 53, BE 59) boasting one of the highest rookie averages for 2020.
Anderson has held his place at M7-M8 for a lot of coaches over the bulk of the season, but he too has now stalled when it comes to rising in price. At nearly $500K, throwing another $100K-$200K on top of Anderson by doing some rookie shuffling could help net you a serious upgrade in the MID's. Up forward a lot of eyes will be on duo Jake Aarts ($356K, FWD, 32, BE 26) and Izak Rankine ($400K, FWD, 52, BE 35) as the popular rookies look to add to coaches' point totals for Round 12. Rankine in particular would love a big outing with nearly 1,000 coaches opting to move on from Gold Coast's excitement machine. If he fails to fire against the Tigers that number will only climb once lockout lifts. Lastly, Sam Flanders ($257K, MID/FWD, 39, BE 21) was finally handed his debut and in just 59% of game time he made his presence felt. His awkward price tag makes it tough to advise trading Flanders in right now, but hopefully a promising score and boosted TOG means Flanders can excel in game two
Mooooving On
I've simplified the 'Mooooving On' section, narrowing down the trade out candidates into two separate tiers. Trading out injured/non-playing rookies usually takes priority, but with three trades up our sleeves coaches will be looking to also axe their cash cows who have topped out in value.
Fattened cash cows
Brandon Starcevich, Lions ($327K, AVG 41, BE 53)
Connor Budarick, Suns ($334K, AVG 40, BE 39)
Noah Anderson, Suns ($492K, AVG 55, BE 59)
Marlion Pickett, Tigers ($446K, AVG 52, BE 51)
Max King, Saints ($353K, AVG 40, BE 38)
While most coaches would've given Starcevich and Budarick the flick weeks ago, both cash cows still find themselves in more than 45,000 fantasy teams. Removing them is priority No. 1 if you're still an owner. MID duo Noah Anderson and Marlion Pickett can be upgraded having topped out in value with Max King now in the same boat up forward.
Injured/non-playing rookies
Curtis Taylor, Roos ($381K, AVG 46, BE 60)
Sam Simpson, Cats ($421K, AVG 62, BE 42)
Jarrod Brander, Eagles ($354K, AVG 55, BE -7)
Tom Green, Giants ($322K, AVG 42, BE 21)
Tyler Brown, Pies ($263K, AVG 35, BE 18)
Curtis Taylor's knee injury makes him the highest priority to trade out with a few other non-playing rooks still in a lot of teams. Brander, Green and Brown have all been out of their respective sides for the better part of the past month and flipping them for cheaper, playing cash cows makes a lot of sense. Sam Simpson being managed last round trough a spanner into the works for a lot of coaches, but even if he returns this week, I'd look to move him along.
Rookie Rankings
DEFENSE
Will Day (Hawks)

Andrew McPherson (Crows)

Lachlan Sholl (Crows)

Ben McKay (Roos)

Brandon Starcevich (Lions)
 Best of the Rest
These players may or may not be in the selection mix this week, but be sure to keep them on your 2020 watchlist in case they burst onto the scene. In no particular order:
Hugh Goddard (Blues, $170K)
Jez McLennan (Suns, $170K)
Will Gould (Swans, $220K)
Trent Bianco (Magpies, $182K)
Josh Worrell (Crows, $216K)
Damon Greaves (Hawks, $170K)

MIDFIELD
Caleb Serong (Dockers)

Noah Anderson (Suns)

Marlion Pickett (Tigers)

Dylan Stephens (Swans)

Sam Simpson (Cats)*
*= if named
Best of the Rest
These players may or may not be in the selection mix this week, but be sure to keep them on your 2020 watchlist in case they burst onto the scene. In no particular order:
Luke Valente (Dockers, $170K)
Finn Maginness (Hawks, $214K)
Riley Collier-Dawkins (Tigers, $170K)
Jackson Mead (Power, $222K)
Tom North (Dockers, $170K)
Cooper Stephens (Cats, $240K)
RUCK
Sam Draper (Bombers)*

Darcy Cameron (Magpies)

Luke Jackson (Demons)
*= if named
Best of the Rest
These players may or may not be in the selection mix this week, but be sure to keep them on your 2020 watchlist in case they burst onto the scene. In no particular order:
Jordan Sweet (Bulldogs, $170K)
Matthew Flynn (Giants, $170K)
Bailey Williams (Eagles, $170K)
Lloyd Meek (Dockers, $170K)
FORWARD
Izak Rankine (Suns)

Brad Close (Cats)

Laitham Vandermeer (Bulldogs)

Jake Aarts (Tigers)

Mitch Georgiades (Power)
Izak Rankine appreciation tweet.#ColesGoals | #AFLSunsDons pic.twitter.com/JOsR9hkHMY

— AFL (@AFL) August 12, 2020
Best of the Rest
These players may or may not be in the selection mix this week, but be sure to keep them on your 2020 watchlist in case they burst onto the scene. In no particular order:
Irving Mosquito (Bombers, $170K)
Cameron Taheny (Cats, $172K)
Miles Bergman (Power, $244K)
Nakai Cockatoo (Cats, $255K)
Liam Henry (Dockers, $254)
Dylan Williams (Power, $226K)

---