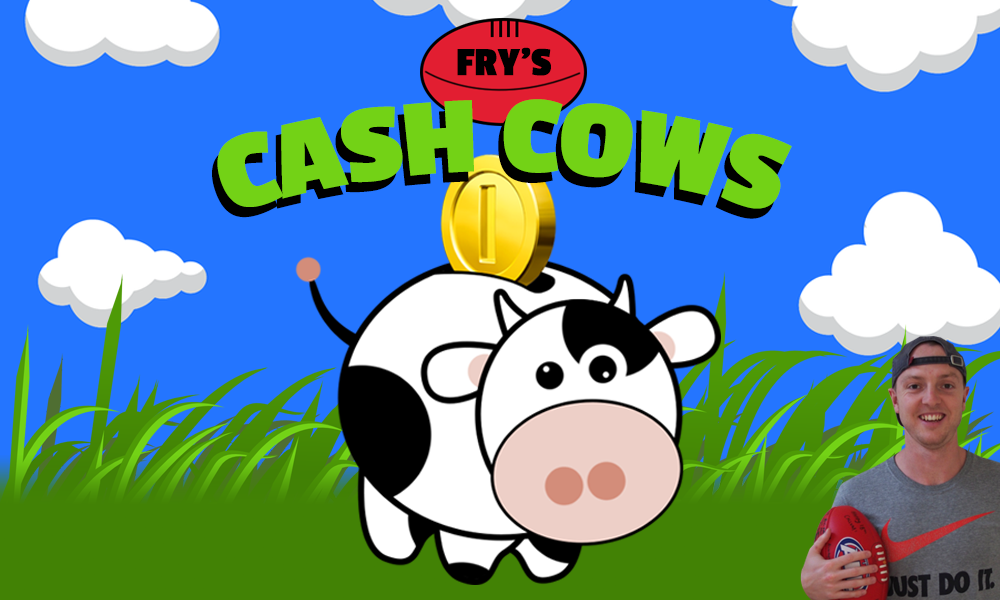 Six rounds, 18 trades and 50 games of footy are all that separates fantasy coaches from the end of the 2020 season – and what a season it's been so far! A few days respite is just what the doctor ordered after constantly being switched on with team selection news and trade tactics, but the rest is short-lived. Cash cows still remain important as coaches chase those final few upgrades on their field in an effort to complete their teams before finals. The race to get your rookies off the field is on and investing in the right bench players can give you the finances to make those moves.
Rookie/cash cows are usually players who start the season priced at $300,000 or lower
---
Cash Cow King – Round 12
With a few lacklustre rounds behind us, a fair share of rookies came to the party in Round 12 with fruitful fantasy scores. A trio of 2019 draftees scored new career-high point totals, with Will Day (75), Dylan Stephens (69) and Noah Anderson (80) outshining a lot of their cash cow peers. Marlion Pickett (70) rounded out the list of nominees with his third impressive score in four tries, rubbing salt into the wounds of those who gave him the flick after his 35 points the game before. A fair portion of coaches will be butthurt after trading out at least one of these cash cows in the last few rounds, however, it's important to remember all of these rookies need to go at some point…
Loading ...
Mooooving On
Fattened cash cows
Connor Budarick, Suns ($320K, AVG 39, BE 46)
Brandon Starcevich, Lions ($319K, AVG 41, BE 41)
Marlion Pickett, Tigers ($457K, AVG 54, BE 39)
Lachlan Ash, Giants ($356K, AVG 40, BE 51)
Darcy Cameron, Magpies ($376K, AVG 50, BE 22)
Noah Anderson worked his way out of the fattened cash cows convo, but Budarick and Starcivch still remain the highest priority. A healthy point total from Pickett means 41.8% of coaches might think twice before trading him out, although, there isn't a lot of growth left from the popular Tiger.
Injured/non-playing rookies
Curtis Taylor, Roos ($381K, AVG 46, BE 60)
Sam Simpson, Cats ($412K, AVG 57, BE 54)
Tyler Brown, Pies ($263K, AVG 35, BE 18)
Justin McInerney, Swans ($282K, AVG, 44, BE -2)
Tom Green, Giants ($322K, AVG 42, BE 21)
Curtis Taylor and Sam Simpson's injuries make them the most important players to ditch from your side and high price tags make a downgrade move an easy trade. Brander lost his spot on the list after his inclusion for the Eagles and there's no reason why Brown, McInerney or Green can't do the same if they crack their respective 22's.
Rookie Rankings
DEFENSE
Hawthorn youngster Will Day ($443K, 75, BE 23) keeps his spot atop the defensive power rankings, fresh off his second 70+ score of the season. Day tied a career-high with 8 marks to go along with 16 disposals and James Sicily's ACL injury only further cements his place in Hawthorn's outfit. A lack of productivity from the rest of the DEF rookies means Jarrod Brander ($396K, 53, BE 28) vaults all the way back to No. 2 in his return game, scoring a respectable 53 for the Eagles.
Brander was a late inclusion for Elliot Yeo on the weekend and while he performed well, there's no certainty he'll stay – with his last game coming way back in Round 4 against Port. The last three players in the rankings appear more out of necessity than anything with most of my trust falling on Lachlan Sholl ($233K, 24, BE 8). The Young Crow has spluttered to start his fantasy career, but Adelaide's growing injury list gives me faith he'll get the opportunity to right the ship and be a decent cash cow. Ben McKay ($359K, 35, BE 36) has virtually done his bit as a fantasy rook and Matt Cottrell ($211K, 54, BE -5) needs to show more consistency before I promote him up the pecking order. Slim pickings…
Top-5
Will Day (Hawks)

Jarrod Brander (Eagles)

Lachlan Sholl (Crows)

Ben McKay (Roos)

Matthew Cottrell (Blues)
Andrew McPherson's ($360K, 22, BE 40) hamstring complaint gives 17% of the competition a good excuse to offload the Adelaide backman, although it's a shame there aren't too many appealing targets. Popular names Brandon Starcevich ($319K, 46, BE 41) and Lachie Ash ($356K, 25, BE 51) aren't exactly trade targets and they won't likely crack the top-5 again in 2020 with their money-making days behind them. There was more hope for Collingwood's Trey Ruscoe ($217K, 13, BE 16), but he'll likely be given a spell after his efforts against Melbourne. You can forget about Matt Eagles ($170K, 27, BE 32) too, who, despite rapidly improve his scoring, still hasn't increased in price through two matches. Woof.
 Best of the Rest
These players may or may not be in the selection mix this week, but be sure to keep them on your 2020 watchlist in case they burst onto the scene. In no particular order:
Hugh Goddard (Blues, $170K)
Jez McLennan (Suns, $170K)
Will Gould (Swans, $220K)
Trent Bianco (Magpies, $182K)
Josh Worrell (Crows, $216K)
Damon Greaves (Hawks, $170K)
MIDFIELD
I'll admit my purple-tinted glasses probably saw me promote Caleb Serong ($535K, 45, BE 64) to the top midfield slot a bit prematurely without really taking Noah Anderson's ($503K, 80, BE 42) body of work. Back-to-back 90's from the Dockers rookie a few weeks ago are nothing to sneeze at, but Anderson moved back into the No. 1 rung spot after his 80-point outing against the Tigers. It's plausible that either Serong or Anderson will be the last rookie on the field for a lot of coaches and it'll be interesting to see which one steps up over the final six rounds to push their claim as perhaps the best cash cow of 2020.
Dylan Stephens with a ripping finish!

Another assist from the debutant Zac Foot too.#AFLSwansGiants pic.twitter.com/z7W3BvIVAf

— AFL (@AFL) August 13, 2020
It's fair to classify the next two players on the list as top-tier MID cash cows with Marlion Pickett ($457K, 70, BE 39) starting to show off the scoring prowess we expected from Round 1. Three scores over 60 in the last four games is encouraging and Pickett has found his niche for a Richmond team starting to build momentum. Dylan Stephens ($392K, 69, BE 19) was unlucky to miss out on a Rising Star nomination after he gathered 11 touches with 4 marks, 6 tackles and an important 4th quarter goal in Sydney's W. Inconsistency continues to let down the touted Swan, but nearly 4,500 coaches hope he can buck that trend with an impressive score in Round 13. The final member of the top-5 this week will also be chasing an impressive score this weekend, with Harry Schoenberg ($249K, 34, BE 21) testing the patience of fantasy coaches so far. Brad Crouch's return is inching closer and if the Crows prospect isn't careful, he'll be the likely casualty.
Top-5
Noah Anderson (Suns)

Caleb Serong (Dockers)

Marlion Pickett (Tigers)

Dylan Stephens (Swans)

Harry Schoenberg (Crows)
The second wave of rookies seemed to be a promising crop with Jack Bytel ($214K, 27, BE 5) and Samuel Wicks ($263K, 22, BE 10) leading the charge in the engine room. Oh, how wrong we were! Hopefully, the mainstream cash cows can keep their place when the teams are announced but another flop could see them become rage trade victims. Sam Simpson ($412K, 37, BE 56) is set to be dumped by another portion of owners after succumbing to a hamstring injury of his own that will sideline him for roughly a fortnight.
Best of the Rest
These players may or may not be in the selection mix this week, but be sure to keep them on your 2020 watchlist in case they burst onto the scene. In no particular order:
Luke Valente (Dockers, $170K)
Finn Maginness (Hawks, $214K)
Riley Collier-Dawkins (Tigers, $170K)
Jackson Mead (Power, $222K)
Tom North (Dockers, $170K)
Cooper Stephens (Cats, $240K)
RUCK
Pour one out for the coaches who started with Darcy Cameron ($376K, 22, BE 28) on their field for Round 12, with the Magpie giant recording just five disposals on the day. Most coaches were dealt a score in the 20's in one line or another, but Cameron's failure after an 87 the week before makes him the prime candidate to be the most traded out player this week. Those offloading Collingwood's ruck might look move to Sam Draper ($277K, 45, BE -2) to invest in a more stable cash cow.
It's bold to make that claim after Draper missed the Round 11 clash for Essendon, but the big Don held his own on the weekend against a Marshall/Ryder combo and he should surpass $300K after Saturday's game. If you're chasing a few more bucks, I like the looks of Tom De Koning ($217K, 48, BE 3) who attended 10 of the 13 CBA's against Freo – accumulating 21 hitouts and 8 touches. There will be times when Casboult rucks large portions of the game for the Blues, but De Koning has every chance to rise another $100-$150K in price if Carlton keeps playing him.
Top-3
Sam Draper (Bombers)

Tom De Koning (Blues)

Darcy Cameron (Magpies)
Best of the Rest
These players may or may not be in the selection mix this week, but be sure to keep them on your 2020 watchlist in case they burst onto the scene. In no particular order:
Jordan Sweet (Bulldogs, $170K)
Matthew Flynn (Giants, $170K)
Bailey Williams (Eagles, $170K)
Lloyd Meek (Dockers, $170K)
FORWARD
I resisted making significant changes to the top-5 forward rankings this week, despite a pair of players from the list being 'managed' during the last batch of fixtures. The axe swung down on Brad Close ($296K, DNP, BE 15) after he was rested with more than 5,800 coaches opting to move him while there weren't as many coaches that jumped off the Laitham Vandermeer ($414K, DNP, 47) bandwagon.
A 4-point first half had coaches sweating, but Izak Rankine ($400K, 39, BE 43) battled his way to a decent score against the reigning premiers. He failed to hit the scoreboard and was limited throughout the contest, but Rankine remains the clear No. 1 forward cash cow – for now. Close on his heels is Port Adelaide youngster Boyd Woodcock ($251K, 55, BE -6) who managed to score a season-best 55 points, despite the Power going down by 10 goals. Trading Woodcock into your side now isn't ideal, but moving Rankine on for the Port forward could help generate the money you're strapped for cash and need an upgrade elsewhere. A three-goal effort saw Max King ($362K, 54, BE 32) named as the Rising Star nomination for the round – rewarding the Saint tall for his stellar rookie season. King is still the 12th most popular player in fantasy and while he won't fluctuate much in value from here on out, I can see the appeal of having a trusty bench player week in, week out.
Top-5
Izak Rankine (Suns)

Boyd Woodcock (Power)

Brad Close (Cats)

Laitham Vandermeer (Bulldogs)

Max King (Saints)
Congratulations Max King!

The Saint has been named the NAB AFL Rising Star nominee for round 12 😇 pic.twitter.com/e1M6OwtCwd

— AFL (@AFL) August 18, 2020
Scoring 28 points against the Suns saw Jake Aarts ($355K, 28, BE 41) fall out of the top-5 and it'll likely cost him his place in a few thousand fantasy sides as well. I'm disappointed trading the Richmond small forward to Sam Flanders ($266K, 36, BE 20) won't make you a lot of coin, although I like what I've seen from Flanders early on and can see the appeal in paying up for the versatile Sun.
We were spoilt for choice with FWD debutants last week, as four new cash cows arrived on the scene. Zac Foot ($189K, 46, BE 2) is my favourite of the lot and if I'm being honest, I'm not sure the rest will survive team selection ahead of this weekend. Lastly, the triumphant return of Ben Cavarra ($208K, 66, BE -11) wasn't exactly a welcome sign for those coaches trying to successfully utilise a VC score. Don't go expecting 60+ and four shots on goal every week, but it was still good to see the popular benchwarmer get some game time.
Best of the Rest
These players may or may not be in the selection mix this week, but be sure to keep them on your 2020 watchlist in case they burst onto the scene. In no particular order:
Irving Mosquito (Bombers, $170K)
Cameron Taheny (Cats, $172K)
Miles Bergman (Power, $244K)
Nakai Cockatoo (Cats, $255K)
Liam Henry (Dockers, $254)
Dylan Williams (Power, $226K)

---