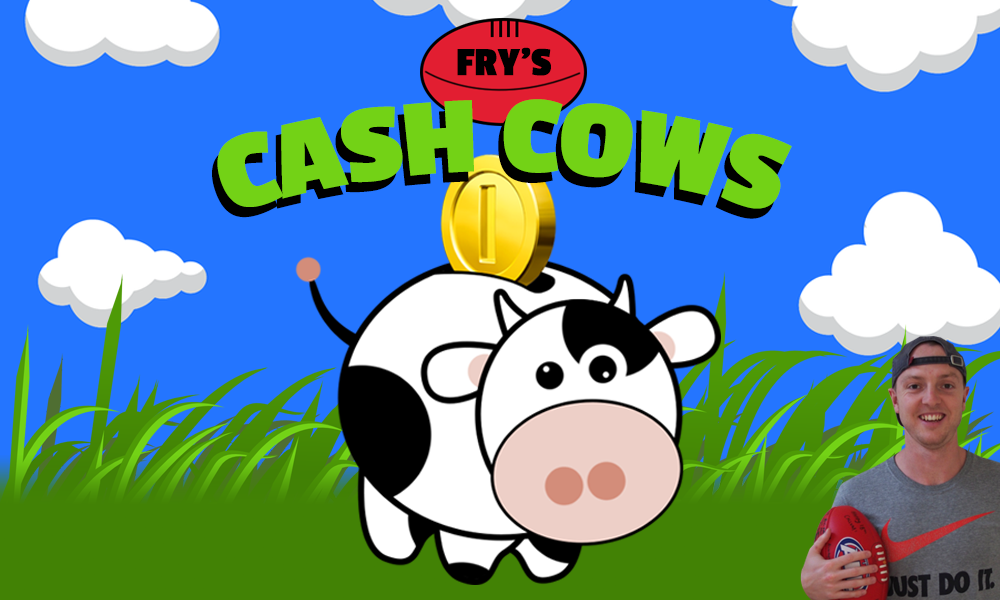 There are only 15 trades left in the 2020 season, every coach will be eager to rid their field of rookies/cash cows before their fantasy campaign comes to a close. Most coaches who own a decent ranking are down to 1 or 2 rookies on their field, but having players on your bench who are still generating cash will be crucial to close the year. With fantasy finals just around the corner, there is still time to patch up the cash cow holes in your team and end the season with a bang!
Rookie/cash cows are usually players who start the season priced at $300,000 or lower
---
Cash Cow King – Round 13
Caleb Serong (75) was the top performer of all the popular rookies in Round 13, returning to form and giving coaches a handy boost in the midfield. Marlion Pickett (70) held his own against the Dons with another 70 and Jarrod Brander (68) wasn't too far off the mark – tying the best score of his career while gathering 16 touches. However, this week's clear nominee in my eyes was GWS first gamer Jake Riccardi (87) who burst onto the AFL scene with 10 marks and a pair of goals. Not a bad way to start your career!
Loading ...
Bye Teams
This round all Adelaide and Brisbane players will be awarded their average score – providing they played in Round 13. These players will be locked in at the start of the round, so if you want to make any changes do so ASAP! Here are the mainstream rookies who you can lock in a score from for the round ahead:
Shane McAdam – 46
Brandon Starcevich – 41
Lachie Sholl – 37
Harry Schoenberg – 36
Jordon Butts – 30
Mooooving On
Fattened cash cows
Connor Budarick, Suns ($308K, AVG 38, BE 43)
Noah Anderson, Suns ($487K, AVG 55, BE 67)
Brandon Starcevich, Lions ($317K, AVG 41, BE 35)
Darcy Cameron, Magpies ($381K, AVG 48, BE 41)
Mitchell Georgiades, Power ($363K, AVG 46, BE 51)
Noah Anderson works his way up to No. 2 on the fattened Cash Cow list, with his stinker against the Blues causing him to dip back under $500K. Most of the usual suspects round out the rest of the list, however, Georgiades' form has seen him top out in value and become a trade out candidate. Three straight scores under 50 don't bode well for his money-making prospects.
Injured/non-playing rookies
Curtis Taylor, Roos ($381K, AVG 46, BE 60)
Sam Simpson, Cats ($412K, AVG 57, BE 54)
Tyler Brown, Pies ($263K, AVG 35, BE 18)
Ned McHenry, Crows ($321K, AVG, 37, BE 29)
Tom Green, Giants ($322K, AVG 42, BE 21)
No changes have been made at the top of the pecking order with Curtis Taylor and Sam Simpson still weeks away with their respective injuries. Ned McHenry was a surprise DPP addition in Round 12, but his failure to crack Adelaide's 22 means flicking him out is the right plan of attack.
Rookie Rankings
DEFENSE
There's a battle at the top of the defensive rankings with Jarrod Brander ($422, 68, BE 26) staking his claim as the No. 1 DEF rookie. In his second game back in West Coast's side, Brander stood out with the current top-ranked backman Will Day ($465K, 58, BE 33) not too far behind him. Day's 58 points came via 4 marks and 4 tackles as well as 12 touches as he continues to grow for the Hawks. I'm giving the Hawthorn young gun the edge this week, but I'll be watching their scores closely in Round 13.
Sigh.
Aside from the above duo, there aren't any defensive cash cows worth trusting wholeheartedly at the moment, with Ben McKay ($365K, 46, BE 41), Matt Cottrell ($243K, 41, BE -1) and Lachlan Sholl ($251K, 35, BE 14) all failing to fire last weekend. 40's aren't acceptable, even in reduced quarters and as coaches continue to push for a completed team it's a wise idea to think about filling you backline ASAP.
Top-5
Will Day (Hawks)

Jarrod Brander (Eagles)

Ben McKay (Roos)

Matthew Cottrell (Blues)

Lachlan Sholl (Crows) – 37
I wanted to endorse Trey Ruscoe ($224, 28, BE 21) more, but his score against North didn't do him any favours. While he did kick two goals, the fact that he had just 6 touches in an entire game of footy makes him a hard pass for me. Some coaches are still clinging onto Aiden Corr ($432K, 38, BE 65) in their back-6, but even he has seen his form drop off, recording three sub-40 efforts in his last four tires. Selfishly I want to see Will Gould ($220K, DNP, BE 25) get a game and save our backlines, but there is no news to suggest that'll be the case anytime soon.
**UPDATE** – As I was about to hit publish on this piece West Coast announced that rookie DEF/RUC Bailey Williams ($170K, DNP, BE 19) is set to make his debut, much to the delight of nearly 30% of all coaches!
The Magpies go end-to-end and Ruscoe kicks their first 👏#AFLPiesNorth pic.twitter.com/H7WyEQ1Kcw

— AFL (@AFL) August 24, 2020
 Best of the Rest
These players may or may not be in the selection mix this week, but be sure to keep them on your 2020 watchlist in case they burst onto the scene. In no particular order:
Hugh Goddard (Blues, $170K)
Jez McLennan (Suns, $170K)
Will Gould (Swans, $220K)
Trent Bianco (Magpies, $182K)
Josh Worrell (Crows, $216K)
Damon Greaves (Hawks, $170K)
MIDFIELD
Caleb Serong ($539K, 75, BE 59) took back his mantle atop the MID power rankings, fueled by 20 disposals against the Swans. His main competition for the top rung Noah Anderson ($487K, 25, BE 67) is lucky he didn't slip any further with Marlion Pickett ($476K, 70, BE 38) gunning for his spot on the leaderboard. Thanks to Pickett's boost in performance, an ideal situation would be having one of these three MID's as you last rookie on the field, however, midfield spots tend to be more valuable than other positions around the ground.
Dylan Stephens ($415K, 55, BE 25) continued his stable production as a cash cow and there's every chance he could end the year with a flurry. If he is able to break through for a 70+ score Stephens would be taking a step in the right direction. Until we see that level of production though, he's viewed as a lesser prospect than his peers. Speaking of prospects, a lack of rookies at the pointy end of the year means Jack Bytel ($238K, 40, BE 7) finds his way into the top-5, even though he scored just 40 points against Brisbane. A better score should be on the way against Melbourne…
Top-5
Caleb Serong (Dockers)

Noah Anderson (Suns)

Marlion Pickett (Tigers)

Dylan Stephens (Swans)

Jack Bytel (Saints)
Locking in a bye score of 36 from Harry Schoenberg ($263K, 43, BE 18) won't give you a great leg up on the rest of the comp, but it might net you a handy emergency score in case a valuable MID is rested. The only other relevant rook to touch is Sydney's Samuel Wicks ($281K, 38, BE 19), who has seen his numbers flatline since his debut. A fruitful points total would be a timely boost from Wicks to help his cash generation keep ticking over.
Best of the Rest
These players may or may not be in the selection mix this week, but be sure to keep them on your 2020 watchlist in case they burst onto the scene. In no particular order:
Luke Valente (Dockers, $170K)
Finn Maginness (Hawks, $214K)
Riley Collier-Dawkins (Tigers, $170K)
Jackson Mead (Power, $222K)
Tom North (Dockers, $170K)
Cooper Stephens (Cats, $240K)
RUCK
The rookie ruck department is relevant again as season 2020 draws to a near with some considering starting Essendon's Sam Draper ($334K, 79, BE -8) at their R2 slot for a few weeks. With news surfacing today that Tom Bellchambers will miss the next two games at least, there's merit in picking Draper and using your hard-earned dollars to address other issues.
Next in the pecking order is Tom De Koning ($247K, 47, BE 0) who outscored teammate Marc Pittonet despite recording fewer hitouts. De Koning did attend 10 of Carlton's 15 centre bounces which is promising, although a date with Brodie Grundy is looming in Round 13. Speaking of Grundy, his sidekick in the ruck Darcy Cameron ($381K, 39, BE 41) is ready to be given the flick after reaching his peak value. There's a chance he plays well against the Blues (especially if god forbid the ruck pig was rested), but after copping some heavy knocks against North he could be given a rest, especially with Mason Cox back in the side.
Top-3
Sam Draper (Bombers)

Tom De Koning (Blues)

Darcy Cameron (Magpies)
Best of the Rest
These players may or may not be in the selection mix this week, but be sure to keep them on your 2020 watchlist in case they burst onto the scene. In no particular order:
Jordan Sweet (Bulldogs, $170K)
Matthew Flynn (Giants, $170K)
Bailey Williams (Eagles, $170K)
Lloyd Meek (Dockers, $170K)
FORWARD
Only two forward cash cows managed to 50+ last round, with a lot of the popular names nearing the end of their tenure in a lot of fantasy sides. Izak Rankine ($398K, 44, BE 45) dipped in value after recording just 44 points against Carlton, making him a viable trade out candidate for those in a position to upgrade a rookie spot. Behind him, Boyd Woodcock ($290K, 51, BE 0) scored admirably, emerging as a potential starter in the coming rounds. You wouldn't want to be fielding Rankine or Woodcock for too much longer and it's wise to start working towards a succession plan at your F5/F6 slot. Some may question Brad Close's ($311K, 38, BE 27) place at No. 3 on the FWD rankings, but the versatile Geelong talent still has some room to grow. After being rested in Round 12, I expect Close to start chalking up a few more scores in the 50's and in turn help out over 15% of teams.
I back him in to score well against the Bulldogs, but locking in Shane McAdam's ($394K, 49, BE 39) bye score of 46 might be a safer decision. McAdam strained his hamstring in the final stages of their clash with Geelong last round, which could see the Crows forward given a stint on the sidelines. Last, but certainly not least, Jake Riccardi ($218K, 87, BE -26) enters the top-5 and will likely be the most traded in player ahead of Round 13 commencing. Let's see if he can back up his debut heroics and move his way up the FWD pecking order.
Top-5
Izak Rankine (Suns)

Boyd Woodcock (Power)

Brad Close (Cats)

Shane McAdam (Crows) – 46

Jake Riccardi (Giants)
Dogs duo Laitham Vandermeer ($406K, 40, BE 50) and Ben Cavarra ($247K, 45, BE -6) find themselves on opposite ends of the spectrum, with Vandermeer ready to be culled and Cavarra still making some decent coin. A pair of first gamers in Liam Henry ($263K, 44, BE 19) and Irving Mosquito ($190K, 49, BE -1)) could emerge as handy cash cows down the stretch if they can hold their place in their respective sides, while Zac Foot's ($203K, 24, BE 8) off game against Freo won't help his money-making ability.
Best of the Rest
These players may or may not be in the selection mix this week, but be sure to keep them on your 2020 watchlist in case they burst onto the scene. In no particular order:
Irving Mosquito (Bombers, $170K)
Cameron Taheny (Cats, $172K)
Miles Bergman (Power, $244K)
Nakai Cockatoo (Cats, $255K)
Liam Henry (Dockers, $254)
Dylan Williams (Power, $226K)

---