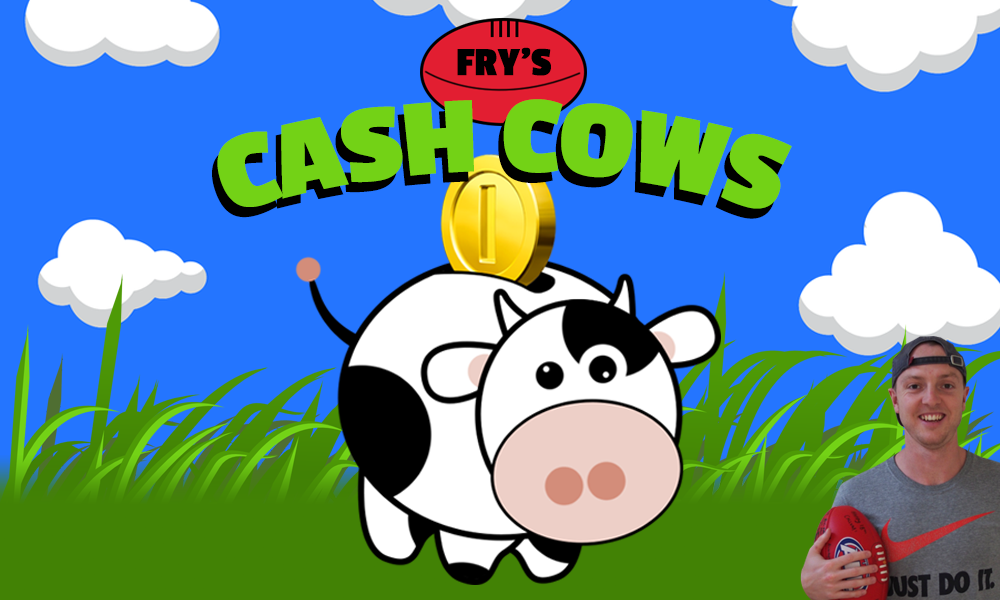 Rookies aren't taking priority for a lot of coaches at the pointy end of the season, with cash cows either absent from contending sides near the top of the rankings or overrunning coaches' fantasy teams – forcing some to turn their attention to the 2021 season. In the coming rounds, award picks and nominations for the cash cow class of 2020 will start to rear their head, but as we gear up for another footy bonanza here are some pointers on how to handle the few remaining rooks on your field (hopefully) over the coming days.
Rookie/cash cows are usually players who start the season priced at $300,000 or lower
---
Cash Cow King – Round 14
Quick shoutout to Trent Rivers (66) and Xavier O'Neill (64), who both earned their first CCK nomination of the season for decent scores on the weekend. However, Round 14's Cash Cow King nomination comes down to a two-horse race between Gold Coast's Noah Anderson (80) and Jake Riccardi (83) from the Giants. Anderson has been a fantasy staple for the bulk of the season, but Riccardi is making a late run for a spot in the Cash Cow team of the year after his second straight 80+. Until he comes back to Earth it's hard to pick against Riccardi and he gets my vote for the second straight week.
Loading ...
Bye Teams
This round all North Melbourne, Gold Coast, Geelong, Western Bulldogs, Port Adelaide and St Kilda players will be awarded their average score – providing they played in Round 14. These players will be locked in at the start of the round, so if you want to make any changes do so ASAP! Here are the mainstream rookies who you can lock in a score from for the round ahead:
Noah Anderson – 57
Izak Rankine – 52
Laitham Vandermeer – 45
Brad Close – 43
Ben McKay – 42
Max King – 41
Connor Budarick – 39
Lachlan Hosie – 39
Sam Flanders – 33
Ryan Gardner – 27

Mooooving On
Fattened cash cows
Darcy Cameron, Magpies ($361K, AVG 44, BE 62)
Marlion Pickett, Tigers ($472, AVG 53, BE 57)
Max King, Saints ($364K, AVG 41, BE 47)
Connor Budarick, Suns ($306K, AVG 39, BE 36)
Brandon Starcevich, Lions ($321K, AVG 42, BE 32)
Once again, Noah Anderson removed himself from the trade out conversation with an 80 in the previous round. The news wasn't so promising for Marlion Pickett and Darcy Cameron, with owners surely looking to pull the trigger and trade out the underperformers.
Injured/non-playing rookies
Curtis Taylor, Roos ($381K, AVG 46, BE 60)
Sam Simpson, Cats ($412K, AVG 57, BE 54)
Jarrod Brander, Eagles ($421K, AVG, 53, BE 51)
Tom Green, Giants ($322K, AVG 42, BE 21)
Boyd Woodcock, Power ($290K, AVG 47, BE 0)
Most of the usual suspects still appear on the injured/non-playing list, but Boyd Woodcock's omission in Round 14 means he'll likely be sent packing by a portion of the competition. With the Power on their bye this week, expect coaches to cash in on the $120K he's already made.
Rookie Rankings
DEFENSE
Coaches who are still fielding a large number of rookies in the backline are starting to feel the pinch with Will Day ($482K, 59, BE 41) and Jarrod Brander ($421K, 27, BE 51) both left off the team sheets ahead of the next batch of games. The Hawks rookie has put his hand up as the best defensive cash cow in 2020 since his debut in Round 6, but this is a good excuse to swing the axe and upgrade him to a top-6 calibre backman. The same can be said for Brander and his inferior price tag, with 20%+ of teams likely eyeing a move up where possible. Mainstream rooks Lachie Ash ($358K, 57, BE 39) and Trent Rivers ($352K, 66, BE 16) are the big guns left to pick up the slack in DEF – which certainly helps to highlight how shallow the DEF depth chart really is.
Matt Cottrell ($243K, DNP, BE -1) should return to the field after resting in Carlton's last game and there's a chance Tobe Watson ($255K, DNP, BE -5) finds his way back into Freo's best 22, especially after Luke Ryan went down with an injury against GWS. Lachie Sholl ($267K, 37, BE 20) falls into the same bracket as Cottrell and Watson, with all three unlikely to be deemed decent trade targets given their increased price tag. Still, desperate times call for desperate measures and if you need to offload to a playing defensive rookie there are slim pickings.
Top Trade Targets
Will Gould (Swans)*

Lachie Sholl (Crows)

Bailey Williams (Eagles)
*= if named
 Best of the Rest
These players may or may not be in the selection mix this week, but be sure to keep them on your 2020 watchlist in case they burst onto the scene. In no particular order:
Hugh Goddard (Blues, $170K)
Jez McLennan (Suns, $170K)
Will Gould (Swans, $220K)
Trent Bianco (Magpies, $182K)
Josh Worrell (Crows, $216K)
Damon Greaves (Hawks, $170K)
MIDFIELD
Atop the midfield pecking order, Caleb Serong ($528K, 47, BE 67) and Noah Anderson ($495K, 80, BE 48) continue to duke it out with the pair viewed as the best two fantasy rookies in 2020 by a lot of coaches. Anderson put pressure on Serong with his second 80-point game in three weeks, with the Dockers young gun underperforming against the Giants. In the coming weeks, award nominations will be filtering through and it'll be tough to pick against one of these talented midfielders as the best cash cow from this season.
Holding on to either Serong or Anderson as your final on-field rookie isn't a terrible choice, but there will be a large portion of the fantasy community that looks to finally move on from Marlion Pickett ($472K, 35, BE 57) this round. While his scoring rate has been solid in the past month or so, all rookies have to go eventually and a poor score gives nearly 40% of the league a good excuse to finally upgrade the Richmond cult hero. If you're looking to make a quick buck, you may want to shuffle him to Xavier O'Neill ($233K, 64, BE -15) or Samuel Wicks ($307K, 56, BE 18) who loom as the best downgrade options in the midfield at the moment. Wicks has probably risen too much in value to warrant trading in, but there's still time to pounce on O'Neill.
In his first two AFL games, O'Neill has performed admirably, solidifying a place in West Coast's team at least for the meantime. Elliot Yeo is expected to miss another week or two and Jack Redden is nearing a return, although if those veterans stay on the sidelines there will be plenty of opportunities for O'Neill to keep ticking up in value. Another fresh face in Thompson Dow ($237K, 37, BE 19) will be hoping he can string some consecutive games together in Richmond's outfit, however, his place in a premiership contender is equally as uncertain. Both O'Neill and Dow will cost an extra $60K-$70K than a basement rook, with Jack Bytel ($238K, DNP, BE 8) another inflated youngster potentially worth investing in – providing of course he returns to St Kilda's side. If no new players emerge, coughing up for a reliable emergency who should keep growing in value may be your best plan of action.
Top Trade Targets
Xavier O'Neill (Eagles)

Thompson Dow (Tigers)

Jack Bytel (Saints)*
*= if named
Best of the Rest
These players may or may not be in the selection mix this week, but be sure to keep them on your 2020 watchlist in case they burst onto the scene. In no particular order:
Luke Valente (Dockers, $170K)
Finn Maginness (Hawks, $214K)
Riley Collier-Dawkins (Tigers, $170K)
Jackson Mead (Power, $222K)
Tom North (Dockers, $170K)
Cooper Stephens (Cats, $240K)
RUCK
The long-awaited debut of Bailey Williams ($183K, 38, BE 7) was a welcome sight for almost 40% of AFL Fantasy teams and he'll look to keep ticking over in value against Essendon this week. Williams has been named in the same team as Nic Naitanui and Oscar Allen, which could chew into his production somewhat. Still, if Nic Nat is rested in the next game or two, it could lead to a fruitful game from Williams – allowing him to be a handy money maker in the last month of fixtures.
He'll try to keep rising in price against Essendon, who will be playing their own youthful ruckman in Sam Draper ($334K, DNP, BE -7). After missing another contest with 'rest' Draper is tough to trust on the field for fantasy coaches, but if he's playing, there's nothing wrong with throwing him into R2 for a score around the 60 mark. Tom De Koning ($264K, 25, BE 17) and Darcy Cameron ($361K, 15, BE 62) are the only other relevant ruck rooks ahead of Round 15, with both of them nearing the end of their tenure as worthwhile cash cows. De Koning doesn't need to be moved on in a hurry, but for coaches eager to cash in on Cameron's growth – now is the time.
Top Trade Targets
Bailey Williams (Eagles)

Sam Draper (Bombers)

Tom De Koning (Blues)
Best of the Rest
These players may or may not be in the selection mix this week, but be sure to keep them on your 2020 watchlist in case they burst onto the scene. In no particular order:
Jordan Sweet (Bulldogs, $170K)
Matthew Flynn (Giants, $170K)
Bailey Williams (Eagles, $170K)
Lloyd Meek (Dockers, $170K)
FORWARD
It's unlikely that the coaches still playing top-ranked forward Izak Rankine ($404K, 55, BE 42) will move him on this round, with a bye score of 52 on its way. However, Rankine's three-round average of 46 signals that a succession plan for the Gold Coast young gun is in order – and chasing a cheaper rookie like Jake Riccardi ($296K, 83, BE -38) to make a quick $100K is one such move. Some rolled the dice on Riccardi last week only to be handily rewarded with another epic score and his stupidly low breakeven makes him an appealing target, despite growing $78K last round.
Finding trustworthy FWD cash cows for our field is becoming tough as the year draws to a close with a bunch of popular names omitted last round. Seeing Boyd Woodcock ($290K, DNP, BE 0) and Zac Foot ($203K, DNP, BE 8) left off the teamsheets last week stung after the bulk of coaches traded one or both of them in for Jake Aarts ($349K, 52, BE 40), Brad Close ($316, 35, BE 32), James Bell ($376K, 40, BE 42) and/or Max King ($364K, 24, BE 47). Those cash cows, plus a few other mainstream names have been hanging in there for coaches over the past month, but as we chase every extra dollar possible to finalise our fantasy sides there's nothing with sending them packing to a cheaper alternative.
Top Trade Targets
Jake Riccardi (Giants)

Zak Foot (Swans)*

Irving Mosquito (Bombers)
Best of the Rest
These players may or may not be in the selection mix this week, but be sure to keep them on your 2020 watchlist in case they burst onto the scene. In no particular order:
Cameron Taheny (Cats, $172K)
Miles Bergman (Power, $244K)
Nakai Cockatoo (Cats, $255K)
Dylan Williams (Power, $226K)

---