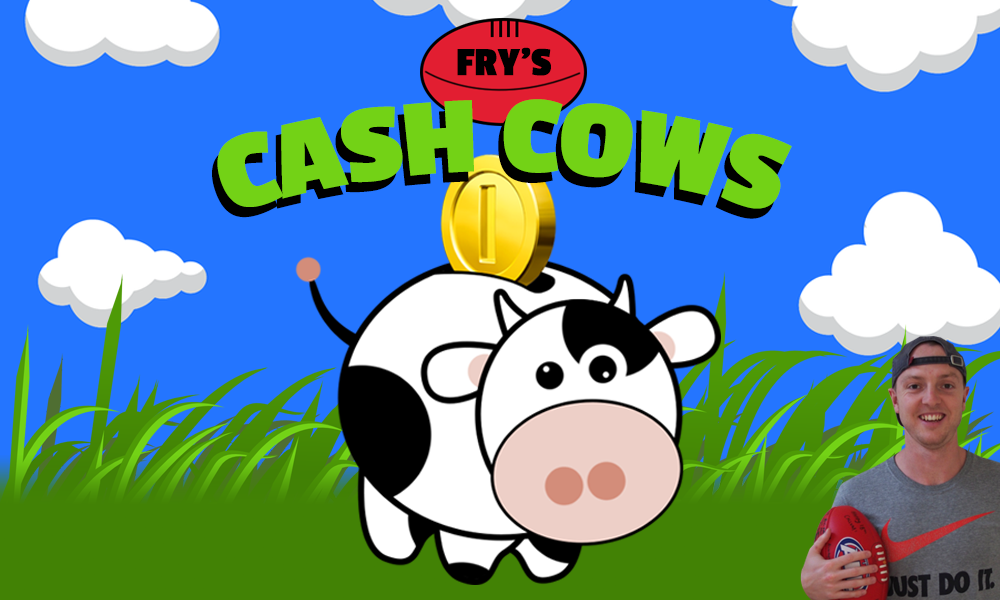 26 games, nine trades and three rounds to go and the home and away season will be in the books! Before late September arrives most fantasy coaches will be eager to put the finishing touches on their squad of 30 and conclude the 2020 campaign with as high a rank as possible. Award nominations for the team of the year, Cash Cow King and numerous other awards will drop next round, however, chopping the remaining few rooks from your field still takes priority as the end draws near.
Rookie/cash cows are usually players who start the season priced at $300,000 or lower
---
Cash Cow King – Round 15
He's timing his run as the 2020 fantasy season rides down and it's fair to say Caleb Serong (94) now has one hand on the Cash Cow King trophy. 22 touches, 6 marks and 5 tackles helped the Freo young gun score 94 points against the Tigers and Marlion Pickett (70) – who managed 19 disposals of his own. Serong has now scored 90+ on three occasions – leading the way for all cash cows and as a result, it's hard to see anyone other than him claiming the CCK this year. Shoutout to Shane McAdam (63) and Justin McInerney (64) who rewarded the coaches that have stuck with them by earning a Round 15 nomination.
Loading ...
Bye Teams
This round all Richmond and Collingwood players will be awarded their average score – providing they played in Round 15. These players will be locked in at the start of the round, so if you want to make any changes do so ASAP! Here are the mainstream rookies who you can lock in a score from for the round ahead:
Marlion Pickett – 55
Jake Aarts – 44
Darcy Cameron – 44
Tyler Brown – 36
Thompson Dow – 27

Mooooving On
Fattened cash cows
Noah Anderson, Suns ($502K, AVG 57, BE 53)
Max King, Saints ($360K, AVG 41, BE 45)
Izak Rankine, Suns ($411K, AVG 52, BE 41)
Connor Budarick, Suns ($308K, AVG 39, BE 32)
Brad Close, Cats ($324K, AVG 49, BE 31)
All 5 of the fattened cash cows this week are coming off the Round 14 bye – which is part of the reason they've flatlined out in value. Cashing in on their growth so far and landing a top player at the respective position is the smartest tactic over the final three rounds.
Injured/non-playing rookies
Curtis Taylor, Roos ($381K, AVG 46, BE 60)
Darcy Cameron, Magpies ($361K, AVG 44, BE 62)
Sam Simpson, Cats ($412K, AVG 57, BE 54)
Jarrod Brander, Eagles ($421K, AVG, 53, BE 51)
Tom Green, Giants ($322K, AVG 42, BE 21)
Similar story with the fattened cash cows, the non-playing rooks should be moved to a premium player if you've got the cash on hand. Taylor and Simpson are unlikely to return to the field this fantasy season thanks to their ailments with Cameron, Brander and Green facing an uphill climb to reintegrate themselves with the best 22 at their club.
Rookie Rankings
DEFENSE
Without Will Day holding down the fort, a lot of fantasy coaches have rushed to clear the rookies from their back-6. If you're still fielding a cash cow between D1-D6, you'd hope that it's Lachie Ash ($370K, 55, BE 31) and/or Trent Rivers ($381K, 55, BE 20) both of whom have found some consistency in the back portion of the season. Some coaches will be stuck starting cheaper options like Lachlan Sholl (47) and Matthew Cottrell ($273K, 40, BE 9) still on their field – and moving them on should be priority number one. There isn't much merit in jumping from one rookie to another, but if you're an owner of Sholl, Cottrell or another sub $300K rook, I'd advise ditching them from your field ASAP.
Downgrade target wise, once again, there aren't a lot of options outside of Bailey Williams (38). Of the 18 CBA's in the West Coast game, Williams (4) and Nic Naitanui (14) split the share and if the younger Eagle can hold his place in the side a few more scores in the 40's will be on their way to close the year. I'm expecting a similar output from North defender Flynn Perez ($202K, DNP, BE 23) who has been building on his fitness level since tearing his ACL at the end of 2018. The 35th pick in last year's draft will get a chance to showcase his talents on the AFL stage, however, despite his skills as a versatile defender/outside MID, I don't expect a score north of 50.
"It's been a huge journey. I've been building my fitness and form over the last month, and I'm really stoked."

It's been a tough road back from an ACL injury, but Flynn Perez can't wait to play his first AFL game. pic.twitter.com/Crx4YkDO8p

— North Melbourne (@NMFCOfficial) September 3, 2020
Top Trade Targets
Bailey Williams (Eagles)

Flynn Perez (Kangaroos)

Will Gould (Swans)*
*= if named
 Best of the Rest
These players may or may not be in the selection mix this week, but be sure to keep them on your 2020 watchlist in case they burst onto the scene. In no particular order:
Hugh Goddard (Blues, $170K)
Jez McLennan (Suns, $170K)
Will Gould (Swans, $220K)
Trent Bianco (Magpies, $182K)
Josh Worrell (Crows, $216K)
Damon Greaves (Hawks, $170K)
MIDFIELD
As mentioned above, Caleb Serong ($548K, 94, BE 46) has put his best foot forward in the race for the fantasy Rookie of the Year crown. Fuelled by a career-best 17 kicks, Serong continues to separate himself from the pack with Marlion Pickett ($482K, 70, BE 46) and Noah Anderson ($502K, 57, BE 53) snapping at his heels. The midfield trio remains the most trustworthy scorers in the middle of the ground and playing them in your M8 slot for the rest of the year isn't the end of the world. If you're still stuck fielding Xavier O'Neill ($274K, 41, BE -2) or Samuel Wicks ($335K, 56, BE 17) then chances are you're in a more dire position.
Fielding them isn't a crazy move, but obviously fielding a trustworthy top-calibre MID is more ideal. Those two fall into a similar bracket as Justin McInerney ($341K, 64, BE 17) who dropped a personal best 64 points last time out. In a perfect scenario none of these rookies would still be on your field, but having a midfielder as your last cash cow is still an ideal situation. With a lack of viable trade candidates filtering through the engine room, we're left hoping for a $170K smokey to emerge and keep the cash generation ticking over. Don't hold your breath though, it would be a true hail mary if one such player emerged.
Top Trade Targets
Jack Bytel (Saints)*

Xavier O'Neill (Eagles)

Zac Foot* (Swans)
*= if named
Best of the Rest
These players may or may not be in the selection mix this week, but be sure to keep them on your 2020 watchlist in case they burst onto the scene. In no particular order:
Luke Valente (Dockers, $170K)
Finn Maginness (Hawks, $214K)
Riley Collier-Dawkins (Tigers, $170K)
Jackson Mead (Power, $222K)
Tom North (Dockers, $170K)
Cooper Stephens (Cats, $240K)
RUCK
Sam Draper ($370K, 42, BE 17) reentered the frame for Essendon last week and kept his healthy average ticking over despite failing to record a single mark en route to the lowest score of his career. The Dons face Geelong, Port Adelaide and Melbourne to close the season and aside from a date with Max Gawn, neither of the other ruck combinations imposes a threat to Draper nudging 50-60ish points. With Tom De Koning ($264K, DNP, BE 17) and Darcy Cameron ($361K, DNP, BE 62) left on the outside looking in, trading them away is a move I advocate – with Cameron a much more pressing trade issue than De Koning.
Top Trade Targets
Bailey Williams (Eagles)

Jordan Sweet (Bulldogs)

Tom De Koning (Blues)*
Best of the Rest
These players may or may not be in the selection mix this week, but be sure to keep them on your 2020 watchlist in case they burst onto the scene. In no particular order:
Jordan Sweet (Bulldogs, $170K)
Matthew Flynn (Giants, $170K)
Bailey Williams (Eagles, $170K)
Lloyd Meek (Dockers, $170K)
FORWARD
Thank the sweet lord for Jake Riccardi ($361K, 52, BE -11) who has buoyed nearly 25% of fantasy teams – scoring 222 points in the last three weeks! The key Giant has emerged as a surprisingly trustworthy scorer, however, the majority of us expect him to fall back to Earth any round now. Until he does, there's nothing wrong with plugging him into your starting 22. A few popular forwards outside of Riccardi are doing their part to help the fantasy community with Izak Rankine ($411K, 52, BE 41), Shane McAdam ($411K, 63, BE 36) and Jake Arts ($358K, 53, BE 30) all topping 50 in their last game.
Obviously Rankine's score came via his average as a result of his first 9 career games and I have faith he can be the top forward cash cow over the remaining three matches. If you aren't starting any of those rooks in your FWD group, hopefully you've got Irving Mosquito ($245K, 49, BE 1) buzzing around. Don't expect him to channel his inner Jake Riccardi, but I feel confident in Mozzie topping 40 on three occasions to end the season. After 12 touches against Collingwood, some will turn their attention to Keidan Coleman ($224K, 59, BE -2) and after averaging 74 in the NEAFL a season ago, I can see why people are drawn to the Morningside junior.
Top Trade Targets
Zak Foot (Swans)*

Irving Mosquito (Bombers)

Keidan Coleman (Lions)
Best of the Rest
These players may or may not be in the selection mix this week, but be sure to keep them on your 2020 watchlist in case they burst onto the scene. In no particular order:
Cameron Taheny (Cats, $172K)
Miles Bergman (Power, $244K)
Nakai Cockatoo (Cats, $255K)
Dylan Williams (Power, $226K)

---