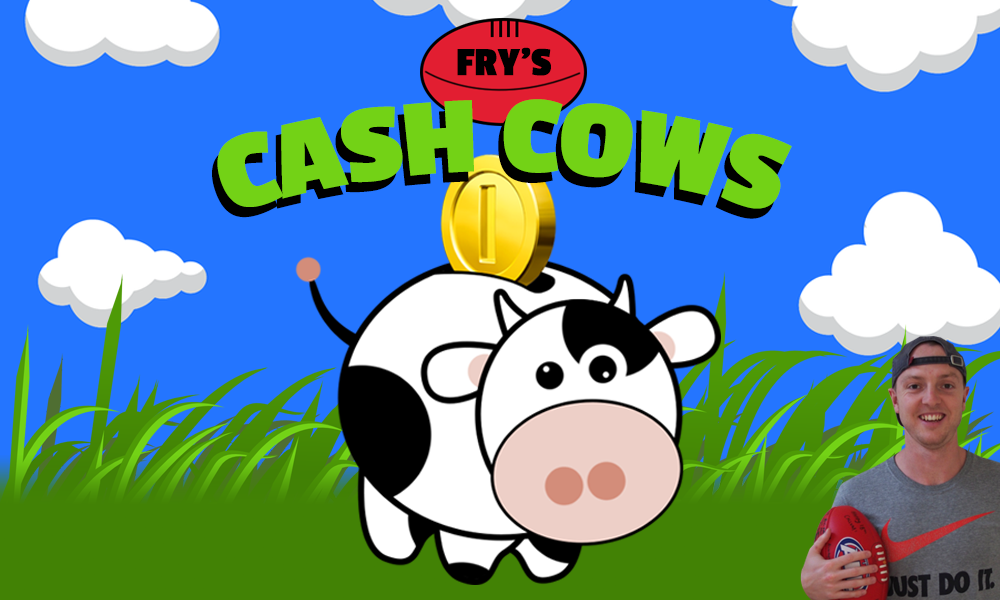 With the preliminary finals upon us, rookies are no longer the highest priority in fantasy circles with most successful coaches extracting cash cows from their field weeks ago! In the Round 17 article, you can still find some helpful pointers if you're still shuffling rooks on your field and if you have specific questions feel free to fire them through below. However, with the season coming to a close it's time to start thinking awards for the cash cow class of 2020 with this week focusing on finalising the nominees for some coveted awards.
Rookie/cash cows are usually players who start the season priced at $300,000 or lower
---
Cash Cow King – Round 16
Usual suspects Caleb Serong (83) and Will Day (77) kept themselves integrated with the CCK nominees and debutant Damon Greaves surprised everyone with a BCV score of 84! Round 16 honours can only go to one player though, with Shane McAdam (93) scoring a career-best against the Giants – thanks to 14 touches, 7 marks and 5 tackles. Kudos Shane, you get my vote for last round!
Loading ...
Mooooving On
Fattened cash cows
Brandon Starcevich, Lions ($317K, AVG 40, BE 54)
Marlion Pickett, Tigers ($488, AVG 55, BE 53)
Connor Budarick, Suns ($297K, AVG 38, BE 43)
Izak Rankine, Suns ($412K, AVG 51, BE 44)
Tyler Brown, Magpies ($289K, AVG 36, BE 28)
Injured/non-playing rookies
Curtis Taylor, Roos ($381K, AVG 46, BE 60)
Sam Simpson, Cats ($412K, AVG 57, BE 54)
Darcy Cameron, Magpies ($361K, AVG 44, BE 62)
Jarrod Brander, Eagles ($421K, AVG, 53, BE 51)
Tom Green, Giants ($322K, AVG 42, BE 21)
Rookie Rankings/Downgrade Targets
A lot of coaches are at the point of the season where they are punting bench positions and trading away players in an effort to maximise points on the ground. Unfortunately, there aren't a lot of fresh faces filtering through and your best chance might be to target a player who is at least playing this week – providing you with a valuable emergency score. Here are the best downgrade targets to close the season.
Hamish Brayshaw ($170K, MID, Eagles)

Matthew Owies ($170K, FWD, Blues)

Damon Greaves ($205K, DEF, Hawks)

Toby Bedford ($186K, FWD, Demons)

Jordan Sweet ($170K, RUC, Bulldogs)
---
Award Nominees
Tonight, Hamish Brayshaw from the Eagles will become debutant number 78 from the 2020 season – tying last year's count with two rounds to spare! Among those other 77 players, some reliable mainstays emerged for our fantasy sides, outperforming the 'premiums' around them and making the COVID impacted season bearable. However, not all cash cows performed up to our expectations, with only a handful of them worthy of special recognition as one of the best performers at their position. No it's time to have your say and vote for the players who you think deserve to make the final ballot!
Make 2-4 selections (depending on position) to choose your picks for the finalists of the positional award races.
Voting closes at the conclusion of Round 17
Defence
Who are your 3 nominations for the Cash Cow Defender of the Year?
Will Day (10 games, 59.8 AVG) (38%, 724 Votes)
Ben McKay (10 games, 41.3 AVG) (1%, 20 Votes)
Andrew McPherson (7 games, 45.6 AVG) (15%, 283 Votes)
Trent Rivers (8 games, 48.5 AVG) (6%, 122 Votes)
Lachie Ash (13 games, 43.8 AVG) (6%, 122 Votes)
Brandon Starcevich (16 games, 39.5 AVG) (17%, 329 Votes)
Jarrod Brander (7 games, 52.7 AVG) (13%, 254 Votes)
Jack Madgen (10 games, 50.9 AVG) (3%, 49 Votes)
Total Voters: 825
Loading ...
Will Day's first career goal was an absolute beauty! #AFLBluesHawks pic.twitter.com/XScdUVrwyA

— AFL (@AFL) July 31, 2020
Midfield
Who are your 4 nominations for the Cash Cow Midfielder of the Year?
Noah Anderson (16 games, 57.5 AVG) (21%, 508 Votes)
Caleb Serong (13 games, 64.5 AVG) (31%, 750 Votes)
Matthew Rowell (5 games, 70.8 AVG) (26%, 645 Votes)
Marlion Pickett (14 games, 54.7 AVG) (11%, 277 Votes)
Sam Simpson (6 games, 57.3 AVG) (10%, 247 Votes)
Ned McHenry (8 games, 37.5 AVG) (0%, 6 Votes)
Dylan Stephens (7 games, 52.4 AVG) (0%, 10 Votes)
Justin McInerney (7 games, 47.1 AVG) (1%, 15 Votes)
Total Voters: 864
Loading ...
Ruck
Who are your 2 nominations for the Cash Cow Ruck of the Year?
Sam Draper (6 games, 56.3 AVG) (47%, 678 Votes)
Darcy Cameron (8 games, 44.0 AVG) (13%, 187 Votes)
Marc Pittonett (13 games, 53.9 AVG) (37%, 533 Votes)
Tom De Koning (5 games, 43.2 AVG) (2%, 33 Votes)
Luke Jackson (6 games, 38.2 AVG) (0%, 3 Votes)
Total Voters: 834
Loading ...
Forward
Who are your 3 nominations for the Cash Cow Forward of the Year?
Shane McAdam (12 games, 51.3 AVG) (10%, 208 Votes)
Laitham Vandermeer (13 games, 45.0 AVG) (10%, 209 Votes)
Izak Rankine (11 games, 51.4 AVG) (32%, 664 Votes)
Max King (15 games, 40.9 AVG) (13%, 272 Votes)
Jake Arts (12 games, 43.7 AVG) (6%, 114 Votes)
Connor Budarick (16 games, 37.5 AVG) (6%, 132 Votes)
Curtis Taylor (9 games, 46.0 AVG) (18%, 379 Votes)
Brad Close (8 games, 42.6 AVG) (4%, 88 Votes)
Total Voters: 822
Loading ...
Next week I will be back with the final voting ballot for all the rookie/cash cow awards including Game of the Year, Position MVP's, the Cash Cow King and more!
---