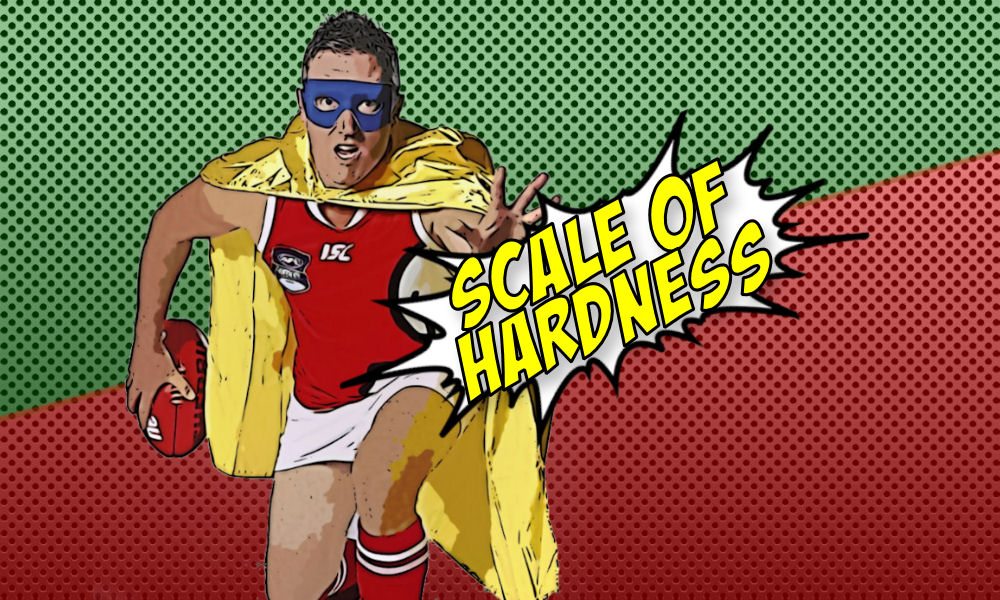 The "Scale of Hardness" – sometimes called the "Scale of Awesomeness" is all based on 2020 data. Scores which teams give up across each position. Now, without any data for the new season you can take this however you like. Some people use this as a bible for trading, just like Trent the 2020 AFL Fantasy winner (and he knows winning) and others just glance over the masterpiece from time to time and take it as a grain of salt.
Either way, there are some interesting facts to take away from the first draft of the scale of hardness as we approach the season ahead.
DEFENDERS
In 2020, Collingwood led the league in giving up the most uncontested marks… therefore defenders which played against them cashed in. Hawthorn were in a similar boat, giving up the most uncontested possessions which equates to points to their opposition in defence and in the middle. 
For those paying up for Jake Lloyd, well he has tough opening game against Brisbane (however he scored 115 on last year) before going on a great run over the next five weeks. On the flipside, Collingwood and the likes of Maynard and Crisp have a tricky run early as they hit three 'hard' teams in the first five weeks.
However, the hardest run of all sits in front of the Crows. Players such as Wayne Milera might find it tough early as they meet teams who didn't give up many points to defenders last year. Milera is currently in 19% of teams, will you now reconsider? 
MIDFIELDERS
The stand-out for a hard start is Melbourne and in particular Clayton Oliver. He meets four red teams (hard) in the first four weeks. These include the two most restrictive teams of 2020 in Geelong and GWS.  He averaged 104 on these two teams last year, 10pts less than his season average. These teams are always tough and I'm tipping they will remain that way in 2021.
The best run belongs to Geelong who meet Adelaide round one. Adelaide gave up nearly 100pts to the top three averaging opposition midfielders last year on a weekly basis. The Cats only hit one hard team (Bris) in the first eight weeks. This is nuts. Expect players such as Duncan, Guthrie, Menegola and even Dangerfield to get off to a flying start. They will raise eye brows early, but how will you react?
RUCKS
This is interesting… will this change your mind when approaching round one?
He's a popular pick, but might not get off the start we wished. I'm talking about Brodie Grundy.
On paper, it looks great. Grundy plays the Dogs in round one and in the past he has smashed English with scores of 143, 168 and 153 to average 155 in his last three against them. Enter Stef Martin.
Stef has had Grundy's measure in his last three games against him, holding Grundy to scores of 95, 78, 89 at an average of just 87. That's 68pts less than what he scores on English.
So do you pay up for Max Gawn and his great run? He has no tough opponents till round 7 (Goldy). In fact, if Max scores like he did against these first six teams like he did in 2020, he'll be averaging 131 at the end of round 6. More than the 124 he is priced at.
Then we have big Preuss and wow doesn't he have a tough start at his new club. In rounds one and two he plays Ryder/Marshall and then Sean Darcy (away). After that he meets the toughest in the business, Max and Grundy in rounds three and four. Rucks only averaged 53 and 58 against them last year. Preuss is in 37% of teams, and after finding this out… will you now turn your back on him?
KEY FORWARDS
I'm covering forwards this year, especially early as we have some key forwards on the radar. Forwards such as Sidebottom and Dunkley basically play midfield so these stats are mainly based around what key forwards scored last year.
Geelong once again have the best run which could be a nice start for Jeremy Cameron. Adelaide rates as one of the easiest and from there they only meet one red/hard team in first 5 weeks. A gamble on Cameron who plays four of his first six at home might just pay off.