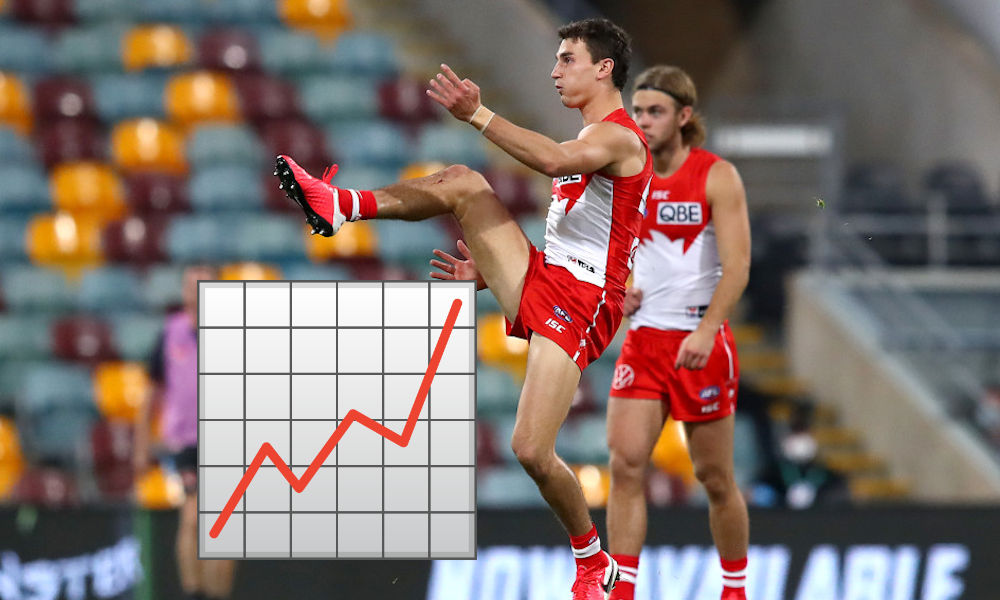 Reviewing popular trades is tricky during the festival of footy. There are rolling lockouts, late team announcements, and headaches about whether it's best to save trades and avoid a donut or lock in your preferred premium and hope for the best.
Although we've only got the full picture by the end of the round, there's a target or two worth considering despite a price increase, as well as an insight into how the rest of the competition is approaching their three weekly trades.

Ben of the @BeaufortBeaus takes a look at the most popular trades of Round 11.
Most Traded In
Coaches exploited the guaranteed 80 and 55 from Jackson Thurlow and Sam Wicks, but will be hoping for a better follow-up than Connor Blakely's post-bye 45. This strategy is sure to be popular in Rounds 14 to 17 when the remaining ten teams take their byes.
Alex Witherden is the pick of the popular upgrade options after averaging 91 since regaining his spot in Brisbane's backline. He doesn't look like slowing down and is set to increase his value further with a breakeven of just 40.
The ship might've sailed on Clayton Oliver now that he's priced over $900,000, but Taylor Adams is still an excellent option. Adam Treloar will be sidelined for weeks to come, and Scott Pendlebury won't be returning in Round 12 either.
Also spare a thought for the coaches who traded in Sam Draper, only for him to be rested for the last game of the round. He'll be a great cash earner at R3, but hopefully you didn't have him on the field to cover for the injured Max Gawn.
Sam Wicks (MID, $239,000)
Boyd Woodcock (FWD, $211,000)
Jackson Thurlow (DEF, $513,000) 👀
Matt Eagles (DEF, $170,000)
Alex Witherden (DEF, $639,000) 👍
Jack Bytel (MID, $194,000)
Trey Ruscoe (DEF/MID, $207,000)
Sam Draper (RUCK, $238,000)
Clayton Oliver (MID, $902,000) 👍
Taylor Adams (MID, $786,000) 👍
Most
Trade
d
Out
Credit to Melbourne for alerting fantasy coaches of the injuries to Max Gawn and Jack Viney before the first lockout. 4,300 coaches traded out Gawn and 3,700 swapped out Viney despite their short-term prognoses, showing that coaches will be aggressive with their three trades and there could be an advantage for holding uber-premiums if you've got cover.
Darcy Cameron rose $58,000 after an impressive 87 and has surely cemented his place in Collingwood's lineup. He has a breakeven of -4 so hold him for a couple more weeks to maximise his price before cashing out.
Coaches might also be regretting trading out Dan Houston after his 70 against Richmond (unless you swapped him to Rory Laird). His scoring has fallen away in recent weeks but it could be a timely reminder to prioritise rookies off the ground before making luxury trades.
Sam Simpson (MID, $421,000) ✂
Adam Treloar (MID, $816,000) 🚑
Max Gawn (RUCK, $920,000) 🚑
Darcy Cameron (RUCK/FWD, $360,000)
Dan Houston (DEF/MID, $589,000)
Will Hamill (DEF, $286,000) 🚑
Jack Viney (MID, $722,000) 🚑
Noah Anderson (MID, $492,000)
Connor Budarick (MID/FWD, $334,000)
Max King (FWD, $353,000)
Early Movers
Unsurprisingly, Rory Laird (DEF, $684,000) is the most popular upgrade option for Round 12 so far. He's been impressive after his move into the midfield and pumped out 139 against Collingwood – the highest score of the season.
Meanwhile Jack Macrae (MID, $878,000) has returned to his former piggery with an average of 116 from his last three. He's against Adelaide this round and will be an excellent captain option for the 1,200 coaches who've traded him in already.