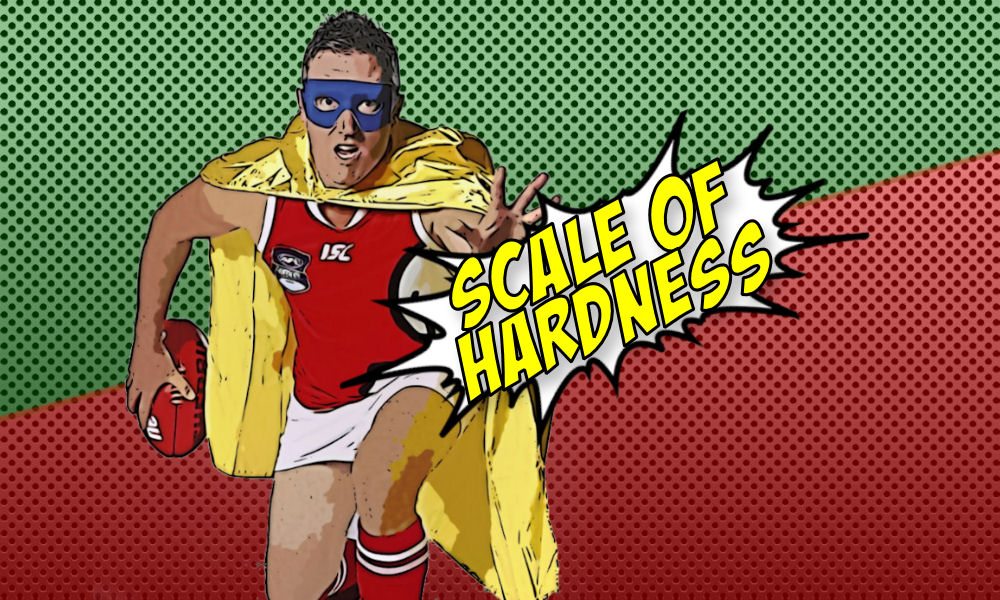 Not every year do I get tapped on the shoulder to re-do my copyrighted Scale of Hardness, I actually do because it has mistakes in it, but with the next lot of rounds being released, I have dusted off the old tables and trademarked colours to serve the people once again. #peoplesprince
The colours and ratings I have used for each team, go off Fantasy data from 2019 along with a tiny bit of my judgment. An example of this is the inclusion of Sam Jacobs to GWS. They used to be rated as an easier team due to Mumford, but Jacobs will be slightly harder to score against, so that's an adjustment I have made.
This is not who I think will win each game like those morons on twitter thought last time. It's based on Fantasy scores and points teams give-up. The colour scale is beautifully illustrated below. It's a guide and if it can slightly help you with your trading, then it has served it's purpose.
THURSDAY GAMES are also written in italics, indicating a loop hole option for your potential trade.
Listen to the AFL Fantasy Podcast with The Traders at Apple Podcasts, Spotify and Google Podcasts.
DEFENDERS
The pick of the bunch has to be Bachar Houli. His run is crazy good, but he is coming back from an old man calf injury so approach that one with caution. Hunter Clark could reward those who took a punt on a break-out season from him with a nice run of green games on the cards for him.
Jack Crisp and the popular Dan Houston also have favourable runs as well.
The Crows on the other hand have a shocking run coming which could negatively effect the likes of Rory Laird and Wayne Milera. Brodie Smith should be impacted too much with his new role on the wing, but after his last effort he could be plopped back in the back half.
RUCKS
Big Max Gawn will have a field day early against teams who basically don't have a ruckman at this stage. Kruezer is currently out and as for the others, he scored 107 and 135 on the Bombers in his last two games and 113, 92, 91 and 138 in his last four on the Cats.
With some coaches looking to offload Brodie Grundy to make some cash elsewhere, you'll see his run is rather solid as well. Add to that, the loop hole (italics) option we have with his for round two.
Riley O'Brien and Scott Lycett have a tricky road in front of them. Both players where unique options to start the year with but they disappointed coaches in the first week scoring 63 and 55 respectively.
MIDFIELDERS
Oh there he is, my boy, Patrick Dangerfield. He along with Joel Selwood (62 first round) and their team mates, they have a nice run. Danger scored 97 on the Hawks last year, his first score under 100 against them in his last four games. He smacked up Carlton in 2019 with 150, had 134 on Melbourne and a massive 158 (last game 2018) against the Suns.
Dusty Martin (listed as a FWD) has two loop hole options in the first two weeks, and for those who have him, they will be licking their lips at their bonus crack at a good captain.
The other loop hole option that stands out to me are the Bulldog boys in round four (but someone gets a deBoer tag prior to that) but Tom Mitchell in round 3 against the Tigers. A team he scored 119 and 148 on in his most recent. Before that, he plays the Cats in round two. In his last games against the Cats he has scored 130, 137, 147 and 125.
WHERE'S THE FORWARDS? Obviously this doesn't need to be covered as most of the forwards we target play in the midfield.
Click here to buy a Fantasy Pig t-shirt