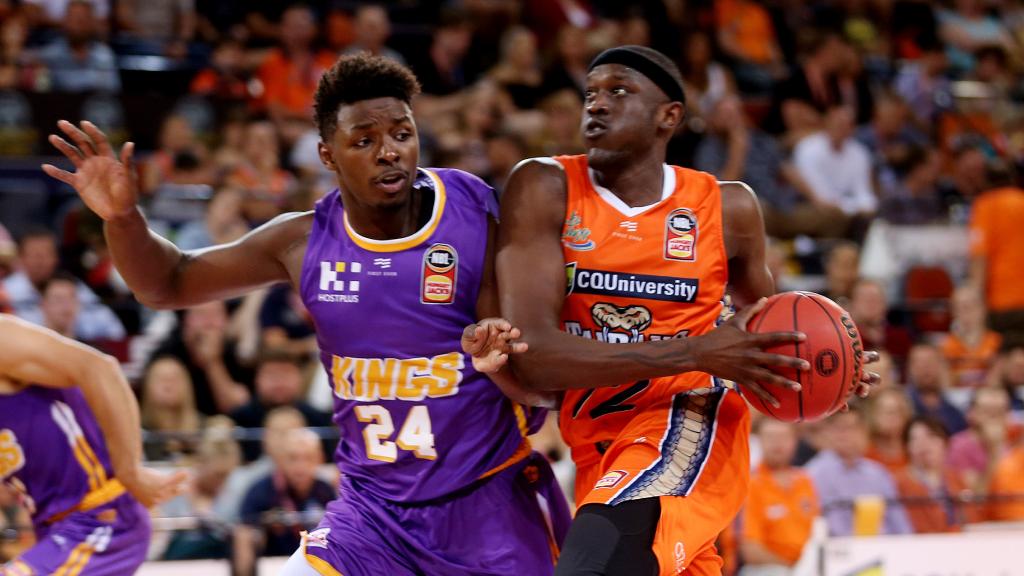 What a cracking start to the NBL season! We all know there is a whole team of Bullets in Brisbane but we hope you managed to dodge a few of the bullets that came our way in round 1. Didi Louzada, Will Magnay, Tai Wesley and Chris Goulding were all affected by injury in some way. Tai Wesley is due to miss a couple of weeks and Goulding won't be playing this week due to a bye so one of your trades will need to be to get one of these guys out. You will most likely be trading out a couple of United players if you have managed to dodge the injury carnage, with many opting to hold our Melbourne cash cow in JLA and cop the donut this week on the bench, with further price increases on the cards. Have a listen below, as we reviewed the fantasy round that was!
DT TALK LEAGUE UPDATE
Its not too late to join the DT Talk league which we will be posting about here each week.
League name: DT TALK
League Code: DF9ZFDUL
Join the Basketball Blokes Official League while your there: JY2T2DWM
We will probably have a top 10 posted here every week. But this week Benny has suggested a top 12 for some reason? Awesome start for the DT Talk league with 10 coaches making up the top 50 (Benny sitting 51 st ) Congrats to Jayke Arnold who is currently leading the DT Talk League and sitting 2nd in the Universe.
THE BLOKES AND TRADERS 
A bit of a mixed bag across round 1 but these rankings can all be flipped on their head in a single round with teams being structured differently. Thankfully for Calvin sometimes all it takes is a great captain selection; and we all know that he is mates with a mad Irish pirate who can provide some advice. The rest of us will have to rely on Banksy!
TRADE TARGETS
Lamello Ball – Priced at 950K and owned by 68% of the competition. To the other 32% it is not too late to bring Ball in.
Aaron Brooks – Ball and Brooks appear to be the best two fantasy options at Illawarra. Given their schedule you should strongly consider Brooks.
Josh Boone – The third Illawarra Hawk to target. Unfortunately, Boone would have been in a lot of Shawn Long owners trade plans but failed to perform in round 1. A top 5 scorer last season with a great run of fixtures.
Noi, Machado, Oliver, Newbill, Deric -Two out of three ain't bad and that's the upcoming run of double games the Taipans have. Despite results not going their way there are plenty of fantasy relevant Taipans to choose from.
Lamar Patterson – Likely to be a popular captain choice this week. If you are considering Lamar be aware that his schedule drops off with only 1 double round in the next 5 weeks following this week. He is a nice spot start though.
Matt Hodgson – Likely to be the alternative to Josh Boone for Shawn Long owners. Comes up against the Taipans and the Phoenix less Tai Wesley this round so he could score big!
Nick Kay – Looking longer term, Nick Kay is one of the few players you feel happy holding through a single game round. He becomes a must own in weeks 3-7 with the Wildcats having an awesome schedule. Why not get him in early if you can because a lot of coaches will have their trades locked away next week trying to bring in NZ Breakers players.
Take a listen below to our Round 2 preview below, as we discussed trade targets, answered your questions, and put forward the best captain options for the week.
THE SCHEDULE
One of the biggest questions entering this season was how many Melbourne United players to start with. The reason we couldn't load up on United players was because they don't have any NBL games this week. Hopefully, you only went with 2 of Trimble, McCarron and Long last week otherwise you are eating an expensive donut this weekend. For those of you with JLA as your third United player I think you could be content to hold through this week; having only paid the cinnamon donut price.
Teams on the double this week include:
Brisbane (followed by 2 rounds of singles)
Cairns (followed by a single and a double)
Illawarra (the first of three consecutive double game rounds in a row)

ROUND 2 CAPTAINS
1. LaMelo Ball – The biggest question mark around giving Ball the captaincy is the Perth matchup – Yes, we know they have been restrictive in the past. Consider this though – Trimble had 25, 8 and 5 in Perth last week. Perth gave up 93 points on their home deck to an undermanned United side. LaMelo put up a 76 fp game in his single blitz game and yes it was the blitz, but who was that against? Perth. He put up 72 last week in the season proper, which has been scaled back to 55 post adjustments. He is getting big minutes, playing over 32 minutes against Brisbane. He is hitting all stats across the board, and he and Brooks took 37 shots between them. He has a hunger for the boards. He had 4 steals and a block because he reads the play so well. He did not record a turnover because his decision making in on point. And… even if he has an average score against Perth, he will put up huge numbers at home against Cairns on Monday. He had 1 million viewers watch him last game online! All eyes are on this kid, and he will be given every opportunity to show what he can do. Lock him in for 100 points across the round!
2. Lamar Patterson – There was some talk regarding Patterson's fitness heading into the season, but Lamar put up 55fps  points against the Hawks with ease. He will take on Cairns at home and Phoenix away with 2 juicy match-ups this week, and he very well could have taken the number 1 spot, matching Ball's fantasy numbers to a tee in Round 1. He has the ability to double double, pulling down 8 boards last week. Look for much of the same this week.
3. Aaron Brooks – After 43 fps last week, will we see him start this week? Even if we don't, it didn't stop him from playing 32 minutes and putting up 21 shots last week from the bench. Him and Ball are clearly the best two fantasy options at Illawarra this season. It is his lack of other stats, and being reliant on his shot dropping to score big fantasy points, that doesn't have him higher.
4. Nathan Sobey – A very sneaky point of difference, at just 8% ownership. Sobey played the most minutes of anyone on the Brisbane roster. Took the most shots, had the most 3 point attempts (5/11) and was on 21 fps after the first quarter last week. He disappointingly finished on just 26. Why? He had no steals, no blocks 2 assists, plus 5 turnovers which is a minus 10 right there. That won't be the norm for Sobey. Like he showed us last season, if he can adds a couple of numbers to each of those stats and he is looking at an easy 40+ score in each of his two very nice matchups against Cairns and Phoenix.
Any NBL conundrums or questions, be sure to hit us up on twitter @BBall_Blokes
Good luck for Round 2 legends!