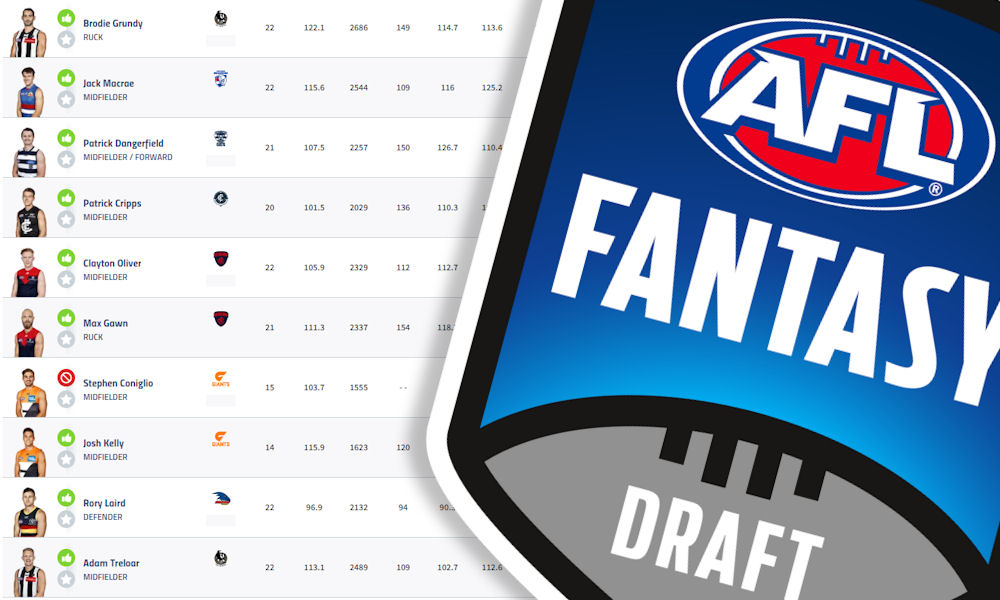 Everyone has a story or two about how they drafted. Looking at the average draft picks (ADP) for the year in hindsight can be an interesting experience. Which players outperformed their ADP and who cost you big time with where you picked them.
Let's take a look at picking the best and worst possible Fantasy Draft teams based on ADP from 2019. We'll pick the onfield 18 for a 10 team league in a 5/7/1/5 set up. Players selected will only come from the round the ADP shows.
Best team
Taking into account total points, games played, average (as you do), here's the best pick from each each round to put together a team. You could argue for a better pick from any given round, however, in making sure the full onfield squad is selected, some different thinking was there based on position.
1. Brodie Grundy (RUC) 122.1 / 22
Warranted his ADP of 1. Highest scoring player for the year by 142 points (to second ADP Jack Macrae), the position helped him. You could argue that you may have been able to pick a late ruck and done better – ie. Reilly O'Brien – but Grundy was there all year and would have been a very solid captain option for those leagues with captains on.
2. Jake Lloyd (DEF) 107.1 / 22
Although Whitfield with his 114 average was also in the second round, he only played 16 games. Lloyd was the first player picked in the second round and a worthy selection at that.
3. Zach Merrett (MID) 108.2 / 22
Always an interesting name in Draft (g'day m0nty), but this year Zerrett delivered in spades. Played every game and was the fourth ranked MID.
4. Josh Dunkley (MID/FWD) 111.1 / 22
May have looked a little lean in the first few rounds, but Dunks came home well to be the highest averaging forward.
5. Jack Crisp (DEF) 97.7 / 22
Second for points of all defenders. He's played every game of the last five years, so was a 'safe' pick, but to increase his average by 10 points made this a cracking selection.
6. Tim Taranto (MID) 112.5 / 22
Most selection in this round coaches would have been reasonably happy with, but it is the third highest scoring and fourth highest averaging midfielder that has to be the pick here. Travis Boak is unlucky here.
7. Luke Parker (MID) 98.5 / 22
It gets a little lean here with only a couple of tons averaged for the rest of the draft. Parker was somewhat back to what we expected from him. The Tom Rockliff pick in this round would have neem a lot sexier – and looked like a bargain at various stages – but the Pig only managed 18 games.
8. Jarryd Lyons (MID) 97.5 / 22
Would have won a lot of coaches finals with some beast scores in the last few rounds. His team mate Mitch Robinson was possibly unlucky here following his outstanding 94 average season as was the 21 gamer Dylan Shiel.
9. Luke Shuey (MID) 101 / 22
The last player to play every game and average a ton. Fun fact, this was the first year Shuey has averaged over a ton.
10. Jack Ziebell (MID/FWD) 89.7 / 22
It is frustrating owning Ziebell, but he had a pretty decent run of form during the season. You couldn't complain about his finals of 97, 92, 111 and 94. The best of a tricky bunch.
11. Tom Stewart (DEF) 95 / 22
Plenty of defenders were taken in the 11th round and Stewart was the pick of them ahead of Nic Newman and Christian Salem.
12. Michael Walters (MID/FWD) 93.5 / 22
Usually Walters finds a way to burn you, but playing 22 games with only four scores under 80, 2019 was a win for those who drafted Sonny.
13. Bachar Houli (DEF) 103.2 / 19
Despite missing three games, Houli ranked at No. 5 for points scored by defenders. Interestingly, Ricky Henderson at 125 would have pleased coaches early on, while Toby Greene came home strongly after being a flop in as a 13th rounder.
14. James Worpel (MID/FWD) 96.7 / 22
One of the steals of the draft. The Worpedo was the sixth highest averaging forward. Sadly, he won't be available as a FWD in 2020… and his output is a bit of an unknown with Titch returning.
15. James Harmes (MID) 94 / 22
There was some hype around Harmes at the end of last season averaging 106 from the Fantasy finals and into the real finals. He outperformed his 83 average from 2018. Special mention in the 15th round has to go to Sam Walsh who averaged 92 and played every game.
16. Rowan Marshall (RUC/FWD) 99.2 / 20
Only available as a FWD when coaches drafted, but his addition of DPP and his almost 100 season made him a ripping selection despite not playing round one.
17. Daniel Rich (DEF) 88 / 22
One of the big surprises of 2019 and would have been a steal for anyone picking him considering he finished the season as the sixth highest scoring defender. Caleb Daniel would have been a great pick at 169 had he not been injured.
18. Jacob Hopper (MID) 93.6 / 19
Played the most games of all players between picks 171-180 and beat the more hyped Miles by an average of 8 points.
Best Draft Team
DEFENDERS
Jake Lloyd, Jack Crisp, Tom Stewart, Bachar Houli, Daniel Rich
MIDFIELDERS
Zach Merrett, Tim Taranto, Luke Parker, Jarryd Lyons, Luke Shuey, James Harmes, Jacob Hopper
RUCK
Brodie Grundy
FORWARDS
Josh Dunkley, Jack Ziebell, Michael Walters, James Worpel, Rowan Marshall
Worst team
Selecting the worst team takes into account firstly the drop in expected output followed by games played/total points. While it may have been easier to say someone was a shocking pick due to injury (and yes there are a few in here and they kill you), it's those who you picked instead of a much better player that hurts the most.
1. Stephen Coniglio (MID) 103.7 / 15
The injury in round 17 knee injury on 0 is the only reason he is here in the worst picked. Cogs was going at 111 prior to the donut but he missed the last six rounds.
2. Devon Smith (MID/FWD) 79.4 / 7
Not only did Dev have a season ending injury, he was performing well below what coaches expected following his 107 season in his first year at the Bombers. The second round had plenty of hard luck stories. Dayne Beams only played nine games, Justin Westhoff went at 77 after averaging 102 last year. But the one that copped most ire from coaches was Angus Brayshaw averaging 88. Most took a bit of a punt on him as a second rounder and he let plenty down!
3. Sam Menegola (MID/FWD) 77.6 / 9
Three years of AFL… 95, 105 and 99 have been his season returns. Found himself on the outer.
4. Kade Simpson (DEF) 80.2 / 18
Some expected a slide, some expected a boost with the new kick-in rule… and Docherty out for another season.
5. Toby McLean (MID/FWD) 68.2 / 18
Will lose MID status! He didn't play through the guts much at all and was dropped at one point of the season. Witherden also could have been the fail here.
6. Callum Sinclair (RUC) 76.6 / 14
More unlucky than being a bad pick in the sixth round, Sinclair's injury dropped his average slightly but he was down on his previous year's output where he averaged 92.
7. Connor Blakely (DEF) 74.8 / 14
Probably made it back around the same time drafters expected him to return, so no dramas there, but he didn't rack up the 90+ average most expected making the punt on him not worth it. Callan Ward could have been in the same boat here.
8. Jack Steven (MID) 76 / 7
Spending a lot of time out of the game as he battled his mental health demons, Steven's 2019 output when playing was a long way from his best. Sam Jacobs was also disappointing here as he was restricted to just five games while held out of the side by ROB.
9. Jack Riewoldt (FWD) 58.5 / 10
After an 85 average last season, most coaches would have banked on a 75+ average with 22 games played considering he had only missed three games in nine year and averaged under 75 just twice in that time. Special mention to Jeremy Howe for his 69 average, approx. 20 points below his expected output.
10. Brad Ebert (MID/FWD) 80.1 / 11
Initially MID only, there was some talk that Ebert would gain FWD status. That he did at round six when he was averaging over a ton making the Port Adelaide player a great selection in the tenth round. From here he was concussed on 31, missed five games and scored 64, 46, 103 and 33 before sitting out the rest of the year making his FWD status irrelevant.
11. Hamish Hartlett (DEF) 76.4 / 11
You've only got yourself to blame.
12. Zach Tuohy (DEF) 68.3 / 15
Six years without missing a game and coming off averages of 86 and 81, the Irish man was a disappointment this year.
13. Wayne Milera (DEF) 76.8 / 17
Started the year well averaging in the 90s. Got injured, generally scored poorly after. Not the most horrible pick, but the one that stands out in this round.
14. Trent Cotchin (MID) 70.7 / 11
Tonned up in round one, but then had seven scores under 75 after that. This round also saw Tom Mitchell (ADP 136) and Liam Picken (ADP 140) drafted with neither playing a game.
15. Tom Liberatore (MID) 76 / 15
Maybe some salary cap hype pushed him up the draft order, but you would have wanted more than 15 games and a 76 average from Libba. You got a full season and a 16 point better average from the first year Walsh in the same round.
16. Aaron Hall (MID) 80.7 / 6
Many expected him to star at North, but injury and mental health issues saw him play just six games. Special mention to pre-season hype boy Bailey Williams who averaged 62 from nine games.
17. Ben Jacobs (MID) 0 / 0
Concussion kept Jacobs out of the Roos' line up all season. As under-performing/injured defenders, Hodge and Webster were also taken in this round.
18. Orazio Fantasia (FWD) 54.4 / 14
Lowest average since his debut season. Amazingly, he scored a couple of tons this year… but also had 7 scores under 50. Jarrad McVeigh was also a letdown here in the 18th.
Worst Draft Team
DEFENDERS
Kade Simpson, Connor Blakely, Hamish Hartlett, Zach Tuohy, Wayne Milera
MIDFIELDERS
Stephen Coniglio, Jack Steven, Brad Ebert, Trent Cotchin, Tom Liberatore, Aaron Hall, Ben Jacobs
RUCK
Callum Sinclair
FORWARDS
Devon Smith, Sam Menegola, Toby McLean, Jack Riewoldt, Orazio Fantasia
Average Draft Position 2019
Top 200 sorted by ADP.
| ADP | PLAYER | POS | GMS | AVG | PTS |
| --- | --- | --- | --- | --- | --- |
| 1 | Brodie Grundy | RUC | 22 | 122.1 | 2686 |
| 2 | Jack Macrae | MID | 22 | 115.6 | 2544 |
| 3 | Patrick Dangerfield | MID/FWD | 21 | 107.5 | 2257 |
| 4 | Patrick Cripps | MID | 20 | 101.5 | 2029 |
| 5 | Clayton Oliver | MID | 22 | 105.9 | 2329 |
| 6 | Max Gawn | RUC | 21 | 111.3 | 2337 |
| 7 | Stephen Coniglio | MID | 15 | 103.7 | 1555 |
| 8 | Josh Kelly | MID | 14 | 115.9 | 1623 |
| 9 | Rory Laird | DEF | 22 | 96.9 | 2132 |
| 10 | Adam Treloar | MID | 22 | 113.1 | 2489 |
| 11 | Jake Lloyd | DEF | 22 | 107.1 | 2356 |
| 12 | Andrew Gaff | MID | 20 | 111 | 2220 |
| 13 | Devon Smith | MID/FWD | 7 | 79.4 | 556 |
| 14 | Matt Crouch | MID | 19 | 106.2 | 2017 |
| 15 | Dayne Beams | MID | 9 | 88.7 | 798 |
| 16 | Lachie Whitfield | DEF/MID | 16 | 113.8 | 1820 |
| 17 | Angus Brayshaw | MID | 22 | 88 | 1937 |
| 18 | Elliot Yeo | MID | 21 | 102.7 | 2157 |
| 19 | Justin Westhoff | RUC/FWD | 20 | 77.3 | 1545 |
| 20 | Sebastian Ross | MID | 22 | 94.3 | 2075 |
| 21 | Nat Fyfe | MID | 20 | 105 | 2099 |
| 22 | Zach Merrett | MID | 22 | 108.2 | 2381 |
| 23 | Stefan Martin | RUC | 22 | 84.8 | 1865 |
| 24 | Lachie Hunter | MID | 22 | 98.6 | 2170 |
| 25 | Steele Sidebottom | MID | 21 | 98.5 | 2069 |
| 26 | Bryce Gibbs | MID | 12 | 80.8 | 970 |
| 27 | Gary Ablett | MID/FWD | 21 | 88.7 | 1863 |
| 28 | Sam Menegola | MID/FWD | 9 | 77.6 | 698 |
| 29 | Lachie Neale | MID | 22 | 104.7 | 2304 |
| 30 | Mitch Duncan | MID | 22 | 105.6 | 2324 |
| 31 | James Sicily | DEF | 22 | 83.6 | 1840 |
| 32 | Josh Dunkley | MID/FWD | 22 | 111.1 | 2444 |
| 33 | Isaac Heeney | MID/FWD | 22 | 89.8 | 1975 |
| 34 | Jarrod Witts | RUC | 22 | 104.4 | 2297 |
| 35 | Dyson Heppell | MID | 17 | 93.8 | 1595 |
| 36 | Scott Pendlebury | MID | 22 | 103.6 | 2279 |
| 37 | Kade Simpson | DEF | 18 | 80.2 | 1444 |
| 38 | Dustin Martin | MID/FWD | 20 | 97.1 | 1942 |
| 39 | Brad Crouch | MID | 22 | 107.9 | 2373 |
| 40 | Dayne Zorko | MID | 22 | 104.4 | 2296 |
| 41 | Marc Murphy | MID | 19 | 95.9 | 1822 |
| 42 | Tim Kelly | MID/FWD | 22 | 96.9 | 2131 |
| 43 | Alex Witherden | DEF | 21 | 74.8 | 1570 |
| 44 | Joel Selwood | MID | 20 | 78.9 | 1577 |
| 45 | Toby McLean | MID/FWD | 18 | 68.2 | 1227 |
| 46 | Taylor Adams | MID | 10 | 95.1 | 951 |
| 47 | Todd Goldstein | RUC | 22 | 88.4 | 1944 |
| 48 | Lance Franklin | FWD | 10 | 70.5 | 705 |
| 49 | Jaeger O'Meara | MID | 21 | 99.6 | 2092 |
| 50 | Jack Crisp | DEF | 22 | 97.7 | 2150 |
| 51 | Rory Sloane | MID | 22 | 99.6 | 2191 |
| 52 | Jack Redden | MID | 21 | 91.8 | 1928 |
| 53 | Ed Curnow | MID/FWD | 22 | 89.9 | 1977 |
| 54 | Shannon Hurn | DEF | 19 | 91.4 | 1736 |
| 55 | Callum Sinclair | RUC | 14 | 76.6 | 1072 |
| 56 | Tim Taranto | MID | 22 | 112.5 | 2476 |
| 57 | Marcus Bontempelli | MID | 22 | 104.7 | 2303 |
| 58 | Travis Boak | MID/FWD | 21 | 105.7 | 2219 |
| 59 | Jack Billings | MID/FWD | 22 | 98.5 | 2168 |
| 60 | Jack Steele | MID | 20 | 96 | 1919 |
| 61 | Callan Ward | MID | 1 | 3 | 3 |
| 62 | Luke Parker | MID | 22 | 98.5 | 2167 |
| 63 | Connor Blakely | DEF | 14 | 74.8 | 1047 |
| 64 | Toby Nankervis | RUC | 9 | 78.4 | 706 |
| 65 | Tom Rockliff | MID | 18 | 99.3 | 1788 |
| 66 | Tom McDonald | FWD | 15 | 63.8 | 957 |
| 67 | David Mundy | MID/FWD | 22 | 80.5 | 1772 |
| 68 | Tom Phillips | MID | 22 | 90.5 | 1990 |
| 69 | Heath Shaw | DEF | 22 | 82.5 | 1814 |
| 70 | David Zaharakis | MID | 20 | 79.5 | 1590 |
| 71 | Liam Shiels | MID | 19 | 95.4 | 1812 |
| 72 | Jack Steven | MID | 7 | 76 | 532 |
| 73 | Shaun Higgins | MID | 17 | 95.3 | 1620 |
| 74 | Jarryd Lyons | MID | 22 | 97.5 | 2146 |
| 75 | Mitch Robinson | MID/FWD | 22 | 93.6 | 2060 |
| 76 | Dylan Shiel | MID | 21 | 98.3 | 2065 |
| 77 | Sam Jacobs | RUC | 5 | 80.4 | 402 |
| 78 | Jesse Hogan | FWD | 12 | 66.1 | 793 |
| 79 | Matthew Suckling | DEF/FWD | 18 | 84.7 | 1524 |
| 80 | Robbie Gray | MID/FWD | 19 | 81.2 | 1543 |
| 81 | Zac Williams | DEF | 20 | 92.7 | 1854 |
| 82 | Ollie Wines | MID | 12 | 93.3 | 1120 |
| 83 | Chad Wingard | MID/FWD | 14 | 78.4 | 1098 |
| 84 | Ben McEvoy | RUC | 19 | 83.3 | 1583 |
| 85 | Luke Shuey | MID | 22 | 101 | 2222 |
| 86 | Jared Polec | MID | 22 | 88.2 | 1940 |
| 87 | Jeremy Howe | DEF | 19 | 69.4 | 1319 |
| 88 | Ben Cunnington | MID | 22 | 82 | 1803 |
| 89 | Jack Gunston | FWD | 20 | 76.1 | 1522 |
| 90 | Jack Riewoldt | FWD | 10 | 58.5 | 585 |
| 91 | Tom Hawkins | FWD | 22 | 70.9 | 1559 |
| 92 | Brad Ebert | MID/FWD | 11 | 80.1 | 881 |
| 93 | Josh P. Kennedy | MID | 19 | 100.3 | 1905 |
| 94 | Jack Viney | MID | 21 | 82.3 | 1729 |
| 95 | Ryan Abbott | RUC | 1 | 73 | 73 |
| 96 | Brayden Fiorini | MID | 21 | 99.7 | 2094 |
| 97 | Brodie Smith | DEF | 22 | 87 | 1915 |
| 98 | Michael Hurley | DEF | 18 | 77.4 | 1394 |
| 99 | Jack Ziebell | MID/FWD | 22 | 89.7 | 1974 |
| 100 | Dale Thomas | DEF | 20 | 79.6 | 1591 |
| 101 | Shane Savage | DEF | 22 | 78.3 | 1723 |
| 102 | Jordan De Goey | FWD | 16 | 84.3 | 1348 |
| 103 | Ed Langdon | MID | 22 | 92.1 | 2026 |
| 104 | Nic Newman | DEF | 20 | 93.4 | 1867 |
| 105 | Jack Martin | MID/FWD | 16 | 83.4 | 1335 |
| 106 | Christian Salem | DEF | 20 | 89.6 | 1792 |
| 107 | Hamish Hartlett | DEF | 11 | 76.4 | 840 |
| 108 | Isaac Smith | MID | 19 | 84.9 | 1614 |
| 109 | Dom Sheed | MID | 22 | 95 | 2089 |
| 110 | Tom Stewart | DEF | 22 | 95 | 2090 |
| 111 | Mitch Wallis | MID/FWD | 10 | 79.3 | 793 |
| 112 | Zach Tuohy | DEF | 15 | 68.3 | 1024 |
| 113 | Matthew Lobbe | RUC | 2 | 60 | 120 |
| 114 | Callum Mills | DEF | 22 | 75.3 | 1657 |
| 115 | Matthew Kreuzer | RUC | 15 | 82.7 | 1241 |
| 116 | Christian Petracca | MID/FWD | 22 | 75.9 | 1670 |
| 117 | Michael Walters | MID/FWD | 22 | 93.5 | 2056 |
| 118 | Andrew McGrath | DEF/MID | 22 | 74.7 | 1644 |
| 119 | Nathan Jones | MID | 22 | 73.6 | 1620 |
| 120 | Luke Breust | FWD | 22 | 68.2 | 1500 |
| 121 | Luke Dahlhaus | MID/FWD | 21 | 77.4 | 1626 |
| 122 | Touk Miller | MID | 18 | 90.9 | 1637 |
| 123 | Bachar Houli | DEF | 19 | 103.2 | 1961 |
| 124 | Tom T. Lynch | FWD | 16 | 89.4 | 1430 |
| 125 | Ricky Henderson | MID | 22 | 96.6 | 2126 |
| 126 | Kane Lambert | FWD | 18 | 86.6 | 1559 |
| 127 | Wayne Milera | DEF | 17 | 76.8 | 1306 |
| 128 | Toby Greene | FWD | 16 | 98.4 | 1575 |
| 129 | Jeremy Cameron | FWD | 20 | 87.5 | 1750 |
| 130 | Scott Lycett | RUC/FWD | 18 | 83.4 | 1501 |
| 131 | James Worpel | MID/FWD | 22 | 96.7 | 2128 |
| 132 | Trent Cotchin | MID | 11 | 70.7 | 778 |
| 133 | Dion Prestia | MID | 22 | 99.4 | 2186 |
| 134 | Bradley Hill | MID | 22 | 88.7 | 1951 |
| 135 | Luke Ryan | DEF | 18 | 80.1 | 1441 |
| 136 | Tom Mitchell | MID | 0 | 0 | 0 |
| 137 | Shane Mumford | RUC | 16 | 65.7 | 1051 |
| 138 | Mason Redman | DEF | 19 | 68.9 | 1309 |
| 139 | Jarrod Harbrow | DEF | 21 | 70.7 | 1485 |
| 140 | Liam Picken | FWD | 0 | 0 | 0 |
| 141 | David Swallow | MID | 22 | 87.9 | 1933 |
| 142 | Hugh Greenwood | MID/FWD | 14 | 78.3 | 1096 |
| 143 | Blake Acres | MID/FWD | 19 | 67.5 | 1283 |
| 144 | Tom Cutler | MID | 3 | 80.3 | 241 |
| 145 | Trent Dumont | MID | 21 | 88.1 | 1850 |
| 146 | Jordan Lewis | DEF/MID | 12 | 62.3 | 748 |
| 147 | Sam Walsh | MID | 22 | 92.2 | 2029 |
| 148 | Tom Liberatore | MID | 15 | 76 | 1140 |
| 149 | Rhys Stanley | RUC | 16 | 81.3 | 1300 |
| 150 | James Harmes | MID | 22 | 94 | 2067 |
| 151 | Bailey Williams | DEF | 9 | 62 | 558 |
| 152 | Jamie Cripps | FWD | 17 | 64.1 | 1090 |
| 153 | Luke Dunstan | MID | 18 | 85.8 | 1545 |
| 154 | Jack Darling | FWD | 22 | 71.3 | 1569 |
| 155 | Rowan Marshall | RUC/FWD | 20 | 99.2 | 1983 |
| 156 | Lachie Weller | DEF/MID | 17 | 82.5 | 1403 |
| 157 | Aaron Hall | MID | 6 | 80.7 | 484 |
| 158 | Alex Neal-Bullen | FWD | 14 | 61.6 | 862 |
| 159 | Jayden Short | DEF | 12 | 70.4 | 845 |
| 160 | Aaron Sandilands | RUC | 6 | 72.7 | 436 |
| 161 | Jason Johannisen | DEF | 19 | 82.1 | 1560 |
| 162 | Daniel Rich | DEF | 22 | 88 | 1936 |
| 163 | Luke Hodge | DEF | 20 | 66.2 | 1323 |
| 164 | Ben Jacobs | MID | 0 | 0 | 0 |
| 165 | Jimmy Webster | DEF | 8 | 59.1 | 473 |
| 166 | Tom Bellchambers | RUC | 15 | 71.6 | 1074 |
| 167 | Nic Naitanui | RUC | 3 | 72.3 | 217 |
| 168 | Charlie Curnow | FWD | 11 | 65 | 715 |
| 169 | Caleb Daniel | DEF/FWD | 17 | 93.8 | 1594 |
| 170 | Rory Atkins | MID | 20 | 81.4 | 1628 |
| 171 | Shaun Burgoyne | DEF/MID | 18 | 70.7 | 1273 |
| 172 | Anthony Miles | MID | 17 | 85.4 | 1451 |
| 173 | Dom Tyson | MID | 3 | 76.7 | 230 |
| 174 | Jacob Hopper | MID | 19 | 93.6 | 1778 |
| 175 | Orazio Fantasia | FWD | 14 | 54.4 | 761 |
| 176 | Josh Caddy | FWD | 15 | 70.5 | 1058 |
| 177 | Kyle Langford | MID/FWD | 17 | 70.6 | 1201 |
| 178 | Jarrad McVeigh | DEF | 6 | 62 | 372 |
| 179 | Rory Lobb | RUC/FWD | 15 | 79.3 | 1190 |
| 180 | Jamie Macmillan | DEF | 18 | 75.1 | 1351 |
| 181 | Brandon Ellis | DEF | 20 | 84.8 | 1695 |
| 182 | Paddy Ryder | RUC/FWD | 17 | 70.2 | 1194 |
| 183 | Dylan Roberton | DEF | 0 | 0 | 0 |
| 184 | Brad Sheppard | DEF | 22 | 82.4 | 1812 |
| 185 | Cameron Ellis-Yolmen | MID | 10 | 87.9 | 879 |
| 186 | Jack Newnes | MID/FWD | 20 | 69.7 | 1394 |
| 187 | Tom Campbell | RUC | 2 | 39 | 78 |
| 188 | Michael Hibberd | DEF | 19 | 61.3 | 1165 |
| 189 | Tom J. Lynch | FWD | 22 | 62.4 | 1372 |
| 190 | Ryan Burton | DEF | 16 | 72.2 | 1155 |
| 191 | Paul Seedsman | MID | 13 | 72.8 | 946 |
| 192 | Dan Hannebery | MID | 5 | 98.6 | 493 |
| 193 | Steven May | DEF | 8 | 57.8 | 462 |
| 194 | Josh J. Kennedy | FWD | 20 | 54.1 | 1081 |
| 195 | Josh Jenkins | FWD | 11 | 75.1 | 826 |
| 196 | Brandan Parfitt | FWD | 17 | 72.2 | 1227 |
| 197 | Jamie Elliott | FWD | 14 | 67.6 | 946 |
| 198 | Chris Masten | MID | 15 | 65.9 | 989 |
| 199 | Hugh McCluggage | MID | 21 | 91.4 | 1919 |
| 200 | Reilly O'Brien | RUC | 18 | 95.5 | 1719 |