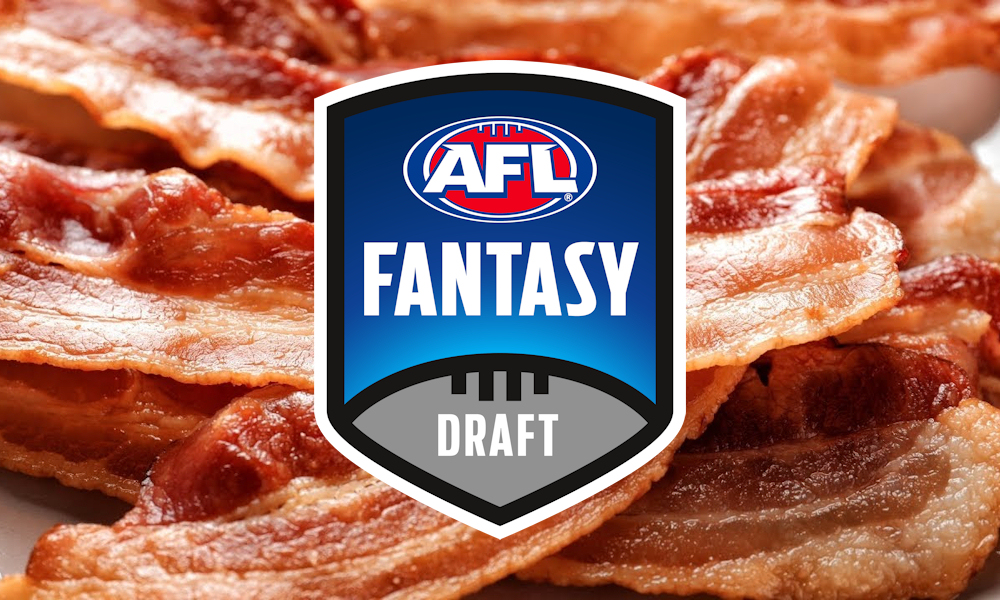 Our annual Draft Day was held on Saturday arvo. The Bacon Cup has been running in this form for five seasons and to determine our draft order this year, Luke – the reigning premier – had a great idea… as you can watch in the tweet below.
Our Bacon Cup 2018 league winner, @lukeharback, took his task of choosing the draft order to another level tonight using one of our favourite artists, @AndrewWK.

When it's time to party we will always party hard! ?

I've got bloody pick 6 though. #AFLFantasy pic.twitter.com/w7WzTwRL86

— Adam 'Warnie' Child (@WarnieDT) March 15, 2019
Click here for our Draft Rankings
Our league settings include:
3-4-1-3-(4) team structure
12 coaches
6 teams finals fixture
snake draft
byes off
captains on (for the first time ever)
Here's how it went down pick-by-pick. Search a team name to see  how they line up.
| Pick | Player | Position | Taken By |
| --- | --- | --- | --- |
| 1 | Jack Macrae | MID | Calvinator |
| 2 | Brodie Grundy | RUC | destROY |
| 3 | Patrick Dangerfield | FWD | Cubby House |
| 4 | Angus Brayshaw | MID | Merv Gray Autos |
| 5 | Patrick Cripps | MID | Bearfoot Running |
| 6 | Stephen Coniglio | MID | Warne Dawgs |
| 7 | Matt Crouch | MID | BEATBOX12 |
| 8 | Clayton Oliver | MID | The Soup Nazis |
| 9 | Josh Kelly | MID | Tackling Tit-Ed |
| 10 | Rory Laird | DEF | The Manzacs |
| 11 | Max Gawn | RUC | A Point For Trying |
| 12 | Adam Treloar | MID | Scottie doesn't know |
| 13 | Devon Smith | FWD | Scottie doesn't know |
| 14 | Elliot Yeo | MID | A Point For Trying |
| 15 | Jake Lloyd | DEF | The Manzacs |
| 16 | Lachie Neale | MID | Tackling Tit-Ed |
| 17 | Josh Dunkley | FWD | The Soup Nazis |
| 18 | Andrew Gaff | MID | BEATBOX12 |
| 19 | Lachie Whitfield | DEF | Warne Dawgs |
| 20 | Zach Merrett | MID | Bearfoot Running |
| 21 | Sam Menegola | FWD | Merv Gray Autos |
| 22 | James Sicily | DEF | Cubby House |
| 23 | Justin Westhoff | FWD | destROY |
| 24 | Tim Kelly | FWD | Calvinator |
| 25 | Isaac Heeney | FWD | Calvinator |
| 26 | Dayne Beams | MID | destROY |
| 27 | Seb Ross | MID | Cubby House |
| 28 | Jarrod Witts | RUC | Merv Gray Autos |
| 29 | Alex Witherden | DEF | Bearfoot Running |
| 30 | Stefan Martin | RUC | Warne Dawgs |
| 31 | Todd Goldstein | RUC | BEATBOX12 |
| 32 | Connor Blakely | DEF | The Soup Nazis |
| 33 | Steele Sidebottom | MID | Tackling Tit-Ed |
| 34 | Taylor Adams | MID | The Manzacs |
| 35 | Toby McLean | FWD | A Point For Trying |
| 36 | Gary Ablett | MID | Scottie doesn't know |
| 37 | Dustin Martin | MID | Scottie doesn't know |
| 38 | Kade Simpson | DEF | A Point For Trying |
| 39 | Dayne Zorko | MID | The Manzacs |
| 40 | Callum Sinclair | RUC | Tackling Tit-Ed |
| 41 | Mitch Duncan | MID | The Soup Nazis |
| 42 | David Mundy | FWD | BEATBOX12 |
| 43 | Travis Boak | FWD | Warne Dawgs |
| 44 | Zac Williams | DEF | Bearfoot Running |
| 45 | Brad Crouch | MID | Merv Gray Autos |
| 46 | Jack Billings | FWD | Cubby House |
| 47 | Nat Fyfe | MID | destROY |
| 48 | Toby Nankervis | RUC | Calvinator |
| 49 | Jack Crisp | DEF | Calvinator |
| 50 | Rory Sloane | MID | destROY |
| 51 | Ben McEvoy | RUC | Cubby House |
| 52 | Joel Selwood | MID | Merv Gray Autos |
| 53 | Bryce Gibbs | MID | Bearfoot Running |
| 54 | Shannon Hurn | DEF | Warne Dawgs |
| 55 | Scott Pendlebury | MID | BEATBOX12 |
| 56 | Heath Shaw | DEF | The Soup Nazis |
| 57 | Jeremy Howe | DEF | Tackling Tit-Ed |
| 58 | Sam Jacobs | RUC | The Manzacs |
| 59 | Lachie Hunter | MID | A Point For Trying |
| 60 | Matthew Kreuzer | RUC | Scottie doesn't know |
| 61 | Wayne Milera | DEF | Scottie doesn't know |
| 62 | Luke Parker | MID | A Point For Trying |
| 63 | Tim Taranto | MID | The Manzacs |
| 64 | Dyson Heppell | MID | Tackling Tit-Ed |
| 65 | Chad Wingard | FWD | The Soup Nazis |
| 66 | Mitch Robinson | FWD | BEATBOX12 |
| 67 | Tom Rockliff | MID | Warne Dawgs |
| 68 | Mitch Wallis | FWD | Bearfoot Running |
| 69 | Robbie Gray | FWD | Merv Gray Autos |
| 70 | Brodie Smith | DEF | Cubby House |
| 71 | Callum Mills | DEF | destROY |
| 72 | Nic Newman | DEF | Calvinator |
| 73 | Jack Steele | MID | Calvinator |
| 74 | Marcus Bontempelli | MID | destROY |
| 75 | Jack Steven | MID | Cubby House |
| 76 | Marc Murphy | MID | Merv Gray Autos |
| 77 | Christian Petracca | FWD | Bearfoot Running |
| 78 | Jack Redden | MID | Warne Dawgs |
| 79 | Jordan De Goey | FWD | BEATBOX12 |
| 80 | Andrew McGrath | DEF | The Soup Nazis |
| 81 | Jack Ziebell | FWD | Tackling Tit-Ed |
| 82 | Toby Greene | FWD | The Manzacs |
| 83 | Hamish Hartlett | DEF | A Point For Trying |
| 84 | Jack Martin | FWD | Scottie doesn't know |
| 85 | Jamie Cripps | FWD | Scottie doesn't know |
| 86 | Lance Franklin | FWD | A Point For Trying |
| 87 | Michael Hurley | DEF | The Manzacs |
| 88 | Jaeger O'Meara | MID | Tackling Tit-Ed |
| 89 | Tom McDonald | FWD | The Soup Nazis |
| 90 | Bachar Houli | DEF | BEATBOX12 |
| 91 | Tom Lynch (ADE) | FWD | Warne Dawgs |
| 92 | Scott Lycett | RUC | Bearfoot Running |
| 93 | Christian Salem | DEF | Merv Gray Autos |
| 94 | Luke Dahlhaus | FWD | Cubby House |
| 95 | Brandon Ellis | DEF | destROY |
| 96 | James Worpel | FWD | Calvinator |
| 97 | Shane Savage | DEF | Calvinator |
| 98 | Jack Gunston | FWD | destROY |
| 99 | Zach Tuohy | DEF | Cubby House |
| 100 | Brayden Fiorini | MID | Merv Gray Autos |
| 101 | Jack Newnes | FWD | Bearfoot Running |
| 102 | Jarryd Lyons | MID | Warne Dawgs |
| 103 | Dylan Shiel | MID | BEATBOX12 |
| 104 | Callan Ward | MID | The Soup Nazis |
| 105 | Jake Melksham | FWD | Tackling Tit-Ed |
| 106 | Jesse Hogan | FWD | The Manzacs |
| 107 | Jack Riewoldt | FWD | A Point For Trying |
| 108 | Jackson Trengove | DEF | Scottie doesn't know |
| 109 | Bailey Williams | DEF | Scottie doesn't know |
| 110 | Jimmy Webster | DEF | A Point For Trying |
| 111 | Liam Shiels | MID | The Manzacs |
| 112 | Jamie Macmillan | DEF | Tackling Tit-Ed |
| 113 | Shaun Higgins | MID | The Soup Nazis |
| 114 | Jason Johannisen | DEF | BEATBOX12 |
| 115 | Jarrod Harbrow | DEF | Warne Dawgs |
| 116 | Tom Phillips | MID | Bearfoot Running |
| 117 | Darcy Byrne-Jones | DEF | Merv Gray Autos |
| 118 | Josh Kennedy (SYD) | MID | Cubby House |
| 119 | Ryan Burton | DEF | destROY |
| 120 | Ed Curnow | MID | Calvinator |
| 121 | Dom Sheed | MID | Calvinator |
| 122 | Blake Acres | FWD | destROY |
| 123 | Jared Polec | MID | Cubby House |
| 124 | Josh Thomas | FWD | Merv Gray Autos |
| 125 | Tom Stewart | DEF | Bearfoot Running |
| 126 | Michael Walters | FWD | Warne Dawgs |
| 127 | Matthew Suckling | DEF | BEATBOX12 |
| 128 | Jack Viney | MID | The Soup Nazis |
| 129 | Jordan Lewis | DEF | Tackling Tit-Ed |
| 130 | Jeremy Cameron | FWD | The Manzacs |
| 131 | David Zaharakis | MID | A Point For Trying |
| 132 | Luke Shuey | MID | Scottie doesn't know |
| 133 | Dion Prestia | MID | Scottie doesn't know |
| 134 | Ollie Wines | MID | A Point For Trying |
| 135 | Jade Gresham | FWD | The Manzacs |
| 136 | Luke Breust | FWD | Tackling Tit-Ed |
| 137 | Luke Ryan | DEF | The Soup Nazis |
| 138 | Brad Ebert | MID | BEATBOX12 |
| 139 | Ed Langdon | MID | Warne Dawgs |
| 140 | Jack Darling | FWD | Bearfoot Running |
| 141 | Brayden Maynard | DEF | Merv Gray Autos |
| 142 | Shane Mumford | RUC | Cubby House |
| 143 | Tom Hawkins | FWD | destROY |
| 144 | Jayden Short | DEF | Calvinator |
| 145 | Kane Lambert | FWD | Calvinator |
| 146 | Josh Kennedy (WCE) | FWD | destROY |
| 147 | Aaron Hall | MID | Cubby House |
| 148 | Kyle Langford | FWD | Merv Gray Autos |
| 149 | Daniel Rich | DEF | Bearfoot Running |
| 150 | Tom Lynch (RICH) | FWD | Warne Dawgs |
| 151 | Dale Thomas | DEF | BEATBOX12 |
| 152 | Tim English | RUC | The Soup Nazis |
| 153 | Rory Lobb | FWD | Tackling Tit-Ed |
| 154 | Dom Tyson | MID | The Manzacs |
| 155 | Josh Jenkins | FWD | A Point For Trying |
| 156 | Trent Dumont | MID | Scottie doesn't know |
| 157 | Nic Naitanui | RUC | Scottie doesn't know |
| 158 | Isaac Smith | MID | A Point For Trying |
| 159 | Trent Cotchin | MID | The Manzacs |
| 160 | Luke Dunstan | MID | Tackling Tit-Ed |
| 161 | Dan Hannebery | MID | The Soup Nazis |
| 162 | Harry Perryman | DEF | BEATBOX12 |
| 163 | Lachie Weller | DEF | Warne Dawgs |
| 164 | Aaron vandenBerg | FWD | Bearfoot Running |
| 165 | Touk Miller | MID | Merv Gray Autos |
| 166 | Zac Fisher | FWD | Cubby House |
| 167 | Kade Kolodjashnij | DEF | destROY |
| 168 | Aaron Sandilands | RUC | Calvinator |
| 169 | Chris Masten | MID | Calvinator |
| 170 | Ryan Clarke | DEF | destROY |
| 171 | Jasper Pittard | DEF | Cubby House |
| 172 | Brandan Parfitt | FWD | Merv Gray Autos |
| 173 | Zac Clarke | RUC | Bearfoot Running |
| 174 | David Swallow | MID | Warne Dawgs |
| 175 | Tom Mitchell | MID | BEATBOX12 |
| 176 | Tom Liberatore | MID | The Soup Nazis |
| 177 | Michael Hibberd | DEF | Tackling Tit-Ed |
| 178 | Jack Higgins | FWD | The Manzacs |
| 179 | James Aish | DEF | A Point For Trying |
| 180 | James Harmes | MID | Scottie doesn't know |