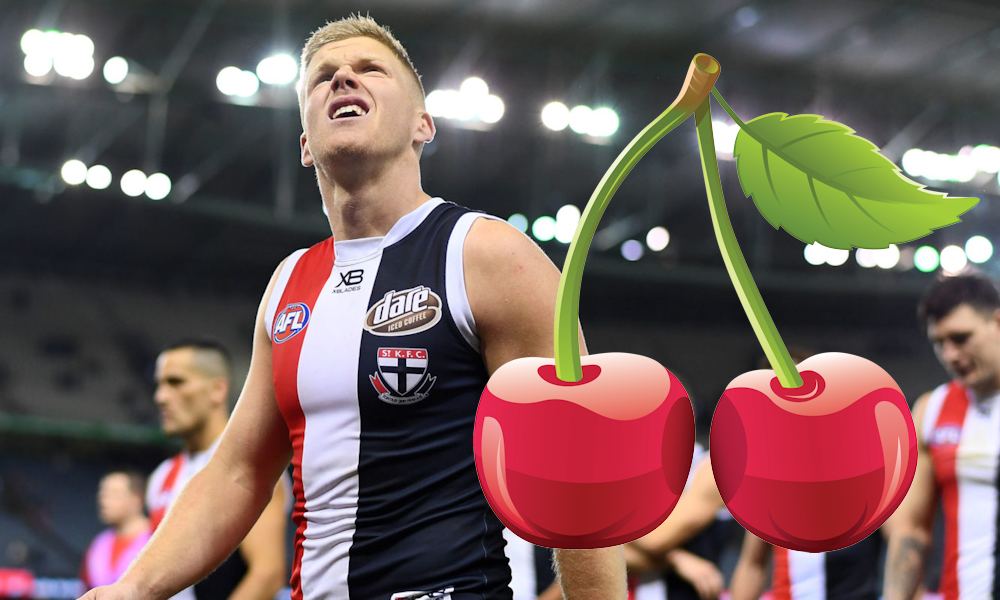 Hello Coaches and welcome to another Ripe for the Picking! For those of you who don't know me (or have forgotten who I am due to my absence), I'm Sparksy and I write a monthly (usually) article on the best value players in the competition. I want to quickly apologise for my absence, university gets a bit full on towards the end of semester with assignments and exams, and this semester was a lot more work than usual, hence me not penning this article until now. This article has a couple of minor differences to my previous articles this season. To begin with, as it is Round 16 and many teams are looking at upgrading to their final Premiums, there is a heavier focus on Premium players who you should be looking to bring in. This is mostly because there is less need to find those stepping stone players this late in the season, as Coaches tend to prefer the more traditional down/up trade combination. Also, whilst there will be three ruck options mentioned to help you replace Gawn if you're worried about a late withdrawal, there will be no 'Next 5' section for the Rucks nor the Forwards. This is due to a lack of options in both positions, whilst also partially because the Premium choices in both positions are extremely obvious, with the possible exception of F6. There is still a heap of value around however, and a plethora of injuries means we need some good trade options right now. So, let's begin.
Listen to the AFL Fantasy Podcast with The Traders at Apple Podcasts, Spotify and Google Podcasts.
Defenders:
Jed Bews ($344,000 BE 20 Avg. 93) – Bews played his first game for the season last weekend and boy did he look strong, playing off half-back and pushing all the way up the ground. He managed 18 disposals, 8 marks, 4 tackles and a goal against the Crows from 90% Time on Ground (TOG). Bews comes to us at an enticing price, providing a decent downgrade option from a fattened cash cow (Duursma, Stack etc.) which should give enough cash to upgrade another. Bews comes with a HUGE buyer beware however, which is related to his price. He doesn't come this cheap because of an injury discount or anything like that, Bews' price is this low because he has never been a good Fantasy player. In fact, his 93 on the weekend was his highest AFL Fantasy score EVER. I think both Geelong and Bews have changed their style of play however, with a more possession intensive strategy getting Bews more marks and possessions than his old lockdown role. I could be completely wrong, and Bews could back his near-tonne up with a 30, but with few Rookie options and cash being a necessity, Bews is a risk some might have to take, and the rewards could be massive.
Lachie Whitfield ($786,000 BE 138 Avg. 117.2) – Arguably the most sought-after trade target this week, with the possible exception of a certain Pig, Whitfield has been a true star this season and I'm not sure I can ever forgive him for his untimely collarbone break. It looks like he will be back this week however, and he's a player you can't afford to not have, especially if you're going for a high Ranking. Whitfield is still owned by 19% despite missing three weeks (four including the bye), but most of those teams are likely teams holding him to win their league or teams that gave up before he got injured, it's very unlikely a highly ranked team has held a near-$800k player for that long. This means that getting him in this week could very potentially gain you a few Rankings should he score big, which he should. Whitfield has had four games total under 120, and two of those were due to injuries. That sort of scoring is unprecedented this year, especially from our putrid Premium Defenders. If you have Caleb Daniel, Whitfield is clearly the player you want to bring in for him, and if you don't have Caleb Daniel, I'd be finding a way to bring him into your team anyway, even if it's in the Midfield for now.
Corey Ellis ($309,000 BE 12 Avg. 71) – The out of luck Tiger was given a second chance at the Gold Coast, if you could call that a second chance, and he seems to have worked out how to be a mildly relevant Fantasy player. Technically, Ellis falls into the Rookie category, but the cut-off is mega close, and as he's played multiple seasons in the AFL before I thought I'd steal him from Fry. Ellis is extremely similar to Bews for a few reasons. To begin with, he's also never been a very good Fantasy player, mostly due to the fact he played in a stacked Richmond side where he struggled to get a game and didn't play in any Fantasy-friendly roles. He brings value due to a change in roles, playing more of a midfield and half-back role at his new team, and he's also very cheap, making him an ideal downgrade option. He's below Bews for two reasons, being his ceiling doesn't seem as high and he actually has a worse Fantasy history than Bews, believe it or not. The upside to getting Ellis instead is that he's $35k cheaper and he's probably the least risky of the two, as his role has changed due to swapping teams, rather than playing the one game in a different role. If you're not as ready to risk it all and you're satisfied with potentially losing 10-20 points a game, I'd definitely lock in Ellis over Bews. *Note: Ellis has been dropped after I wrote this section of the article.*
Next 5:
Christian Salem ($637,000 BE 90 Avg. 95.8) – I've mentioned Salem multiple times throughout this season, and I'd say he's probably one of the most underrated players in Fantasy this year, owned by just 4% of the competition. Currently the 7th highest averaging Defender (6th with Daniel out), he's been extremely consistent and has a few good matchups coming up with Carlton, St. Kilda, and Richmond in his next five games. A good choice if you can't get to Whitfield.
Tom Stewart ($623,000 BE 85 Avg. 96.2) – Stewart dropped his early season form a few weeks ago, giving his owners four scores in the 80's in a row, but he now seems to be back near his best. Currently one spot ahead of Salem on average and I think he stays in the Top 6 Defenders for the rest of the season, but more likely to drop out of form than Salem.
Zac Williams ($570,000 BE 65 Avg. 84.3) – Since coming back from injury, Williams has done exactly what owners wish he did before he got injured and subsequently traded out of most teams. It seems stupid to bring him back in at such an awkward price tag, especially considering Whitfield is likely to steal a few points from him. But, in his current form he's absolute value, and he could be a steal for those looking for a PoD (Player of Difference) if he can keep this up.
Jack Crisp ($645,000 BE 87 Avg. 95) – Crisp has been on my radar for a while now, but I've just never been able to convince myself to pull the trigger. Has had a cracker two weeks but Collingwood have played some of their worst footy of the season in that same timeframe, which could translate to Crisp going back to his inconsistent best. Capable of scoring for sure, but I think Salem and Stewart provide better options for a similar price.
Connor Blakely ($561,000 BE 78 Avg. 78.5) – One week is probably not enough to bring him in, but Blakely was very solid last week and I'm hoping he can back it up to give me a cheap upgrade option for next week. He played off half-back and amassed 31 disposals, which is exactly what I want to see from him. Maybe add a couple of kick-outs and he's one that will find his ownership rising very quickly.
Midfielders:
Jack Macrae ($775,000 BE 63 Avg. 112.1) – A Libba-less Dogs' team means an insane Jack Macrae, and it seems 37% of the competition has picked up on this trend. He's expensive now, but for the next three weeks (until Libba is healthy and returns to the side) Jack Macrae will be the highest averaging player in the competition, mark my words. Macrae is averaging 151.7 since Liberatore went down in Round 13, and he is relishing the extra possessions clearly. Not only that, but the Dogs seem to be playing reasonable football at the moment as well, which means there's a small chance Libba won't come straight back in either. He's extremely expensive at the moment but judging by that BE he's going to be over $800k next week, so I'd be jumping on ASAP, even if it means downgrading him to another premo in three weeks' time. After endorsing him as the best Fantasy scorer in the competition and showing you his three-round average, there's not much more I can say. If you can get him, you definitely should. If not, I probably wouldn't check the Bulldogs' Fantasy scores for the next few weeks…
Dan Hannebery ($480,000 BE 46 Avg. 92.5) – Hanners is the great talking point of the competition at the moment, and for a good reason. The man went off the booze and forgot how to play football, he went back on the booze and still couldn't work out how to play football. After an injury and then a trade, Hannebery finally came back through the VFL three weeks ago and played his first game for the Saints two weeks ago. Many salivated over his debut St. Kilda tonne against the Lions in Round 14 and brought the ex-Swan straight into their teams, thinking he was back to the Hanners of old and they were getting a bargain. Those same Coaches would have been beside themselves at half-time on Sunday when Hannebery had managed just 30 Fantasy points and was playing like he was off the tinnies again. Hanners managed to somewhat save his score, which leads me to believe this was an anomaly, especially as it was against a fairly tough to score against Richmond midfield. If you can get him, I think Hannebery is a great option for almost any team. I wouldn't go so far as trading a premium down to him, although I could understand maybe a Brayshaw or Cripps trade. But if your teams has injured premiums or Rookies to upgrade, Hanners is definitely your guy. He should give you just about triple figures on a weekly basis, making him a great placeholder and money-maker until you've gotten the rest of the Rookies off your field and have the money to make him a proper premium. The only downside to Hanners is that his price and timing means he doesn't really fit in most sides at this point in the season, but if you are looking for a Midfielder and want to save some cash, lock and load.
Tom Rockliff ($712,000 BE 108 Avg. 107.5) – Rockpig is back after damaging his hamstring and spending five weeks off, despite flying to China the week after injuring it. Yes, if you can't tell I'm still extremely salty about this injury as it completely derailed my season and meant trading out a player I knew I was always going to get back in. I digress however. Rockliff returns against one of the best possible teams for a Fantasy pig to come up against – the Crows. Adelaide don't tag and absolutely bleed points to the oppositions midfielders (Kelly & Selwood, Dusty & Prestia, Kelly & Taranto, etc.) It is ridiculous how easy it is for the Mids to go 120+ against the Crows, and I predict the Pig will do something special on the weekend, provided he stays on the park. With the return of Wines and the few weeks off, I'm actually mildly worried Rockliff might return via the forward line, but hopefully Ken remembers the greatness he provided through the middle for Port pre-injury and/or saw the Pig light it up in the Magoos last week. He's already gone 149 against the Crows this season, and I'd prepare for better this week. A very strong trade target for those looking for a cheap Midfield premium.
Next 5:
Nat Fyfe ($733,000 BE 104 Avg. 107.1) – Single-handedly keeping the Dockers in the game last week may not have been enough to get the four points for his team, but it was enough to catch the eye of Fantasy owners and non-owners alike. Fyfe had 90 points to half-time before being slightly curbed in the second half, but any player who is capable of 90 Fantasy points in a half of football should be a lock in most teams. I predict this week will be the same sort of effort from the one-man show, and with Hutchings injured I think he could go untagged for the whole match this week.
George Hewett ($543,000 BE 58 Avg. 75.9) – Hewett has been enjoying an increase in Midfield time these past few weeks and has arguably been best on for his team in three of the last four games. He's a huge risk as he can score very poorly, but his price is cheap and he's capable of 110+ scores with his new role. Also one to consider on your draft waivers as many drafts wouldn't notice his recent form.
Dayne Zorko ($711,000 BE 85 Avg. 102.9) – Zorko is hard to pick for me. He's been in great form as of late with a last three average of 114.3, but he's easily susceptible to a tag which causes a few off games. The main problem I have with Zorko is it's hard to pick him when Lachie Neale, who I will mention later, is in the team. It seems it's very rare for both to score well, as one is usually tagged by the opposition. It seems Neale is the more likely tagger target, but I'm just not sure Zorko's high ceiling is worth the risk.
Andrew Gaff ($761,000 BE 131 Avg. 113.3) – Provided he doesn't decide to uppercut anybody, I'd say Gaff will be the best scoring Midfielder in the competition for the rest of the season, meaning he will average the most points of any Midfielder between Rounds 16 and 23 inclusive. Gaff has had an insane season, never going below 90 and constantly rewarding owners for spending up. Plus he has an extremely good run home, with matchups like Adelaide, Carlton, Collingwood, and Hawthorn in his last eight matches. Buyer beware: He does play a Brayshaw in two of his next three games, so pray that Gaff doesn't decide to take up boxing again this year.
Lachie Neale ($667,000 BE 94 Avg. 104.6) – I did say I'd mention Lachie Neale. It's hard to believe the fall from grace this bloke has had after averaging 140 Fantasy points from Round 2 to Round 4. He's insane value when he doesn't get tagged and can provide scores as good as any player in the competition. Unfortunately, I think he's likely to cop a tag in his next three games, provided they choose to tag him and not Zorko. From Round 19 or 20 onwards however, Neale could be a great player to pick up and give your team a strong finish to the season, especially if his ownership drops a bit more.
Rucks:
Okay, so as I mentioned there will be no 'Next 5' section for the Rucks because there's not enough value there. The only reason these Rucks are mentioned at all is because Gawn could be a late withdrawal, meaning a few Coaches might want to trade him out. So, if you have Gawn and don't have Reilly O'Brien covering him on your bench, read up.
Rowan Marshall ($684,000 BE 80 Avg. 98.7) – Marshall has probably been one of my favourite players this season that I don't own. He's just been doing so well and has been reasonably consistent too, which is great to see in this position because there are very few that score well. Marshall is the top option for one reason only – His Forward DPP status. If you bring Marshall in for Gawn, then you can move him Forward in a few weeks' time when Gawn is back and his price is low. Marshall should be around the Top 6 Forward mark, so this trade sort of feels like one that improves a team for me. However, many people have already 'completed' their Forward lines, so this switch wouldn't work, hence option number 2.
Jarrod Witts ($674,000 BE 103 Avg. 100.5) – Witts is a lot less likely to give you a score of 60 than Marshall is, but he also tends to settle around a score of 90-100 as well, so bigger tons are a rarity for Jarrod. This is the trade I would make if you were worried Gawn was going to be more than a one-week injury, or if you wanted to swap him out for a consistent scorer. In other words, I'd only be looking at getting Witts in if you weren't planning on getting Max back, at least not until your team is without any other trades to make. Should monster Richmond in the ruck this week though, so you'll get at least one good score out of him.
Zac Clarke ($280,000 BE 39 Avg. 43.7) – This is not a straight trade for Gawn. Do not trade Gawn out for Clarke unless you wish to give up about 80 points a week. This option is strictly for those who have a bit of spare cash and want to spend it on their Ruck bench. If you have a non-playing duo on your pine, ideally Darcy Fort, you can spend a bit of money and upgrade them to Clarke. He'll be rucking solo and he has been an okay Fantasy scorer in the past, so he should be at least slightly better than his 43.7 average and he will generate some cash, which could prove helpful later in the season. This is probably my least advisable route, but if times are desperate, then you've got to do what you've got to do.
Forwards:
Once again, I mentioned the Forwards would have no 'Next 5' section due to the lack of available value and that people seem to have less need to fill their Forward line, as it's likely close to all Premiums at this stage. There are still some good options though, and I've added an extra player just as a bit of food for thought.
Dustin Martin ($733,000 BE 81 Avg. 97.3) – Dusty has been on a tear lately and his last six games have been maddening to watch as a non-owner. He's hit the tonne in all of his last six games and has gone above 120 three times, making him one of the most in-form Forwards in the competition. He currently sits at third or fourth in my Top 6 Forwards and yet he only has 31% ownership. Yes, that's quite a high number, but for a guy who is almost a lock to score 100+ these days, it should be much higher. Dusty's form, price, BE and matchups make him the perfect Premium upgrade target if you don't already have him, especially as he is now essentially a sole-Midfielder with Forward status. The only thing I would keep an eye on is his Round 19 matchup against the Pies where he will likely be tagged by Greenwood. Other than that, Dusty should bring tons until the season's end.
Patrick Lipinski ($569,000 BE 58 Avg. 95.2) – Lipinski is one I've wanted for weeks now but I just haven't managed to fit him into my team structure as I've been dealing with injuries and lack of cash. He currently provides so much value and should be who you look at in terms of a stepping stone Forward. At this point in the season, he's a much better option than say Worpel, who you could downgrade to Lipinski for a small cash grab and not lose anything in terms of output. With a Last 3 of 105.7, he's probably not quite in Top 6 form, but he's easily the Forward that provides the most value right now and that is important this late in the season when money is tight and trades are more valuable than ever. Lipinski's price and average make him a very circumstantial player right now, but if he fits in team then he's a great find this late in the season, and if you already have him then congratulations on making a great call.
Jack Ziebell ($680,000 BE 82 Avg. 90.6) – Ziebell is cheap as chips thanks to a couple of poor scores in his last five games, but his ceiling is so high that he's a great asset to any team and he is loving playing under his new coach. With a last three of 115.7, Ziebell has really been in form for the 11% of Coaches that own him, and he should do the same thing this week against the Saints. He can have a few low scores here and there, but as I mentioned before, his best is above what most Forwards are capable of doing and he should get to his best at least a couple more times before season's end. I currently have Ziebell as my sixth Forward, so he's definitely a fringe player to have in that regard, but if you're looking to round out your Forward line and need somebody who can score big enough to be a Top 6 Forward for the rest of your season, Ziebell's your guy. Plus, he saves you a bit of cash on some of the other premium Forwards, which is very handy right now.
Toby McLean ($491,000 BE 82 Avg. 72.4) – McLean is the extra player who gets a mention for one reason only. Please note that McLean has been hot garbage this season, so much so that he's down almost $200k on his starting price and he hasn't scored a tonne all season. The reason I bring up McLean is because he's getting a game purely due to injuries, which means there are roles to fill. With Liberatore out, McLean could be looking at more Midfield time coming back into the side. This probably hurts Macrae's and/or Dunkley's scores if McLean does fill that role as he tends to find a bit of the pill and there's clearly not enough to go around, as we've seen already this season. Even if he can recapture some of last year's midfield form though, you'll have a guy that's averaging around 100 who's priced at less than $500k, which is insane value if he can manage it. The second role I'm looking at is Caleb Daniel's role. With Daniel's injury, McLean gets brought into the side, and could Bevo throw the magnets around and just slot McLean straight into Daniel's role? Caleb was a huge surprise this season, playing a defensive role that almost nobody saw coming, so that means there's a chance McLean could do the same. I'm not saying it's likely but keep an eye on the role McLean plays this weekend as you could be looking at a steal, especially in draft leagues.
That's all I have for you this week Coaches, I hope you enjoyed the read and apologies once again for the lack of article last month, sometimes life does life things and gets in the way. If you have any questions please hit me up down below or tweet me @SparksyDT. I'll be back once more towards the end of the season to help you with a few PoD's, until then good luck and happy trading!