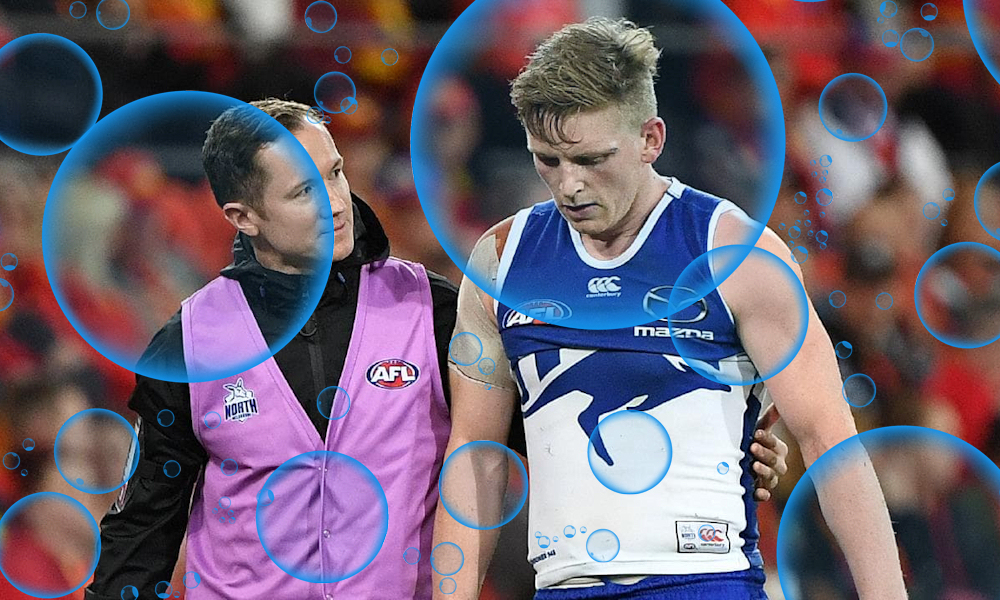 It happened again, it happened agaaaiiiin! Matt has been shafted, it happened again. There I was early last week, sitting pretty, well prepared. I would say there was 4 significant outs last round. Guess who had three of them! Stupid, stupid game. Let's talk about it. It's time for the weekend wash-up…
`
Listen to the AFL Fantasy Podcast with The Traders at Apple Podcasts, Spotify and Google Podcasts.
Legends
Dangerfield (162) – Massive. Danger's form has been shaky at best, but a score like this makes up for the tough times and some. He was a genuine captaincy option as well, kudos to anyone who backed him against the loose marking Tigers.
T.Kelly (129) – I said Tim Kelly was going to become an elite midfielder this year, but he's starting to take the piss now. What a gun. I'm not sure how he's coming back to WA, maybe if we give up half our list. Dead set legend.
Duncan (144) – Mitch Duncan has taken 10+ marks in 5 out of his last 7 games. It's his third triple double of the season and takes his 7 round average to 124, with 6 scores above 118. Those are piggish numbers. Now to figure out how we afford him…
Cripps (151) – Unbelievable. You can't play a better second half than that, 102 fantasy points! Crippa made his breakeven, it's only up from here. The Teague effect.
Walsh (137) – He would have been on many chopping blocks this week, mine included. Reverse that thought, Sam Walsh was everywhere on Saturday. 23 kicks and 12 marks if you don't mind! The Blues will ride the new coach wave for another week and Walsh could be big again. Hold on.
Curnow (121) – Controversial, but flag it. Ed Curnow has been all over the shop this season, and has since received forward status. Think back to last year, he was a top 8 midfielder for the first half of the season! Fun fact. First 8 centre bounces, Curnow attended none and the Blues were 6 goals down. The last 16 centre bounces, Curnow attended 15. FIFTEEN. The one he missed was likely when he was off, and in that time Carlton kicked 11 goals to 3. Call it a co-incidence if you like, but 30 disposals, 9 tackles and 8 clearances says enough. He completely dominated Neale and I think Curnow is back. He's a $575k forward… Make of that what you will. One thing is for sure, note who Carlton play. Somebody is going to have Curnow running next to them.
Ziebell (145) – Forgive me, but what is going on here?! I understand that he's freed up into the midfield and can push an average of 100. But why is Jack Ziebell suddenly the second coming of Tom Mitchell?! This score is his second 140 in a month, what is the world coming to. Bloody LEGEND!
Brodie (142) – This was random. Apparently Will Brodie is a ball magnet! If the Suns were coming back from China I'd probably be dumb enough to consider it, but they're not. Either we're missing out on a gem or dodging a bullet, but he's a great get in draft. He did it all!
J.Kelly (128) – Three weeks ago I had a chance to get Josh Kelly, got cheap and went Yeo instead. Really, I only have myself to blame here. Kelly is a cheat code in fantasy, will a team ever put time into him? I guess GWS just have too many weapons. Either way he'll keep racking up 30+ and tonning up, it's a relief he didn't score in the first or final quarter! Must have.
Taranto (139) – Also a must have… Taranto's off week against Gold Coast is a strange one, it's the only time he hasn't gone 130+ in a month! I'm loving being on the right side of a third year breakout, when you nail it there's no better feeling. A fantasy gun for the next decade!
M.Crouch (117) – I miss not having Matt in my team. He won't put a foot wrong as long as he stays fit, I'm not sure if I can squeeze him back in either. Legend.
Lloyd (149) – Jakey Lloyd is more than back. Bachar Houli challenged him for the number one defender mantle (minus glass collarbone) and the king seagull responded in perfect fashion, with 42 disposals of which 38 were uncontested. If you don't have Lloyd by now, you can't be trying.
Heeney (114) – Who didn't ton up for Sydney against the Eagles?! Outlier.
Treloar (124) – Getting it done. Adams should be back after the bye, I'll reserve my final judgement until then.
Gawn (148) – Max is going supersonic. I knew there was a good reason I picked him ahead of Grundy to start the season, he bathed him! This is Gawn's fourth consecutive score above 125, and takes his average to 133 over the last month. He's coming for that number one ruck mantle, what pig…?
Brayshaw (129) – I saw it in Brayshaw's last game, he was back into the midfield rotation despite his 91 not really suggesting anything had changed. I can't explain the 60% TOG in the first quarter, but after that it was the Bray of old. I still don't understand why he went SO bad, but this is another win for team hold. If you don't get Brayshaw after his bye next week, I think you're getting it wrong. He's just so cheap, and we know how he finished last year… Now onto the bad.
Losers
Ellis (-) – Don't think because you get injured between me writing this article on Tuesday and team news on Thursday that you avoid a bake. Is he actually injured, or was he just gutless? It's probably best I don't find out. He copped the boot anyway, if he comes back in this week and goes huge on Thursday I might finally lose it. Realistically, I lost it a while ago…
Zorko (80) – At least the week I got Yeo, Zorko was his closest rival. It's lucky he can tackle because sometimes 'The Magician's' disappearing act is a little too good. How did he get that nickname anyway, it's officially rescinded.
Witherden (76) – Congratulations mate, this is an improvement. Keep up this pace and you might not pass Heritier as the biggest breakout candidate cuckold ever.
Neale (104) – Nope. I'm not having it. Neale has always been accused of dominating the first half and fading away. I think 92 points in the first half and 12 in the second is perhaps taking things a little TOO far. I don't care if he got tagged, lay a tackle chief. He didn't make one. He's cheap, and for good reason. Pass.
Miller (28) – Did Touk Miller have an amputation while he was out? 4 touches. Four. For context, he was averaging 103.8 after 6 rounds. Head scratcher.
Corbett (15) – Ok… Here we go. I don't want to kick a man while he's down, but mate… If Chris Burgess is doubling your score, you have to seriously wonder if there's much going on upstairs. 15 points. Fifteen points… Did Stuey Dew instruct you to go out and do your best f**king Houdini impression? Because if not I struggle to see how somebody can be so bad. At the end of the day he's just a rookie and trying to find his feet in the AFL, so I'll leave it there. Just know that performance was more useless than a gas mask in Chernobyl.
Higgins (9) – If you're having a bad day, or a bad week like me… Somebody out there had Shaun Higgins. Just remember that.
Coniglio (90) – When I give you the armband Cogs, that means I need you to go above and beyond for me! I didn't see the game so I can't comment on how he played, and I still think he'll be good. But my skipper? Never again.
Smith (38) – It's lucky I heard that Brodie Smith was tagged today, because I might have exploded otherwise. I'm glad to see that worked out for GWS, you absolute flogs! Will I get a stadium ban for that? It seems the umpires heads really are sacrosanct! Farcical. Seriously though this score is a disgrace and Brodie can pack his bags. It has been a good ride.
Vardy (24) – I'm glad we got to see Vardy live out his comeback story last year, because I'm not sure I ever want to see his concrete hands again. Maybe Nic Nat returning will change things, but Hickey and Vardy should never step foot on the same oval unless it's in the WAFL. Utterly disgraceful.
Yeo (-) – You know that feeling when somebody scratches their nails down a blackboard… Slowly… You're thinking about it and cringing right now. I'd listen to that sound on a 10 hour loop if I could go back in time and make Yeo's calf not fail me when I need it the most. I'm now talking to Elliot Yeo's calf… This is what this game has done to me. F**k me.
It's nominations time… I'm thinking I might stop nominating five players each week and just give those who deserve the award a chance. This week I'm struggling to nail it down to five players only.
P.Cripps – King beastmode himself. 38 disposals (16 contested), 8 clearances, 7 marks and 4 goals… Four!  An inspirational leader for both Carlton and our Fantasy teams. Deserving.
S.Walsh – I couldn't nominate Batman and ignore Robin. We can't forget Sam Walsh is just a rookie. 32 disposals (23 kicks), 12 marks to go with 6 clearances and 4 tackles. He gets my vote…
P.Dangerfield – Another 3 Brownlow votes for my pre-season punt. 38 disposals, 7 marks and 9 tackles with a goal is out of this world.
J.Ziebell – 22 kicks, 10 tackles, 8 clearances and 2 goals… Wow. New age uber premium Ziebell is a lot of fun, with Higgins injured this is now real.
M.Gawn – Lloyd can consider himself unlucky, but considering Max was up against Grundy this score is huge. Who's going to stop him now?! 34 disposals with 19 contested and 10 clearances is about as good a game as you can get, from a midfielder! Tag on 33 hitouts (13 to advantage) if you don't mind. Unbelievable game.
This Game Sh*ts Me
I'm just fed up to be honest. I'd say you couldn't script it, but you absolutely could. If it was a round full of carnage I'd wear it on the chin. When par is 2000 from 18 players, I cannot. First it was Whitfield, that was expected and he's a pretty easy trade to make at nearly $800k.
Then Brandon Ellis suddenly has a calf injury?! Of course he does, at 7% ownership that's a POD that stings. But I wouldn't have been alone. He was a straight swap to Daniel with an eye on Round 14, and I could have worn that.
That wasn't the end though. Elliot Yeo and the West Coast Eagles have combined to completely shaft me. Firstly, how many people around the country have the trifecta of Whitfield, Ellis and Yeo?! 0.5% of coaches might have had a combined 3 outs with Hurn missing as well, but that was it. Unreal.
Yeo was named on Thursday night, I was sitting pretty with 19 and Josh Corbett should have been NOWHERE NEAR MY TEAM. So you can imagine the violent rage when I woke up to see Elliot Yeo hadn't travelled. Why do bad things happen to good people.
The popcorn kicker was still to come. I was trading Ellis to a bloke who wasn't playing anyway, so he could have rode the pine and I could have made a cash grab and got Cripps. I was well prepared to give up $30k to get him early, I'd have chased him straight after the byes anyway. However I simply couldn't trade a bloke who is named in the final 22 that was released after the flight…
Let's be real, how bad could it be. My worst score might be a 40 or a 50 and Cripps might be a 110. Nope. Try 136 points bad………………
Somebody explain to me WHY the Eagles named Yeo in the final team. Yes he hadn't taken the flight with the team, but that could have been for a whole host of reasons. Imagine trading a premium due to rumours when he was named in the final 22 on Friday afternoon? Bunch of c**ts.
Long story short… Yeo out, Corbett in. I may as well have had 17. It's not as bad as fielding 15, but in a round where 2000 was par it was close enough. Sh*t game. It sh*ts me.
The Other Bits and Pieces
1929. *Exhale* I didn't look at any scores over the weekend after Saturday arvo, not interested. Sitting down to write this article was painful enough, I need counselling. I actually had a lot of brilliant scores to get me there, considering I also had Answerth's 55 in for Ellis, Smith's 38, Stack's 52 and Corbett's donut. I'm still ranked at 3k but really, what's the point of that. Just give me a bloody break!
Corbett can go and get f**ked, as can Brodie Smith. I'm not having it. My three players traded out combined for 108 points. Wrap your head around that figure.
Corbett (Setterfield to fwds) -> Clarke 
Answerth -> Naish
Smith -> Sicily
Getting in Naish before his bye could be risky, but I should have 20+ (I won't) for round 14 and Gardner isn't exactly making a best 18. He's in if named. Clarke should be a solid option over the byes and Sicily is just about the only option as a defender.
Whatever, play on. At least there's only a three day break. Honestly, I'm one more bye week of carnage from losing the plot. There's cracks everywhere. Good luck legends. Go better than me!