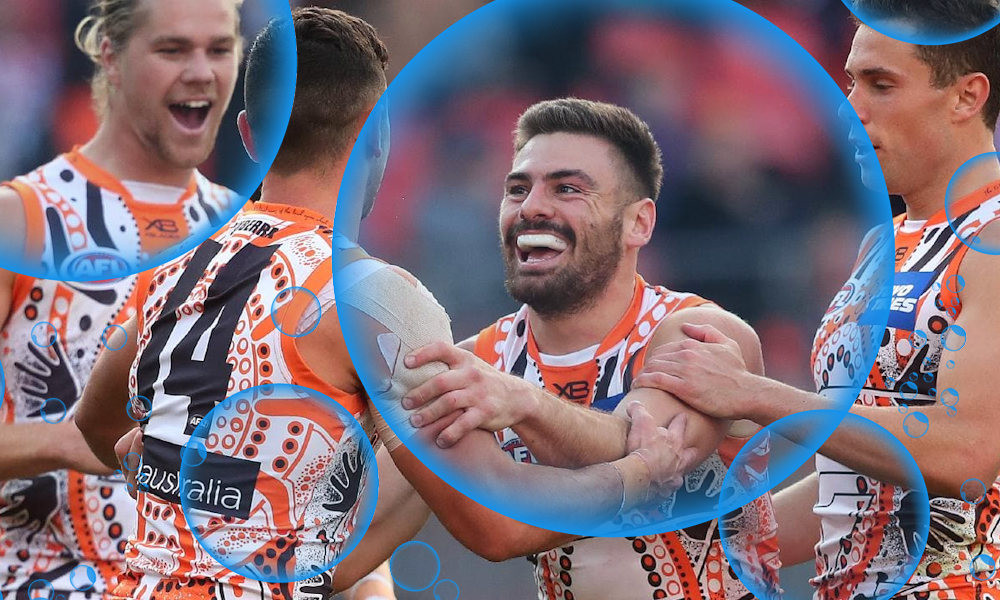 New round, same old bullshit hard luck stories. We are receiving a barrage of injuries, right as the byes are upon us too. Say your prayers every night this week, we are going to need them on Thursday evening. May the DT gods look kindly upon us for once, I'm reaching breaking point. It's time for the weekend wash-up.
Legends
D.Martin (105) – A tale of two halves. While Richmond were on top Dusty was everywhere, he's back to his explosive best. Yes he spends a lot of time up forward but when he's in the mood, that's not as big an issue. Especially when you consider he only needs to average 95+ as a forward. However when Richmond fell away Dusty slipped back into old habits, sulking in the goal square and hardly being seen. It may be a risky pick, but it's an even bigger risk to not own him. An in-form Martin is a scary prospect.
Houli (137) – Wow. Bachar was everywhere, racking up cheap touches, taking kickouts, and best of all he's the go to target when switching the ball. What takes Houli from a solid defender to fantasy gun is that Richmond are now making switches a big part of their new gameplan. Of course he gave his owners a heart attack when going down to the rooms in the first 5 minutes, it won't be a smooth ride. However the upside is too great to ignore. Legend!
Ziebell (104) – Welcome back Jack. His 5 point final quarter was disappointing, but the move back into the midfield is a huge positive. Back on track.
Pendlebury (130) – This is Pendles fourth 120+ score in six weeks. I don't think you can do it, especially with Taylor Adams about to return. Even so, flag it.
Fyfe (122) – This was a danger game for Fyfe, and he beasted again. Given Macrae's struggles, Fyfe is my number one round 12 midfield target coming of their bye. If you remove his concussion affected 78 (60% TOG), he has averaged 110. He has had 6 games over 110+, the most in the league is 7. Unstoppable.
Coniglio (192) – Oh so you thought Coniglio's BE of 152 was going to make him the perfect upgrade after his bye? WRONG. Cogs moved up $30k and will be back up above $750k before he gets a week off. All aboard this week, he's primed. Josh Kelly's form is so good he should avoid the tags as well. Lock and load!
J.Kelly (140) – I'm not sure there's a limit to how many GWS players you can have, although their draw has been unbelievably easy the past month. There are some real tests ahead for Kelly, and he's expensive as hell. But you get what you pay for, and you're getting an absolute jet.
Finlayson (127) – One word. Don't.
Parker (115) – Luke Parker now has a three round average of 118, flag it. He has averaged 110 before and looks to be in great form. A huge POD.
Lloyd (129) – Never doubt Jakey Lloyd, he's right back on track over the last 3 weeks and a must own for everyone. Half the competition are missing out. Those that picked Whitfield instead can make that adjustment this week. Those that picked neither can take a good hard look in the mirror.
O'Meara (112) – This is a step in the right direction, although he received extra attention again and relied on 11 tackles. He faces Essendon (Clarke), Sydney (Clarke/Hewett) and West Coast (Hutchings) after his bye. I'd be nervous…
Gawn (126) – Max Gawn is carrying a 5 round average of 119 and a 3 round average of 128. This is more of what I expected, welcome back Munter! Such a gun…
B.Crouch (127) – Boom. This takes the more reliable Crouch's season average to 110 and it has gotten to the point where he's too good for his own good! I think De Boer is going his way next week, that will be a great test. I believe Brad.
Lynch (126) – He's always hanging just outside the top 6 forwards, but a great draft slider. Awesome draft pick.
Laird (110) – Rory has been consistent, solid and reliable without being spectacular. He hasn't dropped under 80 all year, but hasn't gone over 115. His season average is 98, 3 round average 99.7 and 5 round average 99.8. That says it all. A lot of people will be in my position of getting Laird or Houli and I think you have to chase the ceiling. Laird had 7 scores of 120+ last season, it's safe to say Brodie Smith is taking a bit of ball away from him. Still a must have in all our teams come seasons end.
B.Smith (105) – Welcome to the legends Brodie! After four consecutive scores around 80, this was a much needed ton to ensure he keeps making cash until his round 14 bye. Having not dropped under 72 all season, Brodie Smith deserves some recognition. Legend!
Boak (125) – I slammed him for his 80 last week, and he shut me up straight away with a 125. Fair bump. I can't wait to get Boak straight after his bye, he's worth every cent. LEGEND.
R.Gray (120) – Don't be fooled, Robbie Gray has moved into the midfield with Wines and Rocky both missing. I don't see it lasting (Which is dumb), be very carefully if you're tempted by Robbie after his bye. He's so cheap at $540k and it screams bargain, but I'll be wielding my 10 foot pole.
Lienert (116) – How real is this? I had my eye on Lienert's scoring early and he's in my draft team. A great waiver addition so far…
Marshall (126) – Now for the ultimate draft waiver. It was a slice of luck that he was incorrectly listed as a forward in Fantasy because I would have jumped on for a 53 and DNP. Since then he has continued to dominate, racking up 24 touches, 7 marks, 7 clearances and a goal in China. Who needs hitouts? One for the future.
Duursma (97) – I don't want to talk about it. Bloody legend.
Kreuzer (122) – As a draft owner this was long overdue. Hopefully he can come home like a steam train, there's obviously little fantasy relevance due to the two big guns. Are we going to need another ruck combination in the next 3-4 years? I doubt it.
McGrath (106) – About time Andy. He gathered his 32 disposals in just 69% TOG. I don't know if he has that next gear to switch to, hopefully this is a sign of more to come.
Clarke (109) – Dylan Clarke has been dominating the VFL for 18 months and Essendon have finally giving him an in. It's a shame that his job will likely be to ruin our premiums scores, and he's also too late to get much of a gig on our grounds. He'll be a vital in for the final two bye rounds however, so let's be grateful for that. A must get this week or next.
Gaff (123) – Just another week at the office for Gaff. I'm not exactly sure how I'm going to ever afford him, he's carved from fantasy gold. Bloody legend!
Dunkley (119) – It's simple, you need to put aside your bias and hatred in fantasy. When Dunkley was moved back into the guts two weeks ago you had to get him (Potentially back). He's a 110 average uber premium as a midfielder, and that's where he sits with a 5 round average of 117.4. His season average is back to 96 and I doubt you'll be getting him for under $700k, his ownership of 20% is way too low. A must get after his bye!
Losers
Beams (54) – How the mighty have fallen. Something isn't right, 14 touches with one tackle suggests as much. Huge draft burn. UPDATE: He's out for the season with hip surgury. That makes more sense.
Treloar (74) – Treloar's scoring graphs make no sense to me. Was he tagged? In the second quarter he was everywhere, scoring 44 points. He managed 30 for the rest of the game, including just one kick in the final term with the game on the line. He has had a good season, but it should be even better. Not getting close to his potential, pull your finger out Adam.
Mundy (62) – Never trust an old man. Mundy had been on fire, but he was back in the forward line and seriously quiet in this game. It's a shame he doesn't have a late bye when you could move him on, I'd consider chopping him this week if you have the luxury.
Whitfield (74) – This just sucks. No positive can come from this. Whitfield was about to have a field day in that last term, having fought a Holman tag all day. As a Whitfield captainer it hurt, but it's the long term repercussions that hurt the most. Must trade. *See rant later
Mumford (47) – 26 frees against in 4 weeks. Just K.O. someone Mummy and hang them up. You're done mate.
Taranto (75) – He gets a small reprieve due to his monstrous two weeks prior, however this score ruins a lot of that good work. We'll take a off day scoring 90's, but that third quarter was as gutless as it gets. Against the Gold Coast as well. Poor.
Stewart (80) – I see an 80 in defence and it's respectable, but you're on notice Tom. I need more junk time!
Miers (46) – If his time wasn't up last week, it certainly is now. Thanks for your service.
Heeney (66) – I can only imagine that Isaac Heeney's ankle is hanging on by a thread, because nothing explains explains how catastrophically bad he has been this season. Usually a safe 95+, Heeney has been anything but that in 2019. I hope no one still has him…
Zorko (80) – Those that owned Zorko for the last month will forgive this game. Those that bought him in the past couple of weeks will be spewing. It's going to be a rollercoaster ride ahead.
Wingard (41) – There doesn't look to be a miracle in the works this season. Taken way too early in draft and there's little light at the end of the tunnel.
Witherden (51) – The bakes just aren't working for Witherden, in fact it's getting even worse. I don't know if he's expecting a wrap around the shoulder and encouragement, that ain't gonna happen with a 5 round average of 69.4. UNDER 70. You'd get more use out of a single chopstick than fielding Witherden in the backline at the moment, he's basically an extra rookie. Useless.
Salem (-) – A reminder that PODs don't always work out, you just don't hear about the ones that don't. The Salem owners that piped up every now and then have since disappeared off the face of planet earth. Good riddance.
Sloane (30) – Another case of those making great picks getting stitched up for no good reason. Sloane was still a massive win given his starting price, but an average of 105 and a forced trade is nowhere near as pretty as the top 8 midfielder he was a week ago. He won't get up this week and given a slight strain has been confirmed, I'd be surprised if he plays before his bye. Not fair.
O'Brien (57) – What a brilliant pick ROB has been. Unfortunately he won't quite make it to his bye with Sauce a likely inclusion next week, but that doesn't matter. Take that average of 84 and $321k all the way to the bank and don't look back. Awesome.
Billings (64) – Look, the third quarter hurt. A lot. However I'm not bringing my pitchfork. I've got a soft spot for Billings and he has been a great pick for most of the season. The gastro sucked and he earns a weeks rest. In Round 13 he plays Gold Coast, and never has a man been under more pressure to dominate. It's then or never Jack.
Stocker (32) – No pressure mate, but you're going to be compared to next year's number one draft pick for the next decade if Carlton don't pull off a miracle with Adelaide's mid first round pick in next year's draft. Bizarre trade.
Cripps (62) – … There's nothing I can add here to ease his owners frustration, and rightly so. Three weeks is a long time in Fantasy. Cripps was averaging 115 with a season low of 93. Now he's averaging 101 and plummeting towards a price tag in the $500k's. Playing for Carlton must suck, but you can't be throwing in the towel like this. Never has a man needed the bye more, Cripps looks cooked.
Hurn (74) – There's no way the Eagles 'rested' Shannon Hurn during the second half. They have since confirmed that Hurn had a tight hamstring and that doesn't make for good reading for his owners. If he's not 100% there's no way the captain travels to Sydney, he'll enjoy a two week break. If he's out it's simple, you need to trade. He's at a nice price and you can't be carrying a premium during the byes.
Macrae (69) – I may have missed Macrae last week, but he's not escaping the gun this week. Not a chance. I was at the game and honestly, if I've ever seen a quieter 26 disposal game then I don't remember it. He was nowhere. 0 tackles. ZERO. He's down on kicks, marks, goals, tackles… Only the four most important stats in Fantasy! Don't worry, as an Angus Brayshaw owner I can relate to your pain. I guess he didn't cost nearly $900k though. Still, even though he wasn't averaging 120, Macrae was averaging 108 and scoring well. Why has it gone from bad to worse with consecutive abominations? Has he just thrown in the towel? I have no idea. I reckon you just hold and hope for the best, Luke Beveridge can't be totally blamed for this wannabe pig's pathetic scoring. I've seen better performances by Carlton's list management, and that's hard to find. A complete and utter disgrace.
Realistically there shouldn't be a poll this week either, but then I'd be a cop out. How close can we get to 100% of the votes? Let's see how many trolls we have…
S.Coniglio – You won't see a more complete performance all year. 36 disposals (29 kicks), 13 marks, 8 tackles, 8 inside 50s, 3 goals. 3 votes.
B.Crouch – A just reward for season long consistency. Brad has made the most of his brother being out, averaging 33 disposals, 4 marks, 5 tackles and a goal for an average of 125. Thanks for coming.
J.Kelly – Kelly was a popular trade a few weeks ago against Carlton, and his 3 round average of 132 is as good as it gets. His 36 disposals, 7 marks and 5 tackles on the weekend is a good example of his all round game.
B.Houli – Keep racking em up Bachar, he beat his career high disposals set the week before with 38 touches. Even more impressive was his 6 tackles! The kickout king.
J.Dunkley – 33 disposals, 5 marks, 4 tackles and one guaranteed spot in the midfield! Reward for a brilliant 5 game stratch.
Who gets your vote?
This Game Sh*ts Me
I asked for mercy last week and it was NOT granted. Marty Hore's late out was replaced by Answerth's near donut, Rocky didn't get up, and best of all my captain got injured. AGAIN.
*Everyone gets kissed from time to time, but honestly, anybody who hasn't owned Lachie Whitfield this season need to sit back and realise just how lucky they have gotten. He should have played 11 games at an average of 130, be priced near $900k and the difference maker in the rankings. Instead he got injured for 39, missed 2 weeks, and has now gotten injured for 74 and is a must trade. He ended up averaging 117, and if you include the 2 rookie scores that covered him earlier, he's probably averaging under 110. Still a good pick, but you're season has been saved by him going down.
That's my pathetic whinging rant over. Lucky bastards. This game sh*ts me.

Listen to the AFL Fantasy Podcast with The Traders at Apple Podcasts, Spotify and Google Podcasts.
The Other Bits and Pieces
2119. I have scored 2200 twice all season. I've scored under 2100 once all season. I simply cannot escape mediocrity and it leaves me ranked just outside the top 2k. I'm overdue a good season of byes so hopefully it's my turn to get kissed for the next 3 weeks. The bye plan is in place, I should have 19+ every week, but the best laid plans often turn to sh*t.
Answerth would be on my bench this week and then he misses Rd 13, so he goes to Gardner. You'd have to think Gardner holds his spot, if not Luke Beveridge can go and suck a fat one. Whitfield has to go and you can't ignore Houli's role and form any longer, so he comes in. He's paying 2/1 to get injured this season, so let's just cross our fingers and hope it's not next week.
Coniglio is ready to go so Marty Hore gets a standing ovation as he leaves and Sydney Stack moves back to defence. Getting Hore back for nearly $300k was risky, but it gets a big tick.
Answerth -> Gardner
Whitfield -> Houli
Hore -> Coniglio
$133k bank.
That leaves me with 2 rookies on field 'if' fully fit, so irrelevant, however it means my team should be easily completed over the byes with 6 more trades. Keep making your teams better, but if any premiums get injured now there's no more patient holding. They have to go!
Good luck in week one of the byes legends, let's make it a high scoring one!