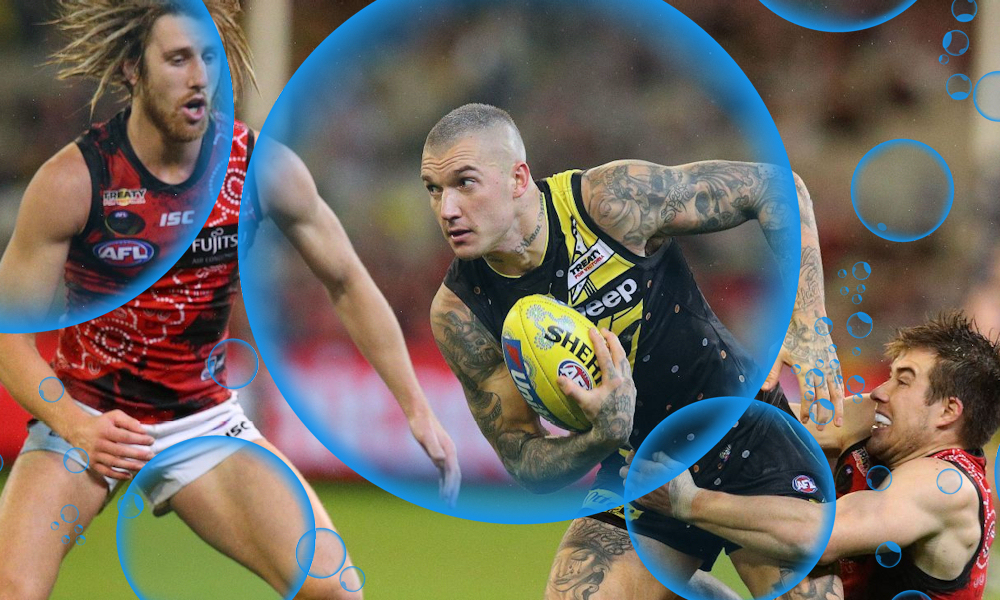 Make the most of all 9 games this weekend, because a month of terror and torment lies just ahead. We're in full bye panic mode, and our only hope is that the mid-season draft can give us a couple of gems to see us through with just a flesh wound. There was some huge scoring again on the weekend, although a couple of blokes still haven't got the message. Let's see if we can fix that… It's time for the weekend wash-up!
Legends
Grundy (149) – I hate to think where I would be right now if I had Mumford instead of Grundy. Honestly, his injury is up there with the luckiest moments of my life, second to being fertilised. What a LEGEND.
Reid (125) – Yeah… Go get him?
Pendlebury (123) – Pendles carries a 5 round average of 114, not bad for an old man. You wouldn't do it, but a nice one for the draft coaches out there who kept the faith.
Treloar (114) – Treloar may not be posting huge scores, but he's getting the job done every week. Taylor Adams has been ruled out until after their bye so it's smooth sailing for another couple of weeks. Gun.
Henderson (143) – After a couple of 70's, Henderson has kicked back into gear with a 3 round average of 121. You couldn't do it… Could you?
Gunston (133) – Typical that I would face Jack Gunston in draft this week.
Duursma (99) – Absolute horror show from me trading Duurs out. What makes it worse is I'm short on round 12 bye defenders, he's a hold for another few weeks. What a gun!
Goldstein (153) – Goldstyne got to relive his glory days against Tim English, but that isn't saying much. Some call it a great game, I call it overdue.
Dunkley (119) – Never mind the Geelong outlier, Dunkley is back in the guts and looks in red hot form. Mitch Wallis is out for a few weeks which only further enhances his appeal. He's a 105+ forward, we've seen it before. Don't miss out.
Liberatore (103) – Not a legend at all but THANKYOU! It got to the point where he was heading back towards his starting price so I figured I may as well see how bad things could get. It still got pretty bad… Hopefully this is a turning point.
Shuey (134) – Elite. His last quarter was extraordinary, and his fantasy scores are on the rise. The tackles were blown out of proportion in this game so these scores need to be taken with a grain of salt, but kudos to those who drafted Shuey late. What a jet.
Yeo (132) – Boom! There's nothing quite as satisfying as getting instant reward when trading a player in, and Yeo's 15 tackles was exactly that. He looks as hungry as I've ever seen, and he's a legitimate tackling machine averaging over 12 per game for the last month. There's room for improvement in his disposal count, which is a scary thought… He's almost too expensive now. Amazing to think he was $630k a month ago.
Gaff (120) – Standard. Potential tags worry me at his price tag, but he's going to be awesome.
Sheed (110) – Even Sheed laid 5 tackles in the wet, now you know it's an outlier! If only he could put up those kind of numbers on a regular basis, he's as good a ball winner as anybody in the competition.
Sloane (119) – Mark Hutchings, no worries. It's hard to keep Rory Sloane out of your best 8 midfielders after this effort, what a bargain he was. Given the raging success of our under priced premiums once again this season, coupled with some failures in the 'uber premium' category and it seems the way forward.
Crouch (116) – Just set and forget. I love Brad Crouch more than you know, he's still under appreciated!
T.Kelly (126) – He needed to make up for last week, and he did. Tick. Imagine if he ends up winning a Brownlow, and West Coast fans and staff alike (including me) thought Geelong were holding us to ransom. Scary to think what it's going to require to get him home for 2020…
Duncan (118) – TICK. God I love the Gold Coast. Duncan can't put a foot wrong, well done if you got on board while he was affordable.
Fiorini (122) – Yep, he's a certified uber premium and shouldn't ever get tagged. We all need him at some stage, Brayden Fiorini… God damn.
Houli (144) – If he wasn't made of glass, I'd have getting Houli right on top of my priorities. He's an absolute kickout whore, I don't have the freako numbers but I know there would be a beautiful amount of kick ins to himself. Every behind he's first to the ball which you have to love. There was one kickout to the back pocket that he nearly made less than 15 metres because he stepped out of the square to make sure it was a stat. Big tick.
Baker (112) – In a time of need, well done my son. This is absolute gold for his owners, with a few hefty price rises coming before his round 14 bye. The perfect rookie I wish I had.
D.Martin (109) – I think we can call this real now. Richmond have started sharing the ball a lot more, and Dusty seems keen to play footy again. As a $620k forward, I'll have a piece of that thank you very much.
Gawn (132) – I'll ask again, is anybody upset they paid big for the two best rucks in the comp? I didn't think so. What a legend, Max is in first gear now and is worth every cent you pay.
J.Kelly (135) – Can I just own the whole GWS midfield thanks? They play such a fantasy friendly brand of footy and it's working too. Kelly hasn't gone under 100 and is a must have as soon as you can get him. Unfortunately it's not going to be for much less than $800k. Legend…
Taranto (130) – Huuuuuge! Tim Taranto is going beyond any of his owners wildest expectations, he's going to be a certified fantasy legend after this season. An average of 115?! He's getting better too, just enjoy the ride. He does it all.
Whitfield (120) – Melbourne tried to tag him, look how far it got them. Whitfield could average close to 130 this season and I'm being deadly serious. He's should be averaging 135. My opinion: I love what Grundy does, but he will always be the ruckpig to me. Just like Ablett was never eligible for pig status, Grundy isn't exactly feasting beyond necessary means. Sure he's dominating everyone in the ruck and nobody can go with him around the ground, but 20 touches a week doesn't do it for me (Unless he averages 150 for the rest of the season). Go and watch Whitfield bust a gut to get a +6 on the half back flank every time GWS gain possession. That's what I call a pig.
Fyfe (120) – I'm wary of getting Nat this week as Collingwood tend to send Greenwood to him and shut down his influence. Post bye though, he's a perfect round 13 upgrade target. We can worry less about durability once our teams are finished, and Fyfe should be amongst the top 10 scorers in the league. He's a beast.
Walters (108) – A bit of value before the byes anyone? I think I saw him at a centre bounce!

Listen to the AFL Fantasy Podcast with The Traders at Apple Podcasts, Spotify and Google Podcasts.
Losers
Franklin (35) – At this rate I'm going to be able to downgrade Joshua Corbett to Buddy after his bye. What on earth is going on? He's borderline fat. Get it together Bud.
Kennedy (68) – This is a cruel blow for JPK owners, he has been on fire this season and was on track for another great score before injuring his knee. As a POD, these ones hurt the most.
Beams (82) – It has slid under the radar how average Beams has been this season. I was hunting for a midfield bargain last week and noticed Beams priced just above $600k, so I kept a close eye on him Friday night. That turned out to be more difficult than I first thought, I hardly bloody saw him. Yuck.
Sidebottom (48) – Sidey got tagged? You're lucky he made it to 48. Impossible to pick in fantasy.
Boak (80) – Not really a loser, but this is a good reason to not go paying nearly $800k for Travis Boak. The dude is on fire, but let's temper expectations. An average of 105-110 would be brilliant.
Scrimshaw (56) – There hasn't been much value in giving your rookies second chances this season, Hore and Balta aside. I can't confirm the reports he was being gutless but it's a cruel blow for his owners regardless.
O'Meara (56) – Chief…? Any ideas why? I can't see anyone who would tag for Port, and this game was played on the massive pig park where he scored 134 in Round 6. He not only cost me my draft matchup, he has stuck a dagger through anyone who jumped on when he was the highest averaging player after Round 6. 120 this week or pack your bags Jaeger.
Rockliff (91) – Let's look on the bright side… it could have been worse? Unbelievable. I swear Rocky puts us through more pain than he does pleasure, but it's still worth it when the pig fires up. There's a 180 around the corner, I can sense it. Even if he doesn't suit up this week, hold and he'll definitely be back for Round 13. It would be a serious luxury to move him on given he's on the plane.
Ziebell (48) – Hahahahahahaha. Sorry. You've gotta admit this is hilarious though. You just paid $600k for… I had better stop myself here as a new coach with half a brain may take over North and you guys will be looking back at this laughing. Hey, I brought in Ellis for a 46 so who am I to judge. Jack Ziebell though…
Burgess (24) – Hey, can I come play AFL too?
Miers (45) – There can be no hard feelings between me and Gryan, he has done more than I could have ever asked for. But now it's time to be shown the door mate, I can't be having 45 points against the Gold Coast Suns.
Oliver (62) – Matt De Boer can go and politely get f**ked. I'm not sure why I bother saying politely, there's nothing polite about it. Just leave us alone!
Brayshaw (75) – Talk about going and getting… *Deep breathes* How. Why. Who what where when FUCK. See Angus now I'm so angry I'm not even making sense. Sorry everyone. I saw positive signs in the second quarter, in other words I saw him attend 2 centre bounces. Apparently there was a similar trend in the second half, we can only hope his sooking has got the desired result… At this stage he's priced at 80 so hell, he actually scored to value this week. Disgusting, but what's done is done. I'm holding.
Coniglio (69) – As if Coniglio owners didn't need any more bad a luck, Cogs copped a cork and sat out large portions of the second half. Ignore this score as a non-owner, he's going to be the worlds biggest bargain after his round 14 bye. So will Cripps. I'm salivating at the thought… As for his owners, just be thankful you don't have Brayshaw. If you have both, well my prayers go out to your family. I'm sure they'll deal with your death with dignity, let's hope they understand.
Billings (66) – Come on Jack, I thought we were passed this. From what I saw Billings was just stuck out on the dead wing, it was largely out of his control. Given he's still averaging 94, I'll give him another pass and expect something well in excess of three figures over in China.
Cripps (88) – Incoming bargain alert. I don't care what Cripps scores before his bye, he's my round 15 trade target. Last year I got him after the break, and he came out a man refreshed and possessed. Carrying this team would take it out of anyone. I'll cut him some slack.
Young (18) – Unfortunately for old mate Robert Young, that slack is all used up. Sometimes you just have to laugh. This was not one of those times. Jesus H. Christ this must be one of the worst individual sporting performances I have ever seen, and I've seen my Sunday League goalkeeper let in 3 goals from over 40 yards in one game. I only got to watch this game from midway through the third, and I genuinely did not know his number, what he looked like, WHO HE WAS?! It wasn't until he got his first and only kick that I had confirmation he was actually playing. He put it into the second tier. And if Robbie is out there reading this somewhere, don't take it personally mate. Just try and get a touch next time, that's the idea in footy. I cannot stomach having 18 points on my field.
Hogan (24) – Anyway… Enough irrelevant players, let's move on.
Neale (74) – Lachie Neale… Do yourself a favour and never own him in fantasy. How did he score three consecutive 130's? One of the great wonders of the world.
Witherden (52) – Oh no no no. I know Alex is a DT fan and that's why I feel comfortable in telling him to pull his head from his ass and show some guts for his fantasy coaches. Don't let Rich bully you for the ball! He's quietly becoming one of the better pre-season traps since a bloke changed his name to Heritier.
It's nominations time!
Just kidding. Is it selfish of me to just announce a winner? Can I not be bothered to write these last few hundred words? Maybe…
But if you didn't vote for Grundy, you're not worthy of having a say in the stubby anyway. There's no pig nomination from me, but have a stubby mate. After 64 hitouts, 18 touches and 8 tackles, you've earned it. Hopefully it makes up for the lack of a man of the match medal.
This Game Sh*ts Me
Four weeks. It has been a full month since I've had my best team on the park, and I expect that streak to continue if Rocky can't suit up in China. The idea behind holding your premiums and making sure you have less rookies on your ground is great in theory, but when there's $500k+ on your bench EVERY SINGLE WEEK… It takes its toll.
Can we just get a break thanks? What's of more concern is these injuries that we can cover for now, will be the death of your team for the next 3 weeks. I had 12 fit men last year for Round 12, let's see if we can go one worse than that this year. I'm sweating bullets.
How about we enjoy a nice weekend of football without injuries! This game sh*ts me.
The Other Bits and Pieces
2227. It was a solid score, considering Robbie Young and Jack Billings managed to combine for 84 in a full game. Gryan has been brilliant but he won't make it to his bye for me, I'm extremely concerned for Round 13 and he has peaked in price. Welcome Dusty.
It will be interesting to see which of the fresh meat from the mid-season draft get a gig straight away, Round 12 rookie candidates please (Thank you Gardner)!!! Brett Bewley's score wasn't anything to write home about, but he impressed enough to hang around. Fingers crossed one of Setterfield or Hayes is named, I'm not exactly confident…
Miers -> Martin
Setterfield -> Bewley
$232k bank
I think the next couple of weeks are the only times you should think about preserving a war chest. I already have Hayes and Garner to fix up, and I will eat my top 100 cap if Robbie Young is still playing after the Saints bye. A triple rookie fix could be on the cards for me next week, allowing me to trade my way through Round 13 and 14. I can't stress enough how worried I am for Round 13 being 2 down from the get go, tread carefully with your trades…
Good luck next week legends! This will be our last score in the 2000's for a while… You hope.