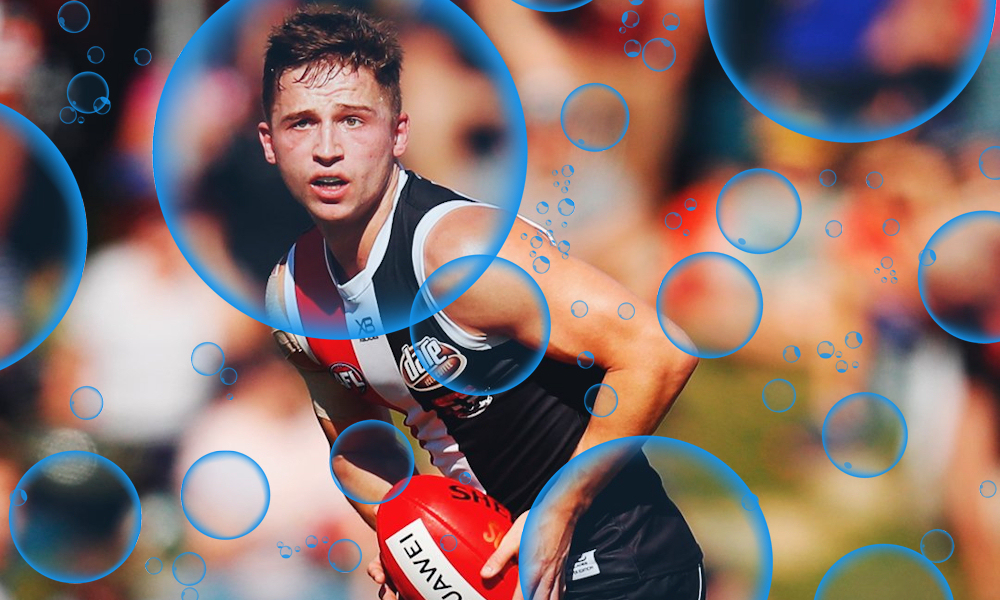 Round 13 was another weekend of huge scores from some of our most popular premiums. It resulted in another high par score for the fanatic fantasy community and most teams must be flying. Of course when someone is going up, another must be going down. Never forget that. It's time for the weekend wash-up.
Listen to the AFL Fantasy Podcast with The Traders at Apple Podcasts, Spotify and Google Podcasts.
Legends
ROB (146) – Rookie of the year. I know I know, Walsh has been unbelievable. However it's uncontested in my opinion. We were all sitting around saying there's no good ruck rookies. Reilly O'Brien has averaged 91.1 (!) over 11 games and just passed the $600k mark. Not only that, he covered a zero in the rucks last week with a 146. That has to be the best $62k his owners have ever spent. Legend!
B.Crouch (129) – If only he could add some cheap +6's and tackles to his game! 43 disposals and 11 clearances, what an absolute gun. If you trade him you deserve everything you get.
Laird (116) – I can't wait to get Rory Laird into my team, it has been far too long. Can't go wrong with him.
D.Martin (140) – If you weren't convinced Dusty was back, it's impossible to argue now. It's also too late, he's now over $700k! This was looking like a 160, but once again Richmond fell away late. He's single handedly keeping them in games at the moment, reminding us just how dominant he can be. The risk was well and truly worth the reward!
Henderson (140) – The weapon was back at it again. This is his second 140 in the past 3 weeks, and his 5 round average is up to 117. I don't like spending up big for wingers, but Ricky Henderson is leading the way. Genius draft pick.
Worpel (110) – This is more like it Worps. He looked just about ready to go after the byes, but he hasn't dropped under 90 for 4 weeks with an average of 102. It would be nice to see him up his ceiling, but consistency is all we can really ask for. What a pick!
Miles (129) – It's a damn shame Anthony Miles couldn't produce these scores more consistently, he can play good footy! Whopping score.
Billings (170) – I see it, but I don't believe it. My boy!!! I should now say my man! "In Round 13 he plays Gold Coast, and never has a man been under more pressure to dominate. It's then or never Jack." I guess we got our answer then… His stamina is unreal, 93% TOG is huge. However this was just his day, literally everything went right. Billings has probably never laid 11 tackles in his whole career, let alone one game. Is he a must own? In my books, he's a better option than Ziebell. His role is stable on the wing and the ceiling is there, clearly. His season average is now 98, don't be sleeping on Billings. Take a bow son!
Marshall (106) – Rowan Marshall isn't quite relevant in fantasy, but his draft owners must be licking their lips. He's a beast! The forward status is farcical really, he's going to be a ruck mainstay for the next decade.
Walters (143) – Jokes aside, Walters is actually looking like a great option right now. You have to be sh*tting me. How many years did I pick him, only for him to burn a hole in my soul so deep I can't bring myself to like him, even with him playing the brilliant footy he's displaying at the moment. Luckily there are 6 other forwards that I'd much rather have in my team so it's not a worry! Kudos though Michael, thanks for getting suspended when I had you for the byes last year. Prick.
Logue (100) – What. The. F**k? You're a lockdown defender. His 4 scores in the WAFL this season? 52. 62. 40. 59. I have to think that this is the flukiest 24 disposal 8 mark game of all time. He bombed two out on the full, but then again Freo looked for the switch and weren't afraid to give him the ball. An average of at least 60 seems realistic so he gets the green light. Some people though… Kissed.
Dunkley (158) – Sweet baby jesus. That first quarter was one of the biggest fantasy feasts I have ever seen. Ed Curnow paid Dunkley some attention for the rest of the game, yet he still ended up with 41 disposals and 10 tackles. His average since moving back into the midfield is 124. That's insane. He's not only staying there for good, and he's not only a must have forward. He's a genuine captain option! Thank god I got him back…
Macrae (140) – They say one mans trash is another mans treasure, well one mans hard luck is another mans kiss on the d*ck. Let's not go into detail about why Macrae is back, it's obvious. All I know is that you need to have a plan to get him this week, regardless of their fixtures. He's just too cheap.
Lipinski (129) – If this was Round 4 I'd be making Lipinski a priority. Why he has jumped ahead of Toby McLean in the midfield pecking order is truly beyond me, Toby was a jet when given the opportunity. Great draft get.
Daniel (112) – That floating role across half back with a large portion of kickouts is a recipe for success. I'll be very comfortable sitting Daniel at D6 for the rest of the season, he's a gun!
J.Kelly (148) – Josh Kelly is too good. It's like god carved the perfect fantasy specimen, he ticks every box and is clearly a must have. Bloody legend!
Do you want a laugh? I really wish I hadn't gone back and checked this, but I did. A month ago I chose to get Yeo instead of Kelly when he was $760k. That is up there with the worst decisions I've ever made and I'm not just talking fantasy. It keeps me up at night. Guess how many points it has cost me. Promise you won't laugh… *cough* 358 *cough* Don't believe me? 135 + 140 + 128 + 148 + 70 (Cogs v Kelly captain) v 132 + 80 + 15 + 36.  That one is on me. So all I need this week is for Yeo to play as my vice and score 230 and we're probably even!
Taranto (156) – Thank you. Amongst all the rabble and regrets, Tim Taranto is a player you can hang your hat on nearly every week. He has a 5 round average of 131, and that included a score of 75 against the Gold Coast. What happened there?! L.E.G.E.N.D.
Losers
Balta (37) – Richmond's rucks made for tough viewing on Thursday evening. There has been plenty of ups and downs Bolts, and when I say ups there was potentially two. Still, he did his job. Kind of. A respectable score last week wouldn't have hurt, a sour end to a bizarre relationship.
Merrett (99) – Potentially harsh, but I'm hearing you Zac owners and they're not happy! We're struggling for losers this week but getting tagged for 9 in the last quarter hurts those who captained him big time. Did he tag himself in the first quarter? Hutchings goes straight to him on Thursday night, it could be a tough scene.
O'Meara (74) – Somebody help me. What part of a tag makes to impossible to tackle? JOM was gutless again for most of that game, tagged and shut down by a second year player. He has averaged 85 in the last 6 weeks, what a disgrace. Close your eyes, it doesn't get any better. He has Ryan Clarke and Mark Hutchings just around the corner. That's a yikes.
Sicily (85) – Great recovery Sic Dawg, and hopefully Clarko doesn't pull that forward line tripe again. However it's a concern, and I think I'd take Daniel plus his cheap kick outs and clear role before… Whatever you want to call the Sic Dawg.
Hind (38) – Classified as a midfielder, Hind has been doing damage through the middle and mainly accross half back in the VFL. I expected him to have some sort of fantasy friendly role, and that most certainly IS NOT a pressure forward for the Saints. This score was against Gold Coast too. I wouldn't hold your breath for much more than a 50 next week. The rookies are killing us.
Young (-) – I would say thanks for nothing Robbie, but that would be ungrateful. Thanks for your 18 points Robbie, ****.
Blakely (68) – This makes it 3 dead average scores for Connor Blakely in 4 games. The half back role has potential. He has a good scoring history. However he's not putting it together. It's a huge gamble to get him in at the moment, he's priced around his current scoring output. Lift.
R.Gray (74) – Robbie Gray got another chance in the middle with Rocky and Wines still out, he managed 26 disposals for 74 points. Not it chief. Things could turn ugly quickly.
E.Curnow (33) – Let's just pretend this never happened and move on shall we?
Cripps (67) – Patrick Cripps scored 151 last week, yet his 5 round average is 82.8. That's good going. Teams have one objective when playing Carlton, shut down Cripps. Can you carry that in your team? Maybe not. Until he gets better support, Walsh aside, Cripps may need to be avoided. He needs the bye big time, poor bloke has been shouldering a whole organisation for 13 weeks.
Gardner (18) – … This bloke walked straight into the Bulldogs team?
He will be walking straight out next week too. Head scratcher.
Liberatore (36) – Haha………… You have GOT TO BE KIDDING ME. Unbelievable. Truly unbelievable. "Oh but you should have got rid of Libba ages ago." Well yes thank you captain hindsight, I should have dumped his ass in Round 6. A combination of injuries and more injuries meant I didn't get the chance, just as I imagine the rest of his owners didn't either. Then he pumped out consecutive tons before his bye, and was on 36 in 23% game time and about to walk in another ton against the Blues. So shove that in your crack pipe and smoke it because I've had enough.
Cunnington (55) – It was good to see a player labelled as "The best pure inside midfielder of all time" get tagged for the first time in his entire career. De Boer even got knocked out of the match and he still only managed 16 disposals, turn it up.
There's a few very worthy candidates for the stubby this week, get voting!
J.Dunkley – 41 disposals, 6 clearances, 10 tackles and a goal. Boy oh boy wowee what a score! Considering he was a popular captaincy option, it's even bigger. 316…
T.Taranto – 21 kicks, 9 marks, 9 tackles, a snag, what more do you want! Consider that Taranto is only in his third year and Josh Kelly and Stephen Coniglio will attract the tags… Wow. Worthy.
R.O'Brien – This was Reilly's big week covering for the two big rucks. You would have thought Grundy was still playing, 19 touches, 5 marks, 6 clearances, 7 tackles and 54 hitouts if you don't mind! Well done big fella.
J.Kelly – 35 disposals, 7 marks, 7 tackles, a goal… Everything you could ask for and more. Beast.
J.Billings – My goat. How do you convert 33 disposals into a 170? With 20 kicks, 8 marks, 11 (!) tackles and 2 goals! It's probably going to be a career PB let's be honest, I'm just glad I got to enjoy it. My vote by the length of the straight.
Who gets your vote?
This Game Sh*ts Me
I like to preach for the people. Not this week, this one is for me. The dam wall has broken and I can't do it anymore. I am the unluckiest fantasy coach in the country. Go on, challenge me. List me the relevant injuries over the three week bye period. I will have missed one but let's be fair, Jack Steele shouldn't be relevant. No. This is my list:
Whitfield
Hurn
Ellis
Rockliff
Yeo
Liberatore
Anyone else? Ok. I have had five. FIVE! Five injuries to locked players in three weeks, during the most important period of the season to stay healthy. That's an 83% strike rate. On average I'm going to say most will have had two or three, which is manageable. Seriously, what percentage of coaches have had 5 of these 6. I reckon there's potentially 100 of us out there.
Somebody needs to tell me, what is it like to have more than 18 playing in a bye Round? I'm going to go 18/18/17 and that's with just two spud rookies. If you want to know what it's like to have 15 fit, just ask me. Unbelievable.
The best part is I saw this coming. I literally said it doesn't matter what my bye structure is, it's going to go to sh*t. The worst part is, everybody else is fine! How about a popular bullet that I dodge. I'll keep dreaming.
The end result is everyone having 19 or 20 this week, which I should have had no problem. Brodie Smith survived thanks to Rocky, but we could make it work. Nineteen, still solid. Three round 14 players go this week and we're laughing. Step up Yeo and Libba. Two weeks Libba. I needed two more weeks… And give me a spell regarding Yeo, I've learnt this season that there's absolutely no reason to be positive about injuries. His calf is f**ked and it has been since BEFORE teams were announced two weeks ago. 50/50? Zero chance. The word is it was a 3-4 week injury, yet he was still named in the Friday team after he missed the flight. I might own a bloke for $756,000 who doesn't play a single game during the byes.
Fantasy has now contrived to have me hate my own club, passionately too. This game sh*ts me.
The Other Bits and Pieces
1970. Do not give me the spiel about that being a good score, "what am I complaining about". I know, my team is good. That doesn't change the fact it should have been a lot more without injury. Again. But it's the points I'm losing next week that most concerns me, and it was set to be my best bye round pre injuries and a million forced trades.
Honestly, it's a testament to my squad that we're still hanging around the 2k mark. Let's go back further than the byes. Matt Crouch? Had him. Even better, I traded him to Yeo. That $700k+ has contributed 3 scores in the past 7 weeks, totalling 265. Marty Hore, everyone had that one. Whitfield the first time, game changer. Dangerfield. A popular one, Robbie Young didn't exactly shine in his place. The worst one of all? Jack Ross. He was absolutely flying and would have hung around until this week. Call it a bad move, but Joel Garner was supposedly a good get and he came in for Ross. How different things could have been if Stack had stayed in my defence?! I'll tell you how different. My 18th man has combined for 51 so far, Ross would have added that onto his 11 the week he went down.
That's 10 injuries in 13 weeks. I haven't had a fully fit squad to select from since Round 3…………. I challenge anyone to top that. Kudos if you can, we can meet up for a beer and complain together. Everyone else can f**k off, lucky pricks.
Anyway. What can I even do this week? I'm $2,000 short of upgrading Libba to Macrae, so Walsh goes and Libba can get upgraded next week. That's probably a stupid move because I'm guaranteed to have another forced trade next week as well. You heard me, I'm so f**ked that Libba stays.
Stack and Setterfield have done their jobs, and I'm just left with 17 + a forward rookie (Current best option, Ryan Gardner) and a prayer. Just wait for Thursday. Yeo is a 10/90 in my books, and this is all before team selection. Another 15 could be on the cards. Stupid, stupid game.
Setterfield -> ?
Stack -> Hurn
Walsh -> Macrae
If Hurn doesn't get up I'll get Sicily, which will allow me to trade Libba instead of Walsh.
Hopefully that lightens the mood for anyone who thinks they've been hard done by during the byes. Come on Robbie Young, get another game son! Jesus.
Good luck again next week you legends, we're gonna need it.