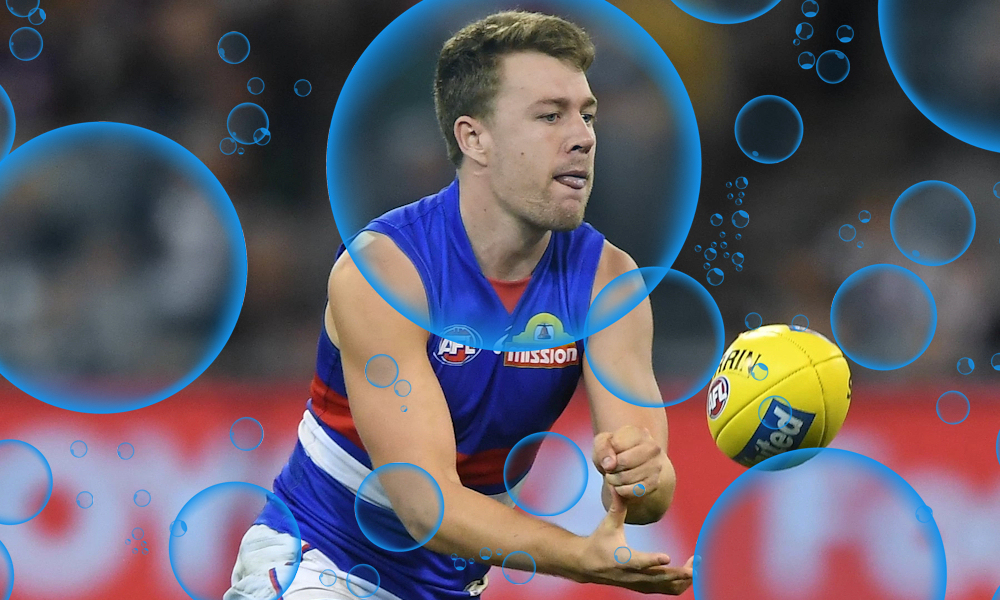 What was looking like a doomsday scenario early last week, actually wasn't too bad at all. The final game of the round was an absolute fantasy feast, and hopefully it sets us up for what's to come over the next 2 months. No shocking rookie scores, some huge numbers from our favourite premiums and a stress free experience! Yeah, unlikely. It's time for the weekend wash-up.
Legends
Yeo (132) – We can put Yeo's calf worry behind us after this performance, and the form line is suggesting that he should be a top 8 midfielder. This makes it four 130+ scores in just six weeks! Even better, he has laid at least 12 tackles in each of those four games. You can't stop a player from tackling! I even think there's upside in his possession count, his 5 round average of 116 seems a reasonable expectation from here on. I'm happy to be on board.
Sheed (114) – If Sheed ever learns how to tackle, look out. He'll become an uber premium! His ball winning ability is up there with the best. He's averaging 31 disposals and 6 marks per game as a midfielder, equating to an average of 109 over that 8 game period. That's because he's averaging 1.5 tackles over those 9 games! His 36 disposal and 2 goal effort for just 114 on Thursday summarises Sheed's drawbacks but potential upside. He's definitely locked in the midfield rotation, so the forward time is no longer a concern!
Parker (157) – HELLO. Check out Luke Parker's 5 game average! His form of 124.4 over that period sits him third in midfield behind only Josh Kelly and Tim Taranto if you don't mind. Do I trust him? Absolutely not. But he looks to be an awesome POD for the backend of the season.
Henderson (117) – Ricky Henderson ladies and gentleman. The real deal.
Gawn (129) – The two big ruckman combined have averaged 267 points per round over the last month and a half. Gawn is matching the "Ruck Pig", averaging 132 in his last 5. Insane numbers, what a legend!
Billings (113) – Another 9 tackles, who are you and what have you done with Jack Billings?! How's this for a stat. Tim Kelly feels like a walk up top 4 forward, right? Billings now averages just 3 points less! One more tag on Kelly and they could be on a level playing field, nobody saw that coming.
Marshall (107) – I was rightly called out for ruling out Marshall as a relevant fantasy option. That was for anyone looking to trade him in as I don't think he's a top 6 forward, although he's bloody close. His ruck status is obviously irrelevant. However his 5 round average of 103 is where his game is at, he's a gun! Unfortunately my F6 still outscored him, so I stand by what I said.
Hannebery (103) – Yeah this score is cool, but it would have been handy in Round 1, not Round 14! If you want to get him in be my guest, I just think there's too much risk involved and we should be getting in guns only at this stage of the season. If you got him last week for your byes, kudos to you!
Boak (121) – I still struggle to believe how well Travis Boak is playing. He collected another 30 touches, 11 clearances, 8 tackles and at least 2 votes against Geelong, nobody can stop him! LEGEND.
R.Gray (115) – I still couldn't do it, but with Rocky missing another week and a clear shift in his role, Robbie Gray has the green light for at least another couple of weeks. Gutsy move paying off so far.
Duncan (116) – Tick. Safe as houses and still a POD, Mitch Duncan is a must for everyone. The ultimate winger.
Dunkley (118) – My favourite stat of the week. Josh Dunkley has gone under 118… ONCE in the last two months. Safe captaincy option, not to mention a clear must have.
Crisp (122) – Having been on a downward trend for five weeks, this was a much needed big score for Crisp. He sits just outside the top 6 defenders but doesn't need to be upgraded just yet. A lift in form and he could sit as your D6!
Treloar (128) – Safe as houses. Taylor Adams always seems to be looming on the horizon but it shouldn't stop Treloar from being at the backend of the top 8 mids. Lock and load.
Daniel (135) – The Sunday game had to be one of the best fantasy feats of all time! Caleb Daniel brought his own footy, racking up 35 disposals. This is his third consecutive ton and he has to be a lock for the top 6 defenders given the Bulldogs fantasy friendly gamestyle. Great pickup during the byes!
Grundy (168) – Wow. That was piggish. Poor Tim English was trying his best, but Grundy took no mercy. His 5 round average of 135 tells you all you need to know. He does it all… If only there was no injury whispers last week!
Macrae (180) – Talk about saving the best until last! AFL isn't rocket science, so I'm not sure why coaches try to make it more difficult. Jackson Macrae is one of the best midfielders in the competition. How about you play him in the midfield… His average with Liberatore? 101.4. His average without Libba, 160. I'll say no more. Just get him in.
Listen to the AFL Fantasy Podcast with The Traders at Apple Podcasts, Spotify and Google Podcasts.
Losers
Gaff (92) – Zero tackles ain't it chief. Let's hope that was an anomaly. I've noticed Gaff is out of the main centre bounce rotation at the moment, which is how it should be. Yeo, Shuey, Sheed and Redden get the bulk of those, but of course he's still a ball magnet. He'll be back next week.
Hurn (61) – Not the best debut Shannon. Being a new Hurn owner I was watching our play closely, and we didn't switch the play anywhere near as much as normal. The Eagles clearly knew they had an advantage over Essendon in the air and utilised the long ball more often than not. Hurn will still be awesome and I think he's the sixth best defender regardless of this score.
Franklin (40) – I think I speak for everyone who loves footy that we want to see Buddy out on the park fully fit. Let's hope he gets back soon.
Sicily (44) – Have mercy. Sicily owners have every right to be ropable, the experiment up forward should have started and ended two weeks ago. Can you own a player who can have his scoring potential killed at the click of a coaches fingers? It just reminds of the pain we used to experience with Elliot Yeo. I think there's safer options out there capable of the same ceiling, sorry Sick Dawg. Farcical.
Worpel (72) – Worpel's second half may spell the end of his time in a lot of fantasy teams. It's a luxury move for sure, but 18 points in a half isn't a great look as our teams get close to completion. He's still in the guts so he's good to stay for another month, but I'll be looking to move him on in the next couple of weeks. Still, we can't complain at his output!
Hore (49) – This gives you your answer as to when we should have traded Hore. Thanks for the memories.
Brayshaw (87) – You thought Angus Brayshaw was back? Hilarious…. Disclaimer: I definitely did. I don't know what to think, if he has his ultimate midfield role he can average 110+ but that doesn't seem to be happening. Harmes, Viney and Oliver take the majority of centre bounces and Brayshaw just floats around looking lost. I'm over being mad at Gus, I'm just hoping he can be respectable for a few more weeks before I can upgrade him. Massive fail.
Blakely (73) – You're playing at half back, yet you manage just 5 kicks. Five? He's off my 2019 watchlist and onto my 2020 watchlist. He's not even close to the top 6 defenders so I wouldn't even consider bringing him in now unless it's at D7. Yeah right, nobodies team is that good.
Walters (84) – HAHA. Sucked in honestly. Out of the main midfield rotation, and now he misses a week. The potential has always been there, the final fantasy product will never be there. God he looks good on my never again list. EDIT: I could have re-written this after his… "Accidental headbutt"? Give me a f**king spell.
Fyfe (88) – I've been a big supporter of Fyfe as a fantasy option, but his last couple of weeks have been hugely disappointing. His tackles are down and the frees against are hurting. I still think he'll average close to 110 from here on but he doesn't quite make the top 8.
Answerth (32) – Thank god he was out there for the second quarter! He barely counted as an 18th… Thanks for the 40's.
Duursma (70) – It's an awesome score for a rookie, however you should know what I'm about to say. There's no room for mediocrity now! That 70 could be a premium, and he should be either this week or next. Great service Duurs.
Garner (39) – He was a surprise in for me last week! Aaaaaand he didn't make the 18. Back to the pine Joel, let's hope he generates a bit of cash before getting cut.
Miers (30) – Don't let a great rookie overstay their welcome. It could ruin your whole relationship. Gryan Miers is a perfect example.
Ablett (76) – Not a top 8 forward, it's as simple as that. If you took the punt, bald jesus has to go.
Kelly (71) – I'm getting sick of Kelly's bad games being really f**king bad. His ceiling is awesome, and I know he's such a gun that tags will be inevitable. But Dan Houston holding you to 17 disposals and 70? Not good enough. He was on 18 at half time! This is his third score of 70 or less, I want it to be the last.
It's nominations time…
Gawn – Did you give Gawn the big C? After a nervous first quarter, he took over. 20 disposals, 8 marks and 46 hitouts, Darcy got a bath.
Parker – Luke Parker did it all on Friday night, 31 disposals, 7 marks and 12 tackles with a goal to top it off. 3 votes.
Grundy – Max Gawn may have beaten up on Grundy before his bye, so the Ruck Pig was always going to respond. I think his 25 disposals, 8 marks, 6 clearances, 50 hitouts and 2 goal performance was acceptable. Unreal.
Daniel – A lot of people would have been tossing up Daniel v Sicily, so Caleb's 35 disposals, 6 mark and 4 tackle PB was timely. What a jet!
Macrae – Get a load of this… 42 disposals. 8 marks. 13 TACKLES! Macrae is back, and has to get my vote. That's why he was priced at nearly $900k…
Who gets your vote?
This Game Sh*ts Me
I had a pretty bruise free week for once, but that didn't mean that I saw nothing to sh*t me off. Alastair Clarkson. There's one sure way to kill a players confidence and form. Drag them into an unfamiliar role when they're dominating. If completely necessary due to players being unavailable I could potentially understand it. However playing Sicily forward last weekend was an absolute head scratcher. It just doesn't work.
He's not the only player who has had a role change in recent memory. Angus Brayshaw was booted from the midfield rotation after the first month of the season which he dominated. Yes Melbourne weren't getting the results they wanted, but now they don't have a capable Angus Brayshaw either. Josh Dunkley is one of the in-form midfielders in the competition. A couple of quiet games early and he was sent packing his bags into the forward line?! Jack Billings in 2018. Bontempelli circa 2018. Look what happens when you put Jackson Macrae into the midfield! These guys are all stars around the ball, stop getting cute with your best players. It's bloody annoying, this game is hard enough already… They need to think of the Fantasy coaches! This game sh*ts me.
The Other Bits and Pieces
2022. Garner getting a game was a nice surprise, and I guess seeing him as my 19th man was a nice surprise also. I've found the formula. Prepare yourself for the worst case scenario when it comes to injuries, and either you were right and you've got the anger out of your system, or your wrong and it makes your week. Elliot Yeo's 132 made my week.
I've got a best 22 in mind, and I'm only 4 players short of that at this stage. Tom Stewart and Brodie Smith need to become Lachie Whitfield and Rory Laird, Angus Brayshaw needs to go to Josh Kelly and my seventh forward Worpel can upgrade to Gaff.
My trades this week will be interesting. I have Naish and Garner as rookies in defence. Clarke, Hind and Bewley in midfield and Young as my only forward rookie. So either I play Clarke and bench Worpel, or I have to get a forward rookie in. Clarke aside, my midfield rookies aren't worth anything either. Unfortunately he's not going anywhere for another week or two. Dilemma.
At this stage I'm happy to sacrifice Bewley, but getting Jarrod Cameron doesn't generate enough cash for my necessary upgrade, and he might drop out for Rioli anyway. Is there ANY DANGER of a decent forward rookie debuting? Probably not. Seeing as Robbie Young is already thrown away at F8, it will be a case of waiting for team announcements.
Bewley -> Forward rookie?
Liberatore -> Sloane
Those trades speak for themselves. Libba has to go and I can't trust Cripps. Sloane's hammy game aside, he's averaging 110 which sits him in the top 8 mix. He scored 120 against Geelong earlier in the year and I don't think the tough fixtures bother him. For $650k that's good enough for me.
Ranked at 1,347 I think a hat is out of reach but the top 500 is a good chance, pending injuries.
Good luck next week legends, may our scores all top 2400!