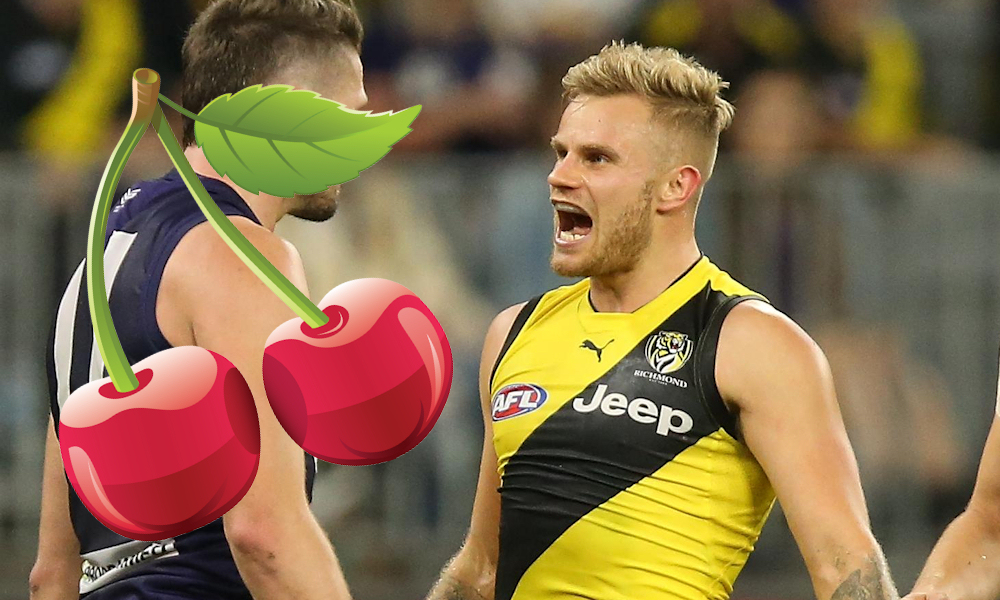 Hey Coaches, how's everybody's season coming along so far? We're only a few weeks out from the Byes now and Teams would likely be starting to resemble something mildly better than what you had to start the season with. I'd like to quickly apologise for no article being published last week, I've been unable to write for a while, but I've managed to pen an article this week to assist you all with the value players in the league. Also, I've only managed to do a Next 4 for each position this week rather than the usual Next 5. This is purely because I don't think there's enough value out there at the moment, and I'm not a big fan of including players in my articles purely to make up the numbers. With that in mind, there's been a reasonable amount of carnage in recent weeks and Coaches are beginning to crack under all the pressure, so let's get into the Defenders to start things off.
Listen to the AFL Fantasy Podcast with The Traders at Apple Podcasts, Spotify and Google Podcasts.
Defenders:
Jake Lloyd ($720,000 Avg. 110.2 BE 136)
He's averaging 110 over the season and yet Lloyd drops to his lowest price yet and will likely drop even more next week. From Round 6 to Round 8, Lloyd had three sub-100 scores, which has brought his once monstrous price-tag back down to Earth after he started the season with insanely high and consistent scores. Lloyd is not even slightly unique, appearing in half of all Fantasy Teams so far this season, but for those who don't own him, now is the time to get on board. There's not much more to say about the gun Swan. We all know what he's capable of and yes, he does have an average score every now and then, but with Docherty out and Whitfield likely to be tagged, I think Lloyd is the most consistent and safe Defender out there.
Brandon Ellis ($625,000 Avg. 94.8 BE 69)
He's not as cheap as he was to start the season, but it's hard to justify bringing Ellis in before he's shown consistency given his recent AFL Fantasy history. If you owned him for his 46, you're probably fuming that everybody is jumping on Ellis now, but the man is a scoring machine when he and the Tigers are up and going. Ellis is moving between half-back and the wing, and for us coaches we need him up on that wing to score. Last week proved an anomaly however, with Ellis belting the Hawks for 130 mostly across half-back. Richmond have adapted their game style to be a lot more possession based and uncontested in recent weeks, and this is what's causing Ellis' scoring to become reasonable again. For better or worse, Ellis is an uncontested ball magnet and he's usually allowed to play that role thanks to the Tigers' star players taking all the attention away from him. If he continues with his ability to have the ball spoon-fed to him, he will genuinely be a Top 3 Defender for the rest of the year, purely because of how much Sherrin he gets and the fact that none of the opposition care. If anybody does decide to pay him attention then that's unlucky for Coaches who own him, as it will be back to the regular 60's for Brandon.
Matthew Broadbent ($379,000 Avg. 75 BE 29)
This third spot could have been raffled off between any of the Next 4, but I decided to go with Broady because of his low price-tag. Broadbent was included in my pre-season article but struggled to get a game in the young Port Adelaide side. That was until two weeks ago when Broady got given a chance and took it by the horns. Broadbent is a solid 70-80 average player with an extremely discounted price thanks to injuries. Now that he's back playing, I see him as a perfect downgrade target for any of your rookies, or even for the 25% of teams that own Zac Williams but can't afford to trade him up. Even better news for potential owners is that Broadbent plays Hawthorn at UTAS Stadium this weekend, which means he's playing his favourite team to score against at one of the best stadiums to score at. Not only that, but Hawthorn gave up four 100+ scores to Defenders last week against Richmond, that includes a 100 to Astbury and an 83 to Nathan Broad. If those Fantasy spuds can manage those numbers, lock Broady in for a 150 this week. Pending carnage when teams are named, I will be downgrading Williams to Broadbent for a bit of a cash grab.
Next 4:
Bachar Houli ($636,000 Avg. 100.3 BE 74) – Houli is stiff not to get a gig in front of any of the other three Defenders above him, especially with an average of 100. After missing three Rounds due to injury, Houli is having a stellar run, with three 110+ scores in his last five matches. If he keeps up this form and consistency, he could definitely be a Top 6 Defender. Mildly risky, especially on the injury front, but getting a Top 6 Defender at this price will be difficult later in the season.
Nic Newman ($585,000 Avg. 88.6 BE 79) – Another player that was plagued by injury, Newman started the season well before getting injured and missing two weeks. He had plenty of chances to get a touch last week with GWS bombarding the Carlton defence regularly, and he took that in his stride with a 114. I'd say he's a good chance to tonne up almost every week until Kade Simpson gets back, so he could provide a bit more value than originally thought. Only $33k above his starting price too.
James Sicily ($653,000 Avg. 93.3 BE 108) – With all of the uncontested possessions going around in last weeks game, I genuinely thought Sicily would be having a field day. Turns out he was sat on and only managed an 83 amidst all that easy scoring. Sicily is here because he is capable of some monster scores and should be a Top 6 Defender. However, he is extremely susceptible to a tag and he's damaging enough for teams to pay him a bit of attention, especially as he's currently leading the league in metres gained. Buy at your own risk.
Heath Shaw ($587,000 Avg. 84.4 BE 41) – Headache Heath always manages to find himself a yearly mention in my articles, and 2019 is no different. Shaw has gone 120+ in his last two games, which is typical of the old Lord. He also plays Melbourne and Gold Coast in his next two games, so could definitely be some more big scores coming Headache's way. Yes, I know, my 90-year-old arthritic Grandmother could have tonned up against Carlton last week, but I reckon old nan could ton up against Melbourne and Gold Coast too.
Midfielders:
Dayne Zorko ($715,000 Avg. 102 BE 76)
He may have struggled earlier this season, but now Zorko has a second player in the midfield at centre bounces and he's remembered how to play Fantasy football. I genuinely think you could field no players and just tell Dayne Zorko he was being tagged and that would be enough for him to have a shocker, but it doesn't matter anymore thanks to our lord and saviour, Lachlan Neale. With Neale coming over from the Dockers and being in genuine Brownlow form at the moment, it's hard to justify tagging Zorko anymore, and we all know what The Magician is capable of when he's allowed to run free. To go with his 102 average over the season, Zorko is also average 129.3 over his last three games, which is right up there with the best scores in the competition right now. It definitely seems as if Neale coming to Brisbane and tearing it up was exactly what Zorko needed to be able to consistently play and score well. I do have one small worry, in that I saw an article this week using Champion Data's stats stating that Zorko is the most damaging midfielder in the AFL. Whilst this worries me a little bit, I think such a low BE and a high output is worth taking the risk on Zorko, if you have the money. Let's just hope that the other 17 AFL teams don't look at Champion Data's statistics.
James Harmes ($653,000 Avg. 95.2 BE 83)
Angus Brayshaw deciding he doesn't want to be within 20 metres of a football and Melkshake getting a fractured foot means that James Harmes gets to crack the 100 on a weekly basis, who knew. Honestly, sometimes I wonder why we play this game, it can be truly cruel. Since Brayshaw became a true stain on AFL Fantasy society (Round 7), Harmes has averaged 110.3, cracking the ton on all three occasions. Averaging just under 28 disposals and 8 tackles in that time frame, Harmes has become a genuinely solid midfielder and a reasonable Fantasy player. Although I usually advise against sideways trading, especially as you would be trading a known but out of form quantity for a relatively unknown quantity, Harmes features in this article to provide an option to trade out Brayshaw for those who don't have much spare cash. While I'd highly recommend paying up for a bunch of other Midfielders, Harmes should maintain a 100+ average until Goodwin moves the pieces around again, should gain a bit of cash, and you're only paying $23k to 'upgrade' Brayshaw to him. I don't like the risk too much but, as it stands, Harmes is a decent Fantasy player.
Mitch Duncan ($778,000 Avg. 111.6 BE 90)
You may be thinking I've lost my marbles, you may be wondering how the fourth most expensive Midfielder is considered value. Well, let me explain myself. Duncan has been on a massive tear in the past month and nobody has any idea how to stop him. He's averaged 129 in his last three, 120.6 in his last five, and he hasn't gone below 120 in his past four games, including a season high 142 a couple of weeks ago. I think it's hard to argue against the fact that Mitch Duncan is currently the most in-form midfielder in the competition. The bloke played off half-forward last week, the wing the week before, and half-back the week before that, and he still managed to average 25 disposals, 11 marks, 4 tackles, and 2 goals a game through pure work rate. It doesn't matter where he plays, he covers the whole ground and finds the spots to get the ball, and his teammates clearly look for him. As far as Fantasy value is concerned, Duncan fits in two categories. Yes, his price may be reasonably high, but it's only going to get a lot higher as the season goes on. That BE of 90 should get smashed this week against the Suns, and there will be serious points to go with that cash increase. Secondly, $778k isn't that much to pay for one of the most in-form players in the competition. You may think he'll drop eventually but take a look at Titch last year or even Whitfield just last week. Points are everything, and Duncan is worth a lot more than what you can currently buy him at, and I'd absolutely look at getting him in. Oh, and did I mention his 3% ownership?
Next 4:
Elliot Yeo ($714,000 Avg. 99.8 BE 71) – The Yeo-Yeo has been almost as good as Zorko and Duncan in recent weeks, averaging 127.7 in his last three. It's hard to place Yeo because one week he's scoring insanely, then next week he's scoring like a rookie. If he can score well then he definitely provides a heap of value, but I'm a bit too concerned about his frequent off-weeks to bring him in.
Lachie Neale ($718,000 Avg. 109.9 BE 117) – The ex-Docker may be copping a tag most weeks at his new home, but that doesn't mean he's playing poorly. Neale started the season like a house on fire on a windy mid-summers day before slowing down with a 76 against Collingwood in Round 5. It's hard to pick whether he or Zorko will get the tag now, but while one will only score reasonably, the other will put up insane numbers. Maybe it's worth getting both?
Jack Macrae ($730,000 Avg. 107.7 BE 123) – The once snouted Bulldog has one foot out of the pigpen this season, but the numbers don't read anywhere near as poorly as you might think. Macrae hasn't been under 90 yet this year and has actually only been under 100 on three occasions, with two of those being a 98 and 99. It may not be the piggish numbers we're used to, but you certainly can't deny his consistency.
Jed Anderson ($560,000 Avg. 83.8 BE 79) – One that's a bit cheaper, Anderson had a great week last Round and is hopefully looking to fire again. If you take out his 43 against Geelong, Anderson is actually averaging 92, which makes him a great cash grab. With the Roos being mildly competitive too, I doubt much will change with Jed's game plan, which should translate to more Fantasy points.
Rucks:
There are none, it's that simple. The only two rucks you should have are Grundy and Gawn, otherwise you're missing out on too many points. I can maybe understand if you brought Reilly O'Brien in at rookie price, but even then I think you're losing too many points fielding him over either of the big two. If you don't have Gawn and Grundy, I would strongly consider doing everything you can to get them in.
Forwards:
Jack Ziebell ($589,000 Avg. 85.4 BE 33)
The North Melbourne captain has taken matters into his own hands in recent weeks, and this has done wonders for his Fantasy scoring. With a last three average of 111.7 and a Break Even of 33, Ziebell is looking like a great pick up Forward, especially after his 155 last week. He's playing as pretty much a pure midfielder and his scoring consists of many different methods, which is great for owners as it means the opposition can shut down one factor of Ziebell's game and he should still be able to give you a decent score. Ziebell also has the Bulldogs, Richmond, and Gold Coast in his next three games, all teams which should let him go about his business and smash out some big numbers like last week. There's very little risk associated with getting Ziebell in. He has a low price-tag, a low BE, he's in form, and he has a good run going into the Bye. If you're looking for a Forward, look no further.
Dustin Martin ($591,000 Avg. 85.1 BE 62) 
Hawthorn mistakenly forgot to assign somebody to run with Dusty last Sunday and now Dusty has found his old form. It doesn't take much to get the Brownlow Medallist back to his very best, and Dusty seems to have found that old, medal-winning form once again. He managed 30+ disposals against the Hawks for the first time since Round 1 this year and he did a bit of everything to notch up a 135 in typical Dusty fashion. Obviously, there's a huge risk associated with trading Dusty in. He's been having a shocking year by his lofty standards so far, especially in Fantasy terms, and one good game doesn't necessarily translate to being back in form completely. I think the good outweighs the bad fairly heavily though, making Dusty a good trade target to bring in this week. He's very cheap, he has Forward status, a lowish BE, and he's coming off an insane game. To go with that, Essendon doesn't usually tag players, which hopefully means that Dusty gets another week to roam free and hopefully find himself in even better form than last week. I think he's a good chance to increase his average by 10 by the end of the season, and possibly even be a Top 6 Forward.
Josh Dunkley ($662,000 Avg. 90.4 BE 84)
Last week, Dunkley was the headliner of my article before I had to postpone it until this week. My my, how things can change so quickly. In all fairness, Dunkley did play against Geelong who are reasonably difficult to score against and his role was almost purely midfield which makes it likely that this was just a tough game for him. This is why I'm still backing him in as a value option. Despite last week's 77, a 145 against Richmond in Round 7 and a 127 against Brisbane in Round 8 give Dunkley a three-week average of 116.3, which is insane for a Forward, given the carnage we've had going on with our scores in that line. Dunkley is made or broken purely on where Beveridge decides to play him, which is almost enough to scare me out of bringing him in. If he remains solely midfield, then he should maintain his last three average. However, if Bevo decides to move him back Forward like at the start of the season, then you're bringing in a guy who will give you scores of 60-80 for a price-tag of over $650k. This makes Dunkley a huge risk, with massive upside and massive downside. I'm thinking that he's back and last week was just an off week, but I'm also confident we'll know whether we can trust Dunkley's role after this week. If Bevo doesn't move him forward or drop him after that shocker, it's unlikely he's going to do it at all.
Next 4:
Darcy MacPherson ($579,000 Avg. 87.4 BE 63) – D-Mac may have gone up over $100k since his starting price, but he truly is starting to hit his straps. Last two scores have been 100+, still making a good amount of money, and he should keep getting better as the season goes on. Bit of an awkwardly priced pick but should gain in price and produce solid scores.
David Mundy ($683,000 Avg. 95.1 BE 83) – Mundy has been over 110 four times already this season, and if you take out his 49 against Gold Coast, he's averaging over 100. Always been an underrated Fantasy player, but with the departure of Neale and the younger guys struggling to step up a bit, Mundy has become an important cog in the Freo midfield and should continue to produce solid scores with a few massive ones.
Jonathon Ceglar ($474,000 Avg. 71.2 BE 45) – I know I said no other ruckmen, but this one plays Forward and he has a newfound purpose. With Big Boy McEvoy out for a month thanks to an ankle injury (source), Cegs will either be rucking by himself or with Pittonet, who has struggled at AFL level in the past. I'd say Cegs gets the job by himself and this should see a significant increase in scoring, as shown by his 101 last week. He also has the Round 12 Bye, and with some nifty DPP movement, he could definitely help cover your ruck spots while Gawn and Grundy both have their Bye in Round 13. It's a move that could be called "too cute", but it's an interesting prospect and Ceglar definitely provides value while McEvoy is out.
Kane Farrell ($317,000 Avg. 59.5 BE 26) – It's not often I get to suggest bench options, but Kane Farrell fits the spot beautifully. Starting just outside the rookie price range, Farrell slotted three goals on the weekend to give himself a score of 80. Definitely do not expect this every week, but after effectively winning the game for Port off his own boot, I'd say his job security is high and he should make a reasonable amount of cash.
That's all for Ripe for the Picking this week, I'll be back in Round 12 to let you all know who's fresh and ready to provide value throughout those few crazy weeks. Once again, apologies for not getting the article up last week, but what can you do. Any questions, hit me up on Twitter @SparksyDT or comment down below and I'll do my best to get back to you.
Happy trading!