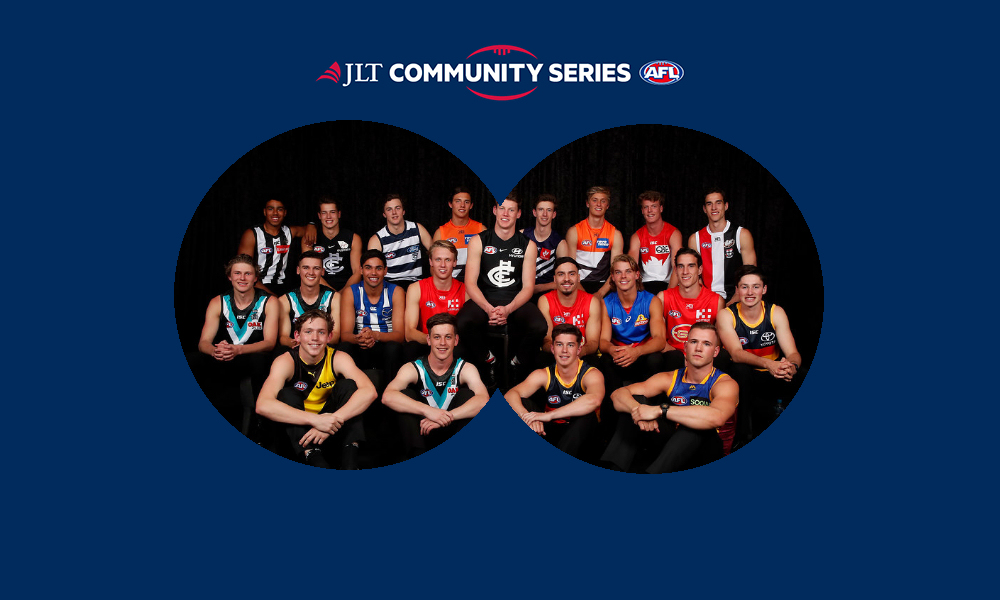 I am proud/nervous/excited to announce that for the 2019 season I will be taking on the responsibility of covering everything Cash Cows!
After writing articles for the past two years on the DT Talk site I know that taking the reigns on the from the Milkmen and Jeppa in the past comes with plenty of responsibility and importance. So I've been head down, bum up, doing my homework on all the $270K players who could warrant selection. A batch of mature age recruits and another influx of youngsters means that we could be in for a rich year of cash cows, but be warned not all cash cows are created equally. It's important to take the JLT numbers with a grain of salt as teams are often trialling new game plans and are very rarely utilising all of their star players. That being said, a strong performance from a few popular names should see them take their rightful place in our starting sides.
I'm adding a new little wrinkle in the pre-JLT Cash Cow watchlist. I went back and looked at how many debutants (yes, all 439 of them) each AFL club has played in the last five seasons. After crunching the numbers there was a lot of useless information, but there were some trends that emerged with the number of debutants growing each year, highlighting just how important these first-year players can be for fantasy success.
Without further ado, here are the players that you'll want to keep your eyes on this JLT Community Series while touching on some of the other important names you'll want to remember with the 2019 season just around the corner.
Debutants: 6 in 2018, 21 since 2014
The most popular Crows cash cow Shane McAdam (FWD, $170K, 19%) leads the pack of rookies most likely to debut in Round 1. Part of the Mitch McGovern trade, McAdam originally hails from WA and the mature-ager is doing all the right things to earn a debut against the Hawks. He kicked three goals in the practice match against Port Adelaide last week standing out along with former Tiger Tyson Stengle (FWD, $211K, 1.5%), who managed four goals.
Aside from McAdam the duo that Adelaide selected inside the top-20 last year in Chayce Jones (MID, $254K, 1.2%) and Ned McHenry (MID/FWD, $240K, 1.8%) could be in line for some early games. Both seem destined to play in the SANFL to start the season given the Crows' midfield depth, but there's every chance one or both of them will be given an early call-up. Unless named in Round 1 you couldn't pay up for either of them though.
Monitor ruck rooks Reilly O'Brien (RUC, $234K, 1%) and Paul Hunter (RUC, $170K, 2.8%) with either one in line for games should (god forbid) anything happen to an aging Sauce Jacobs. One or both of them could be in for some hefty minutes this JLT series and if Hunter moves ahead of O'Brien on the depth chart, he may warrant a bench spot.
Debutants: 5 in 2018, 35 since 2014
After boasting the most debutants in the last five years, we could see that trend continue in 2019. The one to monitor throughout the JLT series is ruckman Archie Smith (RUC, $217K, 1.8%), who is gunnin' for Stef Martin's job. It won't be surprising to see Smith play heavy minutes in the pre-season, especially given Martin's niggles and small injury concerns this summer. However, should he put his best foot forward, don't rule out the Lions adopting a dual-ruck strategy, denting Martin's potential ceiling.
The Lions' top draft selection Ely Smith (MID, $230K, 1.7%) will also be one to keep a close eye on, with the 21st overall pick bound to feature for Brisbane at some point this season. After averaging over five tackles and 86 points in his 17 TAC Cup games a year ago, he could provide a boost to the Lions midfield when called upon. The former winner of 'The Recruit' Matt Eagles (DEF, $170K, 11.9%) will be eager to add to his career tally of four games but looms as nothing more than a bench option.
Debutants: 4 in 2018, 24 since 2014
If you don't want to read the 345 words below, let me summarise the Carlton cash cows in two words for you. Extremely relevant.
Let's start with top overall selection Sam Walsh (MID, $270K, 41.3%) who I wrote about during the Deck of DT (article here). A dominant pre-draft season saw Walsh average 117.8 fantasy points through 16 TAC Cup + U/18 contests. We've heard about the buzz that Walsh has generated this pre-season and full disclosure I'm a fan of paying up for top rooks, so I am part of the 41.3% starting with the Carlton gun right now. Walsh will be put straigh to the test tonight to see how he fits in with the big boys.
He's not the only relevant Carlton calf though with new Blue Will Setterfield (MID/FWD, $251K, 47.2%) the most selected sub $270K player in the competition. Injuries ruined his Giants career and after landing at Carlton last off-season via trade we are expecting him to finally live up to the hype. Setterfield managed to play half a practice match against Hawthorn on the wing, impressing in his limited action. Director of high performance at the club Andrew Russell declared that he pulled up well, stating "he's ready to play a full game". He'll get his chance to impress the other half of the fantasy coaches out there tonight against Essendon.
But wait, there's more. Ready-made midfielder Michael Gibbons (MID, $170K, N/A%) could force his way into the Blues opening day line-up with a strong JLT showing after landing on Carlton's list. Originally we were lead to believe that Gibbons and fellow SSP (supplemental selection player) teammate Matt Cottrell (MID/FWD, $170K, N/A%) were ineligible for the JLT matches, but Gibbons has been named to play the Bombers. The dual VFL best and fairest winner will finally get a chance to show what he's made of and he could solidify a spot in Carlton's rotation with a great pre-season.
I promise I'm nearly done. Emergency for the Dons/Blues clash Hugh Goddard (DEF, $170K, 27.4%) finds himself on a lot of coaches benches and may eek his way into the 22 for Round 1 if he does everything right. He and top-20 pick Liam Stocker (MID, $234K, 5.1%) who I loved the looks of in the draft build-up seem destined to be downgrade targets throughout the season.
Exhale.
Debutants: 7 in 2018, 25 since 2014
It's always hard for a young player to break into a Grand Final side and the 2019 Magpies are no exception. Only one of the players in the sub $270K bracket has an ownership percentage over 2% right now and frankly, he might be relevant from day one. Defensive playmaker Isaac Quaynor (DEF, $246K, 11.3%) has given Collingwood fans serious deja vu, with a similar play style to former premiership Pie Heritier Lumumba – the artist formerly known as Harry O'Brien.
With explosive pace one of his greatest assets, Collingwood could hand an early debut to Quaynor if he impresses in the JLT series, especially given Jeremy Howe's interrupted pre-season and recent injury woes. The only other cash cow to have in your sights at this rate is Will Kelly (DEF, $214K, 0.4%) however, an ankle injury has slowed his pre-season and he will have a tough time cracking the Pies best 22.
Debutants: 4 in 2018, 22 since 2014
A slew of players returning from injury and the addition of Dylan Shiel means places will be hard to come by in the Essendon side, at least initially anyway. The ruck department is where some money makers could emerge with Zac Clarke (RUC, $270K, 11.6%) and Sam Draper (RUC, $170K, 4.1%) nudging for game time behind Tom Bellchambers. The Dons veteran will miss the first JLT match against Carlton, giving Clarke a chance to impress in his first outing for the club after a years hiatus from the AFL. Draper, on the other hand, is a previous rookie selection and after a strong VFL season in 2018 will look to break through for his first AFL game this year.
The spark and athleticism of youngsters Irving Mosquito (MID/FWD, $196K, 11.2%) and Thomas Jok (MID, $170K, 1.3%) could see them become fantasy relevant at some point this season as well. Ironically, Mosquito's name also best describes his play and he could be called upon to give the Dons some creativity up forward. After being overlooked in several drafts Jok may have to bide his time before a debut, but similar to Mosquito, he could force selection if Essendon looks for an injection of youth.
Debutants: 8 in 2018, 27 since 2014
First things first, you can go ahead and draw a line through the line you drew through Harley Bennell (MID, $236K, 9.0%). Yet another calf complaint has Bennell's career in jeopardy (stop me if you've heard this before) and even if he appears in a JLT contest (unlikely) he looms as a huge risk for your starting side.
Someone who should be in your starting side at this rate is Brett Bewley (MID, $170K, 35.5%), who right now owns a higher ownership percentage than his Brownlow winning teammate Nat Fyfe. The former Williamstown midfielder has excelled this pre-season, emerging as almost a Round 1 lock. With Stephen Hill expected to miss the start of the season, Bewley seems set to claim one vacant wing in the Dockers line-up as his own.
Don't sleep on the Dockers other 2018 draftee's in Sam Sturt (FWD, $238K, 0.5%) and Luke Valente (MID, $208K, 5.8%) with both expected to see the field at some point while the Fremantle rebuild continues. Valente especially piques my interest with the SA U/18 captain proving his talents as an inside ball-winner a season ago. The Dockers may opt to trial him as a Lachie Neale replacement if their engine room takes more injury hits.
Forgotten defender Griffin Logue (DEF, $216K, 8.2%) has somehow found a place inside my team at times this pre-season as well, as he tries to put an injury-interrupted 2018 behind him. Costing a little bit more than some of the other defensive options, he may miss out on selection for a lot of coaches, but if he indicates that he can be a dashing rebounding defender in the JLT he may change our minds.
Debutants: 7 in 2018, 25 since 2014
Another side that will be tough to crack in to during 2019 means cash cow options at Geelong are few and far between. The players that are relevant could be very worthwhile investments though.
After spending most of his first season on the brink of selection we are treated to a basement priced Charlie Constable (MID, $170K, 31.2%) who could lock away an early gig with a strong batch of JLT games. He adds some height to the Geelong midfield brigade at 191cm and averaged 24 touches in 15 VFL outings last season, but he may have to fight Tom Atkins (MID, $170K, 3.7%) for that spot. A hard-working player at the stoppages, Atkins finally gets his chance at the AFL level and could find himself in the team as Geelong continues to rejig their on-ball entourage.
Darcy Fort (RUC, $170K, 37.2%) enters the JLT competition as the third most popular ruckman and likely our R3/R4 barring anything crazy. He is putting pressure on Rhys Stanley and Zac Smith this pre-season and after playing for three state-level sides, he won't want to play many more reserves games. Lastly, the Cats' top draftee Jordan Clark (DEF, $242K, 1.5%) needs to be addressed and he may play his way into serious contention over the next two pre-season hitouts. Clark costs you a pretty penny, but he could be called upon early if Zach Tuohy can't get back to full strength.
Debutants: 5 in 2018, 30 since 2014
I'll try not to waffle with the Gold Coast Suns expected to be another staple of cash cows this season. An ACL tear to Harrison Wigg makes one change for 36.6% of the competition, but the Suns own plenty of other relevant dudes.
Top-6 draftees Izak Rankine (FWD, $266K, 23.8%), Jack Lukosius (FWD, $268K, 8.3%) and Ben King (FWD, $260K, 2.9%) all come with a hefty price tag and should be watched in the lead up to Round 1. While the string bean towers in Lukosius and King could develop into great players, fantasy numbers aren't usually kind to non-ruckmen tall timber, making Rankine the pick of the bunch at this rate. The SA born prospect kicked 15 goals from 10 games in the SANFL last year and was a standout performer from their practice match against the Lions last week. He kicked two goals and played a big role in another, looking at home amongst the competition.
Another SANFL recruit in Christopher Burgess (DEF/FWD, $170K, 34.1%) impressed in that same match, kicking two goals of his own and putting his hand up for early games. He looms as a versatile bench piece that could cement a place in our sides with a decent JLT showing. The same can be said for Sam Collins (DEF, $246K, 23.0%) who appears set to marshall the Suns' defensive six, boasting decent job security in their shallow backline. After being discarded by Fremantle, nearly a quarter of the competition are banking on him having an impact from the start of the season.
Injured duo Josh Corbett (FWD, $170K, 25.2%) and Corey Ellis (DEF/MID, $261K, 6.8%) are unlikely to feature in the JLT games or be ready for Round 1, but should warrant a spot on your watchlist as the season progresses.
Debutants: 6 in 2018, 21 since 2014
More midfield time is expected to go to the likes of Tim Taranto and Jacob Hopper, but there's every chance GWS turns to their new rookies to help fill the void as well. The big body of Jackson Hatley (MID, $244K, 3.5%) will be one to monitor over the rest of the pre-season as he looks like the most likely debutant for the Giants. Ranking second in total tackles throughout the U/18 championships and recording over 22 touches a game, Hately could be in for some early games if his mature body adapts to AFL life the way we expect it too.
Another youngster in Nick Shipley (MID, $170K, 7.7%) may warrant more game time if he puts together a decent outing in the JLT series, but appears to be behind Hately in the pecking order. The ruck department could need some help which means youngsters Kieren Briggs (RUC, $204K, 1.5%) and/or Matt Flynn (RUC, $170K, 6.6%) may see game time as well. With Shane Mumford suspended and Dawson Simpson not exactly lighting the world on fire, an opportunity could open up for one of the young Giants (see what I did there) to make their debut.
Somehow I've gone this long without discussing the Giants first player selected last draft in Jye Caldwell (MID, $250K, 0.7%). Given the value in the midfield with the basement priced rookies this season though, it would take something special for Caldwell to earn a spot in our starting sides with discarded Blue Dylan Buckley (FWD, $188K, 2.7%) also unlikely to crack our starting squad of 30.
Debutants: 4 in 2018, 24 since 2014
With Tom Mitchell succumbing to a broken leg all of a sudden there is a race for the coveted 'more midfield time' at Hawthorn. James Worpel is a popular name expected to take some of the midfield minutes, but somewhat unknown duo Mitchell Lewis (FWD, $170K, 6.4%) and Harrison Jones (DEF, $170K, 0.2%) are shaping up as must-watch candidates. If we see either of the duo showing promise and chewing up centre bounce attendances it will be hard to ignore them. Of course, they need to follow that up with a Round 1 call-up, but there's no reason why Alistair Clarkson won't get creative in Titch's absence.
Dylan Moore (FWD, $170K, 1.4%) is another name to keep an eye on, with the 2017 draftee out to stake his claim for an AFL debut as well. Moore starred for the Box Hill Hawks in their finals series last year and after kicking two goals in the first half of Hawthorn's practice match against Carlton he seems poised for AFL game-time at some point this season.
The off-season buzz initially surrounding Jack Scrimshaw (DEF, $203K, 8.2%) has died down slightly since he landed back in Victoria, but that doesn't mean he's no longer relevant. Sometimes no news is good news and with Grant Birchall still on ice for at least the first month of the season, Scrimshaw could emerge as the answer on Hawthorn's half-back flank.
Debutants: 3 in 2018, 24 since 2014
Marty Hore (DEF, $170K, 10.6%) was one of the hottest names in the fantasy community after shining for the Demons in their practice match against Collingwood. With Jake Lever still rehabbing from an ACL tear and Kade Kolodjashnij still on the injury list, an AFL debut for the mature ager seems like it's only a matter of time. Keep an eye on him during the Dees' JLT contests and if he puts his hand up for more responsibility taking kick-ins then he's a lock for fantasy sides.
While Hore has been generating all the buzz, you may have missed Tom Sparrow (MID, $218K, 1.0%). Once again, there looks like better rookie basement selections, but the 27th overall pick from last year's draft could force our hands with a stellar JLT showing. Sparrow has been turning heads at training with his power out of stoppages and according to reports, he excelled for Melbourne in the second half of their practice game.
Facing an uphill battle to crack into the Demons starting side Corey Wagner (MID, $170K, 6.1%) might be forced to bide his time after being axed by the Roos. With Melbourne throwing him a lifeline there's every chance he'll add to his eight game career tally, but it might not be until the season is underway, regardless of his JLT form.
Debutants: 5 in 2018, 25 since 2014
The most talked about cash cow for North Melbourne was someone we expected big things from in 2018. Luke Davies-Uniacke (MID, $266K, 4.0%) failed to fire last season with just two of his seven scores eclipsing 35. Of course, naturally, there are a ton of supporters at the club throwing their support behind LDU, but we'll need to see him prove it before he becomes fantasy relevant again.
There aren't a ton of other relevant Roos to monitor in the JLT after North opted to hit the trade market to improve the depth in their squad. The eighth overall pick from last November's draft in Tarryn Thomas (MID, $256K, 1.6%) is probably the only other noteworthy player to keep an eye on at this stage with the midfielder making all the right steps this pre-season to warrant an early selection. Declan Watson (DEF, $170K, 0.5%) could see his name called early if North opts to utilise him as Jarrad Waite's successor or a short term option to solve their key defender injury issues.
Debutants: 3 in 2018, 20 since 2014
Despite debuting the fewest players since the start of the 2014 season, there's a chance that Port Adelaide will start the season with as many debutants as they had for all of last year.
Hometown talent Connor Rozee (DEF/FWD, $262K, 19.8%) is the Power player most likely to break into their Round 1 side and clash with Melbourne. After seamlessly adapting to pro football life, Rozee turned heads in the clubs intraclub scratch match a fortnight ago and all signs point to him as a lock across Port Adelaide's half-forward line. His high draft position means he doesn't come cheap, but possessing DPP could make Rozee one of the cash cow staples in 2019.
If Rozee doesn't claim the empty spot left by Jared Polec's departure then it may very well go to Xavier Duursma (DEF/MID, $236K, 2.6%) who has every chance of debuting alongside Rozee to start the season. If Port really have changed their game-style and plan to adopt a more attacking brand of footy then Duursma's pace and skill will be a nice addition to the side.
Willem Drew (MID/FWD, $170K, 0.8%) could be an early season bolter as well, shaping as a great replacement for the injured Ollie Wines to begin the year. An Achilles injury sidelined Drew last year, but he looked at home in their practice game against the Crows finishing with three goals and a ton of touches after playing an inside mid role.
Debutants: 3 in 2018, 23 since 2014
Riley Collier-Dawkins (MID, $232K, 1.2%) is someone who I liked the looks of over the draft period and he faces a tall task breaking into the Tigers line-up. A lanky midfielder carved out of a similar mould as Marcus Bontempelli, Collier-Dawkins may see some AFL action but will need to burn up the track over the JLT to stand a chance of cracking into the Tigers centre rotation. That being said, we saw Jack Higgins earn his stripes last year and there's every chance the former Oakleigh Charger does so in 2019.
His former Chargers teammate in Jack Ross (MID, $186K, 0.3%) who was drafted just 23 spots behind Collier-Dawkins is on my watchlist as a potential mid-season cash cow and he appears unlikely to break through early. The only other player who looms as a chance to feature in the Tigers line-up with a strong JLT showing is Patrick Naish (DEF, $170K, 2.0%). After honing his craft at the VFL level for a year, Naish is more than ready for a taste of the big time and when the Tigers give him a chance he may be worth the punt.
Debutants: 7 in 2018, 24 since 2014
With injury comes opportunity and while St Kilda appears to be crumbling ahead of the season, it only opens up the door for more youngsters to become fantasy relevant. Atop the Saints cash cow list are the mainstream options in Nick Hind (MID, $170K, 29.72%) and Matthew Parker (FWD, $178K, 8.87%). The pair are expected to showcase their talents in the JLT forcing the Saints staff to add them to the 22 players scheduled to take on Gold Coast in the season opener. Hind, yet another mature-ager who is owned by a ton of coaches, looms as an answer for St Kilda across the half-back line with his polish and long kicking ability set to be the staple of his play.
The former WAFL listed Matthew Parker is another player who had to bide his time before he was selected and after kicking two goals in the intraclub match we can expect to see Parker across the half-forward line a bunch during the two JLT contests. Robbie Young (FWD, $170K, 5.3%) might edge his way into the starting side with a strong showing, but the small forward appears set to be a downgrade target throughout the year.
I'm not done there, of course, there's a FOURTH mature-ager that needs to be talked about with Callum Wilkie on the radar given St Kilda's current injury issues. If Jack Carlisle does miss the next few months like we expect then Wilkie could come into consideration down back, fresh off a best and fairest winning season for the SANFL premier Roosters. Fourth overall pick Max King (FWD, $264K, 2.3%) won't take to the field in the JLT matches and like his twin Ben, Max doesn't offer a ton of fantasy upside…yet.
Debutants: 5 in 2018, 27 since 2014
Everyone's favourite bench ruckman is back for another go around! Darcy Cameron (RUC, $170K, 38.9%) finds himself as one of the most selected players and after dominating the NEAFL we saw him finally handed a chance at the AFL level last year. Fingers crossed he can produce more than 27 points if he takes to the field again. His ownership isn't nearly as high, but one of the pre-season surprises has been Justin McInerney (DEF, $184K, 0.9%). The 44th overall selection by Sydney a few months ago McInerney has looked at home roaming the back six so far this pre-season, starring with his ball use and poise in the second half of their practice game against the Giants. The teenager didn't arrive at the club with the same fanfare as the player Sydney selected above him, but he is shaping up as yet another draft steal for the Swans.
The player who heard his name called ahead of McInerney earlier this summer in Nick Blakely (FWD, $252K, 6.2%) was another standout in that Giants practice match. With Buddy sidelined, Blakely put his marking prowess and versatility on full display kicking three goals for Sydney. Even if Lance Franklin is up and going by the time the season kicks off there's a high chance that Blakely will be featured inside-50 alongside him.
A broken toe held back Matthew Ling (MID/FWD, $170K, 5.0%) last season and he will be keen to sink his teeth into some AFL action throughout 2019. He is still dealing with that troublesome toe injury so the pacy Swan looms as another downgrade target if he can get his body right.
Debutants: 8 in 2018, 20 since 2014
Traditionally one of the stingiest sides when it came to debutants ran eight new faces out onto the field in 2018 and boy did it pay off. Not only did the likes of Liam Ryan and Willie Rioli buoy our fantasy sides they had a big impact for West Coast on the games biggest stage.
Fantasy coaches will be hoping we can get more of the same this season, but a premiership side is always tough to crack into. Marc LeCras' retirement has left at least one gap however and so far Jack Petruccelle (FWD, $170K, 9.6%) is leading the race for the empty slot. He got a taste of AFL action last year, but Petruccelle will look to build on his three games last year and after kicking four goals in a recent intraclub match – including three in one quarter – he will look to pin down a regular berth in West Coast's side. His biggest competition for the spot could come from Jarrod Brander ($170K, FWD, 3.6%) who kicked three goals in the same game before suffering a minor hip injury. While Jamie Cripps is sidelined, expect the duo to fight for a regular spot in the Eagles' best 22.
Hamish Brayshaw (MID, $170K, 8.6%) and Francis Watson (DEF, $170K, 3.6%) are two basement priced guys hoping they can break through in 2019 and make their AFL debuts. Hamish, the brother of fantasy favourite Angus and up-and-comer Andrew will look to keep up the family tradition and will be worth monitoring if he gets JLT game-time. The same can be said for dashing half-back Francis Watson who has shown flashes in the WAFL before being cut down through injury.
Debutants: 5 in 2018, 22 since 2014
Recovery from an Achilles injury will determine how much Bailey Smith (MID, $258K, 7.5%) does throughout the JLT Series. All signs point to the seventh overall selection nearing full strength and he should feature in at least one pre-season contest before likely making his debut in Round 1. His impressive clearance work gives the Bulldogs another string in their already impressive midfield bow.
Smith could be joined by feel-good story Ben Cavarra (FWD, $182K, 30.4%) in the draft with the 23-year old finally set to be given a chance at AFL level after being overlooked in five drafts. Fellow mature-ager (yes another one) Will Hayes (MID, $170K, 5.2%) is another potential debutant after he was given the unwanted label as 'Mr. Irrelevant' selected with the final choice in November's draft at No. 78. The Bulldogs now he's far from irrelevant after Hayes won Footscray's best and fairest while averaging 26 touches a game last year. He might have to wait his turn, but if injuries take their hold, Hayes could be in for a call-up.
While I'm gunnin' with Tim English at ruck (for now), Jordon Sweet (RUC, $170K, 8.3%) is one to watch if things go pear-shaped. Tom Boyd is out for a lengthy period of time and if English shows signs of struggling we could see Sweet thrown into the fire in an effort to find a winning formula.
FOLLOW ME ON TWITTER: @SportsbyFry for all things AFL Fantasy (and more)! Feel free to hit me up with any questions you have throughout the season ✌️