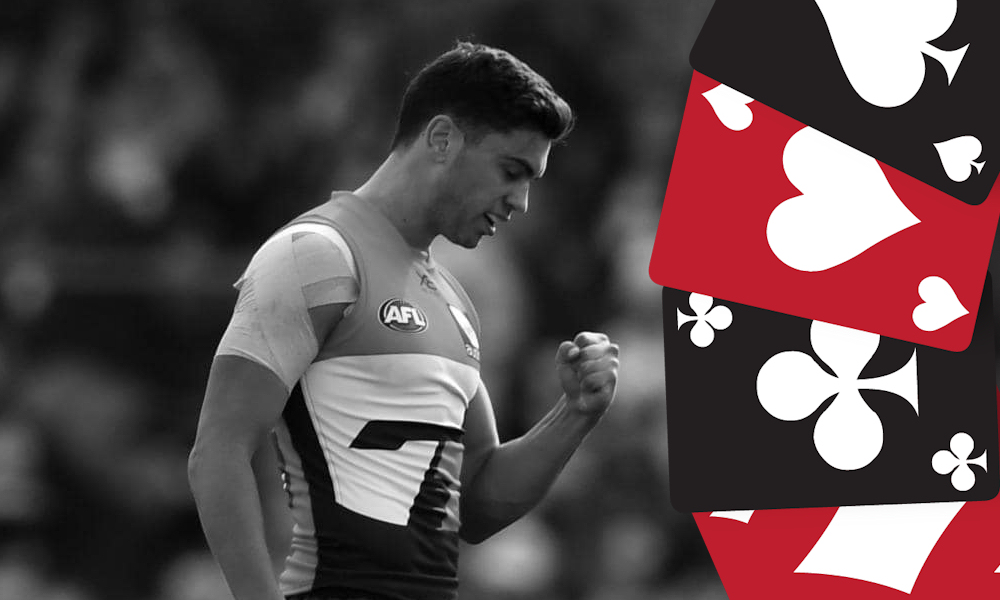 Name: Tim Taranto
Team: Greater Western Sydney
Position: MID
Price: $660,000
Bye round: 14
2018 average: 90.9
2018 games played: 21
Predicted average: 100
Draft range: 40 – 50
Click here for 2019 Fantasy prices.
Why should I pick him?
Taranto had a break out season last year taking his average from 61.4 to 90.9 but I believe the evidence is there for him to go up another level in his 3rd year.
He spent last year fighting for his midfield spot and getting pushed forward whenever GWS mids were at full power, this reflects throughout the entire season and can be linked amazingly with Taranto's scores. Check out this break down.
Round 1 –  112 points playing midfield
Round 2 – 91 points playing midfield
Round 3 – 52 points, Hopper came in, Taranto pushed forward
Round 4 – 120 points, Kelly was injured, Taranto played midfield
Round 5 – 95 points, Kelly still injured, Taranto played midfield
Round 6 – 100 points, Kelly still injured, Taranto played midfield
Round 7 – 93 points, Kelly still injured, Taranto played midfield
Round 8 – 104 points, Kelly still injured, Taranto played midfield
Round 9 – 70 points, Kelly still injured, Taranto played midfield
Round 10 – 50 points, Kelly came back, Taranto pushed forward
This pattern continued throughout the season with Taranto needing a midfielder to miss to be able to squeeze into the GWS rotations. The biggest reason his score suffers when forward is that Taranto is an elite midfield tackler. Even with those stints forward he ranked 9th overall in the AFL for tackles last season, regularly getting over 7 tackles per game.
So what's going to change this year?
GWS lost a fair amount of midfield depth in the offseason including Dylan Shiel, Tom Scully and Will Setterfield. While they looked to top up through the draft (and I'd be expecting both Caldwell and Hately to feature next year) Taranto should now be well entrenched in the GWS midfield rotations while still being far enough down the list of players who'll be tagged first!
Now in case you're wondering what Taranto averaged last year in games when playing solely in the midfield? That'd be 101.3.
Why shouldn't I pick him?
If Taranto had retained his forward status he'd be an absolute lock. As a pure mid at his price though he's competing for a place in your team with guys like Dusty, Wines and The Bont.
While his upside can't be ignored, he still hasn't shown us the massive ceiling that those other guys have. His 3 highest scores last year were 120, 119 and 114 which look a bit lean when you compare them to the 140+ scores the other blokes I mentioned have knocked out previously.
The other question to consider is how many GWS midfielders you can have at once. Most coaches agree that stacking up on too many players from 1 team is a surefire recipe for disaster, let alone on the same line. Cognilio, Kelly and Ward are all still great options this year with even Deledio needing to be considered if he's fit. Does selecting Taranto mean missing out on one of those guns instead?
Lastly, while it looks like Taranto served his apprenticeship in the midfield group last year and is due to take a full time role now, his biggest question/concern is still his disposal efficiency. While that doesn't have an impact on his fantasy score, Taranto ranked 19th in the AFL for Total Turnovers last year. If he doesn't improve on that and someone like Caldwell or Hately get a chance early next year while not butchering the ball, Taranto could find himself pushed back to the forward line as the season goes on.

Find The Traders' podcast on: Apple Podcasts, Google Podcasts and Spotify.
Deck of DT Rating.
QUEEN – If Taranto can lock himself into the GWS midfield there's no reason to think he won't continue on with the output he produced last year. If that's the case then he is currently underpriced by about $70K and in my opinion must be seriously considered for a spot in your AFL Fantasy midfield.
Loading ...
FOLLOW US ON TWITTER: @AnthonyDSmith86 for all thing AFL Fantasy (and more). Got something to say about the deck? Use the hashtag… #DeckofDT.