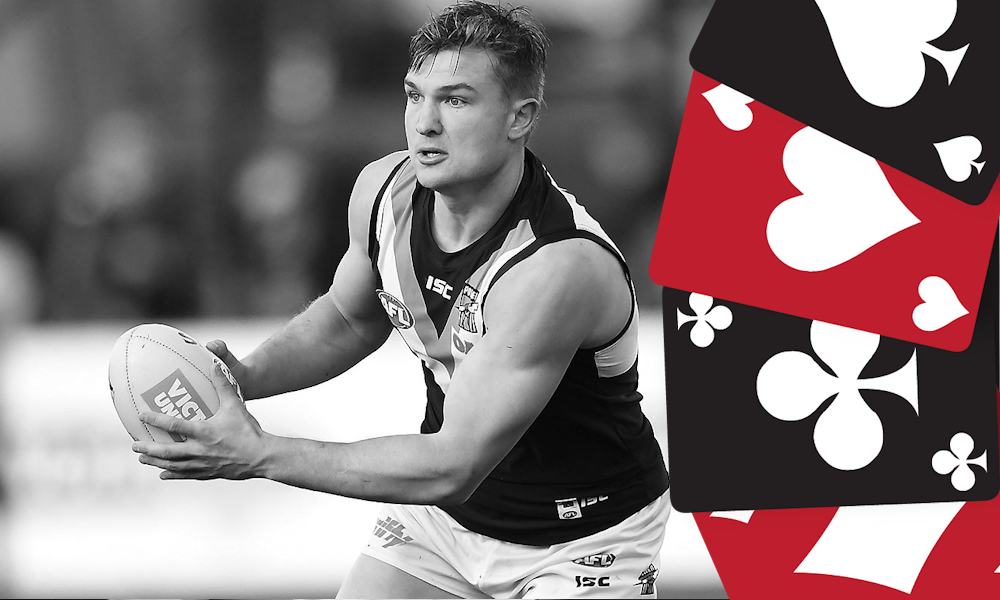 Name: Ollie Wines
Team: Port Adelaide
Position: MID
Price: $678,000
Bye round: 12
2018 average: 93.5
2018 games played: 22
Predicted average: 98
Draft range: 50-75
Click here for 2019 Fantasy prices.
Why should I pick him?
It was no secret that Port midfielders spent some of the lowest time on ground during the 2018 season. However, they have shipped out a couple of players that ran through the midfield in Wingard and Polec without bringing in any obvious ready made experienced replacements. This should result in a higher level of time on ground for the remaining player like Wines, Rocky and SPP. Now we are always hearing "More Midfield Time" this time of the year but in this case there will need to be more Time on Ground for some of the Power stars to make up for what they have lost.
Wines dropped his average possessions by just 1.2 per game and he dropped his average goals from 0.7pg to 0.18pg. So it isn't a stretch to see him lift back to the 99 average that he had in the previous two seasons. This would mean he is at least 5 points underpriced. If he does pick up more time on ground as I mentioned above this should not be difficult. With more TOG and no Wingard running out of the midfield and kicking goals he could certainly pick up at least a goal a game which gets him back over 100.
He has a large standard deviation (variation in scoring) as he had 10 of his 22 games as being 100+ and this also included back to back 135+ scores in rounds 12 and 13. So he certainly has the potential to score well, but the issue is that when he has a bad game he can drop right down with 10 games under 90 (4 were under 70). It is either a feast or a famine with Ollie, so if he can sort those low scores out he can certainly get that scoring well over a 100 average.
If he is appointed the captain of this team (which many believe he will) and takes it in his stride he could use it as an impetus to take his game to a new level. We saw this happen when Boak took over the team
Why shouldn't I pick him?
There are a lot of unknowns about not only Wines but the Power midfield in general. There is no guarantee that they will get more time on ground this season, who knows what Kenny has planned. If he does indeed keep those players off the ground as much as last year then this will make it tough for Wines to pick up those missing points.
There is a lot of speculation that Wines will be named the new captain of Port Adelaide and if that occurs it is a mystery as to what effect that will have on his game. We have seen this go both ways with players. So whilst I have mentioned this as a potential positive above it is also a potential negative. Some players get overwhelmed by the responsibility. I think Ollie is less likely to have that issue though.
Wines didn't have the best season and went backwards in 2018 and he came in for more attention from opposition as he took a larger midfield role with Boak spending more time up forward. Now with Wingard gone too he moves up the rankings as one of the more dangerous options for Port in the middle and will be one that opponents look to stop.
Find The Traders' podcast on: Apple Podcasts, Google Podcasts and Spotify.
Deck of DT Rating.
JACK – Whilst he certainly provides some value at his price which is about 6 less than we know he can achieve. There are just too many questions for me about him at the moment. I think he can certainly take the next step but I am just not sold on his ability to deliver the level of scoring for us that we need in 2019 and there are a lot of good options for our midfield this season who could be a safer bet.
Loading ...
FOLLOW US ON TWITTER: @pkd73 for all thing AFL Fantasy (and more). Got something to say about the deck? Use the hashtag… #DeckofDT.