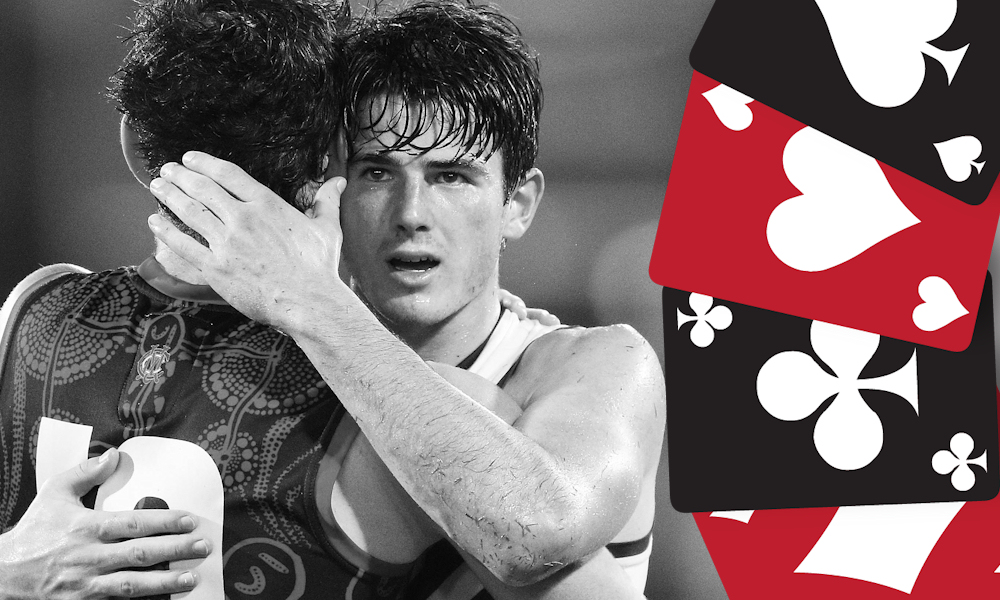 Name: Andrew Brayshaw
Team: Fremantle Dockers
Position: MID
Price: $485,000
Bye round: 12
2018 average: 66.8
2018 games played: 17
Predicted average: 82.3
Draft range: Likely to fall out of the top 150 (Bench Flyer)
Click here for 2019 Fantasy prices.
Why should I pick him?
More midfield time. It's a term that is thrown around annually during pre-season training with most Fantasy coaches rolling their eyes when it's uttered. However, there are some instances where the offseason buzz leads to a significant fantasy boost and second-year Docker Andrew Brayshaw is one such character that could springboard to relevance in 2019.
After Lachie Neale chose to take his talents north, Freo has been left with a gaping hole in their midfield, with a platoon of Dockers in line to soften the blow. Brayshaw looms as the most likely walk-up replacement for Neale, especially after Connor Blakely's latest injury setback. However, after registering just 66.7% time on ground (TOG) in his first pro season, expecting Brayshaw to shoulder a hefty workload for Fremantle might be jumping the gun.
It's not impossible to see the youngster improving leaps and bounds though. He had plenty of bright moment's in his rookie season, even if his fantasy numbers didn't suggest as much. Even with Brayshaw's low TOG percentage, he still managed to lead the Dockers in tackles per game (4.4) which is always a good sign of fantasy relevance. In a midfield with Neale and former Brownlow Medalist Nat Fyfe, that's a pretty decent claim to fame. There's no reason why Brayshaw can't improve on that number and arguably, boost his per game averages across the board this year.
In the past players like Clayton Oliver and Jack Macrae have vaulted into fantasy relevance as their TOG increased and in his second full season, Brayshaw could become the latest example. By no means am I saying that another Oliver/Macrae is on the way, but it's hard to see Brayshaw not improving by at least 10 points this season should he get the expected 10-15% TOG boost, even if he has to shoulder more responsibility. A year ago his 0.83 fantasy points per minute weren't exactly elite, but that number beat out the likes of Chad Wingard, Dom Sheed, Aaron Hall, Lance Franklin and Jack Billings, all of whom have probably graced your fantasy sides once or twice in the past.
The second half of Brayshaw's 2018 season was an encouraging sign as well. His 66.7 average was slowed down by three scores in the 40's over his first month of pro football, yet, in the back half of the year Brayshaw went at an average of 80, a number that he'll go close to replicating (if not surpassing) in 2019. A player with elite running ability, Brayshaw's infamous collision with Andrew Gaff's left knuckles brought an end to a respectable campaign from a first-year player and all signs indicate that he'll return better than ever in the upcoming year. Tabbed as a future club captain there's a lot to like about Brayshaw as a player, but is it a stretch to declare him as fantasy relevant?
Why shouldn't I pick him?
Natural progression should see a double-digit point growth from Brayshaw this season, but is it enough to warrant starting him? 291 players scored higher than Freo's No. 2 pick last season (yes, I counted) and even if he shoots that average up to 75-80, there are some seemingly 'safer' money plays out there. Brayshaw currently finds himself in 2.52% of teams, a far cry from popular mid-price options like Dan Hannebery (29.07%), Anthony Miles (18.54%) and James Worpel (10.91%).
All three of those players are cheaper than Brayshaw as well and at $485K, he costs nearly 100-grand more than another popular choice in Tom Liberatore ($392K, 25.33%). The mid-price madness has caught out a number of coaches in the past (yes me included) and it might be foolish to expect such a leap in production from a second-year player who failed to score in triple figures through his first 17 AFL games. 100 point production aside, only two of Brayshaw's scores from a year ago were in the 90's with his fantasy resume littered with 70's (seven such scores last year).
A boost is surely coming his way, but the loss of Neale, Blakely and Stephen Hill (for a period of time) means Ross Lyon will have his work cut out for him in an effort to build an adequate midfield brigade. Brayshaw isn't the only youngster in line for fantasy growth either as fellow 2018 cash cows Adam Cerra and Bailey Banfield put another pre-season under their belts.
Former Dockers breakout Ed Langdon declared earlier this pre-season that Fremantle was 'spoilt for choice' for midfield options, pointing out some of the aforementioned youngsters (Brayshaw included) along with Tigers recruit Reece Conca as replacements in the middle after Blakely's injury and Neale's departure. This isn't exactly the news you want to hear for a lot of Dockers' fantasy prospects.

Find The Traders' podcast on: Apple Podcasts, Google Podcasts and Spotify.
Deck of DT Rating.
JACK – I tip Andy Brayshaw to top an 80 point average this season, but priced at 66.8 you have to wonder just how beneficial investing in him really is. Personally, he's bounced in and out of my side in recent times, although I'm questioning my own choice as I write this piece. There's Draft upside and he's worth taking a chance on with one of your later picks, but for Classic there seems to be so many money making avenues this season that Brayshaw might be too much of a risk. 2018 saw his brother Angus burst onto the scene, hopefully the fantasy pedigree runs in the family ?
Loading ...
FOLLOW ME ON TWITTER: @SportsbyFry for all things AFL Fantasy (and more). Got something to say about the deck? Use the hashtag… #DeckofDT.