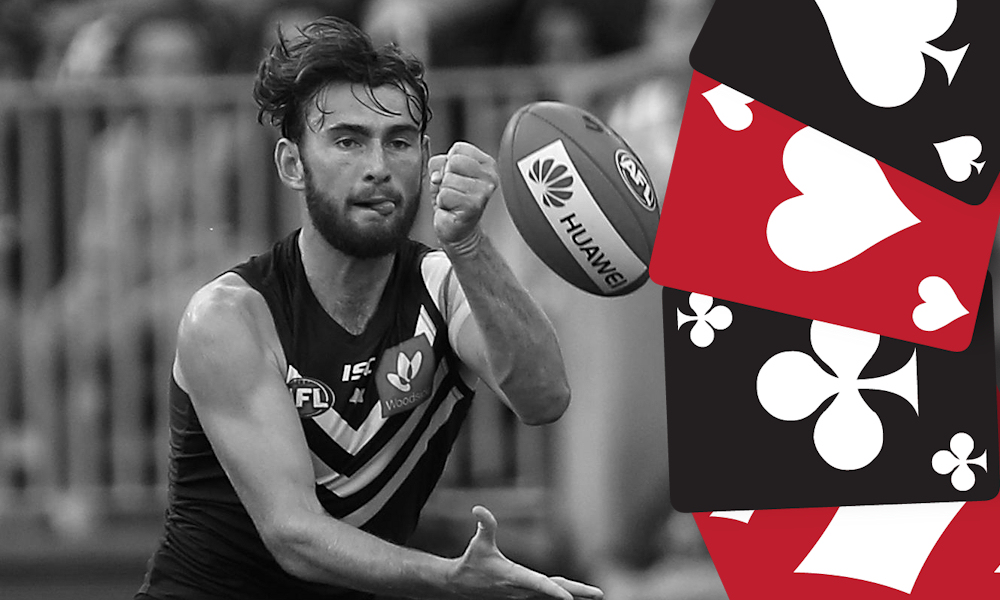 Name: Connor Blakely
Team: Fremantle
Position: DEF
Price: $664,000
Bye round: 12
2018 average: 91.5
2018 games played: 13
Predicted average: 98
Draft range: 3rd-7th DEF (25-40)
Click here for 2019 Fantasy prices.
Why should I pick him?
All signs point to 2019 being Connor Blakely's best Fantasy year to date. The versatile Docker has seen injuries hamper his scores over the last two seasons, but if he's fit and firing there's serious value here. Forget the fact that he probably burnt you in Round 18 of 2017 when he gained DPP status only to get injured, he's about to atone for his sins.
Where Blakely plays his footy in 2019 is the big question mark over his scoring potential, but honestly, it might not matter. Previously Blakely has split his time in purple between the midfield and back line, posting decent fantasy scores regardless of his positioning. In the past two years, Blakely has topped triple figures in  40% of his games, going at an average of 91.6. While he has played the rebounding defender type before, we saw Luke Ryan come into his own for the Dockers last year and Nathan Wilson will likely line up on the other side, freeing up Blakely to get closer to the pill.
Lachie Neale's departure to the Lions leaves a gaping hole in Freo's midfield and the Dockers aren't exactly a force when it comes to winning contested possessions. Last season Aaron Sandilands and MATT TABERNER!!! were 5th and 6th at the club for contested possies per game and I don't expect Fremantle to count on their giants for those type of numbers in 2019. That opens the door for Blakely, who has shown he can get his dirty and collect the footy, to become more of a ball magnet than in years past. Youngsters like Andrew Brayshaw and potential debutant Brett Bewley will aid in that area, but I would be shocked if Blakely didn't spend a big chunk of time as a midfielder this season.
This leads to another positive for Blakely; DPP potential. Last season four of the top-6 defender's held dual positioning and should Blakely add MID status to his DEF label that's only going to benefit his owners. I would be shocked if he didn't get the nod at some point in the season, with the expectation he'll be MID eligible by Round 6 or at worst, Round 12 (help the people out Warnie ?).
Why shouldn't I pick him?
While we have seen Blakely score decently both in the midfield and in defense, there are fears over what his 'role' will be this season. In the past, Blakely has performed well as a tagger and if he falls back into those habits it could spell doom for his fantasy ceiling.
Bailey Banfield showed that he can play an effective run with role last year and there's no indication that he won't continue doing so moving forward. However, if the wheels fall off the wagon, don't rule out Ross Lyon flipping the script and handing Blakely the responsibility of being Freo's shut down man. Sure, he would still gather his fair share of the footy, but there's no denying it could kill Blakely's potential fantasy outbreak.
If the halfback line is where he nestles in Freo's 22 he may have to fight to get his hands on the ball. While it has helped Blakely's scores in the past, if the aforementioned Luke Ryan, Nathan Wilson and potentially Reece Conca are gathering touches as the Dockers rebound from their defensive 50 then there are plenty of question marks over how much footy will be available for Blakely.
Injuries are a noteworthy concern for Blakely having slowed him in the past. While a lot of AFL players go through there own fair share of issues, we have seen Freo's youngster succumb to a variety of injuries throughout his career to date, fairly causing us to doubt whether he deserves a starting role in our Classic sides. Roy put forward a solid case for another youngster in the back line, who could be in for a breakout of his own in Alex Witherden. Prioritising value over all when picking your starting team for the year makes sense and if you're are stuck between choosing Witho or Blakely, I'll answer the question for you.

Find The Traders' podcast on: Apple Podcasts, Google Podcasts and Spotify.
Deck of DT Rating.
QUEEN – While he is a King in my eyes, I have to put a realistic lid on his expectations. That being said with Doc gone there is still value among the DEF premos and for those who don't want to pay up for the likes of Rory Laird, Blakely could be your guy. While I don't have any insider info for you, it's fairly obvious to assume he'll see heavier midfield minutes and an increase in responsibility this season for Freo. Should he land in the defensive 50, I won't be worried as we have seen in the past +6's are part and parcel of his game. Either way, there's value in picking Blakely as your D3/D4 with DPP and a place among the top six defenders at seasons end well and truly up for grabs.
Loading ...
FOLLOW ME ON TWITTER: @SportsbyFry for all thing AFL Fantasy (and more). Got something to say about the deck? Use the hashtag… #DeckofDT.