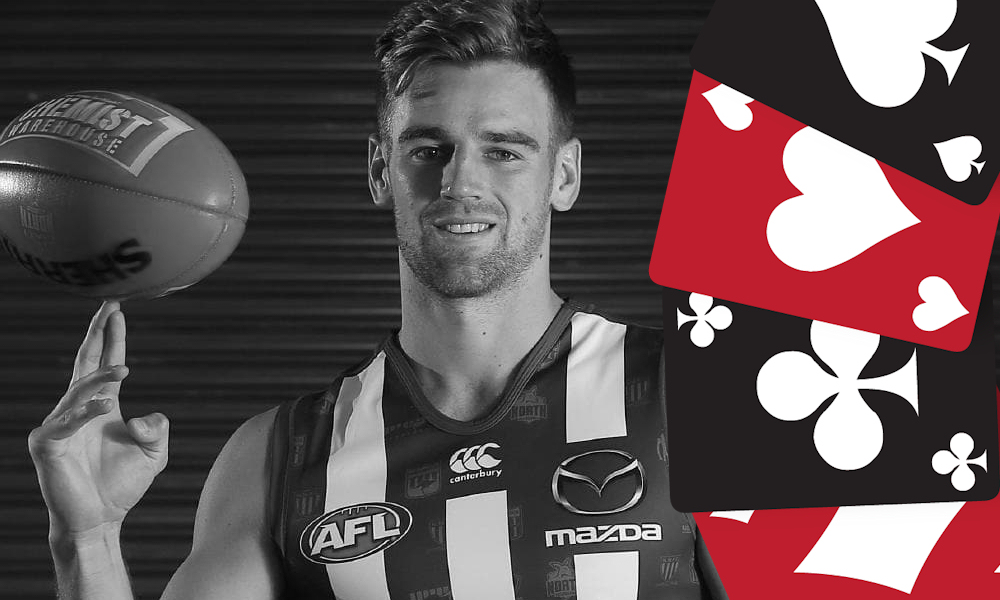 Name: Dom Tyson
Team: North Melbourne
Position: MID
Price: $556,000
Bye round: 14
2018 average: 76.6
2018 games played: 14
Predicted average: 93
Draft range: 80-100
Click here for 2019 Fantasy prices.
Why should I pick him?
Price and history. This was going to be Tom Mitchell's card in the deck, but when he decided to get injured without thinking about every Fantasy player in the country (still love you Tom), I had to improvise. Then I remembered this little gem got traded this year and that he used to be a reasonable Fantasy player, before Melbourne ruined him.
Let's start with his price. $556k is a very reasonable price to pay for a guy who could potentially average almost 100 – if he has a good season and gets the opportunity he lacked at Melbourne. He's priced around the same as Sam Powell-Pepper, Darcy Parish, and Bayley Fritsch. All players who were very good rookie players but have struggled transitioning past their mid-priced Fantasy stage so far (granted Fritsch hasn't had a chance yet). Tyson could definitely be lumped into a similar category, but I believe he has a higher ceiling.
In 2014, Dom gave us Fantasy coaches an average of 90, and in 2016 he went a bit better, averaging 92.9. These are the only two seasons that he's played more than 20 games and I think he's capable of at least the same this season, if not better. Also, within those years Dom gave us some good scores, going 130+ at least once in both seasons! He's definitely shown the potential to score big, he's just struggled a bit with opportunity, so hopefully he gets a real go in the middle for the Roos this season!
Why shouldn't I pick him?
Inconsistency. Throughout his career, Tyson has a big habit of going very big and then going very small. Even just taking a look at his rookie year where he averaged 61.6 from 10 games, he went 25, 17, 52, 91, 74, 93, 21, 67, 88, 88. Those numbers just vary so much, and it reoccurs in almost every year. Yes, the 17 and 21 were both injury effected scores, but even in the year where he played all 22, he had a high score of 130 and a low score of 46, that's so much variation!
And speaking of ups and downs, Dom does tend to miss a lot of games, although not always through injury. Since his rookie season in 2012, Tyson has gone 10, 3, 22, 15, 21, 19, 14 in games played. Not exactly what you're looking for in a Fantasy player. As I mentioned, although he definitely has missed a fair few games with injury, Dom also struggled with getting a proper game at Melbourne. Even when he did, he had a tendency to spend a bit of time up forward too. I think that Tyson will get an opportunity to have a lot more midfield time at North Melbourne, and he definitely shouldn't miss out on any games through not being picked! Fingers crossed this year is ripe with opportunity for Dom Tyson.

Find The Traders' podcast on: Apple Podcasts, Google Podcasts and Spotify.
Deck of DT Rating.
JACK – Although I think you're guaranteed at least a little reward, you're not picking Tyson for him to increase his average by 6, you're hoping for a 10-15 point increase at the minimum. I think there's actually a high chance of this happening, but it will come with the risks of him missing games and almost a certainty of at least one sub-50 score. If you're low on cash and need a midfielder, I think Tyson could be a strong but risky pick to start in the middle of your Fantasy team.
Loading ...
Any comments or questions, leave them below or chuck me a tweet @SparksyDT.
FOLLOW US ON TWITTER: @DTTALK for all thing AFL Fantasy (and more). Got something to say about the deck? Use the hashtag… #DeckofDT.