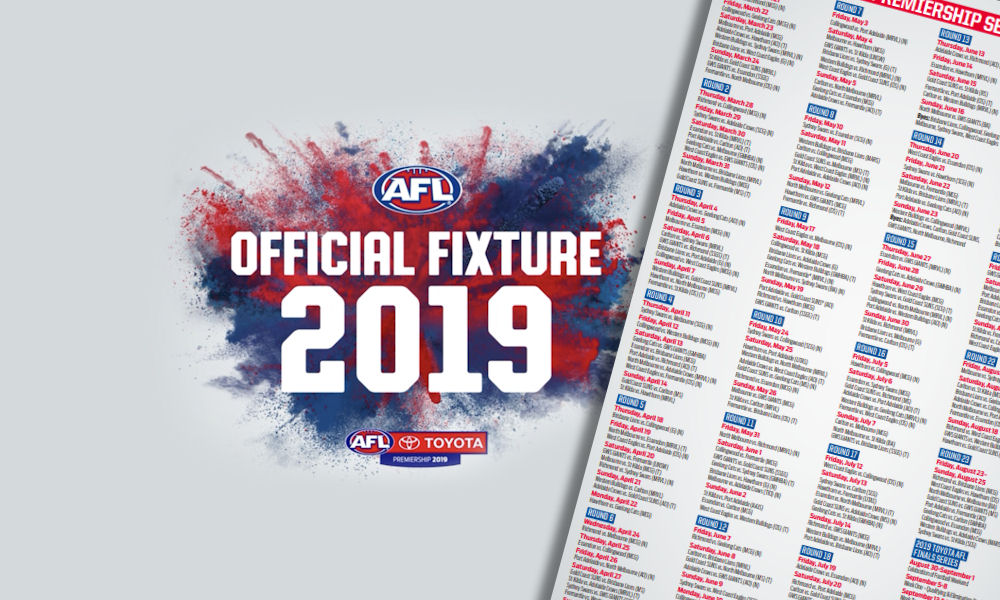 After a delay, the 2019 AFL season fixture has been released and has plenty of stuff for Fantasy coaches to think about as we approach that first lockout in 140 days time.
Don't forget to check out the JLT Community Series fixture for your all-important pre-season study.
Click here for the full 2019 fixture.
BYE ROUNDS
The best news out of the fixture for Fantasy coaches and our planning is that the teams off to China (Port Adelaide and St Kilda) are relevant again. The match is scheduled for a little bit later than the first two seasons of this international fixture and it lines up with the multi-bye rounds. Each round of the MBRs will feature six teams across rounds 12, 13 and 14.
ROUND 12
Essendon, Fremantle, Hawthorn, Port Adelaide, St Kilda, Western Bulldogs
ROUND 13
Brisbane Lions, Collingwood, Geelong, Melbourne, Sydney Swans, West Coast
ROUND 14
Adelaide, Carlton, Gold Coast, GWS Giants, North Melbourne, Richmond
THURSDAY NIGHT GAMES & PARTIAL LOCKOUTS
Although it sounded like there would be more Thursday night games in 2019, there will only be eight, one up on last year. A block of five to start the season and then a block of three mid-season around the byes. Partial lockouts will be in effect for each of these matches (ie. players from clubs in these fixtures will be locked at the start time of each match).
Round 1 – Richmond v Carlton, MCG (7:20pm AEDT, 21 March)
Round 2 – Collingwood v Richmond, MCG (7:20pm AEDT, 28 March)
Round 3 – Adelaide v Geelong, AO (7:20pm ACDT, 4 April)
Round 4 – Sydney Swans v Melbourne, SCG (7:20pm AEST, 11 April)
Round 5 – Brisbane Lions v Collingwood, G (7:35pm AEST, 19 April) *Easter Thursday
Although not Thursday night, there will be a Wednesday night game (Melbourne v Richmond) and a Thursday arvo match (Essendon v Collingwood) over the Anzac weekend that will have partial lockouts. More on this below.
The second block of Thursday night games will start on the second weekend of the multi-bye rounds. These will be played in three different stats and feature the Bombers in two of them.
Round 13 – Adelaide v Richmond, AO (7:20pm ACST, 13 June) *MBR2
Round 14 – West Coast v Essendon, OS (6:10pm AWST, 20 June) *MBR3
Round 15 – Essendon v GWS Giants, MRVL (7:20pm AEST, 27 June)
EASTER/ANZAC ROUND & OTHER THINGS TO THINK ABOUT
As mentioned above, the round five Thursday night game (Lions v Pies) starts the Easter round. For the third time, there will be a Good Friday match – this time between the Kangaroos and the Dons – starting at 4:20pm AEDT. This will most likely be included as a partial lockout game leading into a full lockout for the second of the double header Good Friday games, Eagles v Power in Perth at 6:10pm AWST (8:10pm AEST).
Full lockout is likely to be at the beginning of the game.
ROUND 5 LOCKOUTS (EASTER)
Thursday 19 April
7:35pm AEST – Brisbane Lions v Collingwood – Partial Lockout
Friday 20 April
4:20pm AEST – North Melbourne v Essendon – Partial Lockout
6:10pm AWST (8:10pm AEST) – West Coast v Port Adelaide – Full Lockout
This brings with it our usual challenge of 'flying blind' for the Easter Monday game. Squads of 25 for the Geelong v Hawthorn will be named before lockout, but the trimmed 22s won't be known until around 4pm AEST on the Saturday afternoon (ie. after lockout).
NOTE: This will also be the case for the round 12 Collingwood v Melbourne Queens Birthday game on Monday 10 June.
The Anzac round follows Easter. The Cats v Hawks game will finish at around 6pm AEST on Monday evening with lockout lifting later that night. With the now traditional Dees v Tigers Anzac Eve game, we will know the teams for that said match the next night with a partial lockout in effect when the ball is bounced on the Wednesday night.
Melbourne and Richmond players will be locked out on Wednesday night, followed by Essendon and Collingwood players on Thursday afternoon. Full lockout would be the 'usual' Friday night one.
ROUND 6 LOCKOUTS (ANZAC)
Wednesday 24 April
7:35pm AEST – Richmond v Melbourne – Partial Lockout
Thursday 25 April
3:20pm AEST – Essendon v Collingwood – Partial Lockout
Friday 26 April
7:20pm ACST (7:50pm AEST) – Port Adelaide v North Melbourne – Full Lockout
FIXTURE STRATEGY
From the fixture, we can start thinking about some strategy. We haven't had a heap of time to digest it all or run the numbers, but here are a few takeaways:
EARLY LOOPHOLES – Collingwood is involved in three of the first six partial lockouts. Having a premium Pie will be important in the opening rounds. While Adam Treloar, Steele Sidebottom, Scott Pendlebury and the newly traded in Dayne Beams are the midfielders that are obvious targets, there may be less risk going with Brodie Grundy. The ruckman was second on the list behind Tom Mitchell for Fantasy points scored in 2018, despite a lot of worry about the Cox-effect. Richmond also has three loophole games… but with Dusty the only player to average over 90 (and it was only 92.9), there may not be a lot of players we'll be considering from the 2017 premiers for this reason – however, plenty of coaches may have Dusty in their starting squads as he could be a value pick if he can get back to his Brownlow winning Fantasy form.
BEWARE THE SHORT WEEKS – The 2019 fixture features a few short weeks, none shorter than Melbourne and Richmond's leading into their round six Anzac Eve clash. Their round five games will be on Saturday twilight and night respectively, meaning just four days before they're suiting up again. It is a little bit different to last year as we went in blind with teams, but I won't forget Bayley Fritsch being 'rested' for that match. We have to consider the risk, albeit a small one, that some of our player with shorter breaks could rest.
BYE ROUND TARGETS – It is simple strategy, but we target players coming off their bye over the MBRs as options to bring in. They may be some relevant Dons, Dockers, Hawks, Port, Saints and Bulldogs players to look at after their first bye (R12). This could mean that you see the premiums in those sides as upgrade targets when trading ahead of round 13. Does that mean that you wait on Jack Macrae until mid-year? He'd going to be priced highly after his outstanding season… and dare I say it, do we avoid Titch early on due to his shoulder surgery and grab him after his bye?
MOST FANTASY FRIENDLY FIXTURES -With a real quick look at the first 10 rounds (see table below), it appears the Hawks don't have it too hard early on with Port Adelaide (in Tassie), the only team in the toughest two groups to be playing against based on the Scale of Hardness data from this season. Similarly, the Eagles have it pretty good as well when it comes to playing against teams who give up Fantasy points. The table below will be tweaked in the future weeks and then throughout the season as something to think about with initial team selection… and trade targets as the season progresses.
THINKING AHEAD TO FINALS – GWS players could be who we want in round 23 as they have the Suns. They gave up plenty of points during 2018 and you'd think that would continue next year as the team you target for boosted numbers against. The Blues play Geelong down at GMHBA and Port Adelaide host the Dockers; the next easiest teams to score on this year. Again, we'll have more on this later in the pre-season. With the way our teams change across the 23 rounds, this becomes more of a factor mid-season.
Jack Macrae plays at Mars Stadium in Rnd 23 vs Crows. He averages 160 #SuperCoach and 137 #AFLFantasy points at the venue. #2019AFLProspectus

— Fantasy Freako (@FantasyFreako) October 30, 2018
We will have plenty of fixture analysis over the pre-season looking at which clubs have a great draw and at what times of the season. Discuss your thoughts and any other little things you picked up in the comments.