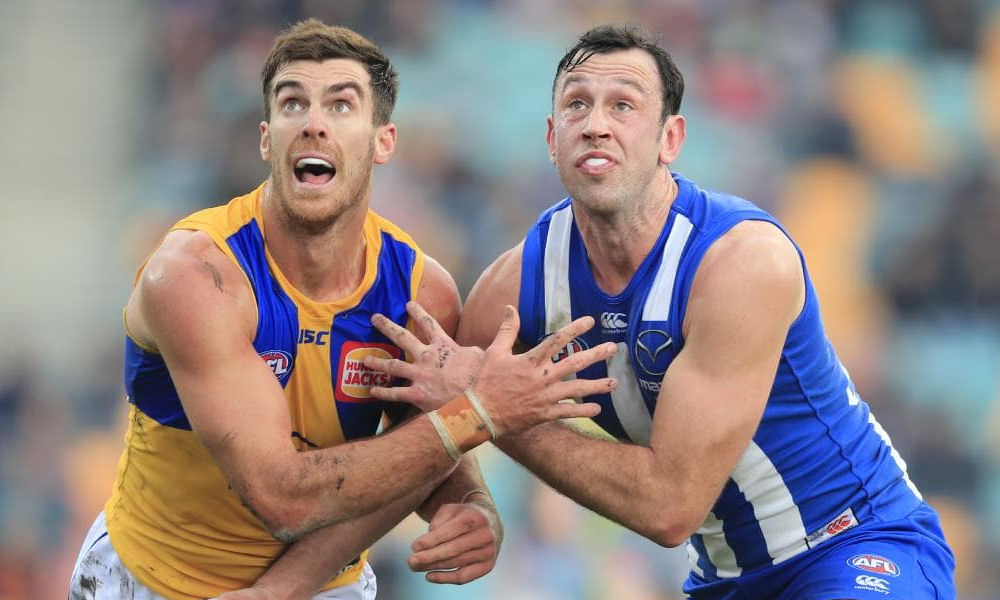 The 2018 H&A season is complete which means the Fantasy research for next season has already begun, over the next few weeks we'll take a look at a 2017/18 H&A season player average comparison for each team (Minimum 10 games played each season).
Warnie & Roy discussed some of the numbers on the final Traders podcast of the season, it is worth another listen again to hear their thoughts about some of the players that will be listed in each team (Starts at 41:25).
Nth Melbourne
It was a relatively slow start to the year for Todd Goldstein (2018 Ave: 93.4) averaging 83.9pts from his opening 12 games of the 2018 H&A season, he scored 100pts or more in only 16.7% of those games. Post Bye Goldstein was a different story and even a viable option as a starting Ruck, he averaged 104.7pts from his final 10 games scoring 100pts or more in 60.0% of games.
With the potential departure of Braydon Preuss in the upcoming Trade Period it appears Goldstein will be free to solo Ruck in 2019, based on his finish to the 2018 H&A season Goldy may be a value option at Round 1. Goldstein is quite durable, he has played in 41 of a possible 44 games since the beginning of 2017.
It appears Nth Melbourne will be quite aggressive during the upcoming Trade & Free Agency period which could result in a relatively new midfield group, they will be a must watch during the pre-season for any options and a potential game plan change which could increasing fantasy scoring.
Article by @aflratingsPete
2018 AFL Fantasy Stats
| PLAYER | POS | GMS | PTS | AVG |
| --- | --- | --- | --- | --- |
| Cunnington, Ben | MID | 22 | 2066 | 93.9 |
| Higgins, Shaun | MID | 20 | 1878 | 93.9 |
| Goldstein, Todd | RUC | 22 | 2055 | 93.4 |
| Waite, Jarrad | FWD | 13 | 1110 | 85.4 |
| Ziebell, Jack | MID/FWD | 22 | 1822 | 82.8 |
| Dumont, Trent | MID | 22 | 1813 | 82.4 |
| Jacobs, Ben | MID | 13 | 1008 | 77.5 |
| Anderson, Jed | MID/FWD | 21 | 1598 | 76.1 |
| MacMillan, Jamie | DEF | 22 | 1608 | 73.1 |
| Clarke, Ryan | DEF | 19 | 1338 | 70.4 |
| McDonald, Luke | DEF/MID | 22 | 1547 | 70.3 |
| Ahern, Paul | MID/FWD | 11 | 754 | 68.5 |
| Brown, Ben | FWD | 22 | 1496 | 68 |
| Hartung, Billy | MID | 13 | 866 | 66.6 |
| Tarrant, Robbie | DEF | 21 | 1394 | 66.4 |
| Wright, Sam | DEF | 16 | 1054 | 65.9 |
| Wood, Mason | FWD | 13 | 838 | 64.5 |
| D. Thompson, Scott | DEF | 22 | 1410 | 64.1 |
| Daw, Majak | RUC/FWD | 18 | 1154 | 64.1 |
| Atley, Shaun | FWD | 22 | 1353 | 61.5 |
| Simpkin, Jy | FWD | 22 | 1309 | 59.5 |
| Williams, Marley | DEF | 22 | 1179 | 53.6 |
| Vickers-Willis, Ed | DEF | 7 | 361 | 51.6 |
| Hrovat, Nathan | FWD | 12 | 613 | 51.1 |
| Walker, Will | MID | 4 | 199 | 49.8 |
| Morgan, Alex | DEF | 2 | 99 | 49.5 |
| Turner, Kayne | FWD | 22 | 1063 | 48.3 |
| Zurhaar, Cameron | FWD | 5 | 211 | 42.2 |
| Murphy, Tom | DEF/MID | 4 | 167 | 41.8 |
| Davies-Uniacke, Luke | MID | 7 | 282 | 40.3 |
| Durdin, Sam | DEF | 1 | 22 | 22 |
| Mountford, Declan | DEF/MID | 0 | 0 | 0 |
| Nielson, Daniel | DEF | 0 | 0 | 0 |
| Hayden, Kyron | MID | 0 | 0 | 0 |
| Jeffries, Tom | RUC | 0 | 0 | 0 |
| Narrier, Gordon | FWD | 0 | 0 | 0 |
| Xerri, Tristan | RUC | 0 | 0 | 0 |
| Hibberd, Mitchell | DEF | 0 | 0 | 0 |
| Garner, Taylor | FWD | 0 | 0 | 0 |
| Preuss, Braydon | RUC | 0 | 0 | 0 |
| Junker, Oscar | MID | 0 | 0 | 0 |
| Larkey, Nick | FWD | 0 | 0 | 0 |
| Watson, Declan | DEF | 0 | 0 | 0 |
| McKay, Ben | DEF/FWD | 0 | 0 | 0 |
| Williams, Josh | MID | 0 | 0 | 0 |