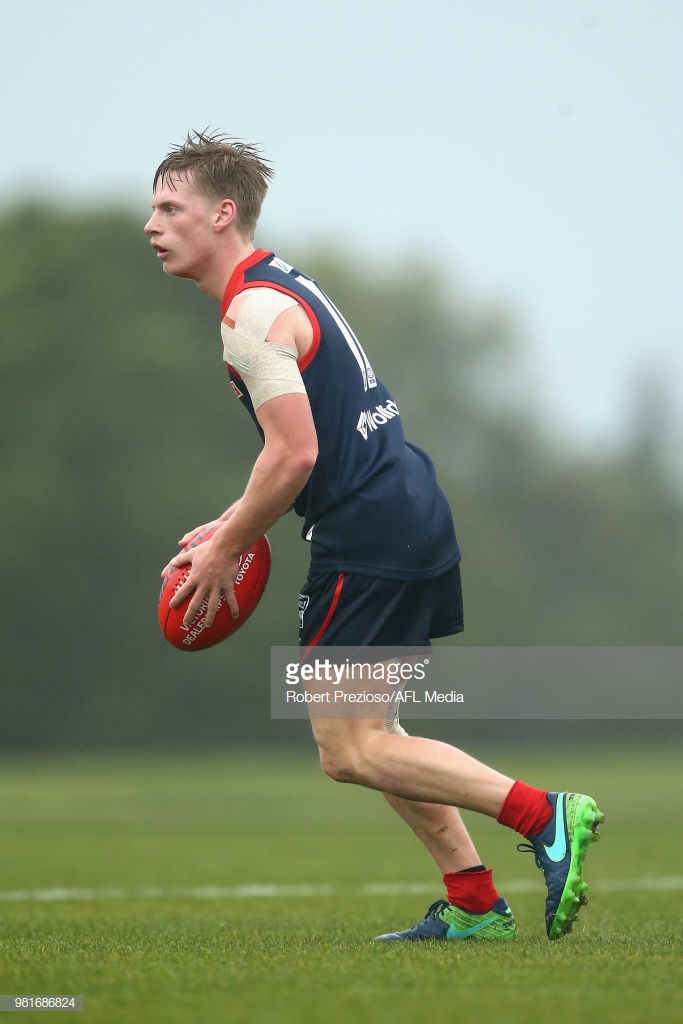 VFL
Melbourne Demons
Sam Weideman (FWD, $274K) was huge with 7 goals and 9 marks for 139 points. He obviously needs goals to score well and shouldn't be considered if he got a game. He averages 3 goals and 87. Tomas Bugg (FWD, $457K) was good as well with 27 touches and 12 tackles for 125 points. He pushes for selection but isn't an option in classic. Jay Kennedy-Harris (MID, $383K) was good as well with 27 touches, 1 goal, 5 tackles and 6 marks for 116 points. He's a bit of a yo-yo and is too expensive to consider in classic, even if he was to get a game. Charlie Spargo (FWD/MID, $366K) was solid with 19 touches and 9 tackles for 88 points.
Western Bulldogs (Footscray)
Jordan Roughead (RUC, $418K) was great with 24 touches and a goal for 125 points. He is very in and out of the side and isn't really relevant. Lewis Young (DEF, $328K) was solid with 19 touches and 8 marks for 85 points. Shane Biggs (DEF, $484K) was dropped again and only managed 78 points, and is averaging 81 from his few games in the VFL.
North Melbourne
No one hit the 100 mark for the Roos, but the closest was Will Walker (MID, $226K) who managed 99 from 19 touches and 2 goals. We could see him later in the year, but I'm unsure as what the Roos would want to do with him. Ryan Clarke (DEF, $488K) continues to push for selection, after having 22 touches and 80 points. Mitchell Hibberd (DEF, $235K) has been good in the VFL this year and scored 79 form 25 touches on the weekend. He will hopefully be a nice cheap option next season.
Collingwood
Brayden Sier (MID, $170K) was great with 28 touches, 9 tackles, and 116 points. He was an emergency last week and could be the replacement for Adam Treloa
r. If he is, I'd be considering him. Sam Murray (DEF,$495K) is still clocking along in the twos and had 28 touches and 9 marks for 104 points on the weekend. Rupert Wills (MID, $446K) is also another one who could fill the Treloar role and had 27 touches and 8 tackles for 92 points. He's probably too much to consider in classic, especially with no DPP, but if your draft is deep, he should be good for a 75 if he plays.
Carlton Blues (Northern Blues)
Nick Graham (MID/FWD, $504K) continues to produce inhumane scores in the VFL, moving his average up to 115 after scoring 155 on the weekend. If there was a VFL pig, he would be one, with his season averages being 110, 120,107, 147, 141 and 115 since 2013. Jarrod Pickett (FWD, $285K) was good with 3 goals and 17 touches for 92 points. Most of us would know his history in the AFL though….Not much happened for the Blues in the VFL, I suppose most of them are needed in the senior side….
Hawthorn Hawks
Mitch Lewis (FWD, $173K) was good with 3 goals and 7 tackles for 108 points, but only averaged 26 in the AFL and probably won't get another game unless an injury pops up. Teia Miles (DEF/FWD, $266K) was solid with 25 touches and 9 marks for 96 points. He averages 81 this year but is in some hot form. David Mirra (DEF, $351K) was okay, with 19 touches and 5 marks for 67 points. James Worpel (MID, $212K) wasn't overly impressive, with only 13 touches and 61 points.
Essendon Bombers
Jayden Laverde (FWD, $352K) was the top scorer with 111 points including 23 touches, 9 marks, 6 tackles, and goal. Michael Hartley (DEF, $361K) is in contention for Mason Redman's spot, after having 109 points from 21 touches and 10 marks. Jordan Ridley (DEF, $256K) will also fight for that spot, after having 29 touches and 7 marks for 101. Kobe Mutch (MID, $265K) was also good with 21 touches and 0.2 for 96 points. Dylan Clarke (MID/FWD, $181K) didn't set the world on fire and had 24 touches and 6 tackles for 92 points. I think it's a little unfair how they only gave him one game in the AFL. He should get another at some stage.
NEAFL
Gold Coast
Brayden Crossley (RUC, $235K) was huge with 40 hitouts, 25 touches, 9 marks, 5 tackles and 1.2 for 153 points. Sam Day is out for a week at this stage, and the Suns could look to Crossley for a bit of height. Brad Scheer (FWD, $308K) has been quite good for owners, who would be glad to know he racked up 23 touches, 11 tackles and kicked 2.2 for 131 points, and it's his hand up for selection. Dropped defender Jacob Heron (DEF, $191K) managed 21 touches and a goal for 73 points. Will Brodie (MID, $374K) just can't manage to seal a spot in the team but scored 109 points from 32 touches and 6 tackles.
Brisbane Lions
Ben Keays (FWD, $437K) had a day out with 30 touches, 3 goals, 9 marks and 5 tackles on his way to 142 points. This is just NEAFL stuff and can never do it at AFL level. Claye Beams (MID, $396K) also had a great game, with 4 goals, 31 touches, and 132 points. Jake Barrett (FWD, $468K) had 124 and Corey Lyons (MID, $170K) had 113 in what was a great day for the Lions boys. I especially like Corey Lyons, a 20-year-old midfielder averaging 96 this year in the NEAFL and could get a game at some stage.
GWS Giants
Harry Perryman (DEF, $340K) was huge with 32 touches, 4 goals and 7 tackles for 150 points. He will be competing with Finlayson for a spot but isn't relevant at his price. Lachlan Keeffe (DEF/FWD, $253K) is still going in the twos, and kicked 2 goals, racked up 22 touches and won 12 hitouts for 104 points. He could be used if the Giants don't want to persist with Simpson. Zac Sproule (FWD, $170K) was good as well with 3.3, 16 touches, 6 tackles and 99 points. If he was to get a game, I'd consider, averaging 92 and 20 touches. But Zac Langdon is ahead of him at the moment. Mathew Flynn (RUC/FWD, $170K) continues to perform well in the twos, with 45 whiteouts and 11 touches for 90 points. I think Simpson and Keeffe are ahead of him to come in. Isaac Cumming (DEF, $191K) only managed 43 points from 9 disposals.
WAFL
West Coast Eagles (East Perth)
Brayden Ainsworth (MID, $234K) was great with 22 touches, 3 goals, 6 marks and 6 tackles for 116 points. He is still receiving from an injury but is pushing for selection. Luke Partington (FWD, $273K) was good as well with 27 touches and a goal for 85 points. He's probably too expensive to get even if he was to get a game. Dom Sheed (MID, $499K) was dropped for the Essendon match-up and only managed 82 points from 25 touches in the WAFL. Francis Watson (DEF, $170K) had 18 touches and 4 marks for 67 points. David Venables (FWD, $245K) made his return after his injury and was managed throughout the game. He had 9 touches and 4 tackles for 39. If Jarrod Brander (DEF/FWD, $243K) want another game, he'll have to do a little more than 8 touches and 30 points.
Top 3:
Quinton Narkle (MID, $170K) from Geelong makes his debut, and kicked 3 goals for 111 points in the VFL 2 weeks ago, Geelong had a bye this week. I think Brayden Sier will play and fill Treloar's position, and Brayden Ainsworth (MID, $234K) could get another gig since he's playing quite well after returning from his injury.
If you have any questions, feel free to leave them in the comments section.