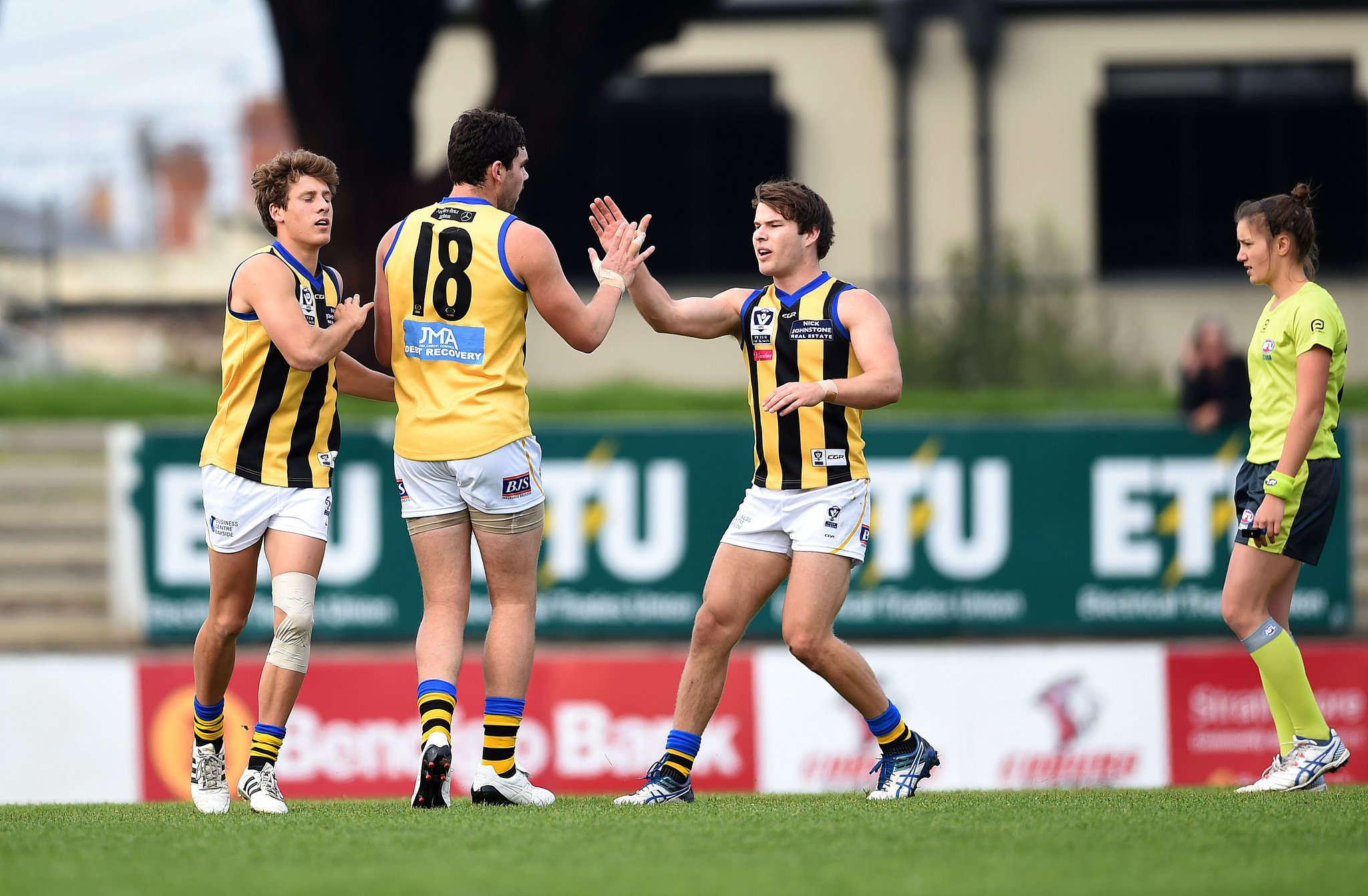 VFL
Western Bulldogs (Footscray)
Josh Dunkley (FWD, $542K) was the Dogs top scorer with 98 points, including 9 tackles, 25 touches and 0.2. Jordan Roughead (RUC, $418K) was good as well with 36 hitouts for 91 points. He could come in again at some stage but I wouldn't be touching him. Callum Porter (MID, $170K) has been good this year but was a little below par on the weekend, and only managed7 tackles for 52 points.
Geelong Cats
Ryan Abbott (RUC, $170K) I have talked about for a few weeks now, and a lot of people brought him in. He scored 118 points and was the top scorer, and had 60 hitouts, 12 touches and 5 tackles. Quentin Narkle (MID, $170K) was great as well, with 21 touches, 3 goals and 8 tackles for 111 points. The cats could look to him at some stage, and with Lincoln McCarthy injured from the weekend, he could come in after the bye. Gryan Miers (FWD, $170K) was solid with 21 touches and a goal for 86 points. Scott Selwood (MID, $559K) was decent with 21 touches and 63 points, and I'm not sure what the deal is with him, whether he is returning from injury or just not in the side.
Richmond Tigers
Corey Ellis (DEF/MID, $366K) was very god with 22 touches, 11 tackles and 2 goals for 123 points. Callum Moore (FWD, $254K) was good as well after being dropped, kicking 5 goals for 105 points. I don't think he'll come back in immediately after the Tigers had a solid win and Daniel Rioli is back. Anthony Miles (MID, $515K) came in for a 78, but was dropped straight away and only managed 60 points.
Hawthorn Hawks
James Cousins (MID, $327K) was huge with 37 touches and 2.3 for 143 points. He could get another game at some stage but there isn't really anyone who could come out for him this week, especially after a win. Mark Pittonet (RUC, $196K) was solid as well with 47 hitouts and 7 tackles for 115 points. David Mirra (DEF, $351K) is still owned by 16% of coaches, and he scored 80 from 20 touches and 7 marks on the weekend. James Worpel (MID, $212K) was below his normal VFL scores, with 79 from 20 touches and a goal.
St Kilda (Sandringham)
After winning by 122 points last week, the Dragons were kept goalless and were beaten by 68 points, playing on what was practically a lake. Tom Hickey (RUC, $502K) was huge with 58 hitouts, 8 tackles and 24 touches for 155 points. He isn't relevant in classic but if you need a ruckman in draft, keep your eye on him. Nathan Freeman (MID, $170K) was managed throughout his game and had 63 points as well as 9 tackles. Ed Phillips (MID, $376K) wasn't that good with only 12 touches and 9 tackles for 66 points. We can't take these numbers too seriously, as the conditions were horrendous. Nick Coffield (DEF/MID, $363K) wasn't great either but could come in for Jimmy Webster if he doesn't get up after the week off. He had 15 touches, 14 of which were kicks, and 4 tackles for 61.
WAFL
Fremantle Dockers (Peel Thunder)
Cam McCarthy (FWD, $296K) has done a Shane Kersten, going back to the WAFL and playing in defence. HE had 17 touches and 11 marks for 92 points. Sean Darcy (RUC, $554K) made his return game and was monitored throughout the day, but had 41 hitouts, laid 4 tackles and kicked a goal for 78 points. Mitch Crowden (FWD/MID, $270K) was solid with 16 touches, 7 tackles and 76 points. I can't see him getting another game soon, because hteystill have Walters to come in. Harley Bennell (FWD, $249K) played half a game and missed the other half with a wrist injury. He managed 14 touches and 5 marks in the half he played, for 45 points.
West Coast Eagles (East Perth)
Brendan Ah Chee (MID/FWD, $401K) was solid after being dropped, with 22 touches, 7 marks and 6 tackles for 98 points. Brayden Ainsworth (MID, $234K) played his first game since his injury, and had 20 touches and a goal for 91 points. Hopefully, he gets a game because we need someone in the midfield on the bench for the run home.
NEAFL
Sydney Swans
Darcy Cameron (RUC, $170K) was huge against with 26 touches, 12 marks, 33 hitouts and 3 goals and 2 behinds. He managed 147 points and pushed his season average to 126. Most other teams would select someone who is averaging 18 touches, 8 marks, 5 tackles, 32 hitouts and 1.5 goals, but it just isn't the case at the Swans. Daniel Robinson (FWD, $332K) is very in and out of the Swans side, but puts on a show in the NEAFL every game. He scored 131 points including 37 touches and 7 marks. Daniel O'Riordan (DEF, $170K) continues to push his case and had 33 touches and 9 marks for 115 points and I really like the look of him, when he gets a game, will be a great option. Nic Newman (MID, $521K) was good as well with 31 touches and 106 points.
Gold Coast Suns
Peter Wright (FWD, $490K) was good and is playing well after having an injury, and is working his way back into footy. He had 22 touches, 8 marks, 18 hitouts and kicked 2 goals for 124 points. He should come back soon. Brad Scheer (FWD, $308K) was decent with 18 touches and 7 tackles for 78 points and is very in and out of the team. We could see him again at some stage but is by no means an option.
SANFL
Adelaide Crows
Curtly Hampton (MID, $430K) was quite good with 23 touches and 13 tackles for 125 points. Lachlan Murphy (FWD/DEF, $295K) also brought good pressure to the game, with 10 tackles and 16 touches for 88 points. Darcy Fogarty (FWD/MID, $291K) was terrible with 10 touches and 33 points. Look to trade him if you haven't already.
Port Adelaide
Jack Trengove (MID, $376K) was huge with 27 touches, 2 goals, 13 marks, 6 tackles and 152 fantasy points. He could be looked at by the Power but I don't think he's relevant in fantasy. Dom Barry (MID, $299K) was good as well with 27 touches, 7 marks and 95 points. I reckon Trengove is ahead of him for now though. Not much else happened in the SANFL for the Power.