The Milkmen Review – Round 9
CASH COWS: The Milkmen look at the best rookies going around.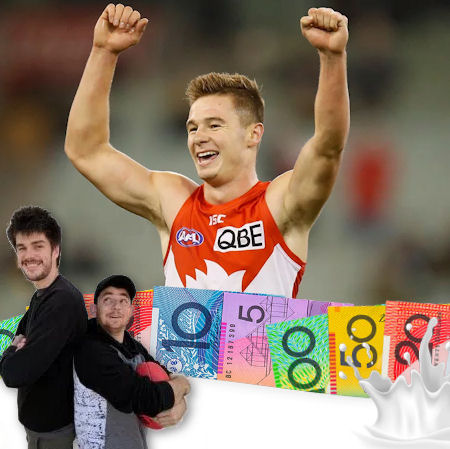 With byes approaching, each round becomes more important for our rookies. We've tried to help by including in this article who we expect to be there come the bye rounds so be sure to check it out and let us know your thoughts. As always, come Friday we'll be releasing our top trade in targets following the announcement of Sundays teams. Join us on our live Twitter Q&A at 5:30pm AEST @TheMilkmentDT.
Those That Matter 
Adelaide vs Western Bulldogs
Last week the owners of Ronke had their weekend off to a good start but no such rookie could match the feats in this game. Tom Doedee ($432,000 DEF BE 70) led the charge of the rookies from the match who were trying to but he could only manage a respectable 15 disposals and 7 tackles for his 76 points. It's worth noting that before this game that Doedee had only had more than two tackles in a game more than once so the brand of footy assisted him in this area. He is still however one of the fewer rookies that seem capable of pushing out an 70-80+ score so no harm if holding if bye structure suits. Bulldogs rookies will definitely be the ones that suit byes and neither Ed Richards ($345,000 DEF BE 48) or Billy Gowers ($359,000 FWD BE 46) should be going anywhere before they come around. The wet weather didn't suit Gowers at all and he only managed to work his way in to the game after quarter time as the weather calmed down. He finished with 9 disposals and only two marks to get him to 45 points. Ed Richards seemed to thrive in the wet weather as he had seven tackles and multiple one percenters. The conditions further amplified his dodgy disposal but that won't worry the coaches due to his effort nor us fantasy coaches due to his 63 points.
A lot of coaches were excited to see Lachlan Murphy ($268,000 DEF/FWD BE 10) back in to the side but that would've been short lived as he went in to the half on 4 points. We really thought Murphy would've adapted to the wet weather quicker than his opponents but it was the exact opposite in the end. Luckily he tackled his way to 51 points in the end. The other key rookie in the game Darcy Fogarty ($288,000 MID/FWD BE 44) was solid from a team contribution point of view but not from a fantasy point of view. Fogarty ended the night with 7 disposals, one goal and 35 points. Should hold his spot until Walker is back but we don't think he has to hold his spot in your team until that point.
North Melbourne vs GWS
The only North cash cow running around for us in this game was Ben Jacobs ($478,000 MID BE 60) and he made sure that coaches knew it. Standing next to either Dylan Shiel or Callan Ward for most of the game, his tackling ability got to be used to full effect. He ended up with ten hugs and 78 points. Could've been a little better if he was more accurate when he got his chances in front of goal too. It's pretty obvious that you can keep the scores rolling with Jacobs as you deal with other issues.
GWS had a few more cash cows on the park. Anyone who had Isaac Cumming ($191,000 DEF BE 21) may not see him running around for much longer. As mentioned below, Matt Buntine keeps impressing in the reserves, so Cummings' eight disposals for 22 points shouldn't be enough to help him avoid the looming selection axe at the giants. Zac Langdon ($278,000 FWD BE 36) showed his usual amount of forward pressure but even that only meant he had four tackles and 40 points. Has had his time in the sun and ready to downgrade if possible. Lachlan Keeffe ($253,000 DEF/FWD BE 15) continued to be used in the ruck for GWS as Rory Lobbs' game time is managed. He's only using hitouts to get his score really (21 in this game) so if he could start showing his marking power too then we'd have a real winner of a cash cow on our hands. The other key rookies was Jeremy Finlayson ($401,000 MID/DEF BE 75) who can partly blame the fact that GWS never got their game working off half back or the fact that they don't look to him for the switch kick as much, as the reason he only had 14 disposals for 46 points. A couple of rookie defenders coming through in Rice and Ridley means we shouldn't see Finlayson in too many teams for much longer.



Gold Coast vs. Port Adelaide
Firstly, well done to Nick Holman ($387,000 MID) for breaking the ton for the first time this season. He has been an excellent pick up and he is still yet to miss a game. His scoring, however, is incredibly hard to predict. He seems to either go sub 35 or plus 75. Brad Scheer ($292,000 MID) was serviceable collecting 13 possessions on his way to 51 points. He still looks like he is not quite ready to hold down a midfield spot. Jacob Heron ($180,000 DEF) was fairly quiet on debut. Despite kicking a goal, Heron scored just 44 points from 10 touches. Heron's numbers in the NEAFL don't suggest he is going to be a scorer. Brayden Crossley seems to be around the ball a lot, he just doesn't touch it. We were getting sick of the commentators saying 'well done Crossley, that's his job, just bring the ball to ground'. Crossley scores well when he is the number one ruckman, unfortunately that is not the case. Crossley scored just 29 points.
Essendon vs. Geelong
Weird, weird game. Before we get into it, just know that if you played for Essendon, chances are you got a good score. Only four of their players got less than 70. This compares to 16 Geelong players. Unfortunately, the much-hyped Dylan Clarke ($181,000 FWD/MID BE 14) was one of these players. Clarke collected just nine possessions and scored 46 points. It's worth noting that Clarke only had 68% game time, the lowest of any Essendon player. Whether that's a positive or a negative is debatable. His role was pretty hard to identify as well. One thing that is certain, is that he certainly wasn't playing as an inside midfielder, the role that saw him average 126 points in the VFL. Essendon dominated the game so they will be reluctant to make changes. He gets another chance and is still a great option to bring in. Matt Guelfi ($328,000 FWD BE 6) should never have been dropped and again played well scoring 72 from 14 touches and a goal. Welcome back. Jordan Ridley ($205,000 DEF BE -14) was terrific on debut and is sure to be one of the most traded in players this week. The tall running midfielder seemed to have acres of space all day. Ridley had 25 touches but didn't lay a tackle. We still have Clarke ahead of Ridley as he is not going to get this much space in upcoming weeks, Geelong were terrible.
Tim Kelly's ($489,000 MID BE 79) scoring is starting to slip, however he is still yet to go below 60 this season. Kelly scored 64 on the weekend in a team that struggled. We are still happy playing him as our last midfielder. People are getting disappointed because he has set the bar so high. Jordan Cunico ($423,000 MID BE 60) and Jack Henry ($325,000 BE 35) both look at home out there and their scores of 57 and 55 respectively should improve when Geelong as a whole lift.
Sydney vs. Fremantle
With the exception of Buddy, this game was a shocker to watch. For people that jumped on Ben Ronke, ($368,000 BE -2) they would have been more than happy with his score of 74 from just one goal. We were impressed at how Ronke played up the ground a bit more than usual and didn't rely on goals to score well.
For Fremantle, Bailey Banfield ($390,000 MID BE 58) and Andrew Brayshaw ($409,000 MID BE 56) continue to do their thing. They roll through the midfield and crack in. The boys scored 64 and 54 respectively. You know what you are going to get from these two and both players should play throughout the byes. Adam Cerra ($372,000 MID BE 59) scored just 43 points but looked better than that. He collected 15 possessions and was clean with ball in hand. Mitchell Crowden ($270,000 FWD/MID BE 71) was poor, scoring just 23 points. Ross Lyon said in his post-match press conference that he will be dropped.  Stefan Giro will almost certainly be his replacement and he is a great option to bring in on debut. Alex Pearce ($302,000 DEF BE 51) had his first stinker for the year, scoring just 29 points and getting toweled up by Buddy.
St Kilda vs Collingwood
It's worth noting that only two players for Collingwood scored under 50 in this game so all scores could easily been seen as inflated due to the opponent. In saying that Flynn Appleby ($266,000 DEF BE 1), was really impressive in the backline for the Pies. His 16 disposals went at 81% efficiency and he also managed to take 8 marks as he made his way to 67 points. Sam Murray ($495,00 DEF BE 67) was his partner in crime back there and gave coaches no need to worry about his spot in the field. 23 touches and 71 points this week. Jaidyn Stephenson ($448,000 MID/FWD BE 67) did his bit to make sure the price remains around 450k with another strong performance after a quieter week last week. Another two goals this week to go with his 18 disposals and 81 points.
For the Saints we got our first look at Bailey Rice ($186,000 DEF BE 6) and we were impressed with what we saw. With the injury to Sam Gilbert and the chance the Saints now have to blood their youngsters the spot is really Rices' to lose. He did nothing to change that with his 17 touches coming at 88% efficiency. We expect him to slowly build and average just slightly higher than his score of 56. Ed Phillips ($242,000 MID BE -8) had the exact same score although he had a few more clangers a long the way. Still there was enough in his effort to safely say that he ain't going anywhere anytime soon. Nick Coffield ($368,000 MID/DEF BE 62) was actually great when he had the ball in his hands and made some good decisions in tight. It's a shame the ball only got in to his hands 12 times as the Saints would've been a lot better off if it was Coffield disposing of the ball. It's a hard read on Coffield at the moment but our advice is that he is ready to be milked if the opportunity presents itself but should still score solidly during the byes if required.
Carlton vs. Melbourne
Bayley Fritsch ($465,000 FWD BE 28) is a gun. Getting dropped in round five was the best thing that ever happened to him as he has come back a new man. He has scored 88, 91, 89 and 96 respectively. Feel sorry for people who (understandably) traded him out. Charlie Spargo ($316,000 FWD/MID BE 34) has dropped off since his impressive debut. Spargo scored just 53 points, but we feel he has upside. He provides spark and cracks in. Melbourne are going well so hopefully they stick with him.Tim Smith ($212,000 FWD BE -9) is sure to be a popular trade in target this week after the 27 year old scored 86 points in his first game for the season. Smith has had a tough run with injury and hopefully this is the start of something good. Would have liked to have seen him perform this well against a better side, but what can you do. Smith has been averaging 106 in the vfl this season.
Paddy Dow ($346,000 MID BE 42) is building into this season but his scoring is still limited. Dow scored 62 from 14 touches. He still has great job security. Cam O'Shea ($333,000 DEF BE 59) has been very disappointing this season. He was barely sighted on the weekend scoring just 30 points and has to be close to getting dropped.
Brisbane vs. Hawthorn
What a welcomed surprise David Mirra ($310,000 DEF BE -5) was. 94 points from 24 touches. This is the Mirra we were expecting in the preseason. It wasn't just the scoring that was impressive though, his disposal and intent was great to watch. He looked confident out there for the first time this season. Surely he is safe to play throughout the byes now. James Worpel ($212,000 MID BE 21) just isn't ready to be an inside midfielder at AFL level yet, scoring just 41 points from 11 touches.
Love watching Oscar McInerney ($290,000 RUC BE 5) play. The big O just stands out and you can't help but want him to do well. He isn't even in our team and we still cheer for him. He is also playing well and not affecting Stefan Martin's scoring, so play on! Cameron Rayner ($338,000 FWD/MID BE 51) is starting to play like Cameron Rayner. Best game we have seen him play this season. He is starting to look dangerous up forward. Rayner score 58 and kicked two goals.
West Coast vs Richmond 
Really didn't draw the short straw being able to report on this game as there wasn't too many rookies to pay attention to that were running around. The two keys ones that were on the park were Willie Rioli ($343,000 FWD BE 42) and Jake Waterman ($375,000 DEF BE 58). Rioli stood our more out of the two, although they scored very similar with 49 and 48 points respectively. With the Eagles still winning it's hard to see the two going anywhere and they do have a great bye round so it's easy to make them a lower priority to move on. Tom Cole ($377,000 DEF BE 54) is in a similar boat to his counterparts and he was back to his rebounding best with 14 disposals, 5 marks and 63 points on the weekend.
The Bye Rounds
Despite it being potentially obvious to some, we thought we'd create a list of rookies we expect to see maintain their spot during the byes. Any names that aren't mentioned, we are not so confident they will be there come Round 14. That is not to say that they won't be! You'll see that fantasy teams don't have too many from the list so it further emphasises how important it can be to keep some rookies over the byes unless they have been upgraded to premiums.
Defence
Ed Richards – Round 12 Bye
Tom Cole – Round 12 Bye
Sam Murray – Round 13 Bye
Jeremy Finlayson – Round 13 Bye
Flynn Appleby – Round 13 Bye
Alex Pearce – Round 14 Bye
Tom Doedee – Round 14 Bye
Bailey Rice – Round 14 Bye
Nick Coffield – Round 14 Bye
Midfield
Nick Holman – Round 10 Bye
Paddy Dow – Round 12 Bye
Ben Jacobs – Round 13 Bye
Tim Kelly – Round 14 Bye
Andrew Brayshaw – Round 14 Bye
Bailey Banfield – Round 14 Bye
Ed Phillips – Round 14 Bye
Ruck
Oscar McInerney – Round 13 Bye
Forwards
Willie Rioli – Round 12 Bye
Jake Waterman – Round 12 Bye
Billy Gowers – Round 12 Bye
Bayley Fritsch – Round 13 Bye
Matt Guelfi – Round 13 Bye
Cameron Rayner – Round 13 Bye
Ben Ronke – Round 14 Bye
Not seeing names like David Mirra, Tim Smith, Lachlan Keefe, Jordan Ridley and Dylan Clarke may worry some coaches but there's a lot of question marks still about their roles in the side in order for us to be confident they'll be there come round 14. We like many other coaches are sure hoping they will be!
Who to Keep An Eye On
With the above being said we should still see some new rookies come through for us in the coming weeks and the later they come in the better for our bye round trading. Bit of a repeat on some of the names but no harm reminding the coaches of who they are.
S
tephen Giro ($170,000 MID) – 27 touches and a goal on the weekend to go a long with some recent form. It's the 9 tackles though that will probably put him in the side ahead of Crowden.
Luke Strnadica ($170,000 RUC) – Don't know what else he has to do there at Fremantle. Another two goals to go with his 18 hitouts saw him score 87 on the weekend.
Brayden Ainsworth ($234,000 MID) – Already seen him on the park once and if Yeo is injured then should get another shot. Sheed also looked a bit out of it so if he comes in for the later then he can make the spot his own. If he comes in for the former unfortunately job security remains extremely shakey. Did what he had to in the reserves though to score 123 points.
Aaron Francis ($259,000 DEF) – Had his best game in the VFL for the year on the weekend. Essendon will want to get games in to him before the season ends but may be too soon just yet.
Ryan Abbot ($170,000 RUC) – Plenty of buzz about the kid coming out of Geelong but we aren't as convinced. Still going at an average of 76 in the VFL this year and averaging 26 hitouts. One to consider if you see his name at selection.
Mitchell Hibberd ($235,000 DEF) – Actually piecing together a nice little season at VFL level. Has an average of 23 disposals and 88 points this year.
Brayden Sier ($170,000 MID) – Collingwood going a lot better this year then anticipated has hurt players like Sier. However, anyone who has 35 touches at reserve level has to be in contention.
Patrick Wilson ($170,000 MID/FWD) – Holds the record for most mentions in this part of the post for the year. There's actually some other Adelaide cash cow rookies doing well in the reserves but if Wilson can't get a game we struggle to see a reason to mention them. Just a lazy 29 touches on the weekend (including 25 kicks).
Matt Buntine ($244,000 DEF) – Regular readers will no we are a big fan of his work and the crisis going on at GWS may help him be selected a lot sooner than anticipated. Had a strong game on the weekend to end up with 27 touches, 9 marks and most importantly 112 dreamteam points.
Brent Daniels ($218,000 MID/FWD) – Remember this guy who ended up injuring himself during the pre-season? Well he's back running around in the reserves and show a bit with 25 touches and 1 goal for 87 points on the weekend.
Darcy Cameron ($170,000 RUC) – We know he's actually no real chance of getting games but his scores are getting more and more ridiculous. Another monster in the reserves with 146 points. Get him on the park Horse!
Colin O'Riordan ($170,000 DEF) – Another favourite of ours who is waiting for an injury at Sydney to get a run. Will be more than ready when he finally gets his chance. Has increased his reserve level average to over 100 over the past few weeks and has been getting 28 disposals a game running off the back flank.
Corey Lyons ($170,000 MID) – No offence to Matt Eagles and all the energy he is bringing to the team, but how he is getting a run and Lyons is not there at Brisbane really fascinates us. One of the best for the team on the weekend once again thanks to his 22 disposals and 6 tackles.
Harley Bennell ($249,000 FWD) – Slowly building game time but had only 8 touches on the weekend but it did include a goal. Will keep you updated as he starts showing any signs of match level fitness.
Twitter
As always, some great questions coming through so be sure to keep them rolling!
This is a hard one to answer as it really depends who you have in your team and what rounds their byes are but we will give it our best shot. The best players to hold from the list above
Defenders 
Sam Murray
Nick Coffield
Ed Richards
Midfield
Ben Jacobs
Tim Kelly
Andrew Brayshaw
Forward
Bayley Fritsch
Matt Guelfi
Willie Rioli (Never thought we'd say the words)
If you have a chance to move him on to a Phillips or any of the other rookies mentioned in the "Keep an Eye on Section" as they get named then we would as it's tough to see how he's going to break back in to a now winning team in the next few weeks. He should keep putting his hand up in the VFL.
I feel the options here are either Duman for Rice or Crowden for Smith? We feel Rice has better job security of the two but Smith will have a higher ceiling. For now we'd go with the former although the rest of your team may come in to this decision. In good news both Duman and Crowdens prices wont be going down for a little while as they spend more time in the WAFL (assuming Crowden is dropped).
We'd have Rice a head of Keeffe, especially now it looks like Nathan Brown is out for a couple. As long as Keeffe is still rucking then he's relevant and capable but worried with some troops coming back there at GWS and Lobb regaining fitness that it won't last for too much longer.
Definitely over performed but that's not to say you shouldn't bring them in. Ridley benefited from the lack of Hurley for sure but has done enough to hold his spot upon his return. Smith used to be highly rated at the club but again is very replaceable. To be safe we'd only bring in one of them in to your side and we have Ridley slightly ahead of Smith, but it depends what position you need to bring someone in. Melbourne won't win by 100 points every week.
FOLLOW US ON TWITTER:@TheMilkmenDT specialising in cash cow selections but still here to talk all things AFL fantasy.