The Milkmen Review – Round 10
Getting your rookies sorted for the byes is super-important.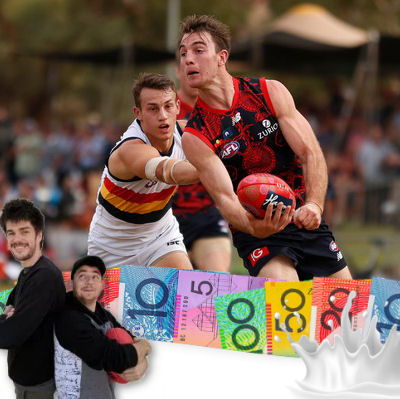 Team selection for Round 10 was definitely a not so friendly reminder about the importance of bench cover! As fantasy coaches continue to fill up their side with premiums, let's have a look at the round that was, whilst looking at some rookies coming through the twos. As always, come Friday we'll be releasing our top trade in targets following the announcement of Sundays teams. Join us on our live Twitter Q&A at 5:30pm AEST @TheMilkmentDT.
Those That Matter 
Western Bulldogs vs Collingwood
After the carnage that was the selection table, those who were relying on rookies from this game to perform would not have been extremely happy. The top scoring rookie for the Pies was Jaidyn Stephenson ($444,000 MID/FWD BE 74) who just kicked his one goal as he had 59 points. Definitely looks to be slowing down but one that you should keep as a low priority to trade because at least we know he will be playing. The only other rookie playing for Collingwood was Flynn Appleby ($286,000 DEF BE 26) and if anything we were glad he didn't perform amazingly as it bodes well for Sam Murray. Appleby only had 11 disposals and more importantly only the one rebound 50. Owners should be nervous. Just on Sam Murray, it's worth noting in the post match press conference that Buckley said he was dropped due to form reasons and seem to hint that he may be out for awhile. No harm in moving him on if you don't see his name at team selection this week as he is a cash cow that's ready to be milked.
Ed Richards ($367,000 DEF BE 30) has really used the last few weeks to make the half back flank role his own. His 23 disposals included 10 contested and he ended up on 87 points. The contested ball gathering is why the scores seem to be increasing the most as he's getting his own ball as well as being a part of the chipping off half back. He actually had five inside 50s of his own too so really has free range in that side which is great news. Awesome bye round too so just kudos all round the teams who have him.      The other key rookie for the Bulldogs in this one was Billy Gowers ($360,000 FWD BE 57). Other than a great contested mark in the last quarter there really wasn't much to write about in regards to his game. Like Richards, has a great bye round so we'd have him as a low priority rookie to move on despite his recent form suggesting otherwise.
Richmond vs St Kilda
St Kilda are blooding more and more youngsters at the moment and it's safe to say we will see a few more downgrade targets. If only they didn't all share the same bye! The backline brigade of Logan Austin ($222,000 DEF BE -16) and Bailey Rice ($225,000 DEF BE -11) enjoyed the plethora of ball that came their way and had 97 and 75 points respectively. Austin was especially impressive with his score as he relished on the early removal of Jack Riewoldt from the game and played as a loose tall at times. He ended up with 23 disposals and 8 marks but we wouldn't be getting too excited by the kid. He was only selected due to Nathan Brown's injury and won't get that much freedom every week. We still have Rice ahead of him as a priority. Ed Phillips ($288,000 MID BE -4) used a huge second quarter of over 10 disposals to help him get to 74 points. He ain't going anywhere quickly and will be there come byes. Clearly him and his brother share a similar engine as he spent 87% of the game on the field between the centre square and down back.
The only other relevant rookie running around for Richmond was Jack Higgins ($366,000 FWD BE 46). We were pretty surprised to see he only had two tackles as Higgins did apply good pressure around the ground. His 15 disposals and 5 marks meant that he still found his way to a respectable 64 points. This is actually a promising sign from Higgins that he didn't need to rely on goals to get a good rookie score but the worrying thing with him is we know they aren't afraid to leave him out of the side at any moment.
Brisbane vs Sydney
It's hard not to be impressed by Ben Ronke ($409,000 FWD BE 28) and the way he goes about it. It's also pretty funny every time the commentators refer to him as "Buddy Ronke". This game was only two goals for the Ronke (high expectations I know) but a nice 13 disposals to go with it were the reason he got to 70. Keep enjoying the price rises while they come people! We got our first look at Ryley Stoddart ($178,000 DEF BE 17) and there wasn't much to go chasing to be honest. Only 9 touches and they went at 44% so it could very well be a one week trial. We hope that Horse gives Colin O'Riordan ($170,000 DEF BE 27) a chance and he will be more of a name to get excited about.
All Brisbane rookies were solid without being amazing. Other than Matt Eagles ($180,000 MID BE 32) of course. Despite not scoring well already, a groin injury put him out before half time and we now get to wait and see who gets named to take his place. Pray for more rookies. Cameron Rayner ($333,000 MID/FWD BE 57) actually did a few good things up forward and took a couple of crucial marks. It's easy to see why the players love him over there in Brisbane due to the intensity he brings to the contest. Only one goal and 42 points but from a non-dreamteam perspective there's plenty to like. It was largely thanks to a big second quarter that Oscar McInerney ($312,000 RUC BE 28) managed to piece together any type of score and ended up on 44 points. The Big O just keeps doing the small things well, which helps work wonders his job security during the byes. The highlight of the one percenters was a flying fist spoil reminiscent of some of the best defenders. Zac Bailey ($329,000 MID BE 55) showed just what kind of shockers he is prone to. The match up in the rain against some bigger bodies really didn't suit his style and he ended up with only 8 disposals and 32 points.
Geelong vs. Carlton
Scrappy old game. Couldn't help but cheer for Carlton. There is a fair bit to like about Jack Henry ($353,000 FWD BE 28). His scores have been very up and down, but some games he looks to be playing a very fantasy friendly role down back. Henry Scored 84 points from 16 possessions. Jordan Cunico ($425,000 MID BE 68) is becoming very reliable. He looks at home out there and you can't help but notice him. Cunico had 16 touches and scored 63 points. Tim Kelly ($477,000 MID BE 90) just becomes Tom Rockliff this week, doesn't he? He has been great for us but hasn't managed to get above 65 in three weeks now and seems to be dropping off. He will continue to play but will start losing you money each week. Speaking of trade-out options, Esava Ratugolea ($318,000 FWD BE 77) sustained a horrific broken leg (tib & fib) and is unlikely to be seen again this year.
Paddy Dow ($377,000 MID BE 27) played the best game of his AFL career and continues to build into the season nicely. If you are one of the 19% of coaches who still own him, you may be rewarded throughout the byes. He seems to be hitting his straps and has great job security. Dow scored 96 from 18 disposals. Cameron O'Shea ($336,000 DEF BE 53) played a much-improved game compared to his previous few. We thought he might have been one of the players likely to get dropped however he help his spot and played well. O'Shea scored 63 from 12 possessions.
GWS vs Essendon
Reality really hit for Jordan Ridley ($239,000 DEF BE -2) who only had the 9 touches in this game as he was made to be more accountable down back. From a non-dreamteam perspective his game was still solid which should give owners a little comfort but the reality is that Hurley is still sitting in the wings. His score of 46 is closer to what we expect from him compared to last weeks 90+. Got to back him in if you have him though. Matt Guelfi ($376,000 FWD BE 11) did what he hasn't been able to do before and continued on after half time. Interestingly Guelfi actually had the second least amount of time on the ground for the Dons which makes his score even more promising. A sneaky chance to get defensive dual position also and should be good to pump out some similar scores to this weeks 92 as the bombers continue to improve. Reliable as they come in the rookie world at the moment.
We expected a lot more from Matt Buntine ($247,000 DEF 33) who only had 44 points from his 12 touches. In hindsight that's quite harsh considering it was his first game back from a serious injury and should build from here. There's better defenders to chase though lead by Bailey Rice. If coaches haven't already it's time to move Zac Langdon ($278,000 FWD BE 44) unless he is there for bye support. For those wondering Jeremy Finlayson managed to have 25 touches and 2 goals to help him to 115 points in the NEAFL.
Hawthorn vs West Coast
We wouldn't get too excited by the game of David Mirra ($351,000 DEF BE 14) even though he produced a solid score of 68. It included a very lucky holding the ball free kick and 18 points in the space of five minutes as they chipped around. As big of fans as we were of Mirra going in to the season he definitely looked quite slow out there. Should be safe but the game made us nervous come round 13 and 14 when we will really need him. Still has enough credits in our bank to back him in.
As discussed before with the Eagles rookies, their bye is too good to pass up on keeping some of the forwards running around for your side. Those with Willie Rioli ($363,000 FWD BE 36) are especially laughing, as he just seems to be riding a wave of confidence at the moment and starting to score consistently well. 13 touches, 5 marks and 2 goals for 77 points this week. Jake Waterman ($373,000 FWD BE 62) definitely looks like he is slowing down and playing the supporting role we thought he would play from the start with the three tall-pronged attack. He's only going at an average of 58 now despite peaking at 64. This week's score of 54 was part of the reason for that. He is still a lower priority to move on, as you may need him there come round 13 and 14.
Melbourne vs. Adelaide
Timothy Smith ($277,000 FWD BE -36) has certainly entered Melbourne's best 22 at the right time. Smith has been involved in Melbourne's last two games in which they have belted their opposition and almost all players have scored well. Smith backed up his 86 with a 107 this week and that breakeven is hard to ignore now. Just don't expect these scores to continue. Charlie Spargo ($344,000 FWD/MID BE 28) continues to impress us. Tackles well, accumulates, uses the ball well and can hit the scoreboard. Spargo scored 84 from 14 possessions. Bayley Fritsch ($493,000 FWD BE 54) is now just $5000 less that Billings. If we didn't still have Billings, this would be funny. Fritsch is just a gun. He is averaging 88 in his last five games and since he was dropped in round five, he has come back and played much higher up the ground. Melbourne feed him the ball, he is great overhead and is an elite user.
Tom Doedee ($435,000 DEF BE 64) was probably one of Adelaide's better performers. You know what you're going to get from him now. Locked into Adelaide's back six. If Adelaide weren't pumped, you would probably accept the game of Darcy Fogarty ($292,000 FWD/MID BE 41). We actually thought he did well considering he had so few opportunities. Fogarty had nine touches, a goal and scored 51. Barely noticed Myles Poholke ($244,000 FWD/MID BE 21) to be honest. He had nine touches and scored 47.
Fremantle vs. North Melbourne
Adam Cerra ($385,000 MID BE 45) looked great on the weekend. We thought he might have been a chance at getting the rising star nomination. Looked like he had a dry footy out there for most of the day. Cerra scored 82 from 15 possessions and nine tackles. He, along with Bailey Banfield ($394,000 MID BE 56) and Andrew Brayshaw ($415,000 MID BE 61) should continue to play each week, not only through the byes, but for the rest of the season. It feels like Brayshaw and Banfield score the same amount of points each week. Both players scored 65. Brayshaw only had 66% game time on the weekend which we have noticed is not unusual with him. Alex Pearce ($290,000 DEF BE 59) only had the 30 points, but you didn't pick him up thinking he would be a high scorer.
Ben Jacobs ($509,000 MID BE 49) the cash cow of the year? We think he will be. What a star. This guy was an absolute ball magnet as a junior and when he's not completely lock down tagging and working both ways, he can find the ball alright. His ceiling is massive and job security is a lock.
Keep An Eye On 
Matthew Signorello ($170,000 FWD/MID) and Patrick Wilson ($170,000 FWD/MID) both performed strongly in the SANFL and may be considered for senior selection after Adelaide's poor effort on the weekend. Wilson is a more relevant name as he is averaging 95 points in the SANFL compared to Signorello's 69.
Brodie Mihocek ($170,000 DEF) continues to perform strongly at VFL level. He appears to be behind a few players still.
Aaron Francis ($259,000 DEF/FWD) is building form in the VFL and will play games this year. At his price however, he is hard to recommend. Currently averaging 66 in the VFL this season.
Harley Bennell ($249,000 FWD) is getting close. We all know what he is capable of but gut feel says he is still two weeks away.
Stefan Giro ($170,000 MID) will almost certainly debut this week. He is a great option. Averaging 25 touches, five tackles and 96 points in the WAFL.
Zachary Sproule ($170,000 FWD) is playing well in the NEAFL. He had 34 touches and 130 points on the weekend. With GWS performing so poorly, he may be close to a senior call up. Having said that, we have been fooled by NEAFL numbers before. Hi Shipley.
Teia Miles ($266,000 DEF/FWD) continues to perform well in the VFL. He is probably close to a senior call up, but at that price, we would avoid.
Stefan Giro and Patrick Wilson appear to be the best two trade in options this week from a cash cow perspective. As mentioned, we will be doing a live Q&A on Friday evening an hour before lock out.
FOLLOW US ON TWITTER:@TheMilkmenDT specialising in cash cow selections but still here to talk all things AFL fantasy.