The Milkmen Review – Round 11
Get across your bye round rookies.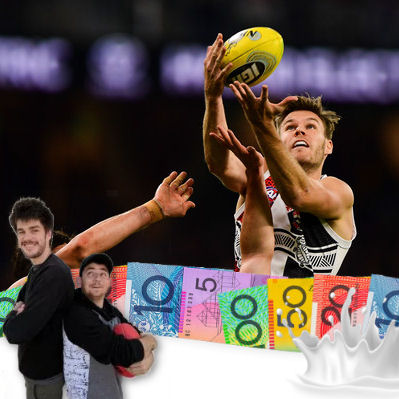 This was our last week to get a real look at where all the rookies are at before we have to start making decisions over the byes. We are big on the idea that trades throughout the byes should be based on structure and not necessarily players breakevens so do keep that in mind. This week we will just review the week that was as there's no real rookies from Gold Coast or Port we believe you should trade in and anyone else will be having their bye in a week or two so don't really see the point in bringing them in. Due to the bye rounds, from next week on we will be structuring the article a little bit differently. We'll be putting more of a focus on what rookies you can look to get rid of each week and who out of the teams that have had their byes will have rookies worth getting in.
Those That Matter 
Sydney vs Carlton
The stage was set, Ronke ($425,000 FWD BE 57) playing on a Friday Night, could he do it, could he back up his last Friday night performance? The answer quickly turned to no as Ronke remained scoreless throughout and only managed two tackles on his way to 54 points. It's harsh to expect so much from the guy but you can't help be disappointed when you've seen the potential before. Still should see games all the way through to the byes which we love. The same can't be said for Ryley Stoddart ($184,000 DEF BE 22) who is unlikely to see the field through to the byes. Two of his six possessions were clangers which is writing on the wall stuff for us.
The Blues only had one player for the match score over 100, so it was never going to read pretty for the rookies playing in this game. Paddy Dow ($388,000 MID BE 50) looked like he was in need of the rest. He was unable to back up his enormous performance from last week and only spent 70% of the game on the ground. He still managed four clearances, which is great, but his score of 46 is not so great. His young partner in crime Lochie O'Brien ($325,000 MID/DEF BE 56) is in a very similar boat and only had 47 points of his own. Pat Kerr ($207,000 FWD BE 2) had his best game for the club and even spent some time in the ruck for 6 hitouts. This, to go with his one goal, helped Kerr to 62 points and an option to bring in post bye for those who need cover up forward. Cameron O'Shea ($344,000 DEF BE 46) was his usual rebounding and error ridden self. The tally from this game was seven rebound 50s, six clangers and a disposal efficiency of 60%. More importantly though O'Shea still scored 66 points but did his job security concerns no good.
Western Bulldogs vs Melbourne
Some people were excited by the prospect of Roarke Smith ($276,000 DEF BE 34) and his round 12 bye but the truth is that as long as you are fielding over 18 players then his score won't end up counting. Plays more of a lock down role in the Dogs backline and after never averaging more than 56 in the VFL we wouldn't make him an option with such a high price. If you've held Ed Richards ($381,000 DEF BE 42) and Billy Gowers ($358,000 FWD BE 59) this long then you clearly wouldn't be getting rid of them now, as you'll need them over the next two weeks. Gowers had another game at his now normal ceiling of approximately 50 each week. While even Richards was a bit quieter then we have become accustomed to with only 54 points but we wouldn't be too concerned. Let the loyal soldiers enjoy their rest this week as we need their big scores more than ever come the next couple of weeks.
We can't help but feel so proud for Bayley Fritsch ($534,000 MID/FWD BE 42) and his ability to crack mentions in articles other than this one. He's turning himself into more and more of a cult hero each week. The move up the ground combined with the recent domination of the Dees is working wonders and owners should keep riding the wave as he rebounds from 50, takes marks on the wing and even helps himself to a goal or two. Just to make matters even better he's gone and got himself dual position status to help where he can during byes. Has pushed Ben Jacobs off the podium as the best rookie for 2018 so far in style. The same can't be said for Charlie Spargo ($353,000 MID/FWD BE 47) who isn't capitalising on the dominance over the last couple of weeks. Amazingly didn't score for the match and only had 44 points because of it. For those owners who bought in Tim Smith ($323,000 FWD BE 3) and saw his score of 46 we wouldn't be as worried as that score may make you feel. The reason why is Smith was battered and bruised all throughout the game and the biggest worry should actually be whether or not he needs a rest this week because of it. Still showed plenty of what coaches love with six tackles.
Hawthorn vs. Port Adelaide
No cash cows here.

Gold Coast vs Geelong
There should be plenty of interest from the Dreamteam community in how the rookies are performing over at Gold Coast. In theory they should provide a great avenue to keep players on the park during the bye and make some cash. In reality though there isn't too much on offer. First thing first, as we have said before in this article, full respect to all coaches who persevered with Nick Holman ($421,000 MID/FWD BE 25) as he's starting to return to his early season form with 19 touches, 6 tackles and 88 points. He seems to have moved back up the ground and made himself one of the handiest rookies for the bye rounds with his dual position status. With Scheer being dropped for the game then the only other rookies we had to look at and hope to show us something was Charlie Ballard ($223,000 MID/FWD BE 25). He played a lot more in defence this week and sat on Jemaine Jones (189,000 FWD 7 BE) for most of the game. Neither really took advantage of the match up and had 52 and 60 points respectively. Similar to Kerr from Carlton, Ballard isn't the worst option to bring in if required to help with bye structure but during the regular season would be far from a must have.
Tim Kelly ($482,000 MID BE 71) made up for some of his recent poor scores with a dynamic match through the midfield that included 24 disposals, two goals and 97 points. There was no significant role change to get excited about but we can put down this return to form due to such a strong game from the Cats. Here's hoping it continues when we need it most. Jordan Cunico ($435,000 MID BE 58) also made full use of the disposal heavy cats by collecting 24 disposals of his own and a handy 84 points. Lachie Fogarty ($422,000 MID BE 57) was just behind him in his return game for the club. 17 possessions and 71 points. Jack Henry ($352,000 DEF/FWD BE 61) can blame the lack of ball his way for his inability to put a real stamp on the game. It was a shame as coaches were starting to trust Henry on their field but perhaps this is a friendly reminder about key position rookies. Only five touches for 26 points is worrying but he has enough credits in the bank to remain in the senior side.
Essendon vs. Richmond
Matt Guelfi ($410,000 FWD/MID BE 32) continues to produce solid performances and scores. The way he's playing suggests his job security is great. This is further heightened by the injury to David Zaharakis. Guelfi scored 71 from 16 possessions. Jordan Ridley ($256,000 DEF BE 25) was barely sighted on the weekend, scoring just 27 from seven disposals. We have never been excited about Ridley's scoring potential and it wouldn't surprise us to see him dropped for the in-form Aaron Francis. At $259,000, we wouldn't be jumping on Francis if named. Dylan Clarke continues to chop in the VFL and could come in to replace Zaharakis.
Richmond are starting to get a few players back from injury so the job security of their fringe players is not great. Having said that, they are playing so well that the coach would be reluctant to make too many changes. Jack Higgins ($364,000 FWD/MID BE 58) is starting to look like a regular out there. He only had 42 points on the weekend and failed to kick a goal, however he did have 14 disposals and we thought he looked dangerous. The issue with Higgins is that Daniel Rioli is knocking on the door. Like for like?
West Coast vs St Kilda
We'll go through West Coast quickly so we can get to discussing what on earth happened with Logan Austin. So lets get to it. The Eagles players are in very similar mould to the key Western Bulldogs rookie. It would take some unusual circumstance for you to trade them out this week, given how long you have held them for and how they are set up to help you through the following byes. The injury to Jack Darling should only assist the scoring of the every tiring Jake Waterman ($376,000 FWD BE 54). He didn't exactly cash in this week though but a team meeting to change things round before the next game will help further. Still had seven marks and a goal on his way to 66 points. Watching the game next to Eagles fans, it's unbelievable how excited they get over Willie Rioli ($371,000 FWD BE 55) and the little things he does. It really is hard not to get caught up in the excitement that this cash cow rookies brings. Was very surprised to learn he had only nine touches and 48 points at the end of it all. That was actually the second worst score for the team (excluding Jack Darling). Still a must hold at this point unless you are bringing in Ballard to help out this week.
Now that formality is done, let's get to what went on with Logan Austin ($294,000 DEF BE -39). Well, to be honest, we don't actually know what happened. His form has come out of nowhere and we could just be seeing a case of a rookie whose taking his second chance and thriving at AFL level. We thought last week it was due to the early concussion of Riewoldt that he played such a loose man role. This week however, he continued to play that role, and absolutely loved it. 14 marks and seven one percenters were the highlight of his score of 112. It's hard to say that we've missed the boat (except for those playing Real Dreamteam) due to his scoring potential but full respect to those who took the punt last week. The other two relevant cash cow rookies running around actually looked great but it just doesn't look as impressive next to the score of Austin. Phillips ($334,000 MID BE 8) played more of a contested game this week and used his seven tackles to help him to 77 points. He is a consistent option that should keep making cash for our teams. Speaking of consistent, Bailey Rice ($267,000 DEF BE -4), didn't let a series of knocks stop him from producing a score of 64 points. There's no doubt he will be sore but a special mention from Alan Richardson on AFL360 on the Monday makes us feel that he is really becoming a key part of the back six at St Kilda.
North Melbourne vs. Brisbane Lions 
How good was Paul Ahern (4207,000 FWD/MID BE -15)!? It's hard not to root for someone who has been through long-term injuries. His score of 92 from 29 disposals did come as a welcomed surprise. We probably didn't see this coming considering he is averaging just 23 disposals and 81 points at vfl level. It wasn't just the scoring that was impressive though, he played a fantastic game through the middle of the ground. He even managed to get one coaches vote. No prizes for guessing which coach gave him the vote. We flagged it a few weeks ago, but Ben Jacobs ($523,000 MID BE 72) may end up being cash cow of the year. We reckon he would be high up in North's best and fairest at the moment. We love it when Brad Scott gives him permission to play off his opponent and find the pill. Jacobs had 72 from 22 possessions.
Cameron Rayner ($362,000 FWD/MID BE 24) played his best game of the year on the weekend. We flagged this at the start of the year that Rayner would be a slow build. If you are one of the 30% of coaches who own him, hopefully he will reward you over the byes. This next few weeks is one of the main reasons you started with him and hopefully he can produce you a score or two. Rayner scored 108 from 21 possessions and seven tackles. Big Oscar McInerney ($327,000 RUC/FWD BE 42) keeps providing a target and occasionally clunking a big mark. We feel his job security is solid and should carry on getting you scores of around the 53 he had on the weekend. Unfortunately, he has the same bye round as Gawn, Grundy and Stef (obviously) so his scores won't help you over the byes.
Fremantle vs. Collingwood
Tough game to watch this one. Very few 'high points'. Brody Mihocek ($199,000 DEF BE -6) was fantastic on debut, kicking four goals and scoring 78 points. The only issue for him is what happens when Ben Reid returns in the near future. If you are one of the 13% of coaches who own him, then that's great, but we wouldn't recommend bringing him in now. He is not going to be versing Fremantle's backline each week. Having said that, his performance was great and he looks like he can play. Jaidyn Stephenson ($427,000 FWD/MID BE 88) is starting to look tired and we feel like he could be rested very soon. Stephenson had just the five possessions for 41 points.
For Fremantle, well, there was a lot of 'cash cows' out there. Let's work through them
Bailey Banfield ($411,000 MID BE 46) – Continues to produce respectable scores. Appears to be doing less tagging and playing more as a half-forward. Job security is great and he will be handy through the bye rounds.
Michael Apeness ($200,000 FWD BE -9) – Is an interesting prospect. He has been on Fremantle's list for a while now but his body keeps breaking down. He was drafted as a full forward as he can crash packs and take a contested mark. He was rucking for Fremantle due to Sandilands' concussion. It will be interesting to see what happens to him when Sandilands returns. Maybe he gets a shot up forward? Either way, Sandilands back means his score of 81 on the weekend is sure to reduce.
Andrew Brayshaw ($423,000 MID BE 59) – Was probably one of Fremantle's better players. Will continue to play for the rest of the year and get scores similar to the 74 he got on the weekend. We feel like we write the same thing about Brayshaw each week, but nothing changes with him.
Taylin Duman ($259,000 DEF BE 21) – Will continue to come in and out of the senior side. We thought he got toweled up by Hoskin-Elliot on the weekend. He still scored 60 and used the ball well.
Scott Jones ($186,000 RUC BE 8) – He's a big boy. Don't think we will be seeing him next week when Sandilands returns though. He competed in the ruck, kicked a goal and scored 55 points.
Stefan Giro ($185,000 MID BE 8) – We probably expected more on debut. He will surely be given another chance and we have faith his scoring will improve. Scored 54 points from 10 touches.
Adam Cerra ($388,000 FWD/MID BE 69) – Was surprised he only got 34 points. He looked like he did better than that. Scoring should improve and job security still great.
Alex Pearce ($277,000 DEF BE 66) – Injured his ankle in the second quarter. Nothing too serious but he was unable to come back on the ground as is in doubt for this weekend. 
Adelaide vs. GWS
After watching the Collingwood/Fremantle game, this was football heaven. Tom Doedee ($433,000 DEF BE 67) was again impressive and played his usual game in defense. Doedee scored 58 from 18 possessions. Darcy Fogarty ($296,000 FWD/MID BE 41) was just ok. We didn't notice him too much but he certainly wasn't disappointing. He kicked a goal, had 11 touches and scored 47 points. Lachlan Murphy ($282,000 DEF/FWD BE 32) was barely sighted, scoring just 35 points from nine touches.
It was a break out game for Zac Langdon ($304,000 FWD BE 18). The goal he kicked in the last quarter was that good. He was lively the whole game though. He kicked three goals, had eight tackles and finished on 90.
FOLLOW US ON TWITTER:@TheMilkmenDT specialising in cash cow selections but still here to talk all things AFL fantasy.