The Milkmen Review – Round 8
Are you set with your rookies? The Milkmen are here to help.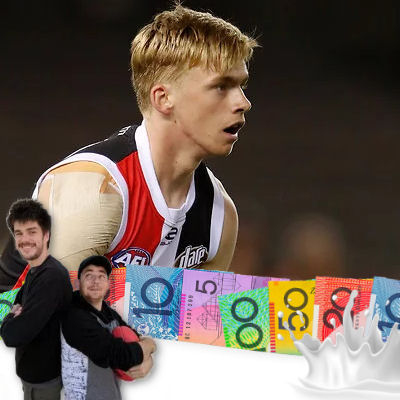 The weekend started like a dream for all Ben Ronke owners. Unfortunately, that joy might have been short lived with a lot of other cash cows underperforming. The fresh meat of Ed Richards and Brayden Ainsworth came as a welcomed surprise with both performing very well on debut. There does, however, appear to be a lack of cash cows coming through the system at the moment so lets make hay while the sun shines. As always, we will be doing a live Q & A on twitter on Friday at 5:30pm AEST to help answer your specific questions about all things rookies, so be sure to follow us @TheMilkmenDT. Anyway… Let's get into the round that was.
Hawthorn vs. Sydney:
Wish we could say we saw Ben Ronke's ($308,000 FWD BE -31) performance coming. We are going to try and be as positive as possible when talking about Ronke, despite the fact that
he cost us our head to head match up. 11 touches, seven goals, ten tackles, 10 coaches votes. Serious performance and well done to anyone that started with him. Obviously, his job security is great. Yes, he was amazing, and yes it was great to watch, but no, you should not bring him in this week. This will not happen again. We were pretty impressed with Tom McCartin's ($214,000 FWD BE 23) game on the weekend. Not so much from a fantasy point of view, but more from the fact that he looks like he can football. McCartin had eight touches for 46 points. He is a developing tall forward who is not an option to bring in.
GWS vs West Coast:
There was no hiding that we were excited to see Brayden Ainsworth ($234,000 MID BE 3) make his debut and he really didn't disappoint against a great midfield. It was everything we expected with Ainsworth to help him get to 78 points. He followed the ball around (he actually started in the centre at the first bounce), got his share of disposals (15), his big share of tackles (8), his low rate of disposal efficiency (60), limited game time (65%) and his fair share of turnovers (4).
We do love the kid here at the Milkmen but with Shuey due back in a couple and Ah Chee really impressing it's too hard to recommend him due to job security concerns. Great bye round does help if you are looking for a deciding reason to bring him in. Willie Rioli ($329,000 FWD BE 25) was less impressive then last week but showed no signs to suggest he should be top of the chopping block. Ended up with one goal and 59 points. For those with Tom Cole ($369,000 DEF BE 48), he took a while to get going and wasn't used in the kicking across half back as much as last week but there was enough positive signs to keep him on your bench in defence on his way to 45 points.
We got our first look at Isaac Cumming ($184,000 DEF 9 BE) and he didn't do an amazing amount to demand selection in our sides. Playing majority of the game in defence, Cumming, was a bit fumbly at first but by the end of his 14 disposals and 52 points, was more composed. Despite being more expensive, we prefer Lachie Keeffe ($230,000 DEF 0 BE) for those looking for a defensive downgrade. Although not as prominent as his was in his debut for the club, Keeffe actually played a lot more in the ruck this week and held his own with 27 hit outs and 49 points. This does his job security a world of good and is why we have him ahead of Cumming. Jeremy Finlayson ($413,000 DEF BE 68) has done us coaches a world of good but is ready to be milked for those who have the luxury. Just roamed around defence this week and got 59 points from his 17 disposals.
Carlton vs Essendon:
Things were looking good for Kobe Mutch ($265,000 MID BE 9) at half time when he went in on 30 points and had contributed strongly around the ball. He seemed to spend more time up forward in the second half when Carlton took charge and that resulted in only 13 more points for the game. With Ben Ronke doing so well, it made it even harder for owners to watch. There's too many other issues going on at the Dons to start dropping their rookies… Surely.
In a similar vein to Rioli, the game of Paddy Dow ($335,000 MID BE 42), wasn't as great this week despite showing amazing progress the previous week. There was 2 centre clearances amongst his 11 touches but Dow only managed 42 points. Another that's time has come to move on if the structure is right as teams do need to consider the bye rounds from this point forward. With his great job security there may be other priorities. Lochie O'Brien ($323,000 DEF/MID BE 29) and Harry McKay ($318,000 FWD BE 27) kept doing their thing and owners should keep riding the wave. The two had 71 and 62 points respectively. O'Brien was especially impressive with his 15 possessions coming all over the ground and including 8 marks.
Gold Coast vs Melbourne:
There were three major options to consider bringing in this week and unfortunately the most disappointing of the bunch was Charlie Spargo ($299,000 MID/FWD BE 23). We were quite hopeful given the opposition, but Spargo just couldn't bring himself in to the game and ended up on only 39 points. Should have enough credits in the bank to hold his spot. Outside of him, Melbourne actually had a lot of points to share around and our well-rested Bayley Fritsch ($422,000 FWD BE 21) cashed in fully.
Similar to what we saw with Jaidyn Stephenson earlier in the season, Fritsch is growing in confidence each week and must be held at this point. He seems to be playing more of a roaming wingmen style of role and it helped him have 26 disposals this week and more importantly 89 points.
A lot of rookies to get through from the Gold Coast side and we'll start with the most important. For those trying to work out their Bye structure then Brayden Crossley ($220,000 RUC BE 3) presents a great option in theory as he won't be sharing the byes with any of your other rucks (other than those who have Witts or Ryder). He again split his time between the forward and ruck but this role only netted 48 points. Unfortunately he just works better as a solo ruck and we can't recommend him as a must have due to his low ceiling and job security. It's worth noting that the reserves team at Gold Coast did not kick a goal which does help his cause. The other key rookies all failed to make any kind of impact as Nick Holman ($357,000 MID BE 55) had 43 points, Charlie Ballard ($214,000 MID/FWD) had 46 and Brad Scheer ($267,000 FWD BE 8) only 57. It will take a brave soul to try keep Holman through the byes but it's still a legitimate option. Non-owners of the other two players shouldn't be finding plans to bring them in.
Western Bulldogs vs Brisbane: 
First things first, our condolences to Aaron Naughton ($342,000 DEF BE 78) owners who had to
watch him hobble off early after just one touch and 3 fantasy points. Looks like he is out for "two to three weeks" at this stage and does have a good bye round. Are you tempted? Our advice is don't be and move him on to a Keeffe type. Outside of that and the scores of Cameron Rayner ($338,000 25 BE 59) and Matt Eagles ($179,000 DEF BE 20) the rookies from this game were pretty impressive. Leading the charge was Oscar McInerney ($250,000 RUC BE -14) who found himself scoring in both the ruck and up forward as he had 13 touches, 12 hitouts and 2 goals. We hope that coaches took our advice and bought him in a head of Crossley. Other rookies who stood up in this game were Zac Bailey (310,000 MID BE 14) with 67 points, big Billy Gowers ($349,000 FWD BE 28) who got 81 of them and Ed Richards ($339,000 DEF 54 BE). Gowers seemed to enjoy the regulation of Tim English the most as Boyd was too busy rucking to get in his way up forward.
Port Adelaide vs. Adelaide:
What a game! Unfortunately, there weren't too many cash cows running around. Tom Doedee ($428,000 DEF BE 70) continues to do his thing. We know what we are going to get with him now. He is a lock in Adelaide's back six and will continue to churn out scores around 60. He will be a handy player to have in your team throughout the byes. Doedee scored 53 points from his 15 possessions. Myles Poholke ($206,000 FWD/MID BE 25) again struggled to make an impact. Poholke had just seven disposals and failed to lay a tackle or hit the scoreboard. Despite Adelaide's injury concerns, Poholke's job security has to be a concern.
Fremantle Vs St Kilda:
As always with any game involving Fremantle, it's best to list out all the rookies running around in a quick list format. Highlight of the Milkmens' career to date was attending this game together and being recognised! Probably should use this chance to thank the support from the community again. More importantly though, back to the rookies.
Ed Phillips ($203,000 MID BE -13) – The only rookie this week that we were more excited to see run around then Ainsworth. Did not disappoint one bit and seemed to have a knack to find space as he collected 24 disposals and 86 points. We normally release our top trade targets later in the week on twitter but it's safe to say he's going to be number one.
Nick Coffield ($371,000 DEF/MID BE 53) – Has officially made amends for the shocker that occurred two weeks ago. 3 rebound 50s and went at 88% Disposal efficiency so really isn't going anywhere. Got 61 points and can keep expecting those scores for the short term.
Mitch Crowden ($295,000 MID/FWD BE 69) – Anyone still running around with Crowden out there? If so he's got to go and if his scores aren't enough to show why, then we may see exactly why at team selection. Signed a new agreement with the club during the week and we hope that bonuses aren't offered based on his dreamteam scores. 9 out of his 10 touches were handballs, which is a big part of the reason he only got 27 points.
Bailey Banfield ($386,000 MID BE 58) – Seemed to spend the most time next to Jack Steven and even 5 tackles didn't help him out too much on his way to 47 points. Continues to be a stable component of the team but the reality is he has peaked in price and is ready to move on.
Andrew Brayshaw ($399,000 MID BE 37) – Slowly amping up that game time and the scores are starting to show. 16 touches, 6 tackles and 74 points. Constantly feels like he's just on the verge of a huge game but hasn't broken through yet. No secret that he's a favourite of the Milkmen.
Taylin Duman ($238,000 DEF BE 22) – Continued to hang out in the back pocket and had the ball chipped his way a bit more this week but that can be put down to Freo being able to do whatever they want in their back half. Ended up with 6 marks and 52 points. Keep holding him there on your bench.
Alex Pearce ($307,000 DEF BE 38) – There's two guarantees when it comes to rookie cash cows. One is that you will put a wrong one on your bench each week and the other is that Alex Pearce will score in the 50s.
Adam Cerra ($368,000 MID BE 37) – Just keeps managing to find the score board and the fantasy scores are ticking over as a result. This time it was 60 points and isn't going anywhere soon at the selection table.
North Melbourne vs. Richmond:
One of the biggest surprises this season has to be the fact that North Melbourne are actually a good team. We were convinced this season was just going to be about playing kids. Ben Jacobs ($463,000 MID BE 52) was an excellent pick in hindsight. An experienced inside midfielder with great job security. Most weeks he is given a tagging role, (like he did this week with Martin) but when he doesn't he is more than capable of scoring 100's. Jacobs had 15 possessions, laid six tackles and scored 56 points. Despite not kicking a goal, we were pretty impressed with Jack Higgins ($351,000 FWD/MID BE 38) role from a fantasy perspective. Higgins seemed to play a bit higher up the ground this week which allowed him to get to more contests and impact the game. Higgins had 14 possessions, laid three tackles and scored 63 points.
Collingwood vs. Geelong:
With the lack of premium defenders, we are seriously considering holding Sam Murray ($486,000 DEF BE 55) long term. Averaging 78.5, Collingwood continue to feed him the ball so he can run it and use it off half back. Murray had 19 disposals and scored 75 points. Jaidyn Stephenson ($441,000 FWD/MID BE 69) reminded everyone that he is in fact a first-year player on the weekend. Stephenson had strung together four very good games (low score of 72) but struggled to make an impact on the weekend, scoring just 40 points from 11 possessions. Flynn Appleby ($227,000 DEF BE -2) played his best game for Collingwood on the weekend. Appleby scored 65 points from 15 disposals and went at an impressive 86% efficiency. With Collingwood's growing injury list, he may stick around for a while.
Jordan Cunico ($415,000 MID BE 43) looks like an excellent fantasy player.He just seems to get to so many contests. Cunico had 18 disposals for 69 points. Enough has been said about Tim Kelly ($491,000 MID BE 68). He only scored the 65 points on the weekend, but he looked great, collected 22 possessions and used it well. Esava Ratugolea ($341,000 FWD BE 41) continues to present well and take a few clunks. He scored 52 points which is about what you can expect from him each week. Jack Henry ($311,000 FWD BE 30) scored just the 35 points on the weekend (61 less than last week). Barely noticed Henry on the weekend, however they clearly rate him as he has played every game since round two.
Keep an Eye On
Brayden Sier – Continues to play well in the vfl and is knocking on the door. The big bodied midfielder is averaging 23 disposals and four tackles.
Dylan Clarke – Surely… Surely this week! We have flagged it many times before, but this week we are certain. Dylan Clarke will debut this week. He has been monstering the VFL all season, averaging 33 disposals and nine tackles.
Aiden Bonar – Long overdue for a debut. Averaging 22 touches, six tackles and two goals.
Paul Ahern – Gets mentioned most weeks in this section. He has to be close. We are not a massive fan of Ahern; however he is averaging 24 disposals and 3 tackles in the VFL this season.
Nathan Freeman – Saints are travelling that poorly that that may look to give game time to their kids, however Freeman may still be a touch underdone. He has put together to solid games in the twos but may need one or two more.
FOLLOW US ON TWITTER:@TheMilkmenDT specialising in cash cow selections but still here to talk all things AFL fantasy.