The Milkmen Review – Round 7
Who are the Cash Cows you need to be thinking about this week?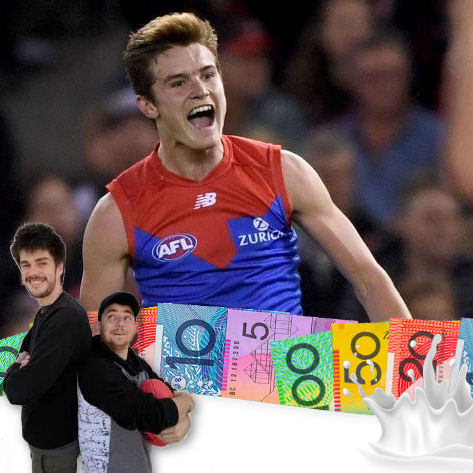 Round seven was a case of most of the normal candidates standing up, whilst some of the other usual suspects were again disappointing. We will be doing a live Q & A on twitter on Friday at 5:30pm AEST to help answer your specific questions about all things rookies. Following that we will release our top 5 trade targets in both formats.
Without further ado though, let's look back on the weekends action and assess where we are at.
Those That Matter 
Geelong vs. GWS 
Not the greatest Friday night game we've ever seen. What a gun Tim Kelly ($486,000 MID BE 56) is though. What else is there to say about Kelly, just play him on your field and let him do his thing. Lachlan Fogarty ($410,000 MID BE 48) seems to be going under the radar this season. Fogarty is up to $410,000, has played every game this season and is very reliable. Fogarty scored 71 on the weekend, but what would have really impressed Christ Scott was his eight tackles. If you jumped on Jordan Cunico ($389,000 MID BE 23) a few weeks ago, you'd be a happy coach. Cunico again looked great on Friday night, gathering 17 possessions and scoring 68 points. Esava Ratagolea ($330,000 FWD BE 33) looked very dangerous up forward and we were surprised to see that he only ended up on 63. He clunked a few marks and kicked a couple of goals. People were against picking Geelong rookies at the start of the season due to job security however these boys are flying and none of them look like getting dropped anytime soon.
Jeremy Finlayson ($414,000 DEF/MID BE 60) was on another planet on Friday night. He ran around like a headless chook in the first half (regularly turning the ball over) before Leon Cameron moved him to full forward in the second half. Two weeks ago, we were saying how great his role and job security was. We think you can probably put a line through this game as GWS were virtually noncompetitive. A lot of coaches are sure to jump on Lachlan Keeffe ($198,000 DEF/FWD BE -7) this week. With Cameron and Lobb still about two weeks away, he probably has a job for the next couple of weeks, however we weren't as buoyant about his game as others. Having said that, he's cheap, and with limited options coming through the twos, he's not a bad 'trade in' this week. Nick Shipley ($170,000 MID BE 36), Zac Langdon ($252,000 FWD BE 30) and Dylan Buckley ($299,000 DEF BE 53) were virtually unsighted, scoring 6 (yes 6), 36 and 37 respectively.
Western Bulldogs vs Gold Coast
It's getting too hard to ignore the fact that Tim English ($425,000 RUC BE 76) is starting to look really tired on the field and is either due for a rest or will continue to score at this new low rate we've seen over the last two weeks with scores of 39 and 38. With a couple of rare ruck options coming through, if you are fielding him in that position, it's a no brainer to move him on to either McInerney or Crossley (we have McInerney as a preferred option at this point). If English is stuck in your forward line then it's a harder decision, but with the amount of cash he is looking at losing it's still worth the jump. Other two Bulldogs that are ready to move on, if they are in your side, are Ed Richards ($342,000 DEF BE 65) and Billy Gowers ($325,000 FWD BE 39) who had 27 and 53 points respectively. It's only really lack of options that should keep Gowers in your side, as he was still used as a link up forward and a target inside the forward 50, despite him only having 3 marks. Richards however had 11 disposals at 63% disposal efficiency and did not look great against weaker opposition.
We got our first look at Brayden Crossley ($194,000 RUC BE -2) and Charlie Ballard ($198,000 FWD BE 18) and saw them score 69 and 46 points a piece. Both players spent majority of their game up forward and Crossley started strongly going in to the half at 48 points. He actually wasn't required much in the ruck with Witts dominating but managed to get a few possessions in the middle of the ground when he did step in. We wouldn't be rushing either in to your side. Crossley has the edge if you require one of the two. It's clear he is just holding the spot for Lynch who is due back in a few weeks. Although we thought the same of Waterman when it came to Josh Kennedy and were wrong on that one. Ballard never averaged much at junior level and we can't see that improving at AFL level. Two Suns that did impress were Nick Holman ($361,000 MID BE 49) and Brad Scheer ($238,000 FWD  BE 6). Holman was a popular trade out target and those who did trade him out shouldn't be disappointed but those who held him watched him lay 11 tackles on his way to 77 points. Scheer played a similar high half forward role to Holman and had 7 tackles of his own which helped him get to 74 points. After four games for the club last year in which he averaged only 37 points, Scheer had a slightly interupted pre-season but averaged 19 disposals and five tackles from his four games in the NEAFL before making his 2018 debut. One to consider for sure.
Essendon vs. Hawthorn
Kobe Mutch ($235,000 MID BE -11) didn't disappoint the coaches who jumped on him last week. Although he still looks pretty raw out there, he is contributing and adding some energy to the team. Mutch gathered 17 disposals and kicked a goal on his way to 66 points. Ben McNiece ($285,000 DEF BE 23) was solid enough, scoring 54 points. Not much has changed with McNiece though, we still don't see him as a scorer going forward.
James Worpel ($202,000 MID BE 23) was very disappointing. Worpel scored just 27 from six possessions. Worpel definitely has a fantasy game in him. Nuggety inside midfielder who loves to tackle. Unfortunately, his role and AFL readiness just probably isn't there yet. Hawks don't have too many coming through the twos at the moment so he may just hold his spot.
West Coast vs Port Adelaide
The cash cow rookie that most surprised us this week was Willie Rioli ($303,000 FWD BE 12). Rioli was playing further up the ground and even started in the middle for some centre bounces as he collected 16 disposals, 5 marks and 2 goals on his way to 80 points. We still aren't confident enough to suggest starting him on your field but this effort was his most encouraging yet against a quality opponent. It was very surprising to see Jake Waterman ($364,000 FWD BE 50) only end up on 48 points as he played a great game. He seemed to be in a lot of contests and contributed positively without getting the stats us coaches need. Unfortunately his breakeven is getting high but Waterman fits in to the mould of having great job security to see him through to the byes so should be a lower priority if you are looking at downgrading him. Despite kicking a couple of great goals and pulling off perhaps the steal of the season, Jack Petruccelle ($183,000 MID/FWD BE 30) is not a fantasy relevant players in terms of scoring potential so we would not bother.
Despite being at the game it wasn't until the last quarter that we remembered that Dom Barry ($299,000 MID BE 44) is still running around for Port. It was even more surprising to see he had collected 14 disposals for the match but not surprising to see that was only 47 fantasy points worth. Apparently 35% of coaches still have Barry and it's seriously time for him to go.
Sydney vs. North Melbourne 
Ben Ronke ($236,000 FWD BE -6) was just ok. Ronke had 13 possessions, three tackles and two behinds on his way to 56 points. He is in his side for his pressure, and he did buzz around a bit, however Sydney have a few coming back from injuries and a few strong performers in the NEAFL which could spell trouble for Ronke.
What a gem Ben Jacobs ($449,000 MID BE 31) has turned out to be. We had him at number five in our preseason rankings for a reason. The five percent of coaches who currently have him will be loving it. Experienced inside midfielder who is best 22. Jacobs was a ball maget as a junior and was allowed to play that way on the weekend. Jacobs amassed 29 touches and went on to score 119. To be honest, we rarely noticed Cameron Zurhaar ($269,000 FWD BE 35). Eight touches, a behind and 37 points. Job Security not great.
Adelaide vs. Carlton 
Bit of a down night for Tom Doedee ($430,000 DEF BE 56) scoring just 47 points. The ball was rarely in Adelaide's backline though. He still looks at home back there and we are confident he will continue producing solid scores in the future. Darcy Fogarty ($286,000 FWD/MID BE 31) was solid enough scoring 63 points from zero goals. He played a bit higher up the ground which allowed him to take a few more marks (six) and get involved in the action.
Paddy Dow ($328,000 MID BE 29) had his best fantasy game on the weekend, scoring 74 points. He looked pretty clean out there and is continuing to build nicely into the season. Remember that if you have him, it is mainly for job security reasons. Cameron O'Shea ($324,000 DEF BE 23) managed to sort out his disposal efficiency. He played a pretty solid game, collecting 16 possessions at 81% and scored 70 points. Hopefully this sees him go on with things and continue to produce.
Richmond vs. Fremantle 
Jack Higgins ($332,000 FWD/MID BE 30) was pretty quiet considering Richmond dominated the game. Higgins kicked just one goal (which from memory was a handball over the top) and scored 57 points. Hopefully he can hold his spot in such a quality team.
Fremantle have so many rookies playing, we are going to go through them in dot points again.
Adam Cerra – ($351,000 MID BE 29) Played his best game for Freo. Ross Lyon threw him into the guts (the position he is used to) in the second half and he looked great. Lyon highlighted this in his post-match press conference. If they continue to play him here, the high scores will continue. Cerra scored 78 from 18 disposals.
Andrew Brayshaw – ($375,000 MID BE 32) Is building nicely into this season. Starting to play more midfield time, is looking more at home and job security is great. Brayshaw scored 78 from 14 disposals.
Bailey Banfield – ($381,000 MID BE 38) Is continuing to string together solid scores. Scored 73 from 20 possessions. His disposals however were often sloppy and he made a few costly errors. This appears to be his biggest issue. Freo are hellbent on playing kids so his job security should be no issue.
Alex Pearce – ($298,000 DEF BE 40) We say the same thing about Alex Pearce every week. Lock for best 22, performing well and will score you a 50. Had a down game this week though, he only got 47.
Mitchell Crowden – ($312,000 FWD/MID BE 57) Job security starting to look shaky… Barely sighted. Eight touches for 26.
Taylin Duman – ($222,000 DEF BE 24) We thought he was going to be dropped last week. Surely this week? Only had the eight touches for 26. Let a few tackles slip and didn't do much. To be fair, the Freo defence were under the pump.
 St Kilda vs Melbourne 
Order was restored this week for Nicholas Coffield ($365,000 DEF/MID BE 51) owners. We said that last week could be seen as a blip and that proved the case as Coffield scored 70 points thanks to his 21 disposals. He was back to his rebounding best (with four rebound 50s) and needs one more decent score to get last weeks low score out of his rolling average. Still in a good position to be upgraded but not one we would be downgrading at this point as it will be tough to swap him for a player with similar job security or scoring potential. The only other relevant rookie playing in this game was Ben Long ($349,000 FWD BE 34) who is now out for 10 weeks so is the highest priority to move out if he is in your side. Long has more than out performed our expectations so nice work to all the coaches who started with him.
The rest that Bayley Fritsch ($382,000 FWD 18 BE) had a couple of weeks back seems to have done him the world of good. Fritsch was leaping everywhere on his way to 7 marks and 91 points. The best part of his game was the fact that disposals were found everywhere over the ground, including some in the defensive 50. We are mindful of the opposition but you can safely start Fritsch on your field week to week at the moment which is one less problem to worry about. At the start of the weekend we had Ronke ahead of Charlie Spargo ($276,000 MID/FWD -2 BE) as a priority to bring in but after this weekend that is the other way round. Again, it was just St Kilda, but Spargo collected his 15 disposals between the wing and deep forward. There was also another goal in there as he made his way to 71 points. Perhaps too unaffordable now for what you are going to get but one for those stuck with a Long or Barry type. Our concern with Sam Weideman ($275,000 FWD BE 30) was always his job security and the game against Saints did nothing to put that to rest. There were 2 clangers in his 9 disposals. This led to only 45 points and a definite cross through his name in our books.
Brisbane vs Collingwood
What a great game this was, not only for fans of the game but also for owners of Sam Murray ($464,000 DEF BE 36). Not much needs to be said as it was a very similar role for Murray as the Pies players just continued to want to get it in to his hands. What was different this time was that Murray helped himself to 10 marks and 101 points. Safe to say he's going to be one of the last rookies we trade out (if we trade out at all). Jaidyn Stephenson ($437,000 MID/FWD BE 32) continued on his merry way and took full advantage of the high scoring affair, kicking two goals and having 86 points. There was a really interesting article during the week where Browny said that he wouldn't play Wells again this year and that would only be music to the ears of Stephenson owners rejoice. Another to keep on your field with confidence and boy did we not think we would say that a month back. After being a late inclusion for the game last week, Flynn Appleby ($195,000 DEF BE 8), did nothing to demand selection in our sides. Can't see anything changing in the near future although another Pies rookie that won't go anywhere as long as they keep winning.
When the game was on the line in the last quarter, it wasn't only the senior players that were lifting for Brisbane, but also their number one pick Cameron Rayner ($339,000 MID/FWD BE 37). He handled the pressure of the situation with great poise and his 18 disposals for the day went at an efficiency of 94%. We know what the scoring potential is but if there were any concerns around his job security then they were put to rest in one quarter of football. Oscar McInerney ($203,000 RUC BE 0) played a great supporting role up forward and in the ruck. He actually took a couple of impressive contested marks and laid 7 tackles which is why we have him slightly ahead of Crossley at the moment. The Big O just keeps doing the stuff that coaches love and can't see him going anywhere in the short term. Zac Bailey ($279,000 MID BE 13) played his best game yet with 17 disposals and a goal. It's too late to bring him in but owners should expect to see some more scores in the 60s which is great as he starts to spend more time on the ground and around the ball. One player we wouldn't worry about is Matt Eagles ($174,000 MID BE 20) as he just looked a little off the pace the entire time. A great story to get to where he has got, but he had four clangers to go a long with his score of only 34 points.
Keep an Eye On
Once again we will advise readers to check out our Next Wave article from back in round 4. However, below we have highlighted a few key names and how they are progressing:
Patrick Kerr ($170,000 FWD) -Kicked another 3 goals this week for the Blues reserve side to back up his 3 from the previous week. Only averaging 64 at VFL level but shouldn't be far off getting a game at senior level.
Patrick Wilson ($170,000 MID/FWD) – Readers of our post weekly will know that we just keep harping on about how well Wilson is playing in the reserves and this weekend was no different. Had 31 touches, 8 tackles and 136 points. Why couldn't he have been drafted by the Suns, Blues, Lions or Saints!
Dylan Clarke ($170,000 MID/FWD) – Continued his rich vein of form in the VFL with 30 touches and 101 points over the weekend. With all the problems at the Dons it's got to be his time soon. Expect a similar role and job security to that of Mutch.
Sam Taylor ($216,000 DEF) – Actually not a huge fan of Taylors' dreamteam game over here at the Milkmen but he went about proving us wrong on the weekend with 32 touches and 143 points in the NEAFL. Surely GWS won't have any more injuries and he forces his way in.
Isaac Cumming ($170,000 DEF) – Would actually have Cumming ahead of Taylor in terms of chances to debut as he's been more consistent running around for GWS reserves. Kept the good form going with 27 disposals and 102 points over the weekend.
David Mirra ($259,000 DEF)- This one is more for current owners rather than potential new owners of Mirra. From all reports played a very impressive game on the weekend and had 108 fantasy points to show for it. Can't help but feel he is waiting for a key injury to work his way back in though.
Joe Atley ($248,000 MID)  – Another that is doing no wrong for his club at reserve level but unfortunately was also playing a long side names like Rockliff on the weekend. 28 touches, 106 points, what else do they want from a guy averaging 23 touches in SANFL this year. Would really have earnt his spot once he finally gets a game.
William Frampton ($170,000 RUC/FWD) – He couldn't get a game when Ryder wasn't playing so I don't know why he would get one while he is. It's worth noting that he was rucking a lone in the reserves though and had 32 hitouts on his way to 128 points. Going at an average of 89 in the SANFL.
Nathan Freeman ($170,000 MID) – Surely, surely, surely not. Had 28 touches, 6 tackles and 117 points in his return game (seems to me all he has is return games).
Bailey Rice ($170,000 DEF) – Savage hobbling off with sore ribs and struggling to make an impact on his return to the field may have been the best thing for Rice. Career best 81 point average in the VFL at the moment and had 23 touches and 92 points on weekend. Our defence needs another shining light and this guy represents it's best hope at the moment. Which is really saying something.
Ed Phillips ($170,000 MID) – And completing the midfield for the best players at reserve level not getting a game is another St Kilda boy in Ed Phillips. Can join Dylan Clarke, Pat Wilson and Joe Atley in that side as had another monster on the weekend with 37 touches and 133 points.
Darcy Cameron ($170,000 RUC) – News has come out that Franklin could be back this week so it's highly unlikely we will see Cameron but just for the record he was everywhere on the weekend and backed up his 173 points with another 150+ score!
Luke Strnadica  ($170,000 RUC) – With Taberner going down a couple of weeks back Freo has been tinkering around with it's forward mix to try make it work. Another good game from Strnadica has put him right in to the mix to help solve those problems. He had 3 goals from 16 touches to help him to 98 points. This was a promising performance to back up his 2 goals and 84 points from the previous week.
Brayden Ainsworth ($208,000 MID) – Here's hoping Sheed doesn't make his way back as this contested beast will be ready to put his hand up to fill the void left by Shuey. 23 disposals, 1 goal, 5 tackles and 98 points on the weekend. Averaging 93 points in a quality league so far this year.
Michael Apeness ($170,000 FWD) – Rucked again on the weekend and had 20 Hitouts but only 46 points. Once again, don't be roped in if he is named.
Aaron Francis ($259.000 DEF/FWD) – Only putting him here because he had his return game on the weekend. Similar to Matt Buntine last week a name to remember for the near future as will be relevant if he makes his way in to the team.
Harley Bennell ($249,000 FWD) – He didn't come on until the second quarter but a very relevant name made his return on the weekend. Had only 9 disposals and 38 points but will ramp up the game time in the coming weeks. Should get games once fully fit. Can not confirm he will reach full fitness before another injury occurs.
Twitter
We are overwhelmed with the support on twitter so thanks for all the follows and for helping the conversation flow. We are trying our best to answer all your queries so keep them coming! Some of the key questions asked this week are below.
Depending on who you are downgrading him from. For a English type then he's not too expensive. Just be weary when thinking about his scoring potential that Spargo's two opponents have been Essendon and St Kilda who are leaking points at the moment. Next two are Gold Coast and Carlton so should continue to pump out a couple of 60-70 scores.
For the record we voted for Banfield! Brayshaw is starting to get more game time and still plays a great role so has a higher ceiling. Similar job security too so there's no real trade off on that part.
Again due to higher ceiling we would hold Doedee. These two have some of the better job security going around so be careful who you are bringing in if it's a downgrade and there may be a serious trade off in that category.
Scheer! Keefe was great in the opening game but unfortunately is sitting in a team full of superstars waiting to come back in.
Sorry Jonah, despite having 21 disposals on the weekend there's just a bit of a fleet to come back in and it's tough to see them changing a winning formula any time soon.
FOLLOW US ON TWITTER:@TheMilkmenDT specialising in cash cow selections but still here to talk all things AFL fantasy.