The Milkmen Review – Round 6
The Milkmen are across the cash cows.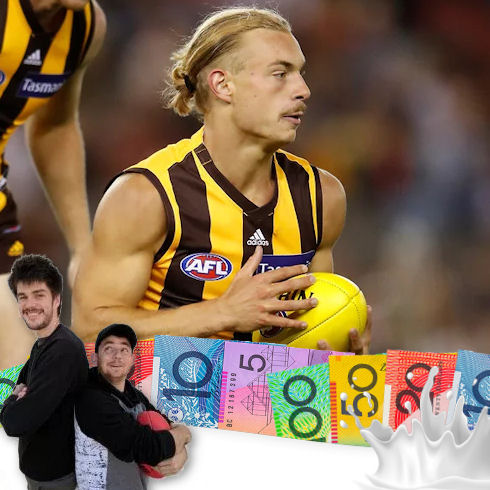 The timing of Round 5 made it difficult to come out with an article last week. Good news is we are back for Round six and have a lot to catch up on. As a lot of our rookies approach their breakeven, coaches are starting to look at cashing out on some of the premium cash cows. To help with making that decision, first things first, here is our summary from the previous round.
Those That Matter 
Western Bulldogs vs Carlton 
There were quite a few rookies running around in the opening match of the round and there were no clear standouts from the bunch. Aaron Naughton ($346,000 DEF BE 35) top scored for the rookie cash cows with 67 points. Although there was the usual few clangers from Naughton, he did also have 4 tackles and 4 one percenters, which will keep the Bulldogs staff happy. Also with news coming out that Easton Wood has injured his hamstring, Naughton, really isn't going anywhere in the short term. This is the same for Ed Richards ($348,000 DEF BE 39) who had 60 points from his 17 disposals. Billy Gowers ($314,000 FWD BE 35) provided a great focal point for the Dogs and it was a bit surprising to see him only score 61 points despite him having 7 marks and 2 goals. He has done well to make himself a crucial part of the Bulldogs puzzle and actually had the most goal assists for the team also. One rookie that wasn't as impressive for the Bulldogs was Tim English ($427,000 RUC/FWD BE 43). His score of only 38 was the lowest for the team for the night. English had his usual amount of hitouts, but had 0 marks and only one kick, which was unusual. The effect of Tom Boyd can't really be blamed for this as Boyd spent majority of the game up forward and only had 9 hitouts himself. If English is in your forward line then it could be wise to start looking at milking him in the next couple of weeks as it looks like he will hit peak price by then if not before.
The Blues had four cash cow rookies of their own running around in this game. Although Cam O'Shea ($296,000 DEF BE 22) was the highest scoring of the group with 66 points, he was far from the most impressive. It was a positive sign he was able to hold his spot with Marchbank back in the side but his disposal efficiency of only 64% has us worried. Still a hold from us as long as he is named, but if he is dropped then feel free to move on. Paddy Dow (Mid $308,000 BE 39) plays a great role when he is on the field, following the ball around but in a similar vein to Andrew Brayshaw is just getting minimal TOG at the moment. We are unsure what to put this down to other than these players not having developed a big enough tank to consistently play a role on the ball. Harry McKay ($273,000 FWD BE 13) and Lochie O'Brien ($290,000 MID/DEF BE 35) were never touted to be high scorers and they lived up to that non-hype with scores of 50 and 32 respectively. Now McKay is in the side and the Blues are losing it will be hard to see them dropping him any time soon. One to consider if you have job security concerns around other rookies.
North Melbourne vs Port Adelaide
The only real relevant rookie playing in this game that you should be keeping in your side was Ben Jacobs ($411,000 MID BE 54). After half time his tagging role on Robbie Gray became a little more relaxed and he started collecting more disposals to end up with 23 overall and more importantly 71 points. Jacobs is just a lock for the 22 each week which we love and although he is approaching his breakeven our advice is still to hold if you have other rookies you can upgrade first. His games during byes could prove invaluable. The other rookies playing in this game were Cameron Zurhaar ($261,000 FWD BE 24), Luke Davies-Uniake ($259,000 MID BE 51) and Dom Barry ($291,000 MID BE 34). Their scores only ranged from 26-42 between them. All three can be top of your trading list for the coaches that have them.
Geelong Vs Sydney
This game was full of impressive rookie performances and no better place to start than with the game of Ben Ronke ($200,000 FWD BE -7). We do owe the guy an apology . We first introduced the community to Ronke as part of the Next Wave article from Round 4. However, even we didn't see this performance coming. The man is a tackling machine and after averaging 9 at NEAFL level this year, he came in and had 7 tackles to help him to 78 points against the Cats. The reason we owe Ronke an apology is because we thought he would be replaced by Buddy upon his return. However, after his ferocious performance on the weekend, it's hard to see him leaving any time soon. He is one to strongly consider for your forward line. Just be weary of the track record Longmire has of dropping players week to week.
Equally as impressive were the Cats midfield Cash cow rookies of Jordan Cunico ($349,000 MID BE -2) and Tim Kelly ($467,000 MID BE 60) who scored 93 and 82 respectively. The two seem to be making the most of Abletts' absence and Dangers' limited time in the middle although both those things won't last. Both guys went at under 60% Disposal Efficiency but are safe to play on your field until either of those two things change. With Kelly, for those that are looking to upgrade, he is close to what we expect to be his peak price in the next couple of weeks. Esava Ratugolea ($307,000 FWD BE 24) still remains a critical role player for the Cats in both the ruck and up forward so should be playing come bye time which is quite a rare feet for our forward rookies. Both Jack Henry ($251,000 FWD BE 24), who had 47 points, and Lachie Fogarty ($393,000 MID/FWD BE 42), who had 46 points, did their job without setting the world on fire. Fogarty is another that you can move towards the top of the upgrade list over the coming weeks.
GWS vs Brisbane Lions
The biggest disappointment coming out of this game for us was Nicholas Shipley ($176,000 MID BE 18) whose 80% game time only netted 7 disposals and 37 points. Going in to the round we had high hopes for Nick who has been averaging over 100 in the NEAFL and named emergency for the side multiple times. We will continue to show the faith as the list of injuries at GWS should keep him in the side for at least a couple more weeks and non-owners should keep him as one to consider. The issue is perhaps that Shipley does his best work on the inside but won't play that role for the side due to his current body size. Even so, we still expect a bigger output then what he produced against such a weak opponent. The other rookie for GWS, Jeremy Finlayson ($409,000 DEF/MID BE 47) far from let us down with 15 disposals, 6 marks and 65 points. Finlayson is another rookie that is close to hitting peak value and can look to upgrade in the coming weeks. We are suggesting for people to hold him at this point as we think his dual position will be handy through the byes when coaches are trying to field a team of 18.
For those looking to downgrade Tim English in the ruck line then Oscar McInerney ($178,000 RUC BE 17) may be the answer (mainly due to lack of other options). After being named emergency multiple times he finally got his chance in the senior team. McInerney spent majority of the game up forward with the occasional relief for Stefan Martin in the centre of the ground. Although he only had 9 hitouts on his way to 40 points, it's the 8 one percenters that should help him hold his spot in the side. This was the most of any one on the ground and the stuff that coaches love from the young guys. Should buy him a couple more weeks but don't expect much from a scoring potential point of view. A third of teams still have Cameron Rayner ($321,000 MID/FWD BE 32) and after a score of 52 points teams are starting to see what you should expect with him. Rayner is another player that is approaching his breakeven but is worth holding for now due to his reliable job security despite having five clangers. Very few teams have Zac Bailey ($252,000 MID BE 20) and we see no reason that should change although he did have 16 disposals and 60 points. He also has great job security though if coaches are looking to trade that in to their side.
Adelaide vs. Gold Coast
Chances are, if you played for Adelaide this game, you got a score. Only three of their players scored below 60. Unfortunately, Myles Poholke ($200,000 MID/FWD BE 16) was one of these people. Poholke was barely sighted, collecting just eight possessions and scoring 30 points. Tom Doedee ($420,000 DEF BE 29) was again solid down back and has surely cemented his spot in Adelaide's back six. Our backline cash cows this year have been a gift from the fantasy gods. It might be time to start thinking about thanking Nick Holman ($355,000 MID BE 68) for his service and moving him on. Holman had just eight possessions for 30 points. This is two sub 31 scores in three weeks and he can no longer be fielded with any sort of confidence. Plus, Aaron Hall would be paying $1.05 to take his place.
Hawthorn vs St Kilda
Really not too much to report from this game as no rookies set the world on fire. David Mirra ($259,000 DEF BE 2) is starting to look more and more at home which is what we expected. His score of 58 points included 15 disposals at efficiency of 87%. James Worpel ($194,000 MID BE 14) had his first game and wasn't too impressive despite having 13 possessions and 49 points. He spent most of his time in the midfield though which was promising but we aren't just convinced of his scoring potential or job security.
One of our expected star cash cow rookies in Nick Coffield ($354,000 DEF/MID BE 52) was extremely disappointing on his way to only 21 points. For those that didn't watch the game, no he was not injured, but he did only have 66% game time. Our advice around Coffield is to take this game as a blimp as he is still a great rookie option and only look to upgrade him rather than downgrade him based on this one performance. Ben Long ($330,000 FWD BE 32) went from hero to zero as he played a similar role to the previous week at high half forward but still only had 12 touches for 39 points. For owners of Long you can move him on to Spargo or Ronke type happily.
Essendon vs. Melbourne
This was a pretty solid game from a rookie perspective with two cash cows from each team performing strongly. Those who held Bayley Fritsch ($344,000 FWD BE 25) were rewarded with an 88. Fritsch kicked three goals but what was most impressive was his ability to lead up and take marks. Fritsch went on to take 8 marks (3 of which were contested) and played his role exceptionally well. Charlie Spargo ($238,000 MID/FWD BE 5) was very eye catching. Spargo kicked two goals, laid 3 tackles and collected 18 possessions on his way to 75 points. The way he went about it really stood out for us, he looked like he was everywhere.
Matt Guelfi ($283,000 FWD BE -9) owners would have been pleased with his game and can just tick off his score of 73. Guelfi's spot in the side looks very secure at the moment and he seems like a very reliable player. There is a concern over is ceiling, however if he can just keep getting 70's each week, then fair bump, play on. Kobe Mutch ($196,000 MID BE -3) is sure to be one of the most traded in players this week. Mutch had been knocking on the door at VFL level for a while and we highlighted him during the week as a great option. As impressive as Mutch was, collecting 20 touches on his way to 71, he does still look raw out there. He is still a great option to bring in this week and there is further upside to him. Mutch only laid one tackle on the weekend however he is capable of 'much' more, averaging six in the VFL. The main concern is that Essendon are performing poorly at the moment and predicting their squad each week is proving quite difficult.
Collingwood vs. Richmond
Sam Murray ($426,000 DEF BE 35) just gets it done. He looks like he has been playing AFL for years. Murray scored 78 off his 19 possessions. Collingwood feed him the ball and let him run. With the lack of quality premium options back there, we plan on keeping Murray for quite some time. Jaidyn Stephenson ($403,000 MID/FWD BE 28) is exceeding our expectations. Stephenson scored 72 points from his 13 disposals. He did score a fair few points in junk time however he shows a lot of glimpses of being a very handy player in the future. From a job security point of view, Collingwood clearly rate him very highly internally, and they are travelling well at the moment so it's hard to see him being dropped in the short term. Unfortunately, Flynn Appleby ($176,000 DEF BE 18) disappointed on debut, collecting just eight possessions for a score of 37. To be honest, we hardly noticed him. As fun as watching Jack Higgins ($309,000 MID/FWD BE 18) play is, unfortunately the role he has at Richmond right now is that of a permanent forward. This is limiting his scoring potential for the time being. Higgins kicked two goals (in the space of 20 seconds) on his way to 50 points. Higgins will one day be a fantasy beast!
Fremantle vs. West Coast
Cracking game of football. Quite a few players to get through this game so let's break it down…
Jake Waterman ($353,000 FWD BE 29) – Going great guns. Leading up well and getting on the end of a couple. Kicked two goals and finished on 77. Kennedy back in the team may actually help his scoring as he is getting up the ground more.
Willie Rioli ($267,000 FWD BE 18) – Good job security due to Venables and Ryan's injury. Unfortunately, he just isn't a scorer. 40 points on the weekend.
Jack Petruccelle ($186,000 MID/FWD BE 40) – Oh dear… Petruccelle lost $10,000 on debut. Barely sighted.
Andrew Brayshaw ($353,000 MID BE 39) – Just going about his business, building into the season. Job security is very solid and should get you a score of around 60 each week. A score of 58 on the weekend.
Bailey Banfield ($360,000 MID BE 36) – Role player for Freo who is clearly rated internally. Whether he's tagging, playing as a midfielder or a forward, it doesn't seem to affect his scoring. He just gets to work. Banfield scored 56 points and played a variety of roles effectively.
Alex Pearce ($292,000 DEF BE 37) – Doing what Alex Pearce does. We swear he gets 50 points each week. Is getting close to max price, however he will be very handy to have over byes. He does seem to have an injury concern with his ankle though.
Taylin Duman ($211,000 DEF BE 7) – Just the 42 points this week. Also noticed he made a few errors and let a few tackles slip. Freo have a few on the injury list so he may just avoid the axe for now.
Mitch Crowden ($312,000 MID/FWD BE 27) – Scored 39 points from 11 touches. He looked a lot better than that though. Is starting to look at home at the level. Made one very costly mistake in the last quarter when he rushed a possession inside 50 but prepared to forgive.
Who To Trade Out
As mentioned through out the article, multiple players averages are approaching their breakeven and coaches are starting to look to trade out some premium options with good job security. As a high level overview our advice is to make a list of the players approaching their breakeven and then rate them in terms of their job security. Those at the bottom of that list are the ones you can look to trade out first if the right options present themselves. A list of players who averages are within 20 points of their breakeven are:
| Player | Average | Breakeven |
| --- | --- | --- |
| Zach Guthrie | 48 | 72 |
| Nick Holman | 62 | 68 |
| Nicholas Coffied | 61 | 52 |
| Luke Davies-Uniacke | 36 | 51 |
| Adam Cerra | 54 | 41 |
| Andrew Brayshaw | 56 | 39 |
| Paddy Dow | 48 | 39 |
| Alex Pearce | 48 | 37 |
| Billy Gowers | 54 | 35 |
| Lochie O'Brien | 50 | 35 |
| Aaron Naughton | 55 | 35 |
| Cameron Rayner | 48 | 32 |
| Jack Henry | 43 | 24 |
| Ben Jacobs | 68 | 54 |
Priorities to trade out should come from this list and we'd say those with the best job security of the bunch are Ben Jacobs, Billy Gowers, Cameron Rayner, Nicholas Coffield and Andrew Brayshaw.
Keep An Eye On
We have started to see a few names come through from our previous article in Round 4 which introduced coaches to the Next Wave (the article can be found here). In terms of players to Keep an Eye On, the ones that haven't debut yet who should be close to are Dylan Clarke($170,000 MID/FWD), Patrick Wilson  ($170,000 MID/FWD), Charlie Constable ($200,000 MID), Corey Lyons ($170,000 MID), Aidan Bonar ($250,000 MID/FWD) and Tim Smith ($179,000 FWD). It's worth noting that Ross Lyon came out last week and commented that they would've rest Sandilands for the trip to Sydney if Sean Darcy wasn't injured. On the weekend Michael Apeness ($170,000 FWD) had 16 possessions, 37 hitouts and 108 points in his first real run in the ruck for Peel. Even if named as a replacement for Sandilands, then we would be weary of his scoring potential in the long term as he has been severely underperforming at reserve level at the start of the season. Another key name coaches may remember is Matt Buntine ($244,000 DEF) who had his return game from a serious knee injury over the weekend. He was eased back in to it but still had 15 disposals and 7 rebound 50s. He is a name to keep an eye out for in coming weeks as is extremely highly rated at the club.
Twitter

Absolutely. As said above we suggest putting other rookies before him but if it can get you to someone like Merrett, go ahead. Very hard to cash each rookie out at their max price. Close enough is good enough.

We thought Crowden looked better than his stats suggested. He cracks in and uses the ball well. Admittedly he made one major stuff up in the last quarter, but we would be surprised if he lost his spot.

Yes. He made a few errors and let a few tackles slip. Freo have a few on the injury list so he may just avoid the axe for now.

There is a internal battle occurring at Milkmen HQ. Taller milkmen prefers Spargo, shorter milkmen like Ronke. Jordan Lewis did say on AFL360 "I think we have found one in Charlie Spargo" and seeing as the taller milkmen is writing this section, go with Spargo.
EDIT: Taller Milkmen seems to have forgotten that smaller milkmen would be reviewing this section. Love Ronke and what he brings to the table! Remember tackles will always provide a good base score.

Dylan Clarke is the one we like, and if named jump on. We thought he would debut last week but no such luck. Essendon performing poorly surely opens the door.
We have started doing a live Q & A at 5:30pm AEST on the Friday before lockout to help with final team selections. We plan to continue this each week and finish up with our top trade in targets. We find this easier to do once teams have been selected so much sure to follow us on the twitter handle below.
FOLLOW US ON TWITTER:@TheMilkmenDT specialising in cash cow selections but still here to talk all things AFL fantasy.