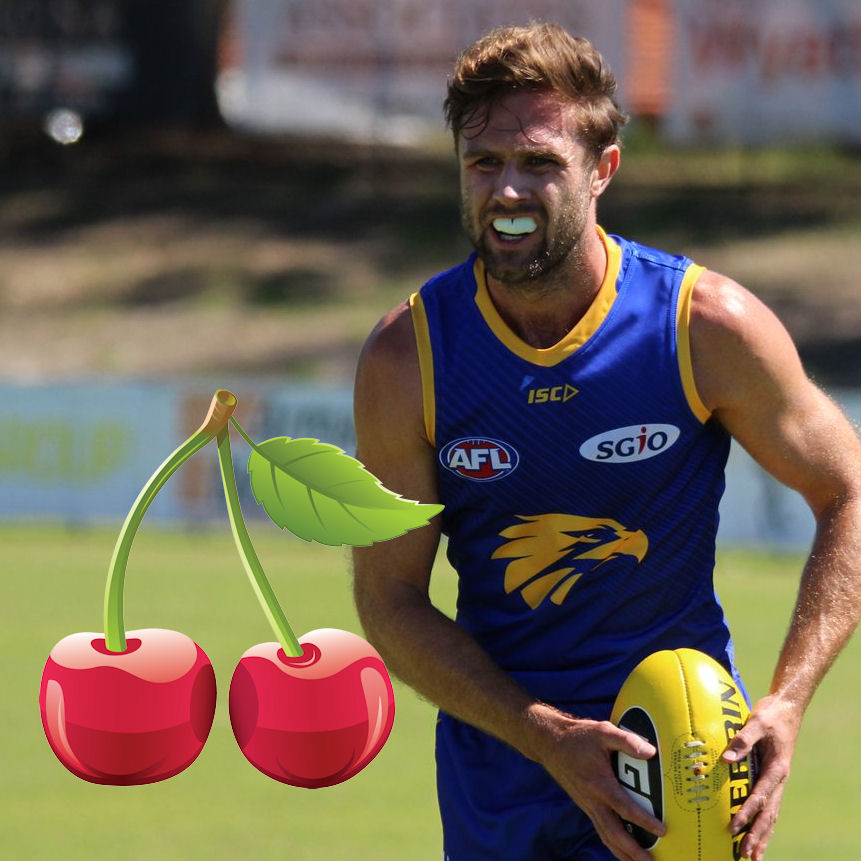 Hey Coaches! Sparksy here with another Ripe for the Picking! As some of you would know, I pop my head in once every four weeks to give you a juicy article on all the best value picks in the league. There's some great value around this month and a lot of the good prospects are slipping under the radar, which makes it exciting for me because hopefully I'm bringing up some players that you Coaches haven't even considered! Plus, the dreaded MBR's are coming up, with Port and Gold Coast taking their break next week and the other teams following not too far behind, so remember to consider your bye structure when trading if you're looking for overall rank. Let's get into it, shall we?
Defenders:
James Sicily ($626,000 Avg. 98.2 BE 60)
This first Defender is the only player this season to leave and then join again my AFL Fantasy team. I started with Sicily and had him for his 92 and 69 from the first two Rounds before his hot head got him suspended for the first of two times already this season and I dropped him. He then, very hesitantly, got traded back into TitchTV (My team) last week and I'm comfortable that he is deserving of a spot. (Cue a tag on him this week). Sicily's last three games have been incredible for a Defender this season, averaging a huge 116.7 and tearing up the opposition with his work rate as a loose Defender. This is due in no small part to his marking game. In his first three games of the season Sicily averaged 5 marks, not awful but nothing to write home about. However, in his most recent three games Sicily is averaging 11.3 marks per game, an insane increase in the stat and pushing his Fantasy average up by 18 points a game just from marks alone. Another great thing about Sicily is his Time On Ground stat, averaging 93% TOG for the season, meaning he is on the field for around 112 minutes of a possible 120 (roughly). Massive for a Fantasy Coach who wants to see their player out there getting stats, rather than resting on the pine. I'm not going to lie to you, I am slightly worried about Sicily getting tagged. He has been extremely influential in his last three games, even though Hawthorn have lost two of them, and he proved last year that he isn't that difficult to nullify if teams need to. Even so, I believe Sicily has grown from last year and is genuinely working hard to get his kicks, rather than just sitting off for the cheapies, which will make it hard for somebody to stick with him all game, especially with how little rest he needs. Probably the more pressing issue would be Sicily getting suspended. Again… But, hopefully, the Hawks half-backer has learnt from his issues and can feature for the rest of the season. If he keeps up his current form, he will be steal of the season.
Christian Salem ($555,000 Avg. 78.7 BE 46)
After a VERY slow start to the season, Salem has started to show the player he can be. Coming off the wing, Salem is averaging 102 from his last three games and 111.5 from his last two; considerable numbers for a guy who is currently priced at around a 79 average. There are several things I like about Salem, his recent form being the tip of the iceberg. Omitting his first two games for the season which were absolute stinkers (he averaged 42 for the first two Rounds), Salem has strung together a solid and consistent season, with averages of: 22.8 disposals, 3.8 marks, 5.2 tackles and 1 scoring shot a game after Round 2. In fact, take his two scores of 40-odd out of his average and he's averaging 93.4, which is respectable considering how hard a consistent Defender has been to find this season. I also love Salem's two 40-odd scores however, purely because they've now put his price at a huge discount. Salem started the season priced at $600k, $45k more than he is currently, and he was probably a consideration at the beginning of the season as it wasn't difficult to see him and Melbourne improving. Now that the bad start to the season has made him even cheaper, I can see him being one to get Fantasy Coaches back on the pace whilst saving a few dollars. Which brings me to my last point; Salem is a big PoD. He's currently owned by 0.47% of the competition. That's right, 635 Coaches have reaped Salem's consistency and his recent vein of hot form. My backline is already my strongest line by a mile, but I'd definitely be considering Salem if I was looking for a premium Defender.
Jimmy Webster ($570,000 Avg. 90 BE 69)
The last Defender spot in the article was aggressively fought over by two worthy contenders but, in the end, consistency won out. You may therefore be wondering why I'm writing about Jimmy Webster. The answer is, Jimmy has had a pretty solid season thus far. Whilst Webster has always been the ultimate draft sleeper; nobody ever considers him but he pumps out a few tonnes a year, this year he's strung together an all-round decent first half of the year. Although he doesn't provide as much value as he did at the beginning of the year, he's still averaging more than the more popular fringe options in Goddard, Howe and Shaw, and only slightly less than the much more popular Michael Hurley although he is over $60k cheaper! What's even more impressive about Webster is that he's seemingly increased his average from last year (previously his best season) by 34 points and counting! Therefore, unsurprisingly, he's averaging career highs in almost every stat, with numbers like 24.7 disposals and 6.8 marks per game. The two problems I have with Jimmy are the fact that he's never done this consistently before, making him an unproven option, and the fact that St Kilda are awful right now, so something has to change. The first problem is slightly quelled due to Jimmy having several AFL Fantasy tonnes in his career, proving that he has the ability to be a good Fantasy player. The second problem is a much bigger deal, however. Do St Kilda just keep losing and Webster stays a solid Fantasy player for the season? Or does Richo change something up and send Jimmy back to his old ways? Definitely a risky option but could provide a bit of stability and consistency if his current form is anything to go by.
Just quickly, the fight for the final spot was lost by Tom Stewart ($531,000 Avg. 83 BE 52). Whilst Stewart isn't as good an option as Webster in my opinion, he has been on a bit of a hot-streak lately and is worth checking out if you're desperate.
Midfielders:
Taylor Adams ($625,000 Avg. 81.2 BE 106)
Last Sunday made it seem like we had the Taylor of old back, but only time will tell. Adams was sidelined with injury for three of the eight games so far this season but returned a fortnight ago in Round 7 with a measly 48. This didn't surprise too many coaches as Adams was a shadow of his former self to begin this season, averaging just 78 before his injury. However, on Sunday against the Cats, Adams really turned it on with a solid 124 including 25 disposals, 6 marks and a whopping 12 tackles! We all know what Taylor is capable of after he was the first picked player by every man and his dog last season as a Defender, so it's not a question of what he can do, but rather whether he can do it again. I'm going to level with you here, there really doesn't seem to be a huge difference in Taylor's gameplay between this season and last season, he just genuinely seems like he was out of form and having a rough spell. If we're judging by last weekend, this rough spell is over and Adams is ready to slot back into your sides! Jumping on when his BE is 106 is probably a bit early but it's definitely not unreachable and with the elusive Round 13 bye you can afford to jump the gun a week early. Another great thing about Adams is his ownership numbers, or lack thereof. He's owned by 1.07% of the competition and, while those numbers should increase significantly, there will still be many other contenders who can't find a way to get him in. A perfect upgrade target for Kelly/JOM, as long as you think he's back in form.
Dayne Zorko ($608,000 Avg. 86.3 BE 50)
Arguably more of a risk than Adams, Zorko has had an absolute horror show when being tagged this season and has been his snout-like self when allowed to roam free. We all know exactly what Zorko is capable of e.g. 176 two weeks ago, so the question is, how often is he going to be tagged? Zorko's next three are against Hawthorn (Shiels), Sydney (Hewett) and North Melbourne (Jacobs), all of which have tagged before and will tag if they need to. Before his Round 13 Bye, the only team he plays that don't usually tag are Essendon in Round 12. I've checked Zorko's full fixture for the rest of the season, and of the 14 games he has left, 7 of those he shouldn't be tagged in, 6 of which come after his Bye. Next comes the question, will those teams that can tag him actually follow through with it? North Melbourne definitely will; they tag purely because they can, so someone as susceptible to a tag as Zorko is easy pickings for Jacobs. The other games I think Zorko will be okay, purely because Brisbane aren't good even when he is playing well. Teams like Hawthorn and Sydney might pay him a bit of attention, but they probably won't send somebody to him for the whole game because their team is good enough to beat Brisbane anyway. He also loves playing at home, and 8 of his last 14 games are home games. I think Zorko is insane value considering the upside, and with only 6.95% of Coaches owning him at the moment, that's potentially a 170+ score that a lot of people aren't going to have. So, are we going to get Free-Range Zorko or Caged Zorko? Or will you guys just go with a Zorko-free diet? Big risk, big reward, and a very tempting player to chase.
Touk Miller ($600,000 Avg. 88.6 BE 63)
One of my favourite players in this article! Barely anybody has owned Touk Miller since he was Rook(ie) Miller back in 2015. Big buyer beware on Miller, you're going to have to wait two weeks to get him. He plays in China this week and then has the funny Bye Round in Round 10, thanks AFL for your diversity, ruining AFL Fantasy sides everywhere. Ignoring his stupid bye, Touk has been ultra-consistent for the past three weeks, averaging 106, highlighted by his 9 tackles per game. Tackles have always been a favourite of mine, because it means the player can score without needing a lot of disposals. Along with his tackles, I like Touk's run home. He has some easy teams to score against and he will be available over all three of the Bye Rounds which is extremely handy for all those who get him in after his Round 10 Bye. With a low BE, a reasonable price and a consistent average, plus a 0.38% ownership, I really like Touk as a safe PoD for those looking to save a bit of cash.
Another short recommendation and another player for you all to consider, Jack Redden ($607,000 Avg. 86.6 BE 50) was very close to getting that third spot. He's been on fire the last three weeks and has a higher ceiling than Touk, but I believe that his scoring will go down when Shuey comes back, which shouldn't be too far away. So, if you're looking for somebody extremely short-term, go for Redden. If you want somebody who can stick around for a while, I'd take Touk.
Rucks:
Before I begin with the Rucks, these three write-ups will be short because I truly believe if you don't have a combination of Stef, Gawn and Grundy then you're doing it wrong and at a huge disadvantage. The only reason there is a Ruck segment is because I know some people will be looking to move NicNat or Sauce Jacobs and won't be able to upgrade them to get one of the Big 3. I must repeat, if you have the money to get a Big 3 ruckman, do it.
Callum Sinclair ($652,000 Avg. 99.4 BE 91)
Part of me feels like I owe Sinclair an apology, the other part feels like gloating because technically I was right. In my last article I praised Sinclair for standing up against the odds whilst also mentioning that he would drop slightly in average and was semi-lucky Naismith got injured. Whilst Sinclair has maintained almost his 100 average, rather than dropping to 95 like I thought, he's still at least 10 points below the Big 3 in average, and both Stef and Gawn's average contains that woeful game where Brisbane played Melbourne and they shut each other down. Whilst I accept Sinclair as a valid choice of an R2 slot, he's still costing you points that the Big 3 could be getting you. So, Sinclair is only if you can't afford anything better.
Shaun McKernan ($392,000 Avg. 102 BE 27)
McKernan is probably the most interesting player in this article, having played one game and scored a ton. He's mega cheap, meaning you can turn NicNat or even Tim English into a cash grab by trading down to McKernan. Don't expect a ton every week however, I'd say 80's will be normal, sprinkled with some 60's and maybe another 100 or two. Having owned McKernan before, he can be frustrating to watch. He gets the same amount of opportunities pretty much every week, just some weeks he clunks marks like there's no tomorrow, and some weeks he has more falcons than Geelong. Definitely an interesting one, and with DPP in the Forward line he can be used to do some spicy trades. Strong downgrade option, however you're losing a lot of points so spend the cash you save well.
Tom Boyd ($456,000 Avg. 71.3 BE 55)
I'm not going to lie, I don't really like this option. Boyd has been performing solidly, especially without English in the side last week, but he hasn't been anything special and English will probably come back at some point. At that price, I'd probably just stick with NicNat rather than trading to Boyd. But he's still an option, so one to consider.
Forwards:
Tom Rockliff ($526,000 Avg. 66.6 BE 73)
I honestly have no idea how to transliterate the pig sound Calvin makes, but oink oink, the Pig is back baby! Well, not quite… After the worst start to a season I think Rockliff has ever had, he brought it right back last week, finally joining the Port Adelaide midfield for a 127, not exactly the Pig we are used to, but it's a good start! As I said, Rockliff saw a role change after a few weeks off/in the 2's, which saw him move back into the middle and his stats soared. Quick comparison: Rockliff before Round 8 – 12 disposals, 2.8 marks and 2 tackles a game. Rockliff in Round 8 – 31 disposals, 4 marks and 9 tackles. Rocky had more tackles in one game than he'd had in the four games prior; insanity. The best news about it is that Port Adelaide won, and in the showdown too, so it's very unlikely Hinkley will change anything for next week. Once again, the problem with Rocky is that he has the ridiculous Round 10 Bye, so you're going to have to wait two weeks to get him. However, I promise you that you'll miss out on a 150 score this week when the Pig tears up Gold Coast abroad. Consider it a blessing though, it means us Coaches get one more week to make sure the Pig is truly back. It's going to be hard to miss out on that big score, but there's no way to justify bringing a guy in for a week then sitting him on your bench. Is there…?
Mark Hutchings ($502,000 Avg. 94 BE 31) & Brendon Ah Chee ($411,000 Avg. 95 BE 38)
Our first double feature of the season! The two West Coast Forwards are insane value, and I'm extremely annoyed that I'm probably going to have to pass up on both due to my structure. I've been waiting since Round 3 to get Hutchings in and it just never eventuated. Whilst he's not as good value as he was before, he's still a great buy with a BE of just 31 and you can downgrade Billings to him! He's actually out averaging Billings by 18, which is just crazy when you think of it that way. Ah Chee has been on my radar since pre-season and finally played his first game for the Eagles last week, and he did not disappoint. I really like the option of both of these guys, I believe that both can have a season average of around 90 and are fantastic mid-priced options. I'm honestly considering changing my team structure completely to get Ah Chee in this week. If I had to choose, I'm taking Ah Chee over Hutchings, purely for the price difference. But with how well West Coast are playing this season, I honestly wouldn't mind having both. They even have a combined ownership of 7.42%, that's the total for both of them, so you're definitely getting some valuable PoD's here.
Dale Thomas ($585,000 Avg. 87.3 BE 39)
A player I never thought I'd see mentioned in the AFL Fantasy game ever again, and I'm still not sure he should be. Daisy has torn it up the past fortnight, averaging 125.5 over the last two weeks and 112.7 over the last three weeks. The difference has been Daisy's role. For the past three weeks, he's been sitting across half back racking up loose possessions and playing that Docherty role, especially in the marks category. The biggest problem I have with this is that the role could be taken from him at any point, from Marchbank, Lamb, Simpson, O'Shea, or any of the plethora of defenders they have that can get an easy kick. The good news is that Carlton have actually been playing decent football in the past couple of weeks, including their first win against Essendon last week, so this bodes well for Daisy keeping his current role, at least in the short term. The thing that surprised me most about Daisy was his ownership of 6.69%. Although it's not a huge number, I'm blown away by the fact that so many people are willing to take a risk on this bloke. However, if he keeps up his current form he's going to be the buy of the year so he's definitely worth thinking about if you've got the nerve and if you need to catch up on rankings.
That is all for today guys, I hope you enjoyed the read! If you have any questions or comments, either post them below or send me a tweet @SparksyDT and I'll answer all that I can! Until next month when we've successfully navigated the Byes, happy trading!
Sparksy