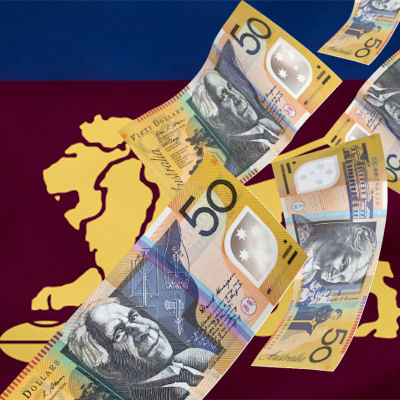 Starting from a low base at the beginning last season Brisbane were a big improver in 2017, the Lions increased their overall fantasy output by 127.8pts (Rank 1) to 1554.1pts in the H&A season but that was still below the league average of 1620.7pts. Brisbane were Ranked last in 2016 recording 337.5 Disposals per game, they improved dramatically increasing their Disposal average by 26.3 (Rank 2) to 363.8 in 2017 (League average: 383.0). Year 2 under Chris Fagan should see a further improvement in overall numbers as Brisbane become more competitive, consistency will still be an issue with a team still in rebuild mode.

Click here to subscribe on iTunes.
Click here to download.
2018 Potential Targets:
Dayne Beams $736K MID
Beams averaged 104.6pts in the 2017 H&A season which included a 5pt game in Round 14 against GWS, removing that game his average increased to 110.0pts. Beams played 19 games last season which was his most since joining Brisbane, he has missed 3 or more games in each of his last 5 years playing just 56.1% of games whilst at Brisbane so longevity is an area of concern. Beams scored 100pts or more at a solid 57.9% S/R (Strike Rate) & 120pts or more at an excellent 42.1% S/R, he scored a team high average 133.3pts from winning games. There is still some improvement for Beams in 2018, with Rockliff now gone he should be the clear No.1 inside Mid at Brisbane. If you plan to have bench coverage all year, then Beams should be high on your radar.
Dayne Zorko $805K MID
Zorko was outstanding in 2017 averaging a career season high 114.3pts, his high ceiling was clearly evident scoring 100pts or more at an elite 71.4% S/R & 120pts or more at an equally impressive 42.9% S/R. Zorko recorded his 3 career highest scores last season including a return of 181pts against Geelong at the GABBA in Round 16, he was excellent in all travel games recording a 119.3 average. If you want to spend up in the Midfield to begin the 2018 season then Zorko should be a strong contender to secure a roster spot, his price tag is at the high end so value is very limited. Waiting for Zorko to drop in price could also be an issue, he had an average of 127.4pts in his first 5 games of 2017. Expect Zorko to be low owned at the start of the season when fantasy coaches get through the inevitable salary crunch, so those looking for a high ceiling & consistent type player should consider Zorko as the right fit.
Alex Witherden $604K DEF
Those that jumped on Witherden last year were well rewarded with an 88.4 average and a level of consistency most craved for in a defensive position, with 78.8% of scores above 80pts the Brisbane defender was a comfortable play each week late in the season. Witherden's price tag will deter many at the start of the 2018 season but his position in the team is all but guaranteed and his elite skills will definitely be utilised when the ball exits the Lions back line, the addition of Luke Hodge will likely further enhance his value rather than diminish. It is an obvious call that Witherden is a must watch in the pre-season, unless something significant changes in the backline for Brisbane then he should be a very strong contender for a position in your starting backline to begin 2018.
Allen Christensen $331K FWD
Christensen at a low salary will likely be a popular selection but is he worth rostering or avoiding at Round 1? The numbers suggest Christensen will be a valuable pick despite the inconsistency which could eventuate playing a small forward/wing type role, in 32 games (Injury Free) at Brisbane he has scored fewer than 60pts in 9.7% of games, fewer than 80pts in 51.6% of games and scored 100pts or more in 29.0% of games. Most will be hoping for a more wing/mid type role for Christensen but his numbers slightly oppose that theory based on his history at Brisbane, when recording 1 or more Goals he has an average of 90.5pts & when he fails to score a Goal his average drops to 71.7pts. Make room for Christensen over the pre-season, accept that his ownership levels will be high but he is highly likely well worth it. No need to be smart or tricky with this pick, just click the + and move on.
Cedric Cox $321K DEF / Oscar McInerney $170K RUCK
Cox showed glimpses of potential fantasy ability in 2017 scoring 82pts in back to back games last year, if he plays Round 1 then he may be worth the selection but as of right now there is no guarantee he is best 22.
If you are looking to round off your Ruck stocks with bottom priced player then McInerney is the man, Stefan Martin is 31 and at some stage Brisbane will transition away from him and find out what they have. McInerney is a low risk pick that could see some major upside late in the 2018 season & earlier if injury strikes.
Note: If on a smartphone, turn it to landscape mode to view prices easier.
Player
Pos
2017
Avg
2017
Gms
2018
Price
Zorko, Dayne
MID
114.29
21
$805000
Beams, Dayne
MID
104.58
19
$736000
Martin, Stefan
RUC
99.77
22
$703000
Hodge, Luke
DEF
86.89
19
$612000
Witherden, Alex
DEF
88.44
9
$604000
Mayes, Sam
DEF
79.81
21
$562000
Bastinac, Ryan
MID
78.38
16
$552000
Taylor, Lewis
FWD
77.73
22
$547000
Robinson, Mitch
MID/FWD
82.71
7
$542000
Cutler, Tom
DEF
76.33
12
$538000
Rich, Daniel
DEF
75.64
22
$533000
Lester, Ryan
MID/FWD
72.45
22
$510000
Mathieson, Rhys
MID/FWD
71.92
13
$506000
Cameron, Charlie
FWD
67.71
21
$477000
Barrett, Jake
FWD
66.41
17
$468000
Keays, Ben
FWD
63.5
10
$447000
Smith, Archie
RUC/FWD
42.67
6
$444000
Bewick, Rohan
MID/FWD
62.5
8
$444000
Robertson, Nick
DEF
62.95
21
$443000
Walker, Josh
DEF/FWD
61.36
11
$432000
McCluggage, Hugh
MID/FWD
61.22
18
$431000
Bell, Tom
FWD
57.83
6
$428000
Paparone, Marco
DEF
68.67
6
$426000
Berry, Jarrod
MID
60.13
16
$423000
Allison, Jacob
MID
70
5
$419000
Beams, Claye
MID
58
9
$396000
Andrews, Harris
DEF
54.5
22
$384000
Gardiner, Darcy
DEF
54.58
19
$384000
McStay, Daniel
DEF
50.63
19
$357000
Christensen, Allen
FWD
0
0
$331000
Cox, Cedric
DEF
48.5
8
$321000
Hipwood, Eric
FWD
45.65
20
$321000
Rayner, Cameron
MID/FWD
0
0
$270000
Skinner, Sam
DEF/FWD
48
1
$254000
Bailey, Zac
MID
0
0
$242000
Frost, Jack
DEF
15.5
2
$242000
Starcevich, Brandon
MID/FWD
0
0
$236000
Dawson, Liam
DEF/FWD
30
1
$214000
Wooller, Toby
FWD
0
0
$190000
Ballenden, Connor
DEF/FWD
0
0
$186000
McInerney, Oscar
RUC
0
0
$170000
Hinge, Mitchell
DEF
0
0
$170000
Payne, Jack
DEF
0
0
$170000
Hanley, Cian
DEF
0
0
$170000
Lyons, Corey
MID
0
0
$170000
Eagles, Matthew
DEF
0
0
$170000
Follow @aflratings on Twitter and visit the website for more Fantasy.