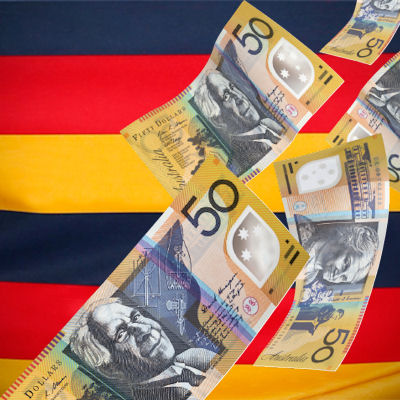 Adelaide were dominant in the 2017 H&A season averaging 1683.6 fantasy team points (Rank 2), at the Adelaide Oval the Crows averaged 1734.8pts which included an average of 1756.1pts from winning games. On the road Adelaide averaged 1622.1 fantasy team points & averaged 1678.6pts from 7 winning games, they scored under 1500pts in 2 games for the season both were losses interstate.
Adelaide will set up differently compared to 2017 with the long term injury to Brodie Smith, the departures of Charlie Cameron & Jake Lever along with the arrivals of Bryce Gibbs & Sam Gibson to mention just a few. The Crows have very good depth which should provide fantasy coaches a few new opportunities throughout 2018, the Crows will likely be among the top fantasy teams again this season.

Click here to subscribe on iTunes.
Click here to download.
2018 Potential Targets:
Matt Crouch MID $752K
Matt Crouch didn't really light up his fantasy scoring until the 2nd half of the 2017 H&A season, he averaged 100.5pts between Round 1-12 and averaged 114.2pts between Rounds 14-23. Crouch scored 100pts or more in 64.0% of games and 120pts or more in 24.0% of games last season (Incl. Finals), he also averaged 120.3pts in the Finals last season. Priced at 106.7pts to begin the 2018 season, there may be more value in Matt Crouch.
Brad Crouch MID $726K
Injured late in the 2017 pre-season Brad Crouch subsequently missed the opening 4 games on the season, he averaged 93.6pts between Rounds 5-12 and like his brother excelled in the 2nd half of the year averaging 111.6pts between Rounds 14-23. Crouch averaged 121.0pts in the Finals for Adelaide last season, he scored 100pts or more in 83.3% of his last 10 games of the year (Incl. Finals). Crouch is priced at 103.1pts to begin 2018, he should be high on your radar.
Bryce Gibbs MID $790K
Gibbs will come with a hefty price tag to being the 2018 season after averaging 112.1pts in his final year at Carlton, he scored 100pts or more in 72.7% of games & 120pts or more in 27.3% of games last season. Gibbs is very durable and did not miss a game in in his last 2 years at the Blues, a new team and new role does put up the possibility of an adjusted fantasy output. Worth monitoring during the JLT Series for position at the Crows.
Rory Sloane MID $754K
Despite scoring fewer than 80pts in 27.2% of games Sloane still managed to average 107.0pts in the 2017 H&A season, he scored 100pts or more in 50.0% of games but converted most of those in to scores above 120pts (41.7% of games 120pts or more). Sloane scored 150pts or more in 4 games recording a season high 157pts against Fremantle in Round 10, many will be put off by the low scores he produces but the upside is great. An average well over 110pts is not out of the question for Sloane in 2018, especially if he converts those poor games in to moderate games.
Sam Jacobs RUCK $700K
Jacobs played every game as solo Ruck for the Crows averaging 99.4pts during the 2017 H&A season, he scored 100pts or more in 44.0% of games & 120pts or more in 12.0% of games (Incl. Finals). Since the beginning of the 2013 season Jacobs has missed just 3 games, he is likely to be under owned relative to his average, role & health. Jacobs would make for a very good point of difference.
Sam Gibson MID $582K
Gibson is well worth monitoring throughout the pre-season on his positioning within the team, he starts the 2018 season as a MID only and priced at 82.6pts but could be set for the vacant Brodie Smith role across half back. Gibson has played in 130 straight games dating back to his debut in Round 12 2012, when recording 20 Disposals or more he has a career average of 97.0pts.
Jordan Gallucci MID/FWD $285K / Darcy Fogarty MID/FWD $248K
Just the 1 game for Gallucci in Round 9 against Brisbane in 2017 finishing with 11 Disposals & 54pts, he should be pressing for senior selection in his 2nd year. "There's a role that's opened up and there's a few boys that are pushing for that. Going forward, hopefully I can develop my game further and then go from there." Gallucci on the Charlie Cameron position now available.
Once touted as a potential No.1 pick Forgaty (2017 Pick 12) was hampered mid-year by a knee injury subsequently requiring surgery, he has the right body type to make an immediate impact when he plays. Long term Fogarty will likely be an inside MID that can also impact the scoreboard, worth considering when named.
Note: If on a smartphone, turn it to landscape mode to view prices easier.
Player
Pos
2017
Avg
2017
Gms
2018
Price
Gibbs, Bryce
MID
112.14
22
$790000
Sloane, Rory
MID
107
22
$754000
Crouch, Matt
MID
106.73
22
$752000
Crouch, Brad
MID
103.12
17
$726000
Laird, Rory
DEF
100.41
22
$707000
Jacobs, Sam
RUC
99.41
22
$700000
Lynch, Tom
FWD
90.85
20
$640000
Gibson, Sam
MID
82.59
22
$582000
Jenkins, Josh
FWD
81.22
18
$572000
Atkins, Rory
MID
81.23
22
$572000
Douglas, Richard
MID
80.95
22
$570000
Walker, Taylor
FWD
80.6
20
$568000
Smith, Brodie
DEF
79.68
22
$561000
Greenwood, Hugh
MID
78.83
12
$555000
Betts, Eddie
FWD
72.52
21
$511000
McGovern, Mitchell
FWD
67.5
12
$475000
Mackay, David
MID
67.16
19
$473000
Knight, Riley
FWD
66.81
16
$471000
Seedsman, Paul
DEF/MID
86
2
$460000
Otten, Andy
DEF/FWD
63.82
17
$449000
Hampton, Curtly
MID
63.67
9
$435000
Milera, Wayne
MID/FWD
60.56
16
$426000
Brown, Luke
DEF
58.52
21
$412000
Kelly, Jake
DEF
57.33
21
$404000
Ellis-Yolmen, Cam
MID
0
0
$389000
O'Brien, Reilly
RUC
0
0
$365000
Talia, Daniel
DEF
51.29
21
$361000
Hartigan, Kyle
DEF
45.13
15
$318000
Gallucci, Jordan
MID/FWD
54
1
$285000
Cheney, Kyle
DEF
0
0
$278000
Keath, Alex
DEF
44.33
6
$275000
Fogarty, Darcy
MID/FWD
0
0
$248000
McPherson, Andrew
DEF
0
0
$192000
Himmelberg, Elliott
FWD
0
0
$170000
Murphy, Lachlan
DEF
0
0
$170000
Doedee, Tom
DEF
0
0
$170000
Poholke, Myles
MID/FWD
0
0
$170000
Signorello, Matthew
MID/FWD
0
0
$170000
Edwards, Jackson
MID
0
0
$170000
Hunter, Paul
RUC
0
0
$170000
Jarman, Ben
FWD
0
0
$170000
Dear, Harry
DEF/FWD
0
0
$170000
Davis, Ben
DEF/FWD
0
0
$170000
Wilson, Patrick
MID/FWD
0
0
$170000
Follow @aflratings on Twitter and visit the website for more Fantasy.