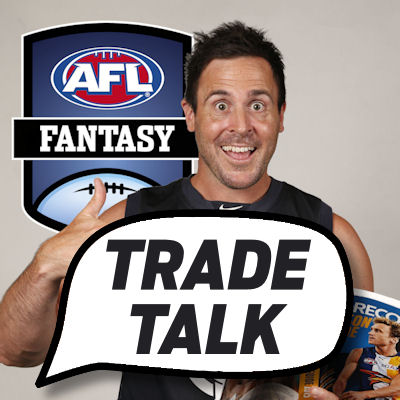 Cow: 
Lewis Young (FWD, $211,000) silenced the people who were critical of recommending this bloke as a downgrade last week, especially if you needed a one week hit on the ground. He backed up his nine marks on debut with a ten mark and 77 point performance. He is probably a bit expensive now, but with Morris out he now has even more job security. Hopefully the haters went Nick Larkey haha.
Power Play:
Brad Ebert (MID, $558,000) has rocketed into the 8th mid spot in my rolling best 22 for the run home on the back of some  impressive form which has seen him average 116 over his last three games. He is an absolute steal for a player pumping out these numbers and has an attractive run home which includes the Saints, Pies, Dogs and Suns.
Travis Boak (MID/FWD, $518,000) It might be time to take advantage of Boak's forward status following an average of 109 in his last three which included 120 last week. Like Ebert, he obviously has a nice run home and is carrying a break even of just 67 while being owned by just three per cent of the competition.
Robbie Gray (FWD/MID, $451,000) is the high risk, high reward guy of the round. He moved into the midfield last week and racked up 31 touches to score 101 which is only his third 100 for the year! With Chad Wingard out, one would assume he is set for the midfield, and if so, the fact he has dropped 139K since playing more of a mid role last year, he is a bargain… dare I say it.
Value Premium:
Joel Selwood (MID, $475,000) Went up only 8K following his 115, remaining the clear cut bargain of the competition. This week he has a BE of just 67, so if you don't have him yet, it might be your last chance to get him for under the magical $500,000 mark With an average of 107 in his last three, it's ridiculous he is available for this price.
Dayne Beams (MID, $486,000) bounced back to form with a massive 142 against the Blues which gives him a BE of just 66 to reinforce the value. The Lions have a great run home which is also in his favour, my only concern is if Zorko remains out suspended, he is first in line for the Hutchings tag.
Rory Sloane (MID, $505,000) Now you couldn't do it, but when you see a bloke who has been priced over 700K this season and is coming off a 134 where he looked amazing, it's hard not to mention him. Sloane has two hundreds in his last three and the one he missed he was knock out, however he was scoring poorly. On that note, scoring poorly goes hand in hand with copping a tag for Sloane and this week Levi Greenwood is waiting to sit on him, so pass.
Unique Premium:
Connor Blakely (DEF/MID, $613,000) is owned by less than 5% of the competition despite his complete domination since moving to half back which includes a five round average of 115 and a three round average of 133… All this from a bloke who now has defender status. He has a break even of 80, which he will cover with uncontested +6s on the switch this week.
As always, use the comment to discuss your trade ideas in the comments, I'm currently:
Gray and Glass IN
Ryan and Butler OUT
@RoyDT