The Weekend Wash-Up – Round 17
After a huge weekend for #DTTALKinPERTH, Matt checks in with the Wash Up.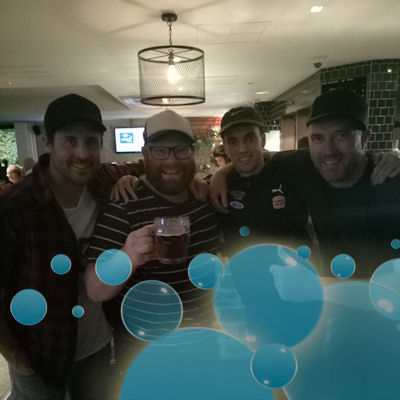 First of all, what an awesome weekend that was. #DTTALKINPERTH was a resounding success and it was great to meet a few of you legends. Of course that also meant a pretty big weekend so it's a dusty wash-up today, however with the final DPP changes of the season taking affect there's plenty to discuss. Oh, plus a few losers to rage and complain about. It's time for the weekend wash-up!
Legends
Merrett (144) – Over the last few weeks Zach has learnt that life as an uber premium midfielder isn't easy. A couple of average scores and he's under the pump already. With this monster score his 5 round average remains at 120, taking his season average to 122. Not bad… Legend!
Hurley (113) – It has become pretty obvious that I haven't given Hurley anywhere near enough credit. In the past month he has increased his ceiling, averaging 108.5 in his last 4. However he hasn't dropped below 79 since Round 3! Considering that I got Hibberd a few weeks ago, Hurley presents a very legitimate top 6 defensive option. Awesome pick.
Mitchell (147) – I didn't think it was possible for my man love of Tom Mitchell to increase, but at quarter time there's not much I wouldn't have done for him. Sure he got tagged and didn't end up scoring 200, but I'll take 147. He's the easiest captaincy pick you could ever have, it's a guaranteed 120-140. Bank it.
Dangerfield (140) – Having captained Titch instead of Danger, there may have been a bit of peacock strutting at quarter time. Safe to say the next 2 quarters were pretty excruciating, as Danger came back from the dead to kick 5.6 in the final three quarters. As an owner though I was glad to see him back out on the ground, it looked like the injury may have been career threatening at one stage. Thankfully he's ok. Quite frankly I'm not even sure he's injured, but Geelong are playing along with the bone bruising story anyway.
Wingard (136) – Does Wingard feature in the top 6 forwards? His 3 round and 5 round average would suggest so, but scores of 141, 66 and 136 don't fill me with complete confidence. He's a nice POD to have as a unique in a final, but you'll have some sleepless nights ahead pre-game. Usually I'd avoid Port, but their fixtures are golden. I'm all for it.
Powell-Pepper (112) – I think a few coaches would like some salt with that Pepper, this burnt SO many who probably rightfully traded him out last week. He actually played 70% TOG, and as a former owner I can promise you that is very out of the ordinary. He has been amazing all season though and deserves some credit. Beast.
Ablett (152) – Bald Jesus continues to dominate, pity it's only once every second week. Gaz has averaged 127.6 since he got hammered for his poor effort in Round 2. To put that into context, the Great Gary Ablett has only ever averaged 124.7 in his best ever season. In fact only two (Soon to be three) have had a better season. Yes he's an injury risk, but he's that bloody good I think it's worth it. Imagine having Ablett as a unique in a final… Game changer.
Swallow (117) – David Swallow is storming home, this is his third ton on the trot. It makes sense that he needed time to warm up to AFL level once again, perhaps O'Meara will be the same. Even so, a sign of life when we really needed it early would have been nice.
Sidebottom (110) – Cha-ching! Sidey's form was already borderline top 8 in midfield, so he's the very definition of a no brainer as a forward. Let's not waste time as to whether or not he should have forward status, Champion Data don't do these calculations for AFL Fantasy, even though some are lead to believe that. That's what position they classify these players, and obviously Sidey has been playing predominantly as a forward. Just worry about finding a way to get him in!
Lynch (130) – I think I picked the wrong Tom Lynch. The Crows version is on fire right now, averaging 114 in his last 3. I still wouldn't touch him on the off chance it's a wet day, as I found out with the Gold Coast Lynch last weekend.
Kennedy-Harris (102) – This proves beyond doubt that picking rookies is just complete ass. I haven't had JKH in my team all season, mainly because he has been sh*te. Last week I brought him in as I desperately needed cover, and now I look like a genius. Complete. Ass. But I'll take it…
Martin (131) – Dusty may look like he grew up on the wrong side of town, but all I know is I'm on the wrong side of his huge scores every second week in my league matchup. Clearly a top 8 mid in my opinion, and if Danger's bone bruising is serious he could still be a big Brownlow chance. Gun.
Witherden (91) – Even though I had to pay a ridiculous premium ($264,000) to get him, Witherden has already become the Coaches pet in my team. I bloody love him. A few of my premiums could take some notes on how he plays, he's my D6 for the foreseeable future. Legend!
Macrae (123) – It's hard to believe that Macrae has been given a hard time this season. He's now averaging 102, has a low score of 76 and a 5 round average of 109. Safe as houses. Not hauses.
McLean (107) – Remember the name, Toby McLean is here to stay. However I think the boat has sailed for 2017. For now he is just here to ruin Dahl's scores.
Duggan (124) – Liam Duggan has been ready to explode for the last month, and it was last weekend that the fuse was lit. He dominated Freo with 31 disposals and 11 marks, and now has to be considered as a $391k DPP defender. If you can't reach a premium then I love it, but how high can he average? An honest estimate would be around 80-85 which probably isn't enough to consider him, but he looked good enough on Sunday to storm home averaging 100! Now that he's got a taste for the footy I'm all aboard this week, he's in!
Blakely (149) – How well are my boys going this year! First it was Dom Sheed who picked up DPP, now Blakely! I'm not having to wait until 2018 to get them in, and well done to those who got on board a month ago when everyone was shy. Connor can go surfing as much as he likes in my opinion, just keep being a seagull off half back and you can do whatever you want. If possible, get him in!
Losers
Newnes (85) – Somebody needs to tell Jack Newnes that games of AFL football go for 120 minutes. Why can't this dude play 4 quarters?! The past few weeks he has been a fade out specialist, before that he was rescuing his scores in the second half. Just put it all together Newnsey!
Riewoldt (73) – It's pretty safe to say that Riewoldt's best DT days are now officially behind him. It's sad to see but perhaps his knee has taken one knock too many. He broke the AFL mark record a couple of weeks ago and will retire a Fantasy legend. Unless of course you own him this season, in which case he's dead to you already. Shocker.
Steele (61) – Shocker would be a kind description for this bloke. New rule, never pick a Jack. Firstly St Kilda have way too many, and secondly they're all inconsistent little teases. Why can't Steele play more than 70% TOG? And why is he incapable of doing anything but tackle? I thought he was a ball finding machine! This week he had 3 tackles and you saw the result. Disgusting.
Billings (76) – Another Jack and another burn for many Fantasy coaches. He now carries a 2 round average of 65, having previously tonned up in 6 out of 8 games and been priced at $550k. He looks unstoppable when he's going, it's just a shame that's about 30% of the time.
Parsons (24) – Day 3000, still wondering why Parsons gets a game. No answers found yet.
Goldstein (58) – ……….. Goldy single handedly caused me to drop more c-bombs than a whole season of Game of Thrones. 6 disposals and no marks? Useless ****.
Hibberd (9) – Really? Did this really have to happen? I only traded Hibberd out a month ago, brought back in for 2 weeks, now he's going to be deadwood again for another 2 months. He could become a gun half back averaging 100 and I won't give him a second consideration. He's dead to me.
Pendlebury (84) – The ever reliable Scott Pendlebury is out injured indefinitely. Just 3 weeks ago he was carrying a 5 round average of 125 and looked unstoppable. Now he's under $600k and just another problem to deal with. It's frustrating, but he has still had a solid season. Unless of course you got him after his bye, in which case you've probably deleted your team today.
Hall (72) – Aaron Hall was back this week, how awesome. Just a reminder that I actually selected this guy for nearly $600k a month ago. The byes do funny things to your brain.
Lynch (60) – I'm ok with Lynch having a below average score in conditions like Saturday night, but please don't grass simple uncontested chest marks 15 metres out from goal directly in front. Ok, Tom? I'm really not asking for much here, just a bit more than a 4 round average of 67. Diabolical.
Lyons (53) – I think Jarryd Lyons has played himself into many teams for 2018 with his recent form, but his run has come to an end in the same way as nearly every single other Gold Coast midfielder to ever play well. With an injury.
Parker (79) – This genuinely does make me feel ill writing about this guy. The past few weeks Parker has been hunting players down, chasing the footy and laying tackles. On Saturday he decided to coast around the outside of packs again. It looks as though he even confuses himself, does he want to be a gun player or not?
Lloyd (82) – I swear to god every time I used to watch Jake Lloyd play he would junk it up for fun. My opponent would have him, I'd be thinking he was on for a poor score, then I'd look 5 minutes later and he's on 120. Well since I've brought him in you wouldn't know he has ever been capable of scoring 120. Sure it's consistent but I want more!
Newman (68) – Haha, imagine still owning Nic Newman. What idiot coaches would still be playing a rookie on their ground at Round 17?! Don't answer that question.
Shaw (72) – Considering that Heath Shaw only played 3 quarters, it was an OK effort. How ironic, we have a washup in the wash-up.
Gawn (79) – As I continue to complete my 2018 study guide, Max Gawn already has his hand up for next year. He knows we're probably not going to get him back this season and he also knows we want him cheap next season, so he's being a great bloke. Won't find a better bloke in Australia in fact. I should almost categorise him as a legend for these scores. Having said that, it would be nice to see something. Just a little glimpse of form please Max.
Sloane (34) – Sloane was involved in a nasty concussion, although it has to be said he score was so bad I'd suggest there would have been a few coaches around the country happy to knock him out themselves. It's great to see he's ok though, you could almost see him wondering "Why the f**k am I in Darwin" when he regained consciousness. I can imagine it must have been a shock.
Nankervis (69) – Early Toby, I needed this early god damnit. Those coaches still stuck with him will not want to know he was over $500k at one point. Now you know. At least you haven't owned Spencer, Mumford and Goldstein.
Zorko (48) – Zorko has seen what Sloane has been doing in 2017 and clearly thought I want a piece of that. A tagger ran over to him at the first bounce, and Dayne ran over to the bench to call the coach and ask if it was ok to get an early flight home. Ain't nobody got time for that. On the bright side he has still averaged 115 in the past 2 weeks.
Rockliff (70) – Rocky I think I've been pretty measured in my approach to your recent scores given the trauma I've gone through to get you. If we can pause for a second, I love how I'm talking like he's actually a chance to read this, never mind give a sh*t. Anyway… I'm done. He's gone. I'm sick of it. Walters can only manage 70, and Rocky STILL can't outscore him. 14 disposals?! I don't think Tom Rockliff has ever been that bad in his whole career. I'll be back for some more love in 2018 Pig but for now it's goodbye.
S.Martin (79) – So it turns out the Archie theory was just in our heads, the real problem is that Stef just sucks. I refuse to believe it. He plays Kreuzer this weekend so that will tell us everything. Sadly it has gotten to the point where Stef isn't even worth anything, so we might as well hold and hope. He has 2 scores above 85 since Round 9. I don't have much hope.
Shuey (87) – More bye madness. This is a bigger fall from grace than Tiger Woods.
*This guy*
Walters (70) – Finally, there is some justice in the world after all. This was my first opportunity to watch Walters live since he has become relevant in AFL circles, and I haven't been missing much if that performance is anything to go by. Of course we all know it isn't, he has been a gun.

There wasn't any monster scores this week so it should be a close vote. Here are your nominees…
Ablett – 41 disposals, 8 marks and 11 clearances for the man I have so kindly dubbed Bald Jesus. Worthy.
T.Mitchell – Oiiiink! He's our only fit pig running around at the moment and it's a joy to watch. Breaking all kinds of AFL records.
Dangerfield – So we've confirmed what we probably knew for a while, Danger would be the best full forward in the game. That's probably why they don't win Brownlow's! What a comeback from the dead.
Blakely – Were you already a Blakely owner? Did you snag him in draft? He deserves the vote anyway after that triple double!
Merrett – Lastly Zach's efforts shouldn't be forgotten, great comeback game with 37 disposals and 10 tackles.
Who gets your vote?
This Game Sh*ts Me
I'd like to think I'm a pretty good Fantasy coach, but there's something about Fantasy that changes the game from the old Dream team format. All year my limited trades team has comfortably outscored my Fantasy team, and it has been that way for the past 3 years.
There's a simple reason, rookies. In the 'old' format, player prices didn't start changing until they had played 3 games. Also the price changes used a constant 3 game rolling average, which is easy to follow. This meant you could get a good look at the rookies and take your pick of the best when they were on their 'bubble'. Easy. It's not so easy anymore. Don't get me wrong, I like the added difficulty. I spend no more than 5 minutes on my trades with the old system. Order by value, check who's on their bubble, get a rookie if possible, make an upgrade if I can. Now player prices are moving from day 1, and the price change formula is far too complicated to follow precisely. In Fantasy you either have to gamble on $150k rooks, or you get one game to judge a player. By their second game if they have a decent debut you can lose $50-60k if you wait. Jono Beech is a perfect example, he had a negative breakeven after one week. It was then or never! The answer was never.
The amount of massive rookie failures I've traded in this year is unreal. Teia Miles. Tom Williamson (at a premium). Zac Fisher. Aaron Black (one week late). Daniel Lloyd. James Cousins. Jono Beech. Mitchell Hibberd x 2. I still have bloody Pickett. That is 9 trades I've made for hardly any gain whatsoever. NINE. Given a 2 week window to judge those rookies I might have still taken 2 or 3. That kills your season, and it kills your cash generation. Trust me, it's hard to complete your team when your bench is full of $200k dead rookies rotting away on the bench! There's of course some success stories. I got on Newman week one, Greenwood, Ryan, I even paid $260k for Witherden. Sadly they're few and far between.
What's the solution? I think 2 weeks of no rises is too easy, but a price change first week is too hard. Given the Fantasy formula isn't relying on a three week rolling average, could they come up with a formula for prices to start changing after two games? That seems ideal. For now however I can't nail my rookies, therefore can't upgrade my rookies, therefore can't make a good team. This game sh*ts me.
The Other Bits and Pieces
2295. Another solid score by my standards and it lifted me in the rankings by another 1000 spots. I think that says more about my initial ranking than it does my weekly score. Funnily enough, I haven't made an upgrade for 2 weeks and each week my scores are getting better. Look what happens when you get a couple of solid rookies!
I double downgraded last weekend and banked a massive $100,000 for it, so I still can't afford an actual premium. However I have started my rebuild for 2018, and that has meant a youth policy for the squad. I'm sick of Rocky so he's going to Blakely, while Duggan comes in for Scharenberg. They're playing for spots in my team next season! Good luck this week legends, finals are nearly upon us…