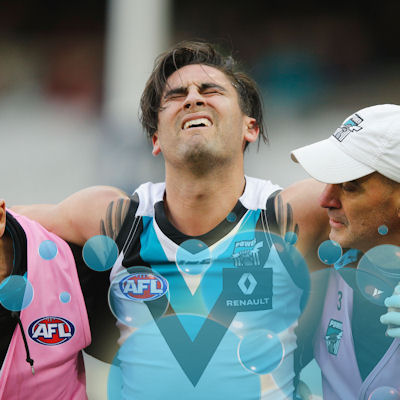 My season is going well. So well in fact that I completely forgot to write the wash-up. AFL Fantasy literally hadn't crossed my mind since Sunday afternoon. It's a case of briefly checking my players scores, seeing how badly my team is doing, thinking "that'd be right" and moving on. However my people need me! There was some performances last weekend that cannot be allowed to slide, I won't let it happen. Let's just call this the 'Losers edition'. It's time for the weekend wash-up!

Click here to subscribe on iTunes. (Please leave a rating and review to help us move up the charts).
Legends
Sloane (134) – I'm not usually in the business of handing out praise after a player let's you down, but Sloane's performance last Friday was truly brilliant. That's how you earn back some respect! Some others could take note.
Selwood (115) – Now is the time, Joel is nearly a must have unless you have a perfect 8 man midfield. $475k is too cheap.
Hibberd (129) – Always said I loved that Michael Hibberd fella, fantastic player. This takes his 5 Round average to 98 and gives some vindication to those who took the plunge on his value price tag. Much needed and much appreciated Hibbo!
Mitchell (130) – It's the shortest list of legends you've ever seen this week, but there's one guy you know will be in here come rain, hail or shine. Titch will do it anytime, anywhere. Love you Tom.
Blakely (114) – Connor continues to play the perfect DT game and has to be a lock next season. Half back flankers for life.
Martin (116) – I can't wait for Brownlow night, it's going to be awesome. Martin continues to power on this season and is a player I'd hate to face as a unique in Finals. Get him in.
Grundy (127) – I was up and about and ready to bring Grundy in this week, then I heard Mason Cox has 34 disposals in the VFL. Was he playing farmers? Brodie owed this score after last weeks debacle and duly delivered.
Beams (142) – Undoubtedly the performance of the weekend, Dayne Beams is primed to trade in. Having dropped below $500k after a horror few weeks, he rediscovered his form big time. I don't need to add much here, Selwood and Beams are bargains.
Losers
Guthrie (26) – I remember being guttered that Zach Guthrie wasn't named Round 1, he was racking up disposals off half back pre-season. I'm not sure he has even passed 50 since getting a run, and I'm not bothered to go and check. He'll still be rookie priced in 2018. Woeful.
Laird (74) – Honestly. Rory doesn't know what he wants to be anymore, this is his 5th score below 80 in the past 8 games. He's lucky for that 135 or he'd be given the boot quicker than Hutchy.
Menegola (79) – Another average score from an average player. This is a perfect case of DPP gone wrong. Not the same player when forward…
Selwood (58) – To be honest Scooter you might as well have stayed in the reserves with that score, I'm sure most bench emergencies outscored him this week. He still laid 10 tackles of course, and it's lucky he did.
Hurley (69) – Mr Consistent they said! I said it too. Always the case, a player gets a bit of spotlight and crumbles.
Larkey (2) – My hero. Any man who manages to produce a donut stat line automatically earns a spot in my Shame Hall of Fame. He joins Lycett in the illustrious group.
Wingard (58) – The Chad suffered an ankle injury that ended his day in the third quarter, and he wasn't the only one. 7,400 coaches were also ended.
Lynch (73) – I suppose I should be happy that Lynch made it to 70 this week. Best player in the comp!!!
JPK (86) – What has happened to the second half specialist? His last 5 average has dropped below 100 and his season average remains at 98.6. That is putrid. If anyone tipped Hannebery, Parker and JPK to all average below 100 they deserve a knighthood. I don't like Sydney's new team brand of footy…
Henney (72) – The Sydney game would have to be the worst Fantasy game since Collingwood two weeks ago. Possibly even worse. Heeney's form has dropped to 83.7 and is without a ton in the past 4 weeks. Is he really a top 6 forward? Borderline.
Jack (65) – We possibly jumped the gun on this one. Kieran Jack isn't back to his 100 average best and I don't think he ever will be. In and straight back out.
Newman (56) – Sucked in.
Newnes (78) – I'm getting 2014 flashbacks. He even played 4 quarters this week. Yuck.
Steven (66) – What has happened to our premium midfielders from a few years ago?! It's the Cotchin disease, they're falling to pieces. Draft burn.
Riewoldt (57) – If you were trying to build a Masters league team then Roo is the man to structure around. Safe to say he has hit the wall and it's sad to see. Its been fun.
Lambert (71) – I really should have seen this coming. Kane is a one month specialist, nothing more.
Shaw (68) – If you hadn't noticed I'm getting bored of writing the losers this week. It's never ending. Send your best wishes to anyone you know who may have drafted Shaw ahead of Docherty. I fear the worst.
Sidebottom (71) – REALLY? Sidey hadn't scored below 101 since Round 8. Nine consecutive tons. That's nearly delete team material, luckily I think Sidey has the quality to bounce back next week. He better.
Priddis (82) – As a West Coast fan I really need to address this. Why is Priddis still playing? It's hilarious, if he gets the ball he can't run and can't kick. They tend to be pretty important aspects in a game of AFL…
Gaff (51) – This week the Fantasy Gods really did take the p*ss. This was always my concern with Gaff, if an opponent actually decides to run within 20 metres of him he's probably going to struggle. He still only managed 2 tackles while being tagged, weak.
Duggan (68) – I'm letting Dugz off this one and taking him under my wing. He's been signed to my team on a long term contract and I'll give him all the support he needs. Big one coming next week.
Walters (39) – Part of me really wishes Walters had scored just 10 more points before getting injured, it would have been absolutely hilarious if he still outscored…
Rockliff (44) – Useless. Bloody useless. Not only did Rocky have the worst full Fantasy game of his career, he got praised for it! Forget Brisbane winning the game, that was tragic. To rub salt in the wounds it turns out one of the competitions best midfielders can do a pretty decent run with role, genius coaching Brisbane! This steaming pile of turd snowballed into…
Gibbs (37) – Unreal. This week was an unmitigated disaster. There would have been coaches with both Rocky and Gibbs in their teams, potentially Gibbs as captain. That makes me laugh and cry at the same time. Bryce has a break even of 195 this week, I think it's pretty safe to say he won't be getting that pig nomination. Pathetic.
Zorko (119) – To top this week off, Zorko has gone and gotten himself suspended. At quarter time it looked like Dayne was on track for another 180, now his owners are scouting a replacement. Talk about a fall from grace. Let's just head down to the Winchester for a pint and wait for this to blow over.
To get a nomination you just had to crack a ton, so congratulations to the following 5 players who actually managed that feat.
T.Mitchell – He's going to record 60 disposals one day, I can feel it. Nobody has ever had such a ball winning ability, it's insane. His average for the season remains around 36 disposals per game.
Grundy – Grundy has taken some harsh criticism this season, he's average 107! Well worth a vote.
Beams – I'm not sure how many held onto Beams but this would have been a huge relief. This weeks highest scorer.
Hibberd – Hibbo racked up 36 disposals in a dominant performance, the best of his career. More of that please Michael, he gets my vote!
Sloane – Way to get up Rory, his owners must be pleased with this score. Can he get on a streak of 150's? Maybe on the back of a stubby win!
So, who gets your vote?
This Game Sh*ts Me
You know what, nothing sh*ts me this week. I'm over the moon. Why you ask? Because most popular players were SO bad that everybody's teams just scored like mine for a Round. I've been dealing with this kind of tripe every week, I even cracked par. This is how it feels people!
The Other Bits and Pieces
2184. Like I said, this was just a normal week for me, only everyone else dropped to my level! Somehow I got away with consecutive double downgrades in my team and now I'm ready to go bang. Selwood in for Rocky, Yeo in for Greenwood. I should have enough cash to go Darcy to Grundy next week and complete my team. With one week until finals, I hope you're all prepared. Good luck rage trading!
*Round 1 -> Now*