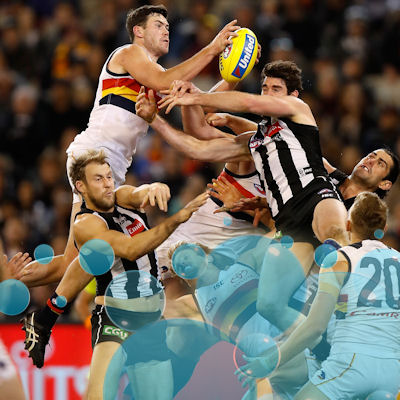 The season is nearing it's end and our squads continue to go backwards. Where did it all go wrong? During Rounds 1-7 if you didn't score 2200+ you weren't even competitive, and that was with some rookies scoring 40. Finals are kicking off this week and our rookies have been cleared out, yet here many of us stand, shed keys in hand. It's hard to fathom, let's get into the wash-up!
Legends
Ryan (138) – Just because our premiums are struggling doesn't mean liberties will be shown in the legends. Step up Luke Ryan. A few of our so called 'guns' could take a note out of his book. Of course I traded him for $300k two weeks ago, just when you thought I couldn't top the Newman debacle. At least I'm learning my lesson… Legend!
Fyfe (120) – This form is great Nathan and fantastic news for anyone who fell for taking him in a draft. For the rest of the Fantasy community, this does nothing but create more rage. You better believe I'll be doing it all again next season, I just hope to see more of these scores!
Gawn (113) – The time to go and get Big Max is now. Sure he wasn't exactly playing anything resembling an opposition ruckman, but it's a great score nonetheless. He's in for me this week as a show of good faith, having derailed my season back in Round 3. Now is the time for repairing broken relationships because we'll all be renewing acquaintances with these guys in 2018! Bargain.
Hall (152) – Perhaps not all of these guys. Yes Aaron Hall had one of his good weeks, but there's no way I'm falling for him again. I need to come back to this article in 6 months time…
Hawkins (158) – Did anyone come up against Hawkins in a Draft League? This was the old Jarryd Roughead down in Tassie a few years ago, absolute matchup killer.
Docherty (117) – In a week that was mostly a complete mess, Doch got it done again. We're all getting a little greedy after his huge scores, this is still a fantastic return. Legend.
Duncan (117) – As always Duncan was solid if not spectacular, but he continues to get the job done. Having fallen under $600k for just one week he's back on the rise and heading down to Simonds Stadium. Still an awesome unique.
Hurley (122) – Hurley bounced back brilliantly after a poor week and firmed as a top 6 defender. He remains a massive differential and doesn't get the attention he deserves, awesome score. That's 4 tons in 6 weeks!
Adams (151) – Is there a reason Taylor Adams only played 66% TOG? Every time he was on the ground the ball followed him, what an incredible effort. Just a reminder for those geniuses from pre-season, Adams has played every game and averaged 114. So please do tell me more about avoiding 'injury prone' players. I'm so sorry, an injury mid final is now on the way.
Crouch (127) – Matt Crouch continues to dominate. He didn't take a mark and I'm not convinced he will ever make it to the 'uber premium' category, but he'll be a reliable option for years to come. I suppose he's still only 22, so there's room for growth! He just needs to lift his ceiling, because he sure knows how to find the footy.
Wells (143) – If you're after a differential up forward then you could do worse than Daniel Wells. It would be a brave move looking at his scores this season, but this game might click him into top gear. 34 disposals and a massive ton!
Treloar (119) – I need to give credit to Treloar. Sure he remains incapable of pushing on and giving us a monster score, but if he continues to punch out 110-120 for the remainder of the season I won't complain.
S.Martin (113) – Stef is giving me bipolar disease. My feelings towards him fluctuate dramatically on a weekly basis, I fear we might be dipping down again next week. For now I'll enjoy the high.
Witherden (103) – That's how it's done. I can't say anymore about this kid that I haven't already, he has got what most of my backline lacks. Half a brain and a will to find the footy. Legend!
Beams (144) – Finally a form pick that didn't let us down! Beams was simply superb in racking up a career best 41 disposals on Sunday arvo. A nice way to end a forgetful weekend of Fantasy footy. The sad thing is I don't trust him for next week, purely based of what others around him have produced. I don't know who to trust anymore…

Click here to subscribe on iTunes. (Please leave a rating and review to help us move up the charts).
Losers
Kelly (91) – I can't believe I'm doing this, but Josh kelly needs a wake up call. I'm sure he'll read the Wash-Up and that will set things straight. 90's are OK, but you're allowed to tackle Josh! He has had five 10+ tackle games this season, but only had 1 on the weekend. His numbers have dropped off over the last month and he'll need to lift for Fantasy finals. Don't worry, there's a lot worse losers than Kelly.
Blakely (8) – You couldn't script it. Actually, you could. Nobody looked on in surprise when Blakely went off in the first 10 minutes of the game, clutching his shoulder joint which somehow managed to dislodge down to his rib cage. We all just thought "That'd be right" and headed out to unlock the shed. Then news came through that he was back out on the field! If you made the poor decision to come out and see how it was going, you were probably greeted by his shoulder popping out a second time and possibly ruling him out for the season. Fantasy managers around the country felt his pain this week, and it's a blow that's hard to come back from. No need to tell me about it, I had big Jakey Spencer. Only he cost about $330,000 less….. Sh*t happens.
Boak (46) – Really. Fourty-Six. It was almost as if Boak purposely had a good month just to suck some Fantasy managers in. I see more point in a Gender Studies degree than I do owning Travis Boak. Waste of space.
Newnes (75) – Seriously, how long do we put up with this mediocrity for? As if the 2014 flashbacks weren't already bad enough, Newnes' 5 round average is now 82.6. That's below Witherden and Ryan, not to mention Scharenberg is hunting it down. Lift.
Roberton (76) – Having started the season on fire, Roberton has probably got away with his dramatic drop in form. Mainly because that is exactly what was expected, but nevertheless some people got caught in the trap. His 5 round average is 79, so he's still not far behind Newnes!
Brown (15) – Let's take a quick intermission. The legend that is Nathan Brown looked like he was on track to pull off his best effort yet, sitting on -1 at half time. Once again he couldn't quite go on with it, but his 5 round average of 12.8 puts him ahead of Prestigiacomo for mine. Presti's lowest season average was 24.8, Brown currently sits at 24. In fact he hasn't cracked 20 since the end of the byes. No I'm not making these numbers up for comedic purposes.
Ablett – Ablett's last game was a completely dominant 41 disposal, 152 point game. Seriously if he's named to play I'll consider him as a Dangerfield replacement (Asking for more pain), he's a top 3 midfielder when he plays. That's easy for me to say though. Anyone that owns him or has him in draft must be losing their mind. You could only laugh when he was named as a late out, the man is more brittle than glass.
Swallow (63) – Just as I praised David Swallow for finally producing some consistent numbers, he regresses back to these scores. A seriously frustrating player for those holding him in limited trade versions of the game, I'm in that boat.
Lambert (66) – Aaaaaaand it's gone.
Tuohy (69) – I see more use in a Chocolate teapot than I do in owning Zach Tuohy. Just get rid of this baggage and free up some dead weight.
Selwood (59) – It just keeps getting better. I can't lie I would have been all over Selwood if I had the chance over the past 2 weeks, bullet dodged. Of course he plays 3 times down at Simonds in the final 4 weeks so expect him to average 120. There will be blood if he doesn't.
Kreuzer (57) – You know what, as a proud Kreuzer draft owner I'm happy Dangerfield has been rubbed out. How dare he cost me my league game… And I hope Kruze is ok as well. Fingers crossed he'll be back next week.
Simpson (64) – Another potential premium to put in the bin. With these kind of scores quite frankly Kade can get in the sea. Do us a favour and get f**ked retire.
McLean (66) – I'm not really sure what we're meant to believe anymore. Role changes, form, it doesn't matter. We're all getting burnt in the end. This was a good trade, yet you're stuck with a score bettered by plenty of rookies at the moment. No wonder we fared better in Round 1.
Merrett (82) – Opposition clubs have cottoned on and started tagging poor Zach. Whilst it was a little much to ask having him run completely free every week, at least let him get a bit of cheap footy! Merrett needs to tackle his way through these tags and at the moment he doesn't look like it. Still, at least he tried. Unlike some.
Sloane (47) – What a princess. I might have to start up my old favourite call line. If anyone has happened to see Rory in the past week feel free to give me a call on 1800 GET A TOUCH and we'll try track him down.
Laird (78) – Laird's average has ticked under 100 and I don't think we'll ever see it above three figures again. He's banned for me next season, so expect a Docherty-esque breakout.
Yeo (82) – I guess it's back to normality for the Yo-yo. At half back he's a 105 average gun, elsewhere he's nothing more than spare parts. Get him back there please Simmo!
Rockliff (93) – Given his great service I'm not asking a lot here, but can I get just one ton Rocky. ONE ton for the $723,000 I paid for you 7 Rounds ago. Unreal. He even tackled this week, now he just has to remember how to find the pill.
Sydney – The real losers for the Round wear Red and White. Again Sydney had an absolutely shocking Fantasy game, and it killed most peoples round. Parker (105) hit a wall in the second half, but at least he played a half. Heeney (78), Hannebery (59), Franklin (68), Jack (70), and Kennedy (47) were atrocious. Not as bad as my favourite player Jake Lloyd (-) though. That late out started the collapse for many teams, and by the time that Friday night contest concluded, many Fantasy seasons also concluded. Heeney continues to get away with averaging 80, if it was Jack Steele we'd tear him to pieces. Buddy was more interested in hurting someone that kicking goals. JPK's second half of the season collapse was completed, and after his first 10 rounds that was pretty hard to accomplish. Hannebery is just rubbish. What else can I say? What a shambles.
Amongst the rabble there were some shining lights, cast your Stubby nominations now…
Taylor Adams – He was part man part machine on Sunday. 151 from 66% TOG, beast.
Alex Witherden – My hero. While everything is collapsing around him Witho just continues to get it done. He gets my vote.
Dayne Beams – A career best 41 disposals, 27 of which were uncontested. That's what I like to see Beamer!
Tom Hawkins – If you've just given up and want a laugh, why not vote for the Round's top scorer. Tomahawk topping the Round summarises things perfectly.
Luke Ryan – A standing ovation please. With Lloyd out this was a time of need for many coaches, and Ryan delivered in spades.
This Game Sh*ts Me
It's pretty simple, our 'Premiums' sh*t me. If I can even call them premiums. The tragic nature of the scores they have been dishing up for weeks now is getting out of hand. Are they just cruising towards finals? Is everyone tagging everyone? I went and looked at some history, I scored 2,226 in Round 1. That was with Stewart (42), Otten (37), Hampton (66), GHS (58), JOM (65), and SPP (71). I know you've probably forgotten it by now, but there was a stage where none of our popular premiums mids ever went under 110. Now it's a minor miracle if Marc Murphy, Nat Fyfe or Tom Rockliff even pass the ton.
The most alarming thing for me is we haven't even really had to deal with a visit from 'The General'. If you don't know who that is, you're about to find out over the next few weeks. Sadly in our Fantasy leagues the next few weeks are all that really counts. Can we all just drop the tags, have a laugh about it and end the season scoring 2400 please? I scored 2,571 in Round 20 last season. Let's have more of that thanks. We won't though. And that's why this game sh*ts me.
The Other Bits and Pieces
2184. I'm dodging bullets like it's nobodies business, and that's mainly because I can't afford to bring in any of the expensive players that have let people down. It's Darcy -> Gawn for me this week, with my second trade dependant on team news. My team is finally complete and just in time for elimination finals too. Of course they're all Elimination finals for me this week, I'm lucky to even be in at all! Good luck everyone, may we have some better luck next week.
*This Fantasy Season*
As always, for those interested in Fantasy sporting events on the other side of the world, the Premier League kicks off in under 2 weeks. I'm busy writing daily content over on fpladdicts.com, and we've got ourselves a new website and bigger writing crew this season. If you want to come over and give it a crack, or join in with some fellow Australian Fantasy lovers then we're here to help. Of course 99% of you will ignore this message and I'm ok with that!